They want to hear what President Aquino intends to do about it in his State of the Nation Address on July 28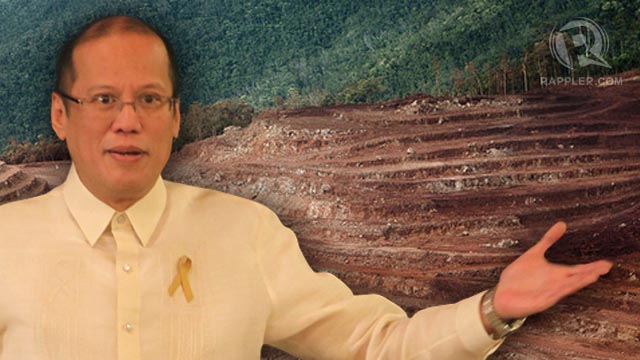 MANILA, Philippines – Businessmen – especially foreign ones – are urging the Aquino administration to make investments in mining more competitive and to support minerals development as part of its inclusive growth and economic strategy.
They hope to hear his position on this in the State of the Nation Address (SONA) of President Benigno Aquino III on July 28.
Julian Payne, president of the Canadian Chamber of Commerce in the Philippines (CanCham) said on Thursday, July 10, that foreign investors want to see the government commit to upholding and enforcing the current Mining Act of 1995.
The government should also review the recent "no go zones" in published maps which make 85% of the country off limits to minerals exploration, Payne said in a forum on minerals development policy at the Development Academy of the Philippines.
Despite authorities' pronouncements on supporting environmentally and socially responsible mining, foreign investors see many actions by national and local authorities that discourage mining – "forward talk with backward walk," Payne said.

Mining fiscal regime is 'tough'
The Philippines' mining fiscal regime was already "tough" for foreign investors, Payne said, quoting a 2012 study by the International Monetary Fund (IMF).
With recent unilateral moves by the government to cancel the Investment Tax Holiday for national investors, and to cancel the cost recovery period for foreign investors, the fiscal regime for mining has become completely uncompetitive for both local and foreign investment compared with other countries, Payne stressed.
The authorities are considering a new legislation, which "increases the tax rates; taxes projects even when they become loss-making including when commodity prices are low; and imposes windfall-profit taxes when commodity prices are high," Payne cited.
With such a proposed new fiscal regime, the already low level of investment in mining will likely decrease further given opportunities in other mining economies, Payne said, citing feedback from foreign investors.
"[It] could kill the mining industry and its great potential to contribute to inclusive growth and development," Payne said.
Proposals for mining zones
Foreign investors support proposals for the creation of Mining Economic Zones, similar to the Philippine Economic Zone Authority (PEZA) zones, Payne said.
Also, 50% of mining revenue received by the national government should immediately be allocated to the local government units (LGUs) where the mining projects operate and the impacts occur, Payne proposed.
Currently, 40% of direct taxation is earmarked for LGUs, but actual distribution to them has been very slow, Payne noted.
He said that contrary to the accusations of some politically-motivated anti-mining groups, large-scale, publicly listed, and foreign mining firms are the ones who can be relied on most for responsible minerals development.
"They are subject to the public scrutiny of exchange listings, proactive shareholders concerned about environment, human rights, and labor conditions, and international watchdog groups – both governmental and non-governmental," Payne said.
As such, foreign investors want a strong statement by President Aquino that he supports a minerals industry in the Philippines – including foreign investments.
"[We want to hear] that he intends to retain the current Mining Act of 1995, to strictly enforce it by allocating greater resources to the relevant regulatory agencies, and to make one change in it – to allow foreign investors to invest on an equal footing with national investors in order to encourage the deployment of foreign capital, technology, and best practices," Payne said. – Rappler.com