Many of the companies carrying out the biggest and most important mining projects today have a history of releasing harmful wastewater and substances into the environment.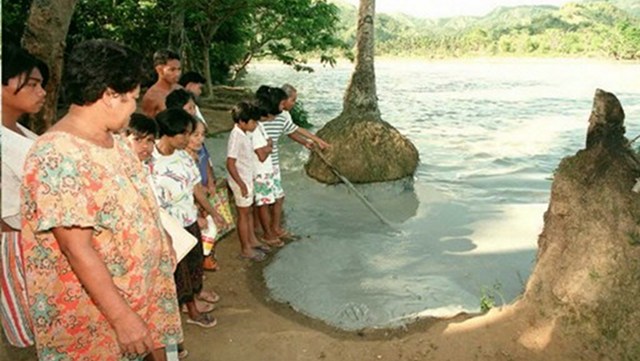 [Editor's Note: This article was originally published as part of "The Big Dig: Mining Rush Rakes up Tons of Conflict," a Newsbreak special issue on the mining industry, published in 2008]

Lafayette Mining Ltd. is not the first nor will it be the last mining company to suffer a disaster that adversely affects the environment and surrounding communities.
Indeed, 10 companies or almost half of the 24 mining firms undertaking what the government considers high-priority mining expansion and development projects figured in accidents or were the subject of pollution investigation in the last two decades, according to data compiled by Newsbreak. Many were issued notices of violation by the Pollution Adjudication Board (PAB) for releasing excessive amounts of pollutants.
PAB data also shows that notices of violation are being issued once more against mining companies after the notices dropped to zero between 1998 and 2002 when the mining industry suffered a slump.
Disaster History
About six years before Lafayette's twin mining waste spills in October 2005, Atlas Mining and Development Corp. discharged 5.7 million cubic meters of acidic waste water into the Sapangkaku River in Toledo City, Cebu. The accident, which happened in August 1999, discolored the nearby coast up to 2 kilometers from the shore and resulted in a "fish kill."
The company was fined US$210,000 for exceeding effluent limits under the Water Pollution Law. By that time, Atlas, which used to run Southeast Asia's biggest copper mine, had already been closed since 1994 because of a flooding accident and labor and financial troubles.
Three years before that, the Philippines' worst mining disaster happened in March 1996 when Marcopper Mining Corp.'s open pit burst open and released 2 to 3 million cubic meters of mine tailings into the Boac River in Marinduque. The accident killed aquatic life in the 26-kilometer waterway and flooded farmlands and villages along its banks.
Other companies that figured in mining accidents, according to a list compiled by Mines and Geosciences Bureau (MGB) officials, include Manila Mining Corp., Philex Mining Corp., and Lepanto Consolidated Mining.
Except for Marcopper, most companies that figured in mining accidents continue to be active in the industry.
Atlas, for example, has put the accident behind it as the company prepares to reopen the giant copper mine in Toledo City with the support of the residents of the surrounding communities, including local officials and local Catholic priests.
Similarly, Rio Tuba Nickel Mining Corp. was issued a notice of violation in 1993 for a possible case of water pollution in its nickel mining operations in Palawan.
Ten years after, Rio Tuba entered into partnership with Sumitomo Corp. of Japan to put up Coral Bay Mining Corp. whose nickel mining expansion project in Rio Tuba, Palawan, is worth more than $700 million in projected investments, making it the biggest among projects in the expansion and development phases. The first phase of the Rio Tuba expansion project has already been completed and the second phase is set to go onstream by next year.
Tougher Rules
Both the government and the mining industry say that tougher environmental regulations and stricter enforcement, especially after the 1996 Marcopper disaster in Marinduque, have addressed many of the lax practices that led to a string of mining accidents in the 1980s and 1990s.
"I could say that the [mining companies' safety and environmental] records have improved over the years because mining companies have internalized environmental management systems," says Nelia Halcon, executive vice president of the Chamber of Mines of the Philippines.
Artemio Disini, chairman of the Chamber of Mines, adds: "Except for the Lafayette operational problems that were eventually decided by the DENR, the environmental and safety performance of operating mines the past years was very good."
No doubt, the regulations have become tougher. Mining companies are no longer allowed to release mine tailings into the surrounding creeks and rivers, for example. But the mining waste spills in Rapu-Rapu Island showed that monitoring and enforcement remain dangerously inadequate.
Even the Department of Environment and Natural Resources' (DENR) report admitted that the department "cannot also escape its responsibility of ensuring a monitoring system and standards that can immediately detect violations and indications of potential accidents is in place." It added that "a system that will improve monitoring in terms of frequency, coverage and substance is needed."
The independent fact-finding commission headed by Catholic Bishop Arturo Bastes was harsher in its indictment of the DENR and the Mines and Geosciences Bureau (MGB). It listed seven government lapses, including MGB's failure to impose remediation measures immediately after the incidents and DENR's decision to allow the resumption of mining operations less than a week after the first spill.
Independent experts observe that the DENR and the MGB have somehow improved monitoring and enforcement of environmental regulations following the Rapu-Rapu disaster.
Fewer Regulators
That may be the easy part. It's also what happened after the Marcopper disaster in 1996.
Keeping up the tough act long after a major disaster is harder, especially as agencies such as MGB lose skilled personnel to industry while being prevented from hiring more people because of limited budgets and a government-wide freeze-hiring policy.
DENR Undersecretary Ramon Paje says the MGB recently lost 18 geologists, mining engineers, and metallurgists to higher-paying jobs in the industry. "In the private sector, they get monthly salaries of around P120,000 compared to P25,000 in government," he explains. "So, many leave the government."
Oddly, while more mines are opening and more mining investments are coming in, MGB's permanent head count actually fell from 1,442 in 2003 to 1,368 last year, according to Department of Budget and Management (DBM) staffing data. The number of unfilled positions doubled from 75 to 149 during the same period.
Meanwhile, salaries are not going up. MGB geologists are being paid a basic salary of P17,000 a month in 2008, exactly the same pay five years ago.
Paje says the entire DENR is having trouble coping with the growth in industries and companies to monitor while the number of its personnel remains the same or even drops, he says. The Environment Management Bureau, which issues environmental clearance certificates, saw permanent staff fall to 723 last year from 735 in 2006. Almost 30 percent of 1,030 permanent positions are unfilled, according to DBM data.
"We're thinking, perhaps, that one approach to monitor industries properly is to subcontract the monitoring function to private entities," Paje adds.
For the existing mining contracts in the Philippines, view this #WhyMining map.
How does mining affect you? Are you pro or against mining? Engage, discuss & take a stand! Visit Rappler's #WhyMining microsite for the latest stories on issues affecting the mining sector. Join the conversation by emailing whymining@rappler.com your views on the issue.
For other views on mining, read:
| | |
| --- | --- |
| Yes to Mining | No to Mining |
| | |
| | |
More on #WhyMining: