'Simply providing people with an account is insufficient. They have to be using it,' says Stephen Kehoe, VISA senior vice president and head of global inclusion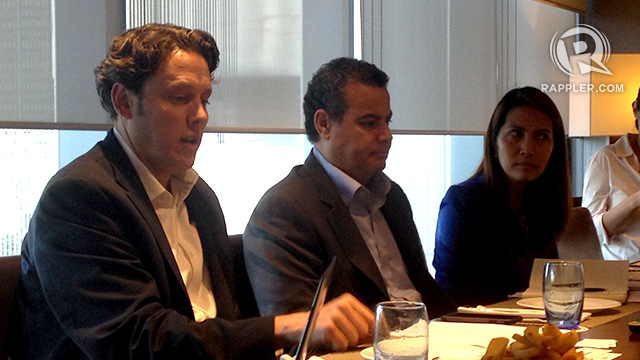 MANILA, Philippines – There is an opportunity for financial inclusion in the Philippines, and VISA is banking on such potential.
The multinational financial services company pushes for financial inclusion under its corporate social responsibility (CSR) arm. It cites that financial inclusion is about bringing more people into the formal financial system – a global imperative for governments, non-governmental organizations (NGOs), and the private sector.
"Access to formal financial services can help improve the daily lives of the financially underserved and create opportunities to alleviate poverty among this population," VISA said.
Banking the unbanked
About 60% of adults in the Philippines are still unbanked, Stephen Kehoe, VISA's senior vice president and head of global financial inclusion cited, attributing the figure to a World Bank report. (READ: More poor Filipinos own financial accounts – BSP)
As such, VISA is bringing such effort to the Philippines by partnering with Philippine government and NGOs through the use of electronic payment (e-payment) accounts.
Kehoe said the number of people in the country who receive wages through e-payment accounts is only 6% – 7% below the regional average of 15%.
"This tells us that if we can convert more cash wage payments into electronic form, it will be a key driver in helping move financial inclusion," Kehoe said in a media briefing on Tuesday, May 5.
He added that there is also an opportunity in providing e-payment accounts to those who receive government benefits, of which only 4% are using such mode of disbursement.
Kehoe added that only 1% of Filipinos pay their utility bills electronically, versus the regional average of 12%.
Driving cash conversion activities like e-payroll, benefits e-disbursement, or e-bills payment will move people to use electronic accounts, Kehoe stressed.
Banking the vulnerable
Fishing community in Tacloban is benefiting from @Oxfam aid transfers in post-Typhoon recovery via @visa Debit cards pic.twitter.com/GEw1e8Oea5

— Stephen Kehoe (@smkehoe) May 6, 2015
Globally, VISA committed to bring 500 million people into the financial system in the next 5 years by providing them with payment accounts.
Kehoe said it is an aggressive target on their part, but thinks the Philippines, among other countries where VISA is promoting financial inclusion, will play a crucial role in meeting such commitment.
Part of that commitment is also helping the vulnerable, specifically those hit by disasters. Thus VISA partnered with Oxfam Philippines and Union Bank in a program that aims to electronically disburse cash aid in calamity-hit areas.
Kehoe went to Haiyan-hit Tacloban City Wednesday, May 6, to visit the site and monitor the program's progress.
Kehoe explained that disbursing aid via electronic prepaid card and providing handheld mobile point of sale devices prompt a whole new way to drive cash conversion activities in the country.
But he stressed that VISA is not only providing the initial e-payments account; it is also ensuring that people are actually using these accounts.
Thus, financial literacy plays a key part in making financial inclusion possible.
VISA provides free financial literacy programs around the world, covering over 30 countries and territories with materials translated in more than 10 languages. It also has MoneySkills, a website covering a range of financial literacy topics and translated and localized for geographic market.
"Simply providing people with an account is insufficient. They have to be using it," Kehoe said. – Rappler.com