Cavite-born Ronnie helms Pixar hit 'Inside Out' with director Pete Docter. He chats with Rappler about growing up in the Philippines, working for Pixar, and dreaming big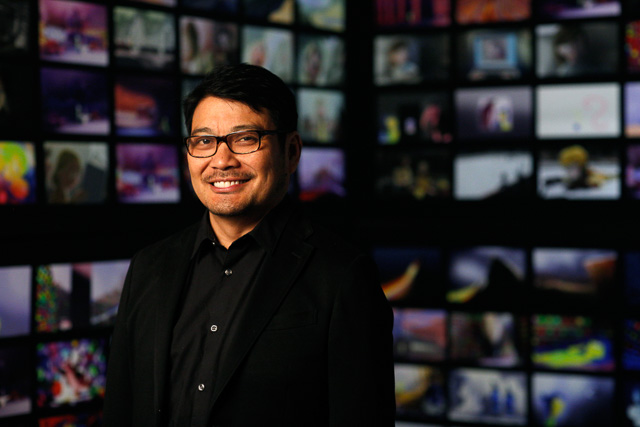 SAN FRANCISCO, USA – The trailer of Inside Out doesn't give away too much. A first viewing will show you that it's about 5 emotions that live inside the mind of an 11-year-old girl named Riley, who's adjusting to a big move to the big city. Something goes haywire, sending two of the emotions, Joy and Sadness, on a journey. (WATCH: Pinoy 'Inside Out' co-director Ronnie del Carmen draws surprise for Pixar fans) 
What it doesn't prepare you for is a sucker punch to the gut, a movie experience that will have you in tears, revisiting the forgotten corners in your mind, and thinking hard about the moments in your past that make you who you are. 
At the helm, currently enjoying the film's instant classic status: director Pete Docter, and co-directing his first Pixar feature film, Filipino-American Ronnie del Carmen, who also shares original story credits. 
To create Inside Out, both had to deep-dive into their own personal histories to bring those emotions to the surface in the film. They looked back to their own experiences as parents, as teens looking to fit in, as young people looking to build their lives. 
Thinking up the concept for the film, Pete looked to his own daughter.
"My daughter [Elie] did the voice of young Ellie in Up – that spirited, spunky kid with hair out to there – and she was a lot like the character at the time," says Pete in the film's notes. "But by the time we started Inside Out, Elie was older – about 11 – and she'd become quiet and withdrawn. It made me think, 'What's going on in her head and why is she changing?'" 
For Ronnie, that meant looking back to early memories, happy days spent drawing endlessly as a child growing up in Cavite City, Philippines.
"I'm from Cavite City, so I grew up there. A lot of times when I was a kid, I would create those little fantastic situations, so you would probably find me when I was a kid, I would be staging these little dramas wherein everything is imaginary…it's kind of a little imaginary play and it would look very strange. And that's what I did, because sometimes it's raining so much in the Philippines," he tells me at a media event held at the Pixar studios in Emeryville, California. 
Later, he told Philippine media at a Manila press conference for the film: "Also, you're kind of strange because you're not out there playing basketball – a Filipino young male who does not play basketball… that makes you a little off from everyone else!" 
Ronnie would be looking back on life in technicolor, filled with the characters he's helped to make, shaped by early experiences. The film's notes mentions Fantasia, Dumbo, Carl Barks comics, monster and sci-fi films, and Alfred Hitchcock and David Lean films as his early influences. And when he was 15, he landed a role as an on-set painter on Apocalypse Now, the 1979 film that was shot in the Philippines.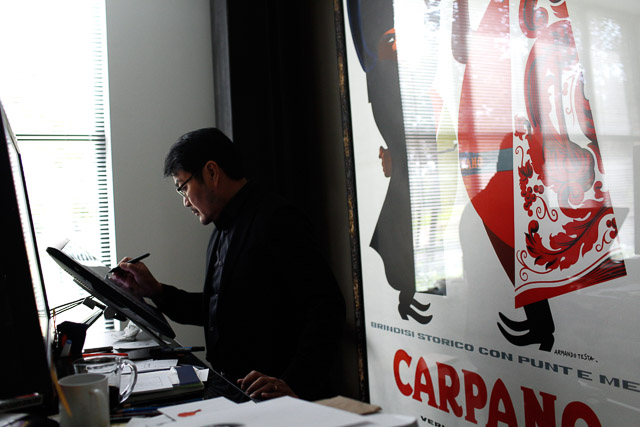 But on a deeper level, Ronnie also tapped into the experience of moving his own children to a new city for his work, just like the Dad does to Riley in the film. "I moved my family when I got the job here at Pixar, from Los Angeles to here, but they were in middle school," he tells Rappler.
"So that's a very difficult transition for the kids..,. My daughter would come home crying, she had no one to talk to, no one wanted to talk to her, she had no friends… it was heartbreaking."
"Teenagers don't wanna talk to their parents – in fact, they want to stay as far away from the parents as possible," he added later, in a separate session with reporters.
"My son, when he was walking the streets, he would try to walk about two paces ahead of me when he was in middle school…back then I would imagine that teenagers want to imagine that they actually sprang into this planet without having parents!" 
Ronnie's kids are now all grown up, and he talks about his children with pride. "They draw for themselves, which is great," he tells me. Both kids, now in their 20s, are doing well. According to reports, his daughter Gerin is working in film, while son Geo is looking at a career in law. 
Moving up
In the film, when Riley has to move to San Francisco from quiet Minnesota, she experiences confusing feelings – she can't remember Minnesota without a tinge of sadness, and she wrestles with putting on a brave face and showing her parents that she's fine.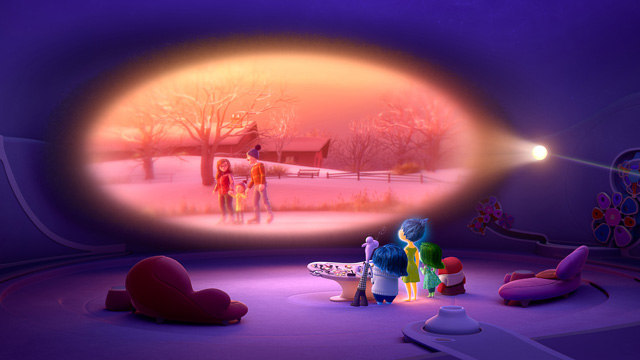 No stranger himself to the upheavals of a big move, Ronnie migrated to the US after working in advertising in Makati, after college at the University of Sto Tomas. Before that, because his family experienced some financial setbacks early on, he had to work after high school, he told the Inquirer. 
"My friends from high school were all graduating," he remembers. "I kind of shuffled into UST, the oldest student in every class."

But just as Riley learns in the film, there was no looking back for Ronnie. He got a job in a small studio in animation, then transitioned to working on projects that have crafted quite the place in pop culture today: Batman: The Animated Series, The Prince of Egypt, Spirit: Stallion of the Cimarron, for which he won the prestigious Annie award. 
Most recently, Ronnie was one of a number of invitees to join the Academy of Motion Picture Arts and Sciences, also the organization behind the Oscars. 
Guess what came in the mail today! Awesome way to start the weekend! @TheAcademy pic.twitter.com/GpMwVLAmtK

— Ronnie del Carmen (@paperbiscuit) July 2, 2015
Today, a number of memorable Pixar movies have Ronnie's touch – he's worked in various capacities on new classics like Finding Nemo, Ratatouille, Wall-E, and directed short film My Name Is Dug.
5 years
When I first meet Ronnie in person, it's with other Asian media at a small gathering to hear him talk about how a Pixar movie slowly comes to life. Standing before a set of old storyboard sketches, Ronnie slickly walks us through a scene in the movie, an interaction between Joy and Sadness where they talk about happy thoughts.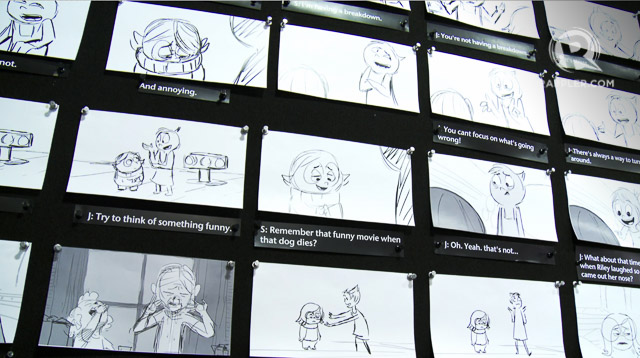 Ronnie, as Joy: You know what, you can't focus on what's going wrong. There's always a way to turn things around, to find the fun! 
Ronnie, out of the corner of his mouth, as Sadness: Yeah, find the fun. I don't know how to do that. 
Ronnie, as Joy: Well, try to think of something funny!
Ronnie, in character as Sadness: Remember the funny movie where the dog dies?
Ronnie does both voices, and all the gestures, facial expressions. It's performance level, just like a pitch. It all looks easy – but then you realize that Inside Out, from concept to script to screen, was the result of just about 5 years of work. 
Many years in animation have led to this important career moment for Ronnie, who notably worked as a story supervisor in Up – doing a lot of work on the movie's first minutes, that sparkling ode to life and death featuring Carl and Ellie's beautiful years as a married couple. (WATCH: 'Inside Out' directors Pete Docter, Ronnie del Carmen on mind-blowing Pixar fan theory)   
In fact, in an interview conducted at the University of Nevada, Las Vegas, Pete Docter says that Ronnie storyboarded a lot of that opening – and that it was even via Ronnie's input that these first minutes are without dialogue, and therefore that much more affecting. 
To philstar.com, Ronnie spoke about the powerful experience that was working on Carl and Carl's life in Up. As he drew out the life of an old man in his winter years, he recalled his own father, who was hospitalized while Up was being made. 
"As Carl was looking through his life, my dad was towards the end of his journey. He didn't get to see the finished film. To see that end of the movie, I see that as a memorial to my father. For the rest of the world, it felt like an affecting moment in the movie, but to me, that was what I was going through in real life," he said. 
It all comes full circle in Inside Out, which prompted Ronnie now to re-examine his own memories, this time as a father. Joy's role in Riley's head – her devotion to keeping Riley safe and happy, her alarm when she isn't able to do so – mirrors a parent's own fears and worries, says Ronnie, something he understands. 
"Joy can go and direct all of her energies towards towards Riley, Riley's oblivious to all the emotions. And that kind of relationship where you do everything you can for a child and not expect anything in return is very much like a parent's role," he told us. 
"As a child to [my] parents, I will never know to what extent they've done anything and everything for me…they'll do it without question. They don't even have to tell me what it is. I will never know all the things they did for me."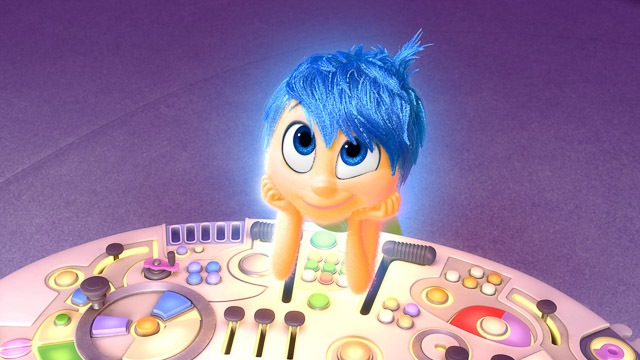 Coming home 
As co-director, Ronnie moved the process along, and, heading up the rest of the team, developing each character's final look, a process that normally takes years. Just as happily, Ronnie is now also mentoring a whole host of Pixar artists who take guidance from him and Pete as the film's directors. 
It's a role he's embraced – and demonstrated in nifty style, when he taught the reporters present at the media visit how to draw the character Anger (I can't draw). 
Graciously, he graded my Anger, drawn with his instruction from a simple square shape and embellished until he became the figure you see below, with an A+.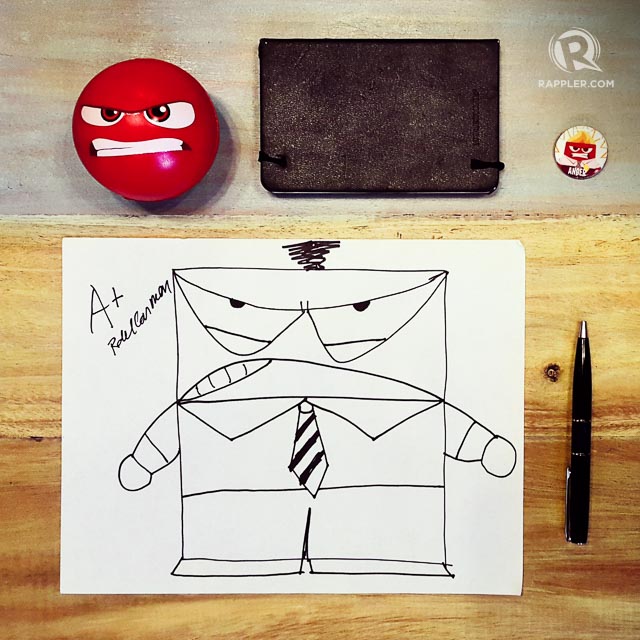 Behind him, we take in older artwork, which is a glimpse of what might have been, a look at how the characters started in the filmmakers' minds in the early part of the 5 years it took to make Inside Out.
There's a Sadness imagined as a large, whale-like creature, hovering over a Joy that looks nothing like how she looks now – this version had long, animated pigtails that function like a combination of limbs and a dog's perky, sensitive ears, swinging this way and that.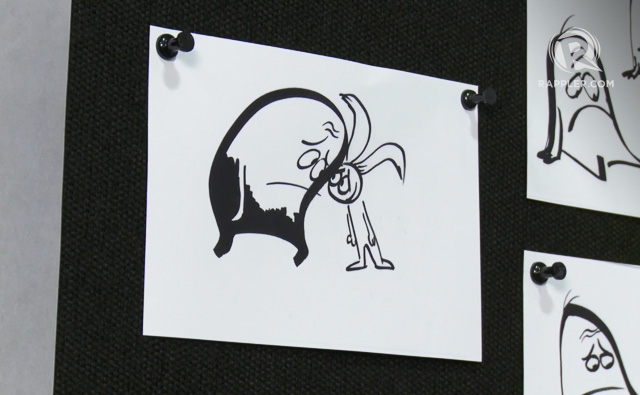 The walls of Pixar's second floor are currently lined with artwork from the team, showing the characters in their different forms and iterations. Many of the pieces bear Ronnie's signature, an early stamp, and a stepping stone to the final product – which at one point saw emotions like Guilt, Schadenfreude, and Surprise as possibilities before settling on the final 5. 
All that work, all those years, all those sketches most of us will never see, the footage left on the cutting room floor, have led to the blistering success of the film. (WATCH: 'Pixnoy' Ronnie del Carmen shares advice for Pinoy creatives)
Inside Out premiered at Cannes back in May, to an 8-minute standing ovation. It's a movie masterpiece, one critics are naming among the year's best films.
"Inside Out isn't just a sign of renewed youth from Pixar. It's the reason Pixar exists," wrote Andrew Lapin for NPR.
"…this is that rare movie that transcends its role as pure entertainment to become something genuinely cathartic," writes Ann Hornaday for The Washington Post. 
The studio has indeed made a name for itself turning every setting imaginable – a child's playroom, the sea, space – into a mirror of lived experience, and all the pains and pleasures that come with it. 
But for Ronnie, it's another kind of dream come true. Because in 1989, Ronnie del Carmen, 29, left his home in Manila for a life in the States, dreaming of a beautiful future – and now, 26 years and many trips home to Manila later, Ronnie returns once again, to celebrate his career milestone with fellow Pinoys: the premiere of the hit film in his first home, the Philippines.
With Inside Out making waves the world over, it's safe to say Ronnie was right to dream big – his ideas are out there, finding a place in the hearts of its viewers young and old, from Cavite to San Francisco. – Rappler.com