This is AI generated summarization, which may have errors. For context, always refer to the full article.
We're still starstruck from seeing Vision, Arsenal, Missandei, and Finn in the flesh, and we're still geeking out from the all the cool stuff we saw. Here's a look back, in photos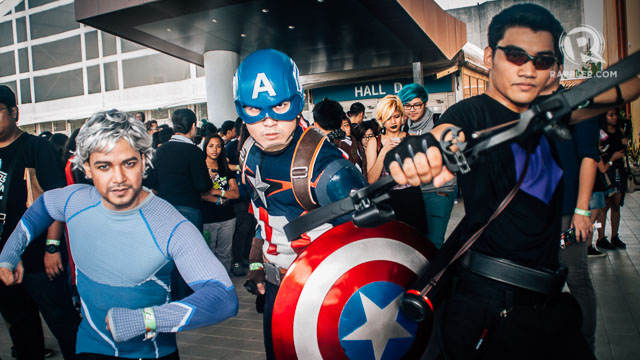 MANILA, Philippines – For many of us on this side of the planet, a huge Comic Con used to be a farfetched dream.
Every year, we yearn to fly to San Diego – to the tune of that meme, "I wanna be where the people are." We completely lose it over the spoilers making the rounds on social media – leaked trailers included.
So, when news got out that AsiaPOP Comic Con was going to be held on our shores, it hit us like thunder from Thor's Mjölnir. The anticipation skyrocketed as wave after wave of exciting announcements popped up on our feeds.
We were upset about Khal Drogo and Lucas Scott bailing out, but we remained optimistic. We weren't going to allow any unfortunate developments to rain on our parade. Our expectations were even exceeded for this star-studded affair that celebrated all things pop culture.
Finally, the World Trade Center opened its gates on September 17, Thursday, for Pro Day. The floor was set up like most Comic Cons: a trade expo and fair rolled into one. (IN PHOTOS: Celebrity guests, cosplayers, exhibits at AsiaPOP Comic Con 2015)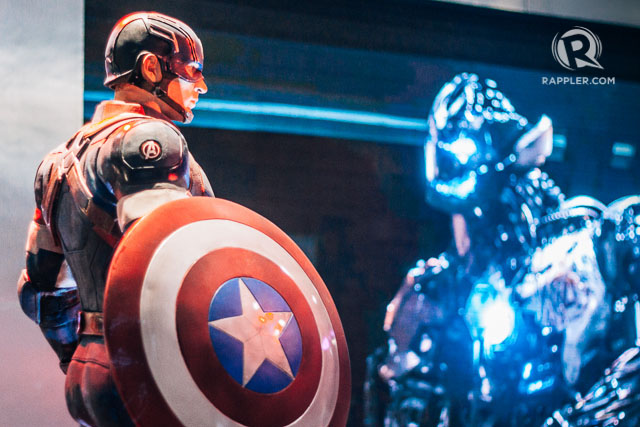 The Marvel and Star Wars exhibit, with looping trailers and behind-the-scenes features as well as life-size Avengers statues, greeted you upon entering – a strangely delightful assault on the senses. But this was hardly a prelude for the whirlwind of events that ensued during the weekend. The fans, the life and soul of the party, hadn't arrived yet.
On Saturday, everyone finally came in droves. Some donned costumes from comics, TV shows, movies, and video games, and fully committed to it, getting into character any chance they got.
Outside, they patiently queued to secure passes or a spot in Hall D for the Captain America: Civil War sneak peek – in the sweltering heat at one moment, and a torrential downpour, the next. Inside the comfortable, air-conditioned convention hall, the lines were still snaking through the aisles, just to meet and greet Paul Bettany, Nathalie Emmanuel, Colton Haynes, and Jeremy Shada.
In a sense, this was all just publicity for the big studios and companies "disguised as fan service," as New York Times film critic A. O. Scott put it. He also added, however: "The richest paradox of Comic-Con, and the key to its mysterious allure, lies in its ability to feel both absolutely corporate and genuinely democratic […] You are aware of the distance between fans and celebrities, but also of the symbiosis between them."
Avengers star Paul Bettany told the Filipino fans, "It's so lovely to see the reaction of fans here, and if you're doing work that's being enjoyed around the world, it's really nice to reach out and meet the people you're making those films for."
Comic Con, despite the name, hasn't been solely about comics for quite a while now. Maybe, as from the very beginning, it has always and ultimately been about the fans, and this trumps cynicism.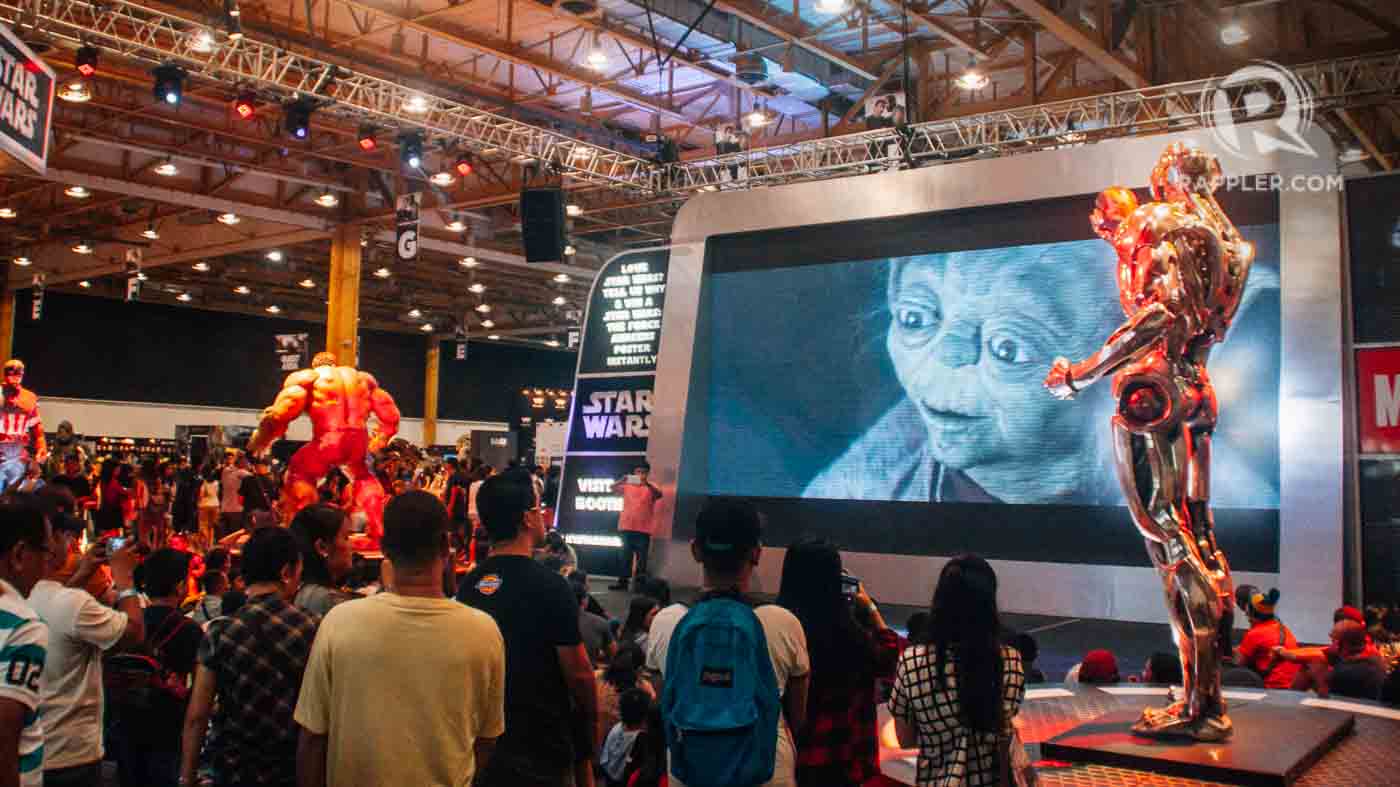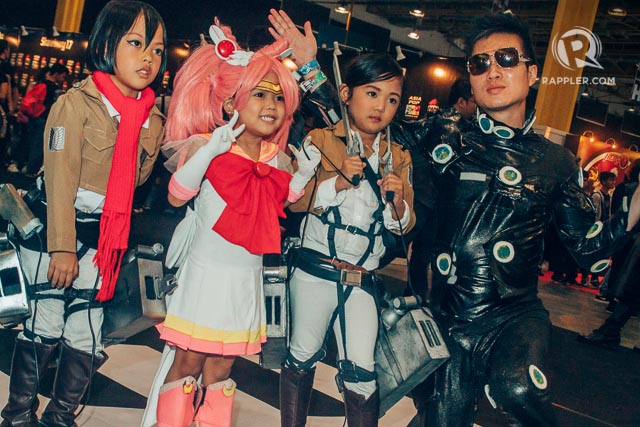 We gathered as one community at AsiaPOP. For one long weekend, we proudly brandished and wore the "geek" label on our sleeves.
Even the stars "aligned" with us, so to speak. Colton confessed his fanboy moment during the Superman Returns premiere back in 2006. Nathalie followed Game of Thrones way before she was cast as Missandei. Paul is "frightened of a life withoutThe Walking Dead."
Much like Joss Whedon's motley Avengers crew, we embraced our diverse backgrounds. "Some of us are Marvel fans. Some of us prefer DC. We can't agree on which Doctor reigns supreme. We might not even concur on those Star Wars prequels,"wrote Liz Ohanesian for LA Weekly. We gladly set aside all our differences – queued and played together, and even took each other's pictures – all for the things and stories that make our hearts swell with joy.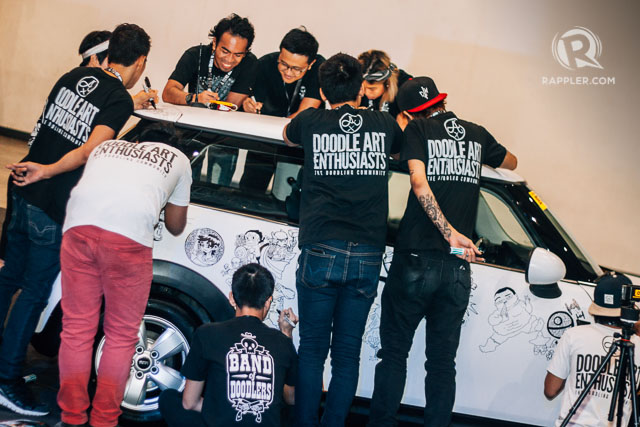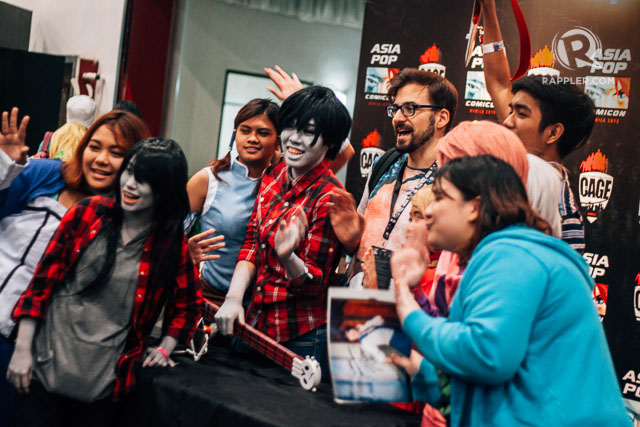 Let's take a look back at some awesome moments from the inaugural edition of AsiaPOP Comic Con in Manila:
No Comic Con would be complete without the cosplayers.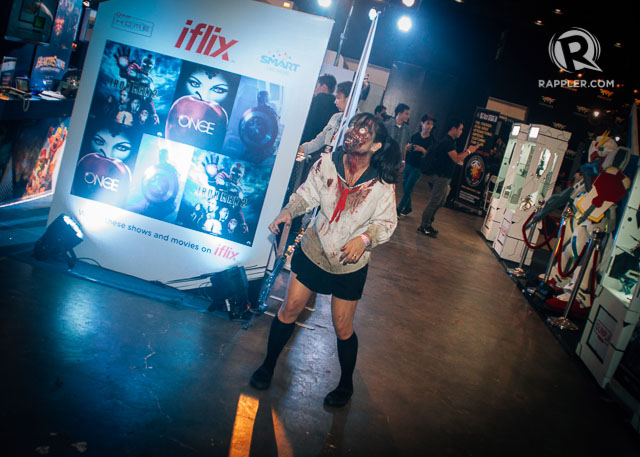 Going inside the convention hall felt like stepping into another world, much like the Mos Eisley cantina from Star Wars Episode IV. Cosplayers, decked out in detailed costumes, came in character and brought copious amounts of energy to the cavernous venue.
These are Darth Vader's troopers from the Philippine Garrison of the 501st Legion, but unlike the baddie they serve, they made everyone feel safe.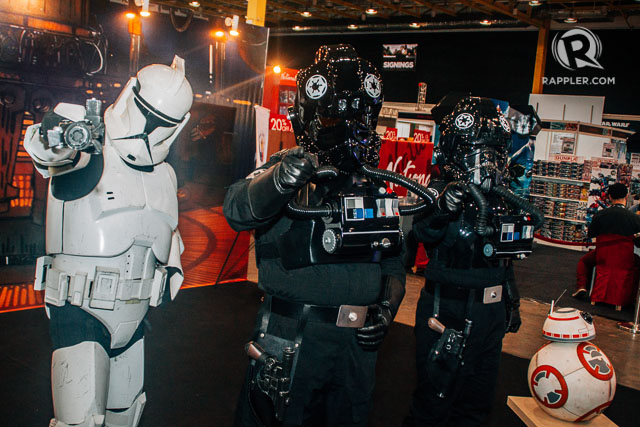 It's Belldandy from Ah! My Goddess! Who remembers the '90s anime?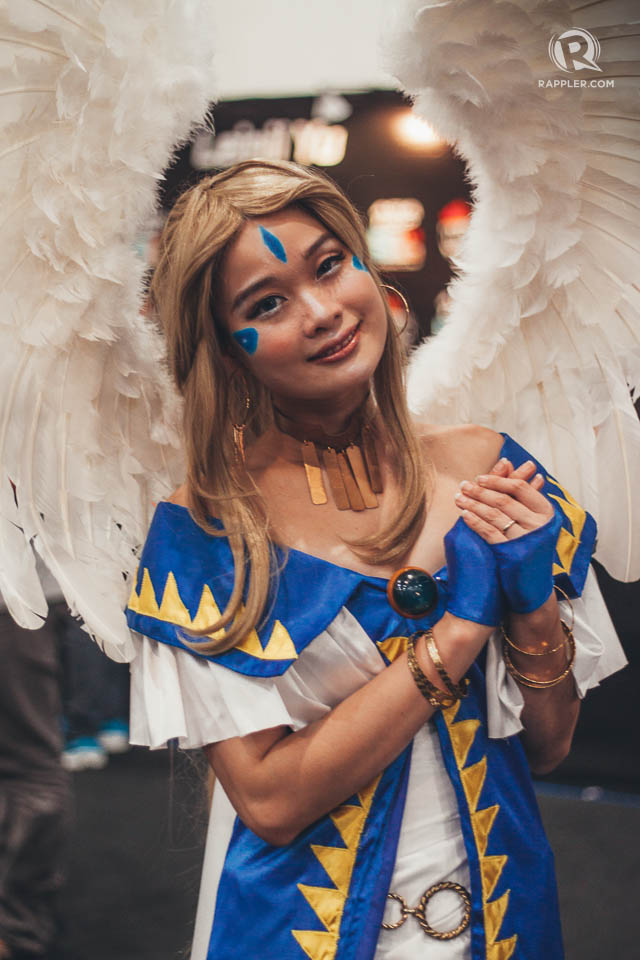 Did Jason Momoa really cancel his appearance at AsiaPOP?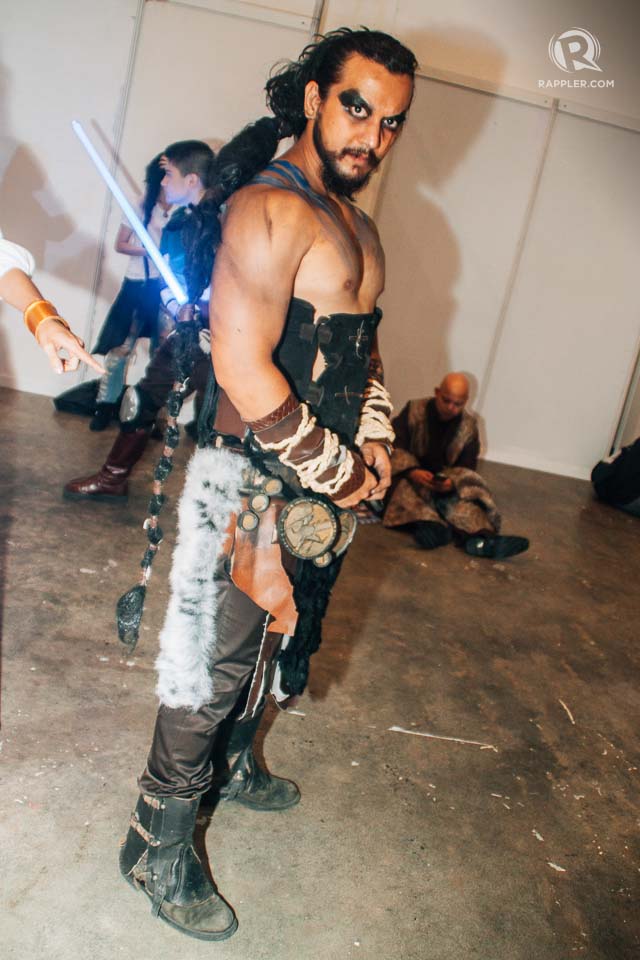 It looks like Daenerys and Drogon didn't really escape the mayhem in Meereen to the Dothraki Sea, after all.
Pros like Bill Doran, Vampy Bit Me, Alodia Gosiengfiao, and LeeAnna Vamp chatted with fans and shared tips with budding cosplayers.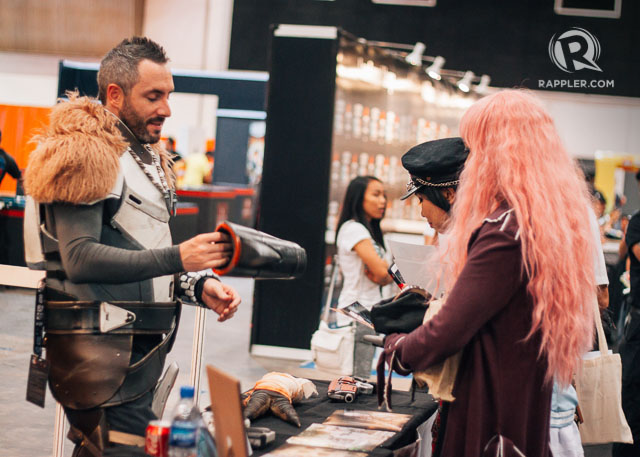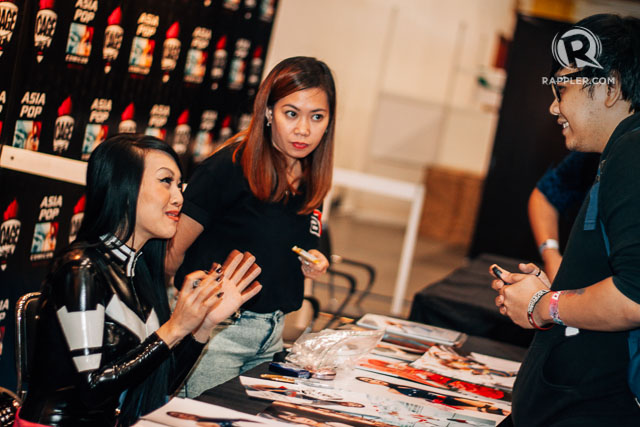 At the Cosplay Authority Global Challenge (The CAGE), the country's most dedicated cosplayers vied for prizes worth thousands of dollars.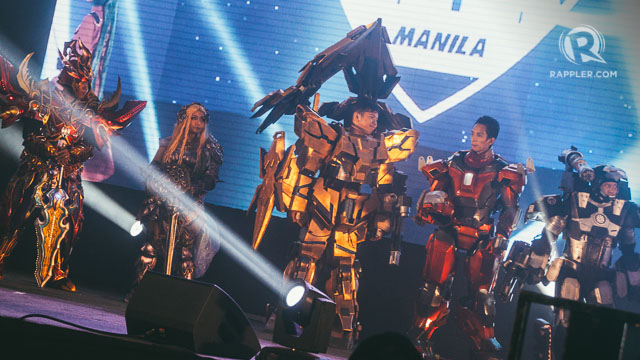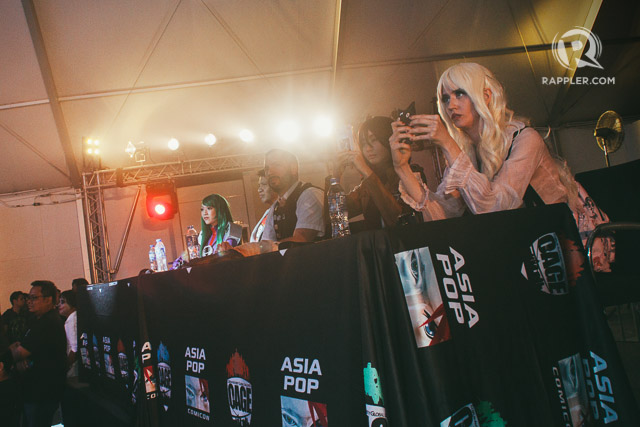 Samurai Spawn (from Spawn: The Dark Ages) took home a whopping $10,000. He will be flying to Abu Dhabi in December to face-off with other cosplay enthusiasts from around the world.
Toys, toys, toys everywhere!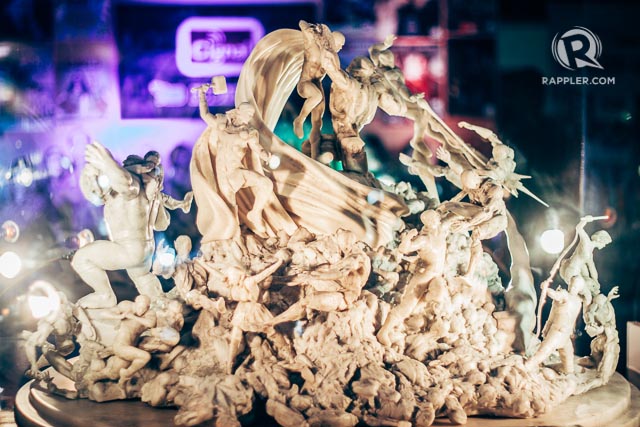 Who says that only kids can play with toys? Many con-goers were spotted gawking at hyper-realistic scale figures from their fandoms on display.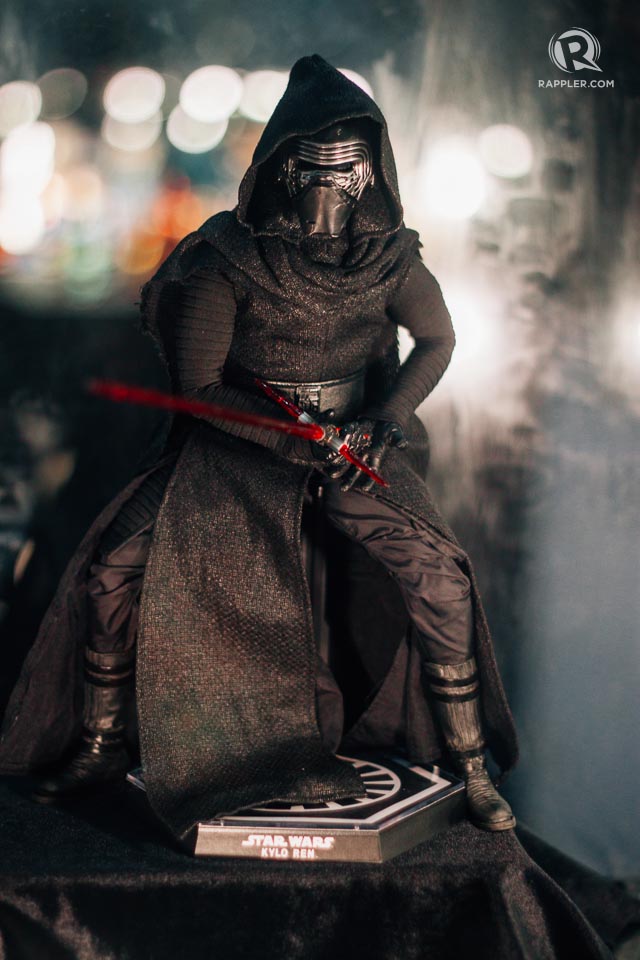 Meanwhile, the die-hard enthusiasts among them copped AsiaPOP-exclusive toys from top retailers like Hot Toys and Comicave who set up shop at the convention hall.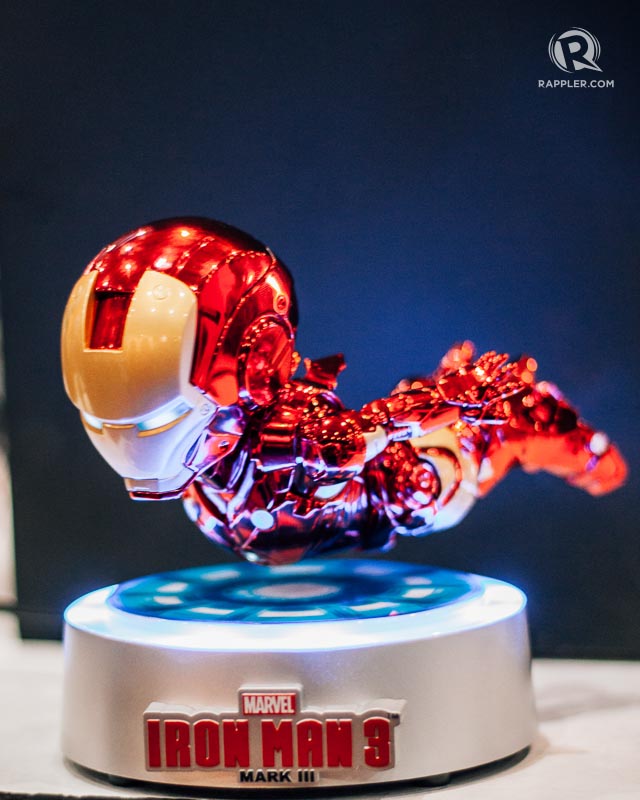 Cute renditions of crowd-favorite characters also rapidly flew off the shelves.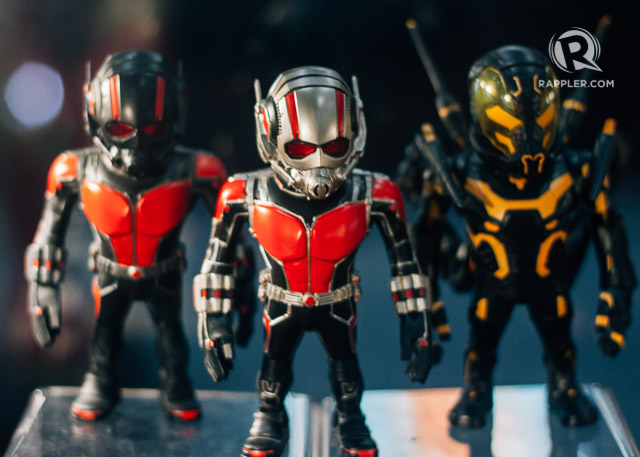 There were neat vinyl sculptures for the art toy collectors, too. 
Simone Legno, founder of tokidoki, personally drew quick sketches of characters and signed all sorts of merchandise – caps, toys, posters – from his well-loved brand.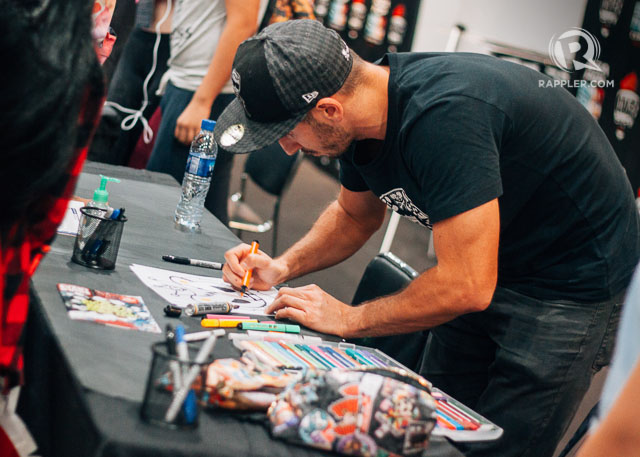 J★RYU hand-painted Egg Tart Vampires on the spot.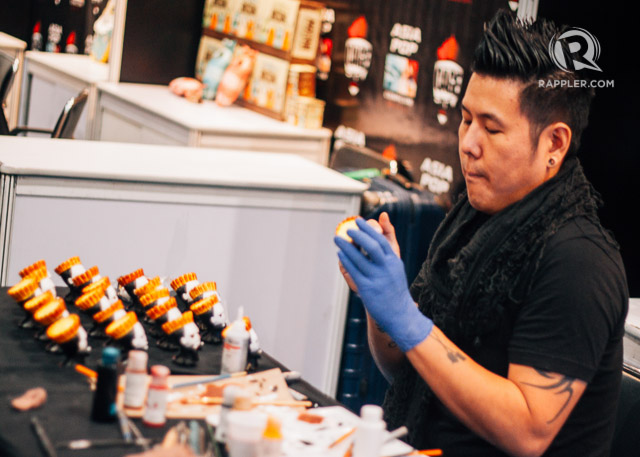 Amanda Louise Spayd and Chris Ryniak sold their fantastical sculptures, which many con-goers adored.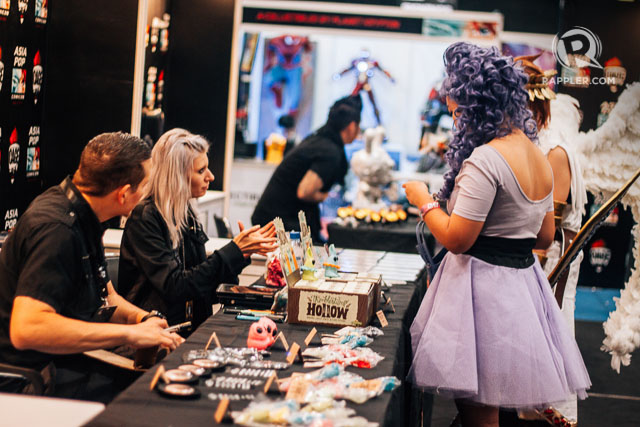 Comic book legends joined the festivities.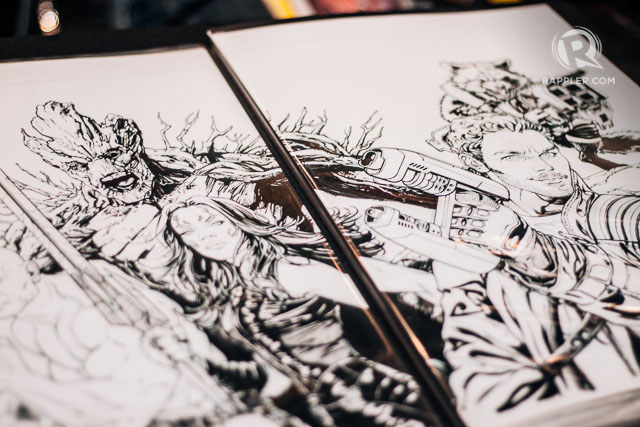 Were you ever awed by the pencil, inking, and coloring work on your favorite comic book titles?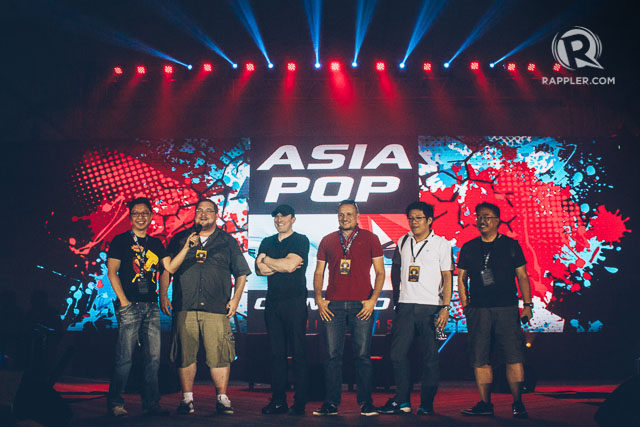 The men behind the intricately drawn characters and environments – luminaries like Whilce Portacio, David Mack, Leinil Yu, David Yardin, Stephen Segovia, Carlo Pagulayan, Mark Torres, and Mico Suayan – graced AsiaPOP with their presence. They also gladly signed comic books that they had worked on.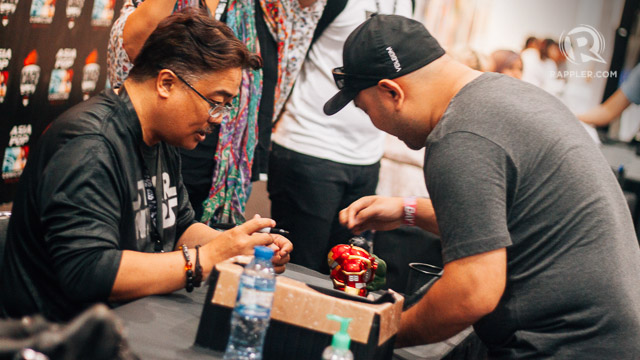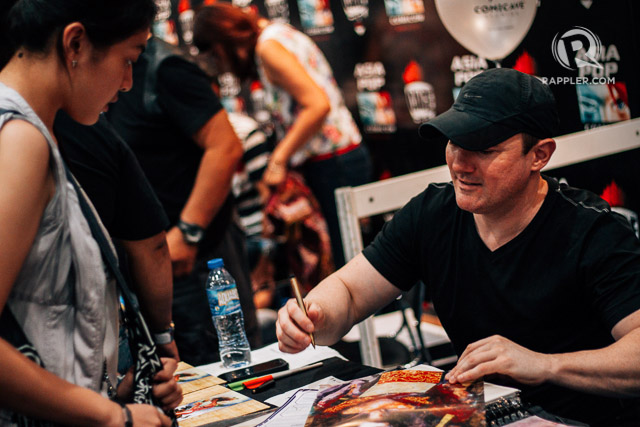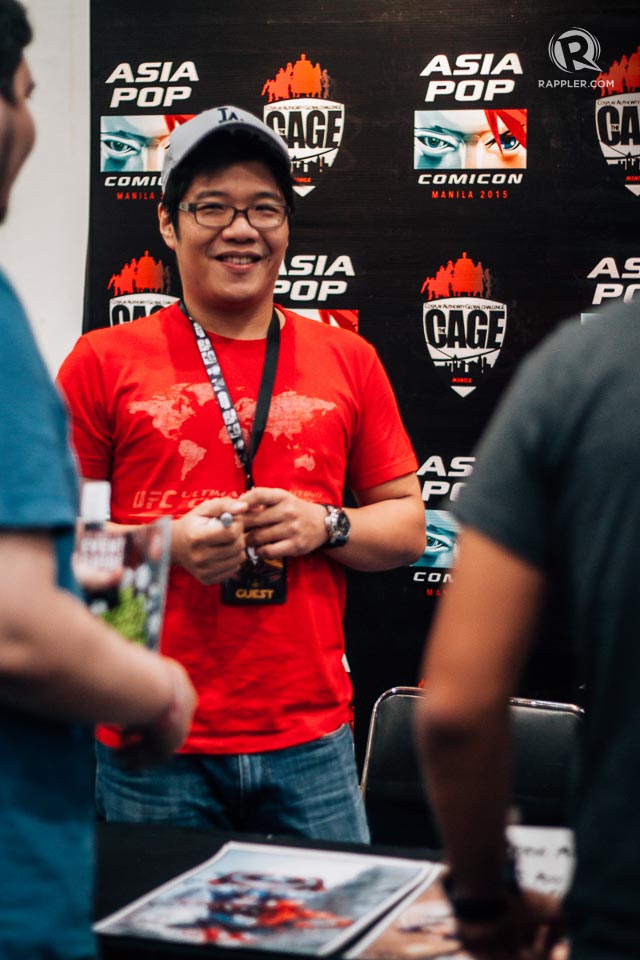 On the other side of the hall, up-and-coming talents were busy working on commissions and selling all sorts of cool merchandise: prints, original panels, and more. With talent scouts like Marvel's C.B. Cebulski on the prowl, suffice it to say that we'll see their names on our favorite big titles, sooner or later.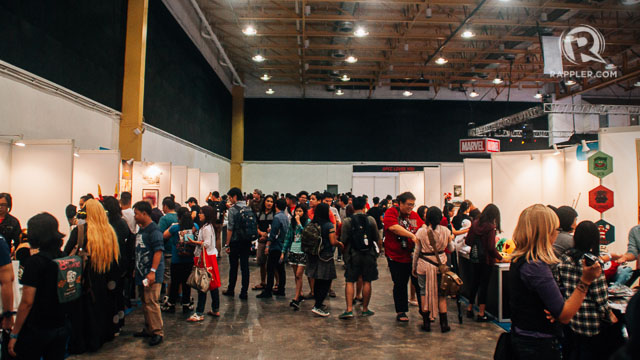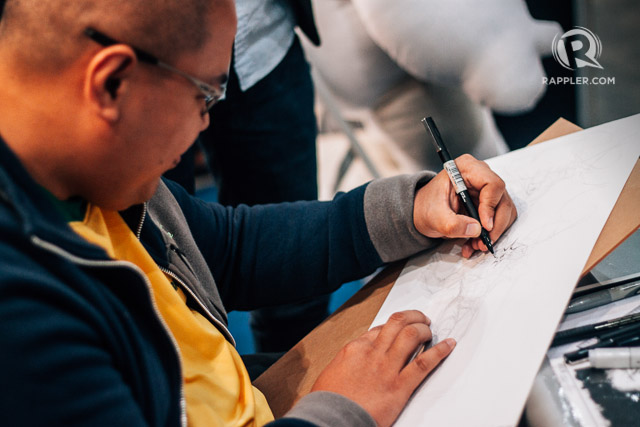 Hundreds of con-goers lined up for the exclusive Captain America: Civil War sneak peek.
The crowd goes wild waiting to catch exclusive footage from Captain America: Civil War. Whose side are you on? #APCC  #MarvelPH

Posted by Marvel on Saturday, 19 September 2015
In case you missed it, Marvel skipped their traditional Hall H panel at the biggest Comic Con of all in San Diego, and chose to surprise everyone at Disney's D23 Expo instead. There, the world first caught a glimpse of Captain America: Civil War, slated to open in theaters in May 2016.
So, Manila fans considered themselves lucky when Marvel offered them a massive treat: an exclusive preview of the thirdCaptain America film, the first in the Asia-Pacific region.
Outside, we saw what AsiaPOP Comic Con Manila could become in the coming years, as the lines for Hall D swelled beyond the venue's capacity. Organizers had to sadly turn people away.
As if it were some Hydra conspiracy, the visibly frustrated crowd roared, "Let us in! Let us in!" A guy clad in Captain America's suit diffused the tension by shouting about his ironic situation, "They won't let me in for my own movie!"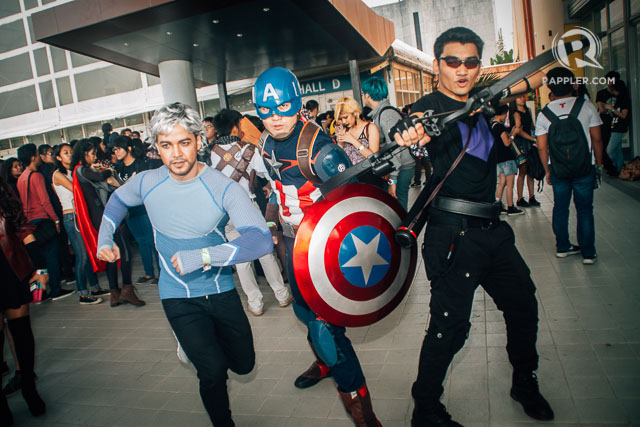 What time is it, Jeremy Shada? Adventure Time!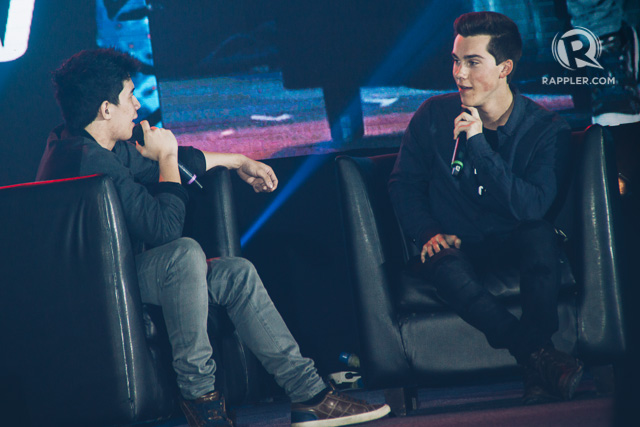 It's a tad bizarre to see the real people behind your favorite cartoon characters – especially those from the oddball, twisted, and campy Adventure Time. However, Jeremy Shada, who voices Finn on the show, should be an exception to this case.
"I think the best part about voicing Finn is getting to scream very maniacally and crazily on a weekly basis and not have someone think I'm insane," said Jeremy at the Adventure Time panel.
"Me and Finn both suck at Math," admitted Jeremy. "Trufax, I graduated high school. I cheated… I'm kidding… Half-kidding! I guessed on a lot of stuff. Multiple choice is my jam."
The similarities end there, however, as Jeremy said, "Obviously, I don't slay demons in real life. That's kind of a Finn thing."
"Also, Finn has, like, a lot of lady issues. He can't seem to hold down a relationship. I don't even have time for ladies. I'm too busy working," added Jeremy, drawing aww's from the crowd. However, when the panel moderator asked, "Who wants a date with Jeremy Shada?" the aww's turned into ecstatic shrieking.
Jeremy clearly has been making the rounds in different Comic Cons across the globe. At AsiaPOP, he goofed around, but still charmed fans. Either he's just a natural or a veteran, but considering the popularity of Adventure Time, it was more plausible to think of the latter.
Take this priceless moment from his panel: "How many of you guys like the songs of Adventure Time? I'll give out three songs, and pick which one's your favorite one." asked Jeremy. "The first one will be the Adventure Time theme song. Second one is 'Punch-a Yo Buns' Actually, I'm not gonna even list the third one, 'cause I'm pretty sure it's gonna be 'Punch-a Yo Buns,' 'cause you guys love it too much."
Tough-tootin' baby that can dance like a man – @JeremyShada o pic.twitter.com/RN0h1uxRfw

— Out of Tune (@outoftunelive) September 28, 2015
Colton Haynes shot arrows through everyone's hearts, as he charmed them with song and dance.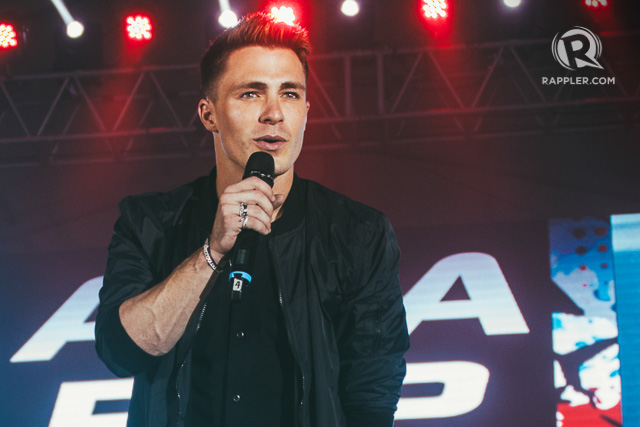 Colton Haynes showed that he was nothing like the characters he played: the "catty" Jackson on Teen Wolf, and more recently, the "closed-off" Roy Harper on Arrow. During his panel, he kept everything casual and lighthearted, and even gave fans the scoop about his life to date. ([READ:] 17 fun facts about 'Arrow' star Colton Haynes)
A self-confessed Halloween fan, Colton teased the audience about his next getup: "The Princess Fiona costume was like the coolest thing I've ever done. But this year, my costume's already being made by the same guy who made that costume… It's gonna be insane… You guys are gonna crack up."
Still snickering at the thought of it, he slipped, "I can say that she's a… Ah, crap! I just gave away what I'm gonna be," but he followed through. "It's gonna be along the same lines of last year. The person that I'm being is actually purple, and not green, so we'll see." (Let's take a guess. Ursula from The Little Mermaid?)
@ColtonLHaynes slips about his new costume. We have a decent guess, and we can't wait! pic.twitter.com/Ox1zvTdg6q

— Out of Tune (@outoftunelive) September 28, 2015
He also gamely fielded questions from his fans, including a guy dressed as Arsenal, who Colton called his "twin."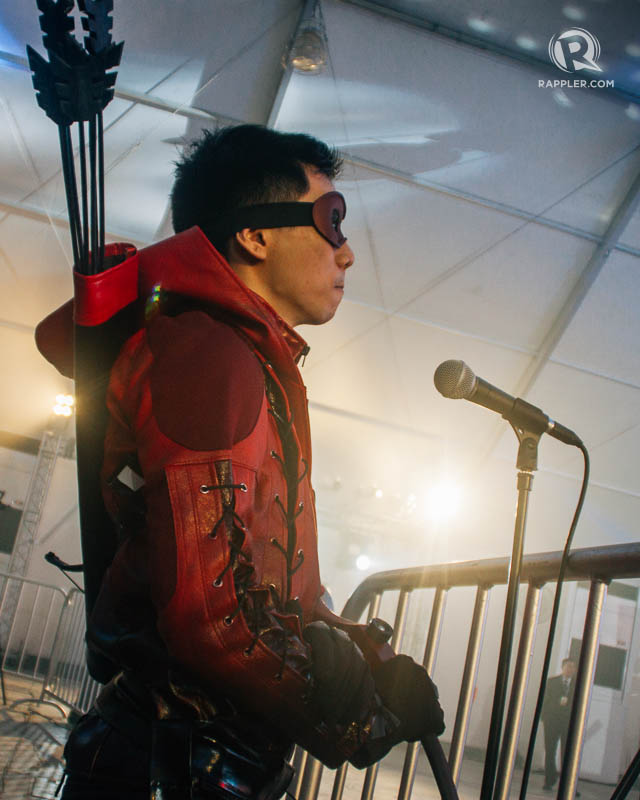 Colton also expressed his openness to returning to his previous shows. "The families that I made with the Teen Wolf cast, theArrow cast – I'm gonna have that forever," Colton said. "It is nice that I do have the flexibility to go back to the shows – well, whenever I'm ready. So, you guys will be seeing me very soon."
A fan asked him if he would appear in DC's Legends of Tomorrow. "I don't know about that for sure, but I do know that the producers and Greg [Berlanti] – they've basically invited everyone to kind of hop around to different shows," replied Colton. "So, if they can fit me in, that would actually be really incredible. I definitely would if that were the case. I would not shy away from that."
At the end of his talk, he also indulged fans to a show of his singing and dancing skills. (WATCH: Colton Haynes sings, dances for PH fans at AsiaPOP Comic Con)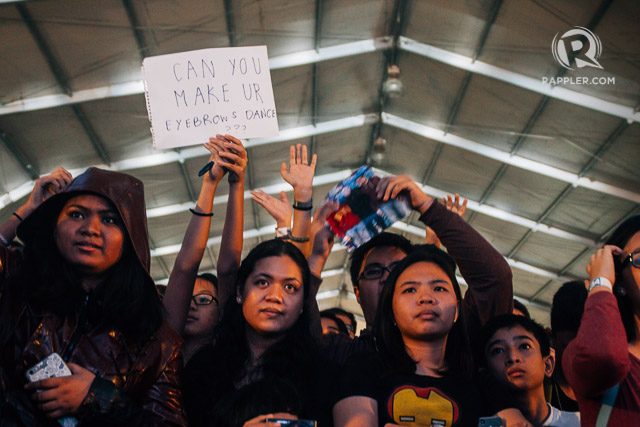 Nathalie Emmanuel spoke in Valyrian and set the roof on fire.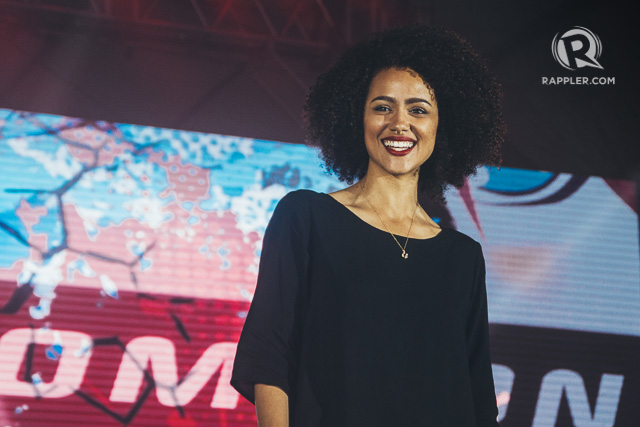 Daenerys, the Mother of Dragons, wasn't there to grace the occasion herself, but she sent her highly-trusted envoy, Missandei, who still set the place on fire.
It was the Game of Thrones actress Nathalie Emmanuel's first time at a Comic Con, and the Filipino fans surely made it special for her. She said, "You guys know how to welcome people. You know how to look after us." ([READ:] 'Game of Thrones' star Nathalie Emmanuel: 14 things about life inside and outside Westeros)
Nathalie told the audience that she has always been a fan of the show – even before being cast on Season 3, and also of George R.R. Martin's book series, A Song of Ice and Fire. "I watched Season 1, and then I started reading the books. I'm on, like, Book 4 [A Feast for Crows] now," said Nathalie.
"I haven't finished them all because I don't like to want to read them all and then have nothing Game of Thrones to do." (You can read between the lines, but this hopefully just means that she only wants to do something off the set."
Her fellow fans couldn't resist the urge to get an insider scoop about the fate of Jon Snow, after the previous season's shocking finale. She came in prepared and swiftly dodged questions of this ilk: "I don't know what you're talking about."
The audience was also thrilled to hear about the romantic tension her character Missandei has with the Commander of the Unsullied, Grey Worm. "A little shout out to Jacob [Anderson], who we love, who plays Grey Worm," she said.
Like her real-life BFF, Emilia Clarke (who plays Daenerys), she sounded like a total badass speaking in Valyrian: "Daenerys Jelmāzmo aō naejot dēmas hen lentrot Targārien, Zȳho Brōzio Ēlos, Dorzalty, Mīrīno Dāria… (You stand before Daenerys Stormborn of the house Targaryen, the First of Her Name, the Unburnt, Queen of Meereen…)"
Daenerys Jelmāzmo aō naejot dēmas hen lentrot Targārien, Zyho Brōzio Ēlos, Dorzalty, Mīrīno Dāria –@missnemmanuel pic.twitter.com/wLYZ6QRIrs

— Out of Tune (@outoftunelive) September 28, 2015
Paul Bettany drew cheers and laughs with his stories about finally getting to play an Avenger.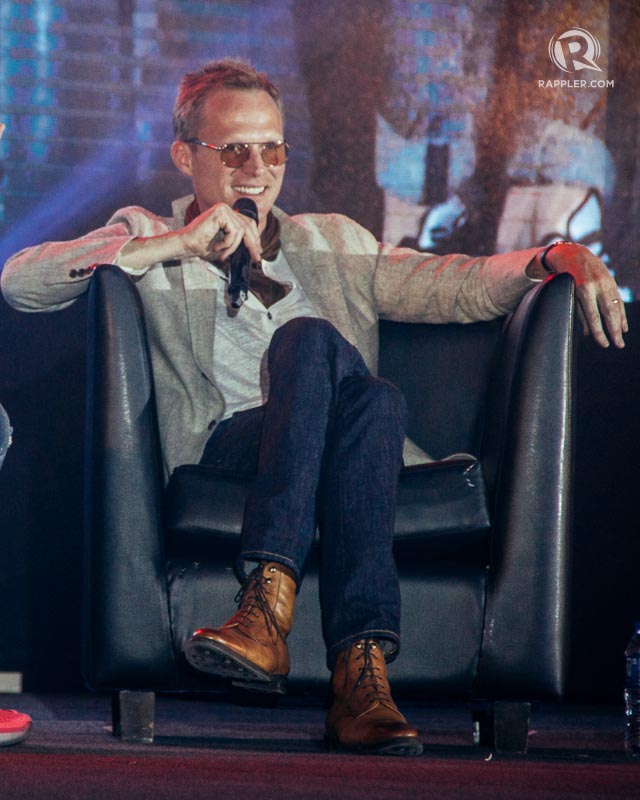 Formerly just the voice of J.A.R.V.I.S., Paul Bettany joined his castmates onscreen in Age of Ultron, finally getting to play a badass Avenger himself: the Vision.
Minutes before his panel, Hall D was filled to the brim with ecstatic fans who clamored for several replays of the Civil Warsneak peek. Most of them stayed behind to also get to listen to his vivid stories about his new role in the Marvel Cinematic Universe. ([READ:] 30 awesome facts about 'Avengers' star Paul Bettany)
Fans got a kick out of Paul's anecdote about Robert Downey Jr., calling the moment that his daughter professed her love for Iron Man instead of his own Vision, "a very dark and bad moment."
"I had to send him one where she says, 'I love you. I love you. I love you more than my daddy!'" grumbled Paul, adding a little "Damn you, Downey!"
@Paul_Bettany's darkest moment. Blame @RobertDowneyJr pic.twitter.com/vR48xqqmMe

— Out of Tune (@outoftunelive) September 28, 2015
We genuinely felt sorry for him, except that the schadenfreude was obvious with our guffawing. "You know, the Marvel stuff is the only thing my kids have ever, ever been interested in I've ever done in my life – ever. So that's slightly humiliating," Paul said.
He also inspired the attentive fans with the story behind his casting as the Vision. "I was sitting on the sidewalk of Sunset Boulevard, having just come out of a meeting in the building behind me, having been told that my career was over by a producer," recounted Paul.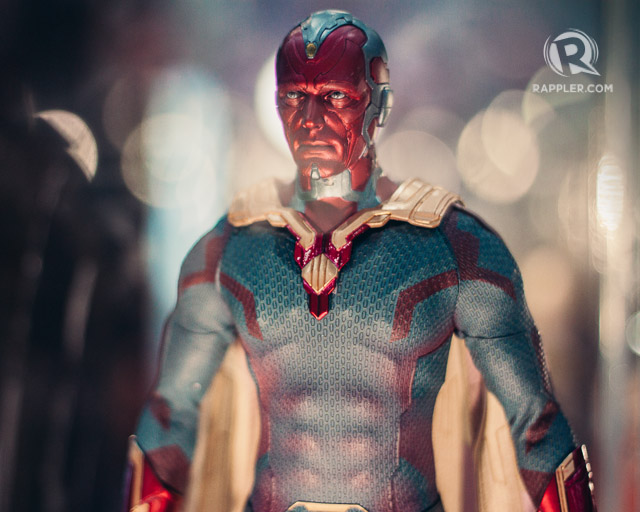 "My phone rang, and I answered my phone. I said, 'Hello,' and it was Joss Whedon," continued Paul. "And Joss Whedon said, do you wanna be a superhero in the next Avengers movie, and I said, 'Yes.'" He triumphantly flipped the bird behind him, as if facing the producer that trashed him – much to the audience's delight.
@Paul_Bettany's darkest moment. Blame @RobertDowneyJr pic.twitter.com/vR48xqqmMe

— Out of Tune (@outoftunelive) September 28, 2015
There was also music to soundtrack the occasion.
Japanese producer DJ'TEKINA//SOMETHING (a.k.a. Yuyoyuppe) hit the decks at Hall D on Saturday afternoon, to dish out his Vocaloid-driven electro tracks.
Jeremy Shada also rocked Comic Con with his band, Make Out Monday, where he played alongside his brother Zack and friends, Seth Renken, John Spicer, and Logan Charles. Fans were definitely amused to see Finn the Human popping and slapping on the bass guitar for two nights straight.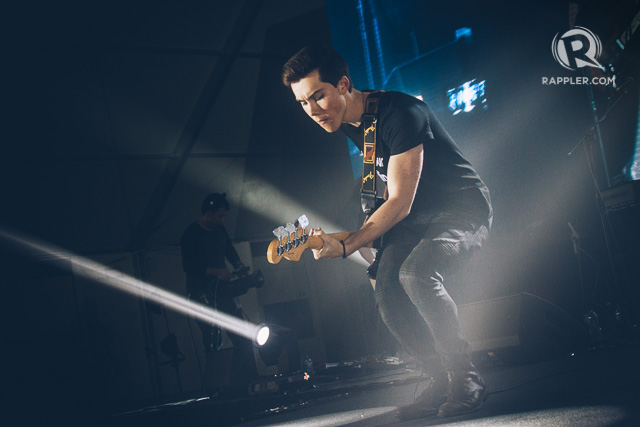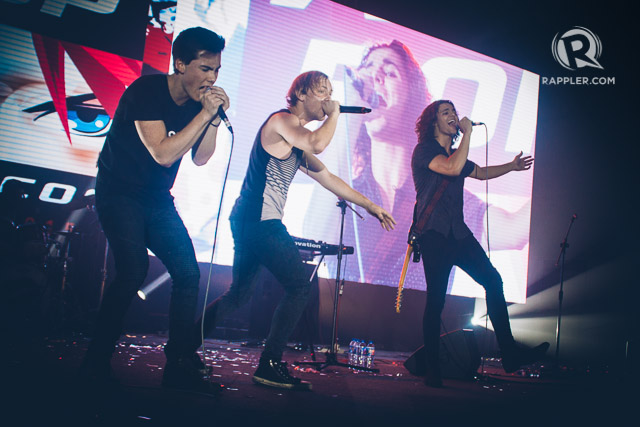 The stars, together with the fans, made wonderful memories at Comic Con.
They thanked their Filipino fans on social media.
Thanks to everyone who came out to see me at Asia pop in Manila. pic.twitter.com/AdzOKWx2mz

— Paul Bettany (@Paul_Bettany) September 20, 2015
Big thanks to EVERYONE who came to #AsiaPOPComicon this weekend! We couldn't be more thankful to yall! #bestfans  pic.twitter.com/tEUrNNl1jZ

— jeremy shada (@JeremyShada) September 21, 2015
Did you attend AsiaPOP Comic Con? Share with us your best memories in the comments below! – Rappler.com
Paolo Abad is a film/television editor and motion graphic designer. He is also a self-confessed concert junkie. Follow his Instagram for live music @outoftunephoto