This is AI generated summarization, which may have errors. For context, always refer to the full article.
(UPDATED) After 6 nominations, Leonardo DiCaprio finally wins an Oscar for his work in 'The Revenant'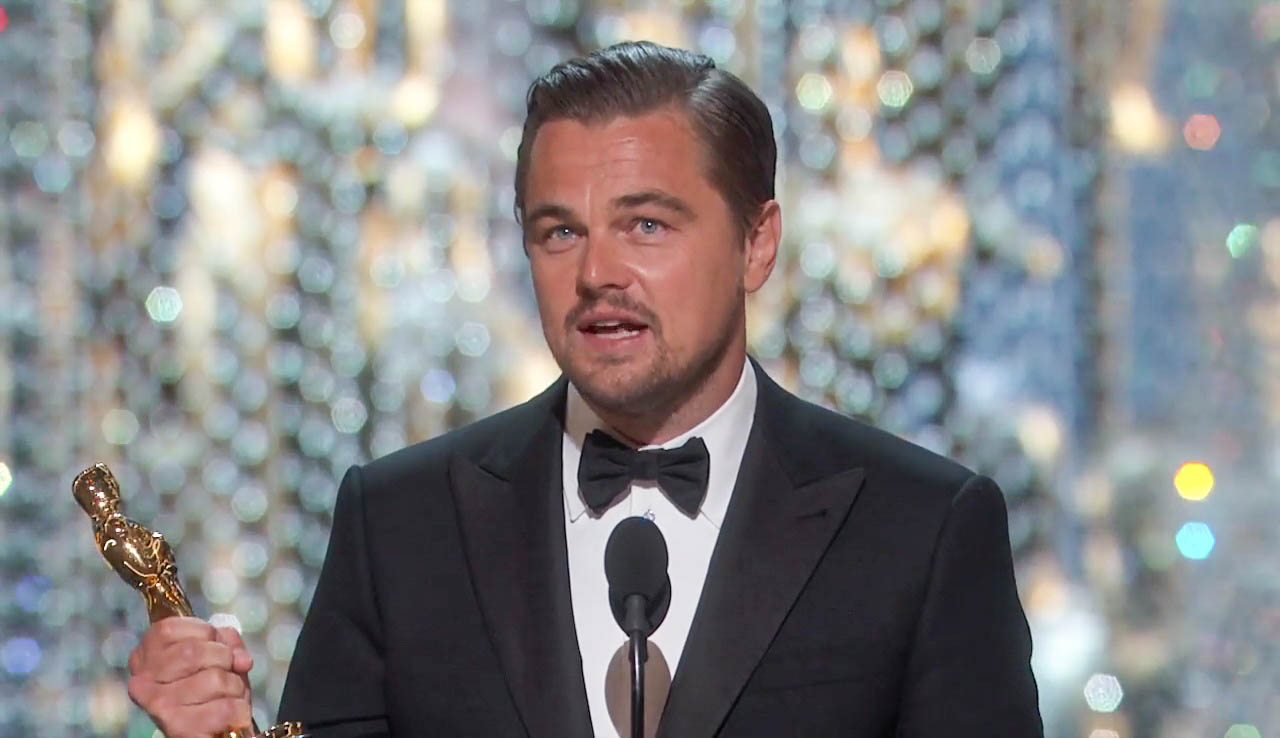 MANILA, Philippines (UPDATED) – Sixth time's the charm for actor Leonardo DiCaprio, who finally got an Oscar for his performance in The Revenant on Sunday, February 28 (Monday, February 29 in Manila).
DiCaprio edged out Bryan Cranston (Trumbo), Matt Damon (The Martian), Michael Fassbender (Steve Jobs) and Eddie Redmayne (The Danish Girl) to take the best actor statuette.
At the Governor's Ball after the ceremony, DiCaprio cracked a joke with the person engraving his name on the statuette. "Do you do this every year?" he asked. "I wouldn't know."
Watch his full Oscars speech here:
"I do not take tonight for granted." – @LeoDiCaprio on first #Oscar win. https://t.co/aYPinAW8CL #Oscars https://t.co/wz33SAZPes

— Good Morning America (@GMA) February 29, 2016
After thanking the cast and crew involved with making The Revenant, Leo also put the spotlight on another topic he has consistently championed over the past years – climate change.
"Making The Revenant was about man's relationship to the natural world – the world that we collectively felt in 2015 as the hottest year in recorded history," he said. 
"Climate change is real. It is happening right now. It is the most urgent threat facing our entire species, and we need to work collectively together and stop procrastinating.
"We need to support leaders around the world who do not speak for the big polluters and the big corporations, but who speak for all of humanity, for the indigenous people of the world, for the billions and billions of underprivileged people who will be most affected by this, for our children's children, and for those people out there whose voices have been drowned out by the politics of greed," he said. 
The road to his first Oscar has been a long one for Leo, who has been nominated 6 times in total. 
He took extra time to thank not only those who worked on The Revenant, but also key figures who helped him throughout his career. 
"I have to thank everyone from the very onset of my career: [director] Mr. [Michael] Caton-Jones, for casting me in my first film [This Boy's Life]; Mr. Scorsese for teaching me so much about the cinematic art form; to [producer] Mr. Rick Yorn, thank you for helping me navigate my way through this industry, and to my parents, none of this would be possible without you, and to my friends, I love you dearly. You know who you are," he said. 
After the show, Leo also took the time to thank other people he missed during his speech.
Watch:
.@LeoDiCaprio has additional people to thank! Catch up with him backstage presented by @SamsungMobileUS. #Oscarshttps://t.co/hdiPKjTBG4

— ABC Network (@ABCNetwork) February 29, 2016
Set in 1823, The Revenant is inspired by the experiences of fur trapper Hugh Glass who is played by Leonardo DiCaprio. After being mauled by a grizzly bear, Glass is left for dead by his comrades. What ensues is a fictional retelling of Glass' ordeals as an epic of survival and revenge set against the freezing northern lands.
His role in this riveting epic has been acclaimed, as he takes it to extremes – like eating an actual raw bison liver, among others (READ: Leonardo DiCaprio may finally get Oscars due with 'The Revenant')
DiCaprio was previously nominated for the Academy Award for his roles in The Wolf of Wall Street (2013, also for Best Picture as an executive producer), Blood Diamond (2006), The Aviator (2004), and What's Eating Gilbert Grape (1993). He has never won any of those previous nominations.
DiCaprio also won a Golden Globe and a BAFTA for the his role in The Revenant. – Rappler.com
More Oscars 2016:
Oscars night:
More: