'To the world it's a celebration of 10 years, but for us the journey began way before the world had any clue who the f*ck any of us are,' writes Miley on Instagram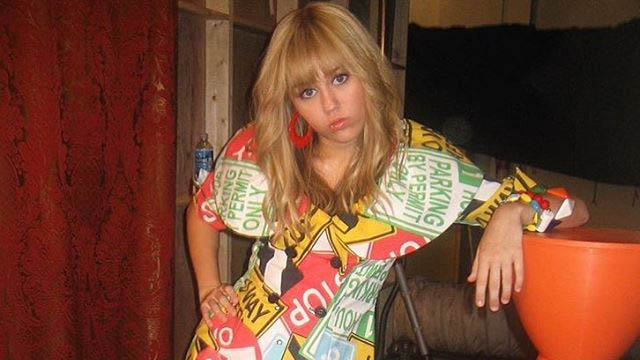 MANILA, Philippines – Miley Cyrus remembered the days when she was playing Hannah Montana, a teenage girl by day and pop superstar by night, on the Disney Channel show's 10th anniversary. 
Hannah Montana premiered on March 24, 2006, and Miley put up several throwback posts on her Instagram. She wrote a lengthy tribute to her co-stars as well.
She began her nostalgic tribute with a screenshot of her text messages with former co-star Jason Earles, who played her older brother on the show, Stewart.
"How insane. 10 years later still laying around in a blonde wig," she texted Jason, who replied, "Try as you might, you can't get away."
She wrote a lengthy, heartfelt message accompanying the image, telling everyone to celebrate by getting "real drunk and [remembering] #HM4EVR."
"Sending love to all my cast members on this anniversary… To the world it's a celebration of 10 years, but for us the journey began way before the world had any clue who the f*ck any of us are," Miley wrote.
She also recounted, "There was a very long auditioning process, and many chemistry reads which really is what sold the show to the producers and channel because no matter what went on over the years, our love for each other was unquestionable."
Miley also addressed her conflicted relationship with the show, but said that she was still "eternally grateful" for the launchpad of her career. She wrote, "Even though I feel disconnected to who I was at that time I will always feel eternally grateful for the opportunity and platform I was given."
"None of it would have been possible with out every single person who ever contributed to the series. From regulars , to special guests (and there were many magical ones, Dolly Parton) to creators, crew, directors. I am where I am because of loyal fans that I am thankful for and of course love dearly all the new angels who support me now."
She ended this tribute post, saying, "Even though HM is chopped up into little tiny pieces and buried in my backyard she will always hold a very special place in my heart!"
Miley continued with her very own 10th anniversary celebration with several throwback posts.
Miley posted this screenshot of an episode, captioned "Art imitates life." She once dyed her armpit hair in bright pink.
Way before the girl "[couldn't] be tamed":
Now that she's a vegan herself, she posted this clip from her old show:
She blew a "candle" on the special occasion, with an old episode of Hannah Montana playing in the background.
She also posted this funny clip with Jake Ryan (Cody Linley), one of Miley's on-screen love interests on Hannah Montana.
Hannah Montana went off-air after its 4th season and 98 episodes in 2011. The show also had its own feature film spin-off, Hannah Montana: The Movie (2009). 
– Rappler.com