The actor-turned-politician-turned-detainee had earlier posted on Facebook a selfie that was apparently taken inside the high-security detention facility
MANILA, Philippines – No more selfies for you.
Police confiscated a cellphone from former senator Ramon "Bong" Revilla Jr on Thursday, June 21, hours after the actor-turned-politician-turned-detainee posted a selfie from inside his detention center to commemorate his 4th year in prison. 
According to Philippine National Police (PNP) spokesman Senior Superintendent Benigno Durana, a unit from the Headquarters Support Service inspected Revilla's detention center. Revilla is detained at the Custodial Center in Camp Crame, the PNP headquarters.
Revilla, who starred in movies like Ang Panday and had portrayed a policeman several times on screen, was arrested 4 years ago over his alleged involvement in the so-called pork barrel scam.
He is accused of pocketing millions in public funds by funneling his Priority Development Assistance Fund into fake non-governmental organizations for ghost projects.
"An investigation is being conducted by HSS to determine the circumstances surrounding that apparent breach of regulations despite at least twice a week of unannounced inspections of all the cell blocks. The ax will fall where it should the moment an investigation clearly established culpability of any personnel," added Durana. (IN PHOTOS: Senators' detention center in Camp Crame)
At around 12:13 pm on Thursday, Revilla posted a selfie accompanied by a lengthy caption about his 4th year in prison. It was a public post.
The post has since been taken down or made private but here's a screenshot of it in case you missed it: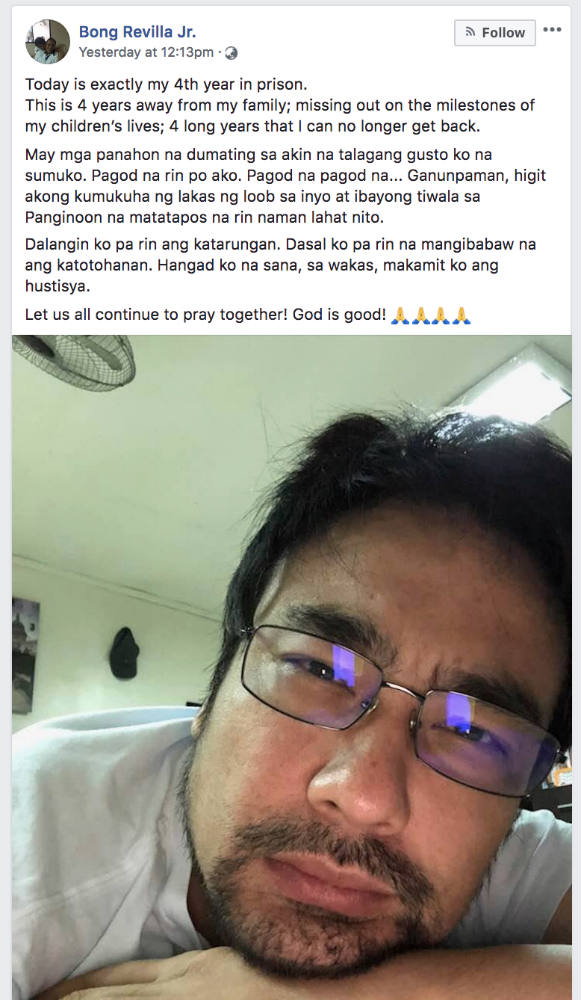 The former senator noted that he was "tired" of being detained over charges which he had denied repeatedly.
"Dalangin ko pa rin ang katarungan. Dasal ko pa rin na mangibabaw na ang katotohanan (I still seek justice. I still pray that the truth prevail)," he said.
Revilla stays at a specific section within the Custodial Center compound that was reserved particularly for him and two other senators also involved in the pork barrel scam. Former senator Jinggoy Estrada, however, was granted bail in September last year.
The Custodial Center, like any other detention facility, does not allow its detainees to own cellphones. They are also generally not allowed access to the Internet. Even visitors are made to deposit their cellphones and other electronic gadgets before entering the premises. 
It's in the high-security Custodial Center where many high-profile personalities are detained. – with reports from Rambo Talabong/Rappler.com