Jej performs 'Passionfruit' and gets a 4-chair turn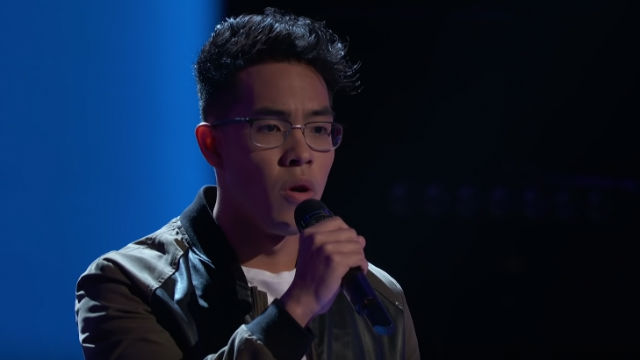 MANILA, Philippines – An aspiring Filipino singer who migrated to the US wowed the coaches of The Voice US on Tuesday, March 5 (Monday March 4) during the blind auditions.
Jej Vinson performed Drake's "Passionfruit," onstage. He got his first turn from Blake Shelton, followed by Kelly Clarkson, and last two coaches Adam Levine and John Legend.
"You're a better singer than all of us," Adam told him.
John said he was happy that Jej gave his own flavor to the song.
"I was worried that you would stay in that little zone, but then your soared, you showed us these precise beautiful runs. It's like you know the note you want it and you just picked it out in the air and you then hit every single one…precision and beauty and excitement," John said.
Kelly made a pitch for Jej joining her team, saying she'd love to work with him and that she believed she could win with him in her team.
Blake Shelton did not hold back in his praises. "I think everybody here is probably a little bit nervous talking to you right now. We all feel like we're all looking at the winner of The Voice this season, I do. I think that."
Jej eventually chooses Kelly to be his mentor.
The Voice US is currently on its 16th season is hosted by Carson Daly. – Rappler.com