What happens when an ugly duckling meets a handsome prince? Find out from the author herself
MANILA, Philippines – What stemmed from a teenage girl's boredom, is now on its way to the big screen.
Diary ng Panget, a bestselling book by young Filipino writer Denny, better known as HaveYouSeenThisGirl, is now a full-length film, set for nationwide premiere on April 2.
The story, first read online publishing site Wattpad, follows Eya Rodriguez, a teenage girl struggling to make ends meet (and also struggling with dreaded acne). Hoping to earn extra income, she signs on as a personal maid for her high school's student council president and resident heartthrob Cross Sandford.
She then finds that prince charming isn't so pleasant on the inside. Faced with humiliation and bullying from her handsome yet arrogant boss, the story can only go one way.
You guessed it, Eya the ugly duckling, and Cross the campus hearthrob, fall in love.
When ugly meets handsome 
According to Denny herself, Diary ng Panget is an "ordinary ugly girl-handsome boy love story" where complete opposites fall in love.
"It's simple, nothing new, a cliché " admitted Denny, dumbfounded by what others found amusing in her story. But thinking about it, perhaps the simplicity is what made it attractive, she told Rappler through email.
"A lot of readers say it's something that you should read when you're stressed from work, school or when you're tired and when you've problems. It will make you laugh, they say."
It's an easy read in the same way the story was a breeze to write, she said. For Denny, crafting her work, inspired by her favorite anime characters, was a relaxing and fun experience. 
"I was just happily writing anything that goes in my head… I ended up with a cliche' ugly poor girl and rich handsome snob guy love story because it was very easy to write, plus my corny side added fun while I was writing it."
From online to print to film 
The young writer was hands-on in the production.
Denny was very particular about who played her beloved characters. She handpicked Nadine Lustre for the role of Eya and was asked to give the go signal for other main characters. Filipino-Australian James Reid plays bad boy heartthrob Cross, while Yassi Pressman and Andre Paras play Eya's best friends Lory and Chad.
According to Denny, Nadine has a certain "bubbly" attitude, perfect for the role, which she holds dear. Of all her characters, Denny believes she can relate most to Eya, who faces the same insecurities as she does. It must be remembered, after all, that when Denny wrote Diary ng Panget in 2011 at 17 years old, she was not much older than the characters in her book. 
"I'm sometimes like her with very low self confidence, I don't see myself as a pretty person," she shared, noting, however, that a "crazy" character is also common to them. 
Meanwhile, the author also saw Cross' "snobbish and spoiled aura" in James, although noting that the actor is a nice guy in real life. Also, it doesn't hurt that he's just as "hot" as Cross, said Denny.
Similarly, Denny had a say in the final script, giving strict instructions to retain the highlights of her book. 
One such moment, Denny said, is when Eya and Cross are locked up in the Student Council room. The scene, one of the author's favorites, will surely be in the film.
Have You Seen Denny?
Have you seen the young writer around? Probably not. 
After graduating from high school in 2010, the now 20-year-old moved to Italy where she is currently a student taking up Graphic Advertising.
But several fans might have spotted her at the Manila International Book Fair in September 2013, where she flew in for an autograph signing. But fans once again have the chance to meet Denny as she is currently in the Philippines for the film's premiere.
From having only 2 to 3 readers online, to gathering a long queue of fans, Denny described the experience as something unexpected.
"I didn't even expect I'd get my works published. I was just really writing for fun, didn't expect all of these," she said.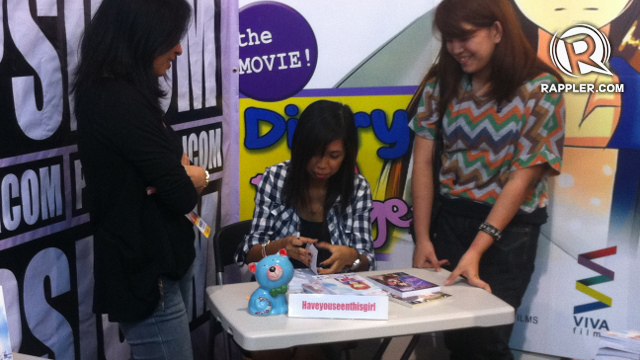 Indeed, Denny never had dreams of becoming a writer, more so, of having several published works, with a film adaptation to boot. "I only liked writing but never dreamt of becoming a 'real' one," said Denny, who picked up the pen at age 13. 
In 2012, she received an email from publishing company PSICOM. The letter, however, remained unread for two months, having been sent to her old email address. Despite the delay, she wasted no time agreeing to the proposition.
"It's every writer's dream to get her works published as a book," she said.
Just as how her offers came undexpectedly, so did her pseudonym. Turns out, HaveYouSeenThisGirl was merely one of the few available usernames she thought of for Wattpad, where the story first piqued the interest of readers.
From a Wattpad user to a bestselling author, Denny says she now faces pressure to better her work. Despite this, the 20-year-old makes sure the fun factor remains. It's one thing she can pass on to aspriring writers, she said.
"Write happily, write with hope, write with passion and write because your dream is to write your dream." – Rappler.com
Diary ng Panget opens in theaters on April 2