This is AI generated summarization, which may have errors. For context, always refer to the full article.
Take your pick from the flicks playing this week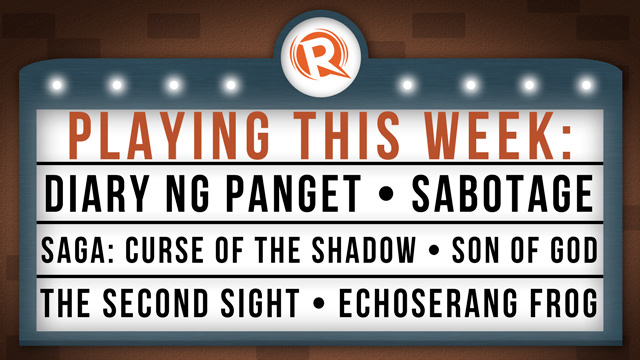 MANILA, Philippines – This week's releases break the monotony and cover a whole spectrum of genres. Whether it's a biblical saga, a high-octane action flick, an epic fantasy, or a serving of Thai horror, there's sure to be something for everyone at the box office.
If you're heading to the movies this weekend, you might want to check out these fresh releases:
Diary ng Panget
Diary ng Panget is the film adaptation of the popular teen romantic comedy novels by the same name. The film follows self-described "ugly girl" Eya (Nadine Lustre) as she navigates life at Wilford Academy. She takes a job as a maid for the Sanford family, and constantly clashes with the handsome but spoiled Cross Sanford (James Reid). She befriends Lory Keet (Yassi Pressman), a half-British beauty who has a crush on Cross, and Chad Jimenez, a "nice guy" who has an unrequited crush on Lory.
Eya is the common link in the love triangle, and tries to set everyone up with the right person. She starts to grow more beautiful as time goes by, and her friendship with the usually snobbish Cross starts to blossom into something more. 
Sabotage
Fans of Arnold Schwarzenegger might be delighted by the Governator's latest action-packed offering, Sabotage. The film follows Arnie as he leads an operation against a leading drug cartel. After a successful mission, it looks like all's well, until team members start dropping left and right. What happens next? 
The film was rated 22% on Rotten Tomatoes.  It was given 1 and a half stars on RogerEbert.com, which described it as "Essentially a head-on collision between a gritty cop drama and an over-the-top slasher film that leaves no survivors, Sabotage is a genuinely weird movie in most respects but unfortunately, it isn't so much interesting-weird as it is "What in God's name were they thinking?"–weird."
SAGA: Curse of the Shadow
SAGA: Curse of the Shadow is a budget fantasy film produced by indie studio Arrowstorm Entertainment; it was also partially funded via Kickstarter.
This epic tale is set in the mystical world of SAGA, a vast landscape populated by fantasy creatures such as orcs, elves, dwarves, and dragons.  The film is the story of a warrior whose mission is to defeat a cult. He works with a bounty hunter and a rader to save the world. 
Son of God
Shot in the style of an action epic, Son of God is a depiction of the life of Jesus Christ, from his birth to his crucifixion to his resurrection, and the miracles he performed in between.  
Sheila O'Malley of RogerEbert.com gave the film 2 stars, saying, "It's heavy-handed and melodramatic, openly sentimental, and extremely earnest. Son of God's earnest-ness is not necessarily a strike against it; it was made by earnest people who want to spread the word. But it's a tough draught to swallow if you're not in the mood for a sermon."
This sentiment was also echoed on Rotten Tomatoes, who gave the film a 22% score on the Tomatometer, saying that while "The faithful may find their spirits raised, but on purely cinematic terms, Son of God is too dull and heavy-handed to spark much fervor. 
The Second Sight
Fans of Thai horror films might be interested in this movie, which follows a hotshot lawyer with the ability to see ghosts surrounding other people. He uses his ability to protect his client, a young teenage girl, from the evil forces that cling to her. He grows closer to the girl, and eventually reveals his own darkness.
Echoserang Frog
Echoserang Frog is a comedic mockumentary that follows showbiz veteran Shalala as he attempts to produce and star in his own feature film. He has many grand ideas for his movie, but mid-production he soon finds out that things don't always go according to plan. 
What will you be watching this weekend? – Rappler.com