This is AI generated summarization, which may have errors. For context, always refer to the full article.
The group is scheduled to hold its first concert in the Philippines on March 21, 2015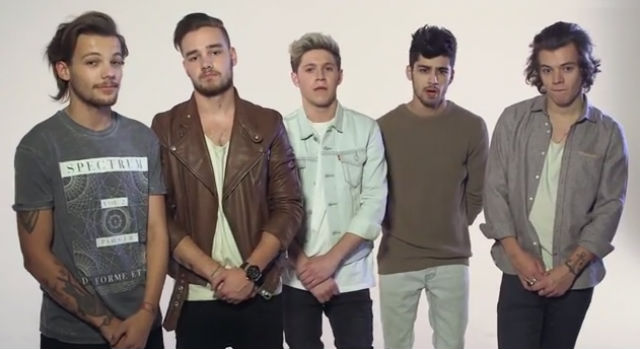 MANILA, Philippines – Looks like boyband One Direction's image might be in trouble.
The popular British group is currently entangled in a controversy after a video showing two of its members, Zayn Malik and Louis Tomlison, smoking a "roll-up cigarette" went viral on the Internet.
In the article and video provided by MailOnline, Zayn and Louis were not only seen smoking, but also joking and laughing about marijuana or "joint" as it's called in the 5-minute video. The boys were inside a car in Peru for their concert last April 27.
Louis was also heard making fun of the police officer they heard from outside their SUV.

Fans worldwide, including those in the Philippines, were not pleased with the video but said they still love the group and will continue to support them. In fact, the hashtags Zayn and Louis, #DontBan1DFromPhilippines, and #NiallRaised300kWriteAboutThat pertaining to band member Niall Horan raising money for charity at a football match recently trended on Twitter worldwide.
how can you ban them?? after everything they've done to us….?! GROW UP.!! #DontBan1DFromPhilippines pic.twitter.com/516oxxAgfT

— Christine 1D (@imchristine6) May 28, 2014
You left just because of 1 mistake but remember they make you smile and alive for many times. Goodbye I'm done #DontBan1DFromPhilippines

— ✖✖ (@BarbYOAH) May 28, 2014
The group is scheduled to hold its first concert in the Philippines on March 21, 2015. Tickets for the concerts sold out quickly with many fans dismayed. 
Rhiza Pascua, head of concert promoter MMI Live tweeted over the weekend that a second show for the group's On the Road Again tour is scheduled on March 22, 2015.
Directioners, please don't buy from scalpers. Buy tickets for 2nd show at @smtickets. March 22, 2015!!! @ovationprod @celdeguia

— Rhiza Pascua (@itsarpee) May 25, 2014
A date has yet to be announced for the sale of tickets. – Rappler.com