This is AI generated summarization, which may have errors. For context, always refer to the full article.
Watch the trailer for a glimpse of Beetee, plus a look at Johanna Mason with Peeta and President Snow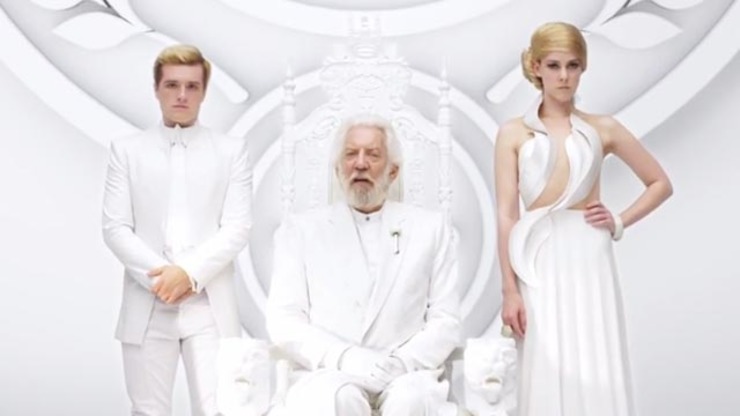 MANILA, Philippines – In the newest teaser for The Hunger Games: Mockingjay, President Snow emphasizes one thing to the citizens of Panem: unity. 
President Snow reassures his citizens of their nation's success and stability yet again, doing so as he is flanked by not one, but two victors- in the first public announcement, a dazed Peeta dutifully stood beside him as his right hand man. Now, however, District 7's Johanna joins the duo, also decked out in the signature all-white ensemble. 
Unfortunately, President Snow's latest campaign message doesn't go as smoothly as his first. Just as President Snow claims the Capitol and the Districts are "bound together," speaking as one voice, the telecast fizzles and goes black, revealing the bespectacled tech whiz Beetee.  
Speaking from the supposedly non-existent and little-known District 13, Beetee only has a few words for the nation: "The Mockingjay lives". 
In the last film, Hunger Games: Catching Fire, Katniss learned that winning the Games doesn't guarantee freedom- instead, it only drags you deeper into the Capitol's power play. Although the film ended with a victory for Katniss and her team, two key players, Peeta and Johanna, were left behind for the Capitol's taking. What happened to them? It's up to Katniss and friends to save the day, while existing in the sometimes restricting confines of District 13. 
The first half of The Hunger Games: Mockingjay is set to premiere in November. Jennifer Lawrence, Josh Hutcherson, Liam Hemsworth, Woody Harrelson, Sam Claflin, and Philip Seymour Hoffman (whose scenes were already filmed prior to his death) all return to reprise their roles, while Julianne Moore joins the cast for the first time to make her debut as President Coin, the leader of District 13. 
Visit www.thecapitol.pn (Yes, Panem has its own website domain) for more details. Will you watch the final installments of the Hunger Games trilogy? Let us know in the comments below. – Rappler.com