Paris Hilton, Kate Hudson, Lucy Hale, and more – see their outfits!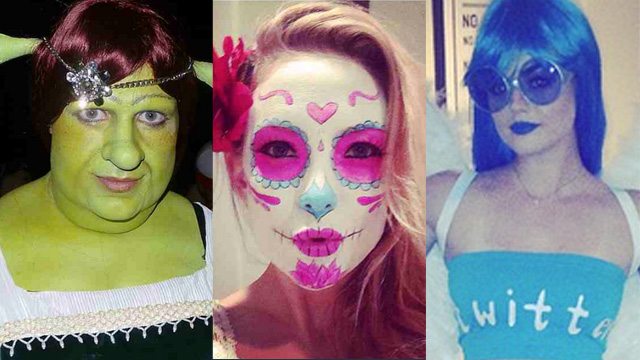 MANILA, Philippines – Hollywood is kicking into Halloween gear early, as celebrities are already making the party rounds. 
Social media is once again invading Halloween – Pretty Little Liars star Lucy Hale dressed up as the Twitter bird while actor Drew Osborne was the Instagram icon for a day.
Some went for very intricate makeup via professional makeup artists, some chose to transform completely, while some opted to show a lot of skin. 
Check them out below: 
Rihanna 
{source}
<blockquote class="twitter-tweet" lang="en"><p>Happy Hallow wein! <a href="https://twitter.com/hashtag/RIHphael?src=hash">#RIHphael</a> <a href="http://t.co/mU2fEIZJZ0″>pic.twitter.com/mU2fEIZJZ0</a></p>&mdash; Rihanna (@rihanna) <a href="https://twitter.com/rihanna/status/528437641172496384″>November 1, 2014</a></blockquote>
<script async src="//platform.twitter.com/widgets.js" charset="utf-8″></script>{/source}
Demi Lovato, Jennifer Lopez, and Iggy Azalea
{source}<iframe src="http://instagram.com/p/u3eYPnGuCQ/embed/" width="100%" height="710″ frameborder="0″ scrolling="no"></iframe>{/source}
Gisele Bundchen, Tom Brady and kids as a dragon family
{source}<iframe src="http://instagram.com/p/u1kE0OntE7/embed/" width="100%" height="710″ frameborder="0″ scrolling="no"></iframe>{/source}
Adam Levine and Behati Prinsloo
{source}<iframe src="http://instagram.com/p/u3hNYwQlh3/embed/" width="100%" height="710″ frameborder="0″ scrolling="no"></iframe>{/source}
Ariana Grande
{source}<iframe src="http://instagram.com/p/u2aPd5SWYH/embed/" width="100%" height="710″ frameborder="0″ scrolling="no"></iframe>{/source}
Neil Patrick Harris 
{source}<iframe src="http://instagram.com/p/u1QXfiyTmz/embed/" width="100%" height="710″ frameborder="0″ scrolling="no"></iframe>{/source}
Jensen Ackles, Jared Padalecki, Misha Collins (as each other's characters on Supernatural!)
{source}<iframe src="http://instagram.com/p/u3NaGtitIC/embed/" width="100%" height="710″ frameborder="0″ scrolling="no"></iframe>{/source}
Kaley Cuoco…as Justin Bieber
{source}<iframe src="http://instagram.com/p/u2QT6oCshn/embed/" width="100%" height="710″ frameborder="0″ scrolling="no"></iframe>{/source}
Padma Lakshmi and Susan Sarandon 
{source}<iframe src="http://instagram.com/p/u0tIfRJXHN/embed/" width="100%" height="710″ frameborder="0″ scrolling="no"></iframe>{/source}
Billy Crystal 
{source}
<blockquote class="twitter-tweet" lang="en"><p>Have a cookin&#39; Halloween <a href="http://t.co/ZCqq7rWgp5″>pic.twitter.com/ZCqq7rWgp5</a></p>&mdash; Billy Crystal (@BillyCrystal) <a href="https://twitter.com/BillyCrystal/status/528347841375506433″>November 1, 2014</a></blockquote>
<script async src="//platform.twitter.com/widgets.js" charset="utf-8″></script>{/source}
Lea Michele 
{source}<iframe src="http://instagram.com/p/u0zHOrCDzD/embed/" width="100%" height="710″ frameborder="0″ scrolling="no"></iframe>{/source}
Jesse Tyler Ferguson
{source}<iframe src="http://instagram.com/p/u17JyPQEg9/embed/" width="100%" height="710″ frameborder="0″ scrolling="no"></iframe>{/source}
Kim Kardashian
{source}<iframe src="http://instagram.com/p/u1d8hyOS4m/embed/" width="100%" height="710″ frameborder="0″ scrolling="no"></iframe>{/source}
{source}
<iframe src="http://instagram.com/p/u1lqhGOS8B/embed/" width="100%" height="710″ frameborder="0″ scrolling="no"></iframe>{/source}
Heidi Klum 
{source}<iframe src="http://instagram.com/p/u2PQZWD1Sb/embed/" width="100%" height="710″ frameborder="0″ scrolling="no"></iframe>{/source}
Ellen DeGeneres
{source}<iframe width="100%" height="360″ src="//www.youtube.com/embed/LshOEHWCX3g" frameborder="0″ allowfullscreen></iframe>{/source}
Beyonce
{source}
<blockquote class="twitter-tweet" lang="en"><p>PHOTOS: Beyoncé &amp; Friends Celebrating Halloween Inside &#39;Charlie Bird&#39; Restaurant (Oct. 31) <a href="http://t.co/oeOrBHgTk9″>http://t.co/oeOrBHgTk9</a> <a href="http://t.co/Vtu5b3EKfQ">pic.twitter.com/Vtu5b3EKfQ</a></p>&mdash; BEYONCÉ LEGION (@Bey_Legion) <a href="https://twitter.com/Bey_Legion/status/528449995994054656″>November 1, 2014</a></blockquote>
<script async src="//platform.twitter.com/widgets.js" charset="utf-8″></script>{/source}
Taylor Swift
{source}
<iframe src="http://instagram.com/p/u1c3FmjvA_/embed/" width="100%" height="710″ frameborder="0″ scrolling="no"></iframe>{/source}
Chris Colfer 
{source}<iframe src="http://instagram.com/p/umhMG8tdRH/embed/" width="100%" height="710″ frameborder="0″ scrolling="no"></iframe>{/source}
Katy Perry 
{source}
<iframe src="http://instagram.com/p/uz0xoYv-cu/embed/" width="100%" height="710″ frameborder="0″ scrolling="no"></iframe>{/source}
Michelle Trachtenberg 
{source}<iframe src="http://instagram.com/p/uleVw8ufBW/embed/" width="100%" height="710″ frameborder="0″ scrolling="no"></iframe>  {/source}
Lucy Hale and Drew Osborne 
{source}<iframe src="http://instagram.com/p/umf7Dnwuo5/embed/" width="100%" height="710″ frameborder="0″ scrolling="no"></iframe>  {/source}
{source}<iframe src="http://instagram.com/p/umf4dqQuo0/embed/" width="100%" height="710″ frameborder="0″ scrolling="no"></iframe>  {/source} 
Colton Haynes 
{source}<iframe src="http://instagram.com/p/uoCAvVDTMq/embed/" width="100%" height="710″ frameborder="0″ scrolling="no"></iframe>  {/source} 
Kate Hudson
{source}<iframe src="http://instagram.com/p/ukbgHVpclp/embed/" width="100%" height="710″ frameborder="0″ scrolling="no"></iframe>  {/source}
{source}<iframe src="http://instagram.com/p/ukGD68pcvq/embed/" width="100%" height="710″ frameborder="0″ scrolling="no"></iframe>  {/source}
Cindy Crawford 
{source}<iframe src="http://instagram.com/p/ukUc9KTLdw/embed/" width="100%" height="710″ frameborder="0″ scrolling="no"></iframe>  {/source}
Paris Hilton
{source}<iframe src="http://instagram.com/p/upf7seKgAf/embed/" width="100%" height="710″ frameborder="0″ scrolling="no"></iframe>  {/source}
{source}<iframe src="http://instagram.com/p/uohiINqgKZ/embed/" width="100%" height="710″ frameborder="0″ scrolling="no"></iframe>  {/source}
{source} <iframe src="http://instagram.com/p/ul1vNRKgIR/embed/" width="100%" height="710″ frameborder="0″ scrolling="no"></iframe> {/source}
Ashley Benson
{source}<iframe src="http://instagram.com/p/uj_B6jBEPJ/embed/" width="100%" height="710″ frameborder="0″ scrolling="no"></iframe>{/source}
Matthew Morrison
{source}
<blockquote class="twitter-tweet" lang="en"><p>Thanks to <a href="https://twitter.com/FreixenetUSA">@FreixenetUSA</a> for an amazing birthday/Halloween celebration. <a href="https://twitter.com/hashtag/FXHalloween?src=hash">#FXHalloween</a> <a href="http://t.co/qVue9JXwUU">pic.twitter.com/qVue9JXwUU</a></p>&mdash; Matthew Morrison (@Matt_Morrison) <a href="https://twitter.com/Matt_Morrison/status/526448737699508225″>October 26, 2014</a></blockquote>
<script async src="//platform.twitter.com/widgets.js" charset="utf-8″></script>{/source}
JC Chasez
{source}
<blockquote class="twitter-tweet" lang="en"><p>Just found an amazing costume at <a href="http://t.co/MpWTqjVJsf">http://t.co/MpWTqjVJsf</a> <a href="https://twitter.com/hashtag/respect?src=hash">#respect</a> 4 <a href="https://twitter.com/robinwilliams">@robinwilliams</a> <a href="https://twitter.com/hashtag/nanunanu?src=hash">#nanunanu</a> <a href="https://twitter.com/hashtag/RestInPeaceRobin?src=hash">#RestInPeaceRobin</a> <a href="http://t.co/IB6ZHZ3TOO">pic.twitter.com/IB6ZHZ3TOO</a></p>&mdash; JC Chasez (@JCChasez) <a href="https://twitter.com/JCChasez/status/526164834065199104″>October 26, 2014</a></blockquote>
<script async src="//platform.twitter.com/widgets.js" charset="utf-8″></script>{/source}
Happy Halloween! We'll update this post as more come in. – Rappler.com