The moment JC saw Bianca, the bride's beautiful dress, and more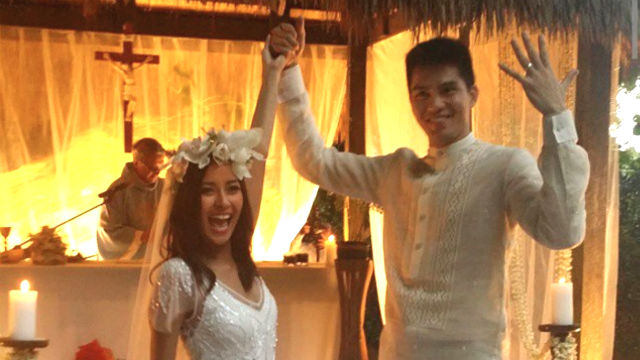 MANILA, Philippines – Clearly over the moon as seen in pictures on social media, Bianca Gonzalez and JC Intal have finally tied the knot at a private wedding held in Palawan. 
Updated: Here are a few photos shared by the couple a day after their wedding.
"Of course we couldn't let our special day pass without this! The bride's #traveltumblingshot (complete with bouquet) and the groom's #jumpshot!! #jcandb@elnidoresorts," Bianca wrote.
"Good morning Mrs. Intal  @iamsuperbianca," wrote JC.
Bianca and JC have been posting photos from the wedding on social media, as have their friends at the venue, including pals Doug and Cheska Kramer. 
See a few of the snaps below:
"IT'S OFFICIAL!!!!!!!! #jcandb" wrote Bianca. 
"College buddies, now best friends for life! Congratulations @jcintal7! @zionlaterre @zach7est" wrote Doug. 
He also posted a photo of the moment JC saw Bianca coming down the aisle: 
Jc seeing Bianca for the first time as his bride! And a "got em" moment! Hahaha! Tears of joy! #JCandB
"About time! Congratulations to the newly weds! It's official! Mr and Mrs @jcintal7! You look absolutely beautiful @iamsuperbianca! #JCandB," he added on Instagram. 
"Congratulations Mr. & Mrs. Intal! Welcome to the club!!! #JCandB," wrote Cheska. 
JC's brother Rex posted this:
I now have an Ate! Welcome to the family! @iamsuperbianca @jcintal7  #jcandb pic.twitter.com/9Oqqfe349W

— Rex Intal (@rexintal) December 4, 2014
And Robert Blancaflor, who did the flowers for the wedding, posted this photo on his Instagram: 
Pat Dy, who also shot JC and B's prenup photos, posted this: 
And though not from the wedding day itself, Pat Dy also posted this beautiful picture of the couple on Instagram: 
Regina Lopez, a friend of the couple also posted a photo and short video of the couple's kiss.
Congratulations to the happy couple! – Rappler.com