The presidential sister meets Pope Francis during his visit to Malacañang Palace
MANILA, Philippines – The "queen of all media" and presidential sister Kris Aquino met Pope Francis in Malacañang Palace, Friday, January 16. 
The actress had a private meeting with the Pontiff, calling it a once-in-a-lifetime moment. 
Of course, she posted the moment on Instagram, documenting it for all her followers. 
"Once in a lifetime moment. #PopeFrancisPH," she wrote. 
She then proceeded to show the pope the rosary he gave her son Josh during their visit to Vatican City in 2013.
"My FAVORITE picture! I showed Pope Francis the Rosary he had given Kuya Josh when we had the privilege of going to the Vatican April 2013, and as part of the Wednesday Pope General Audience Kuya was handed a Rosary by Pope Francis. It was just so thrilling to see the Pope smile so warmly when I held up the Rosary that my sons & I treasure. #MarianDevotee #Rosary #PopeFrancisPH," she said.
Kris first posted the announcement on her Instagram account, January 15, saying that she and co-host Boy Abunda were pre-taping their January 16 episode. 
"I brought the cookies I baked to our @aatofficial set. Pretaping because Boy & I are super blessed to get to see Pope Francis in Malacañang. Super early 7 AM meeting time," Kris wrote.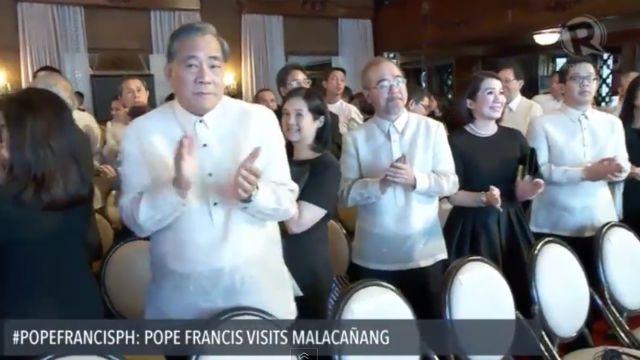 Kris invited actor Derek Ramsay to meet Pope Francis, but he politely declined.  – Rappler.com