1D pays the bond that has been earlier imposed on them because of drug concerns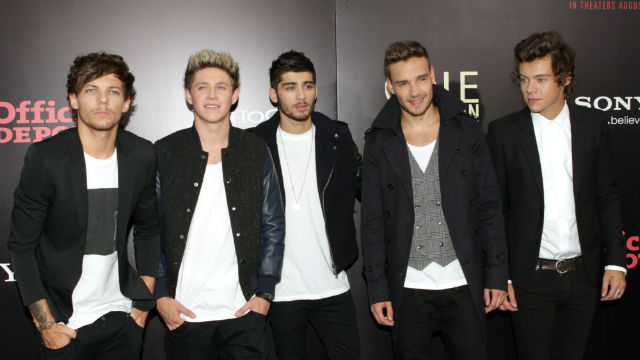 MANILA, Philippines – British pop phenomenon One Direction paid a cash bond to the Philippines on Thursday, March 19 that was imposed because of drug concerns, allowing them to play two concerts this weekend, the immigration bureau said. 
The bond, P200,000 ($4,500), each for singers Zayn Malik and Louis Tomlinson, will be forfeited should the two get caught using or promoting illegal drugs, Bureau of Immigration spokeswoman Elaine Tan told Agence France-Presse. 
The bond requirement was in response to an anti-drug watchdog group's request for "strict scrutiny" of Malik and Tomlinson before they were issued work permits, she said. 
"The condition is intended to protect the public interest should the band members commit any violation during their stay in the Philippines," she said.
A video of Malik, 22 and Tomlinson, 23 apparently smoking marijuana in a car while on tour in Peru went viral last year and shocked the tattooed but baby-faced quintet's hordes of female fans. (READ: Simon Cowell speaks up on controversial One Direction video)
The group is scheduled to hold concerts at the Mall of Asia concert grounds, which can accommodate tens of thousands of people, on March 21 and 22. 
The mega-venue has in the past hosted teen idols Justin Bieber and Justin Timberlake. 
Tickets for the first night have sold out and the second date is expected to sell out as well, Gina Santiago, an executive assistant of the group's Philippine promoter, Ovation Productions, told Agence France-Presse. 
When asked about the reported marijuana bond, Santiago said the band's promoters were at the immigration department on Thursday, March 19 to "sort out" the issue and the concerts would go ahead. 
However she was unable to confirm that a bond had been paid.  
One Direction, one of the world's biggest pop music acts, is very popular in the Philippines. The group currently has 5 albums on the local iTunes album chart. 
Marijuana is illegal in the Philippines, a mainly Catholic country where the Church continues to maintain a strong influence on society. – Rappler.com
One Direction stock photo from Shutterstock