This is AI generated summarization, which may have errors. For context, always refer to the full article.
Cherie wins an award for her work in 'Sonata,' while Nora accepts the Lifetime Achievement Award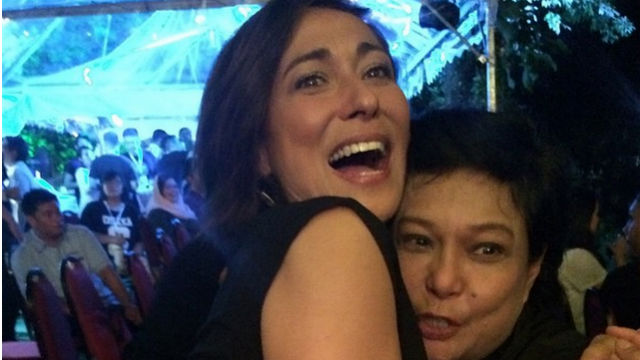 MANILA, Philippines – It was a big night for the Philippines at the 2015 ASEAN International Film Festival and Awards (AIFFA), where a number of Filipino talents were honored.
The awards night was held at the Borneo Convention Centre in Kuching, Malaysia, Saturday, April 11. 
Cherie Gil won the Best Actress award for her role in the independent film Sonata. Cherie received the awards from actress Ruffa Gutierrez and brothers Richard and Raymond.
"Proud moment for the Philippines! @richardgutz @mondgutierrez and I presented the award for BEST ACTRESS to our very own Ms. Cherie Gil for Sonata, an independent film directed by Peque Gallaga & Lore Reyes about a washed up diva who rediscovers her passion for life and art through the eyes of a young boy. #Aiffa2015," Ruffa said.
Cherie won over 3 actresses from the Philippines – Vivan Valez for Bendor, Barbara Miguel for Nuwebe, and Krystle Valentino for Purok 7. An Indonesian actress, Prisia Nasution, was also nominated in the category. 
In her Facebook page, Cherie posted a photo of the trophy with a short message thanking everyone for the recognition. She also paid tribute to her brother Mark Gil, who died last September.
"Howa!!!! Thank you so much #AIFF  Tarima kasi Malaysia We did it ! SONATA family.
Love love love Nelson Bakunawa Jo M Macasa Lore Reyes Wanggo Gallaga Chino Jalandoni  Thank you Ralph too !! This ones for and because of you !!" she wrote.
According to a report from Pep, Nuwebe director Joseph Laban meanwhile took home the Best Director Award, while the movie Purok 7 received the ASEAN Spirit Award.
Actress Nora Aunor was also present at the awards night, receiving the Lifetime Achievement Award. 
International star Jackie Chan received the Asian Inspiration Award. Piolo Pascual, who was also at the event, took the opportunity to have a photo with Jackie.
"Such a wonderful fan moment. Watched drunken master more than a dozen times growing up.. and I never thought I'd ever get the chance to share the frame with him.. So humbling to meet a very warm and inspiring person… The best fan experience!! Woot woot! Thanks AIFFA! Cheers!" Piolo wrote.
Other Filipino talents who were nominated at AIFFA were Allen Dizon (Magkakabaung/ The Coffin Maker)) for Best Actor; Nico Antonio (Red) for Best Supporting Actor; Best Photography for Bernard Dacanay (Red and Sonata), Best Screenplay for Ralston Jover (Bendor) , Wanggo Gallaga (Sonata), Anna Luna for Best Supporting Actress (Bendor) and directors Carlo Obispo (Purok 7) and Ralston G Jover (Bendor). – Rappler.com 
.