Rappler columnist Ruben V. Nepales catches up with the first-time grandfather about life in quarantine, house pets, and what America needs in a president
A donkey and a miniature pony interrupted my recent chat with Arnold Schwarzenegger. I've been interrupted in my interviews before but four-legged animals cutting in was a first.
"I'm right now in my kitchen where I eat breakfast, lunch and dinner," said "Ah-nuld," bespectacled and looking comfortable in a black tee, instead of his usual jacket and dress shirt.
The actor and politician was calling from his home in Brentwood, a posh neighborhood in Los Angeles. The good thing about these video calls in this pandemic era is that I get to see the stars in their homes. No more boring, impersonal hotel meeting rooms during in-person interviews of yore.
"You can see in the back is the kitchen," added the Governator and Terminator. "You see the shelf behind me there with some pictures and stogies that I collect from all over the world when I travel."
"Periodically, my miniature pony (Whiskey) comes in, and Lulu, my donkey, and the dogs eat with me here," added the Austrian bodybuilder-turned Hollywood star. "They grab my food a lot of times from my plates. You have all of that going on here."
As if on cue, a donkey suddenly appeared with Arnold on my laptop screen. "Lulu likes to chime in sometimes," he quipped. 
"She feels that I get too many close-ups sometimes."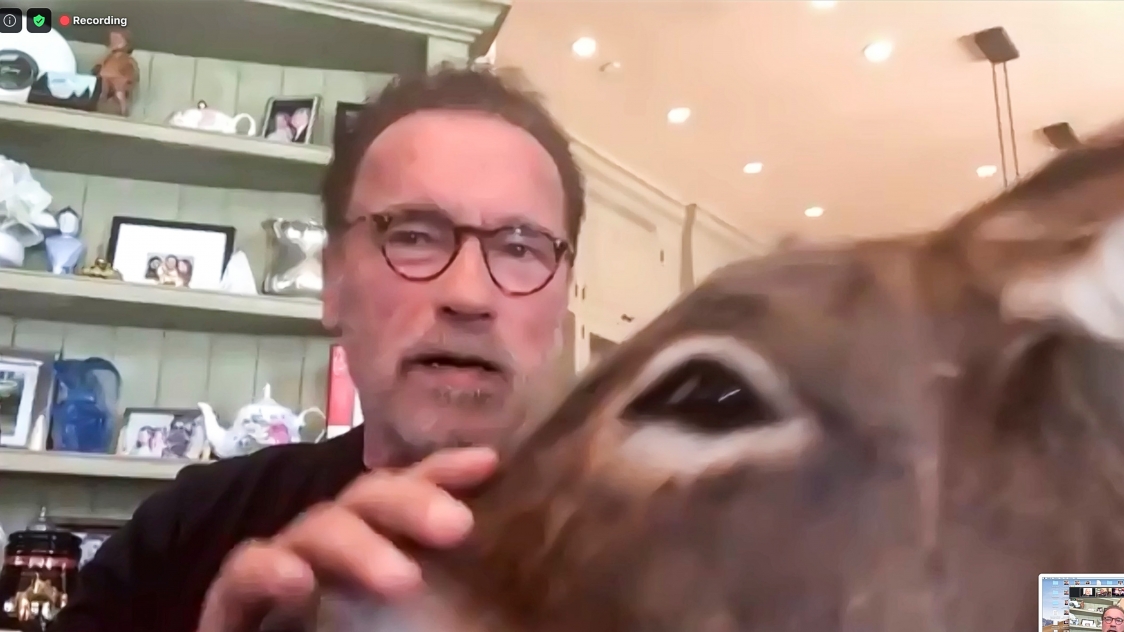 Breaking into a wide grin, Arnold addressed the adorable scene stealer as he gave her a cookie which she promptly chomped: "Lulu, I am doing an interview right now. Can you see that?  You don't even have lipstick on, Lulu. What is the matter with you today?  Lulu, I'll give you one more (cookie) and then you have to go."
"There's Whiskey," Arnold said about his other impromptu guest, who also got a cookie which she promptly ate. "Whiskey, say hi. Whiskey sometimes lights my cigar.  But I am not going to give her a Cuban cigar because she does not know how to appreciate it."
When his furry pets left, Arnold lit a cigar and smoked it while we chatted. I definitely wouldn't see this scene or his donkey and mini pony if we were at the Four Seasons instead.
"The doctor hates it," the seven-time Mr. Olympia admitted about puffing a stogie. "I smoke one cigar a day. It's probably not the best thing for your health."
He clarified, "And those are vegan cookies that I'm eating here. The interesting thing about it is, because they are not really sweet or that sweet. I think that is why Lulu and Whiskey love them so much.
"Whenever I start eating a cookie, they somehow smell it and they come running into the house. They start invading my cookie jar and eat cookies."
Surprise, Conan the Barbarian has a sweet tooth.
"Having grown up in Austria, I have a sweet tooth," he confessed. "That maybe is a weakness because it's not the healthiest thing to eat.  I love ice cream, apple strudel, cream puffs, cookies, black chocolate with nuts on it that are crunchy and stuff like that.  If someone comes to visit and they bring me sweets, I am in heaven (laughs). I just love sweets."
Note to self: bring ube ice cream and crinkles, leche flan and sans rival if I ever get invited to Arnie's Brentwood college campus-like estate.
The 73-year-old, who also won Mr. Universe twice, recently became a grandpa. Author Katherine Schwarzenegger (Arnold's eldest child with his ex-wife Maria Shriver) and her husband, Chris Pratt, announced on social media last August 10 that they are proud parents of a baby girl, Lyla Maria.
"I've gotten hundreds of congratulatory notes, messages, Tweets, and Facetime calls," he said. Laughing, he added, "It's the first time I'm getting congratulated over something that I had nothing to do with. But I'm delighted because Katherine has become such a great woman. Her wish was to become a mother and to have a child."
"And now she has that and she's so happy. The baby is so beautiful. That is not because I'm prejudiced because she's my grandchild. But she's just a gorgeous baby. She's like a little Hummel figurine – the face, it's so pristine. It's unbelievable."
He paid tribute to Maria, the Kennedy clan member who is NBC News' special anchor. "Of course, Maria was an extraordinary mother and still is an extraordinary mother today. Our kids learned well from their mother. They pick up those cues of how good and selfless she was.
"Maria was hands on all the time, even though we always had nannies. Our children are the way they are, great human beings, because of the attention that Maria paid to them."
Since 2013, Arnold has been dating physical therapist Heather Milligan.
On the state of the movie industry, which is reeling from the impact of the coronavirus pandemic stalling film production, the actor responsible for a series of blockbusters commented, "It's a very difficult time, not only in general for the industries and for the economy, but also for the movie industry. They have to figure it (safety protocols) out. It's very difficult."
"My son-in-law, Chris Pratt, is in the middle of filming his film (Jurassic World: Dominion). He came back for the birth of the baby and then he's going back to London and continue shooting his film."
"They have all kinds of strict rules with quarantine, testing each day and taking temperatures and all that. It's very expensive to do all this stuff. So only the big budget movies can afford that. Small movies have to figure out their own way of doing things or shooting where it is safer."
Arnold said he's not in a hurry to return to a set soon. "I'm not in need of a job," he declared.
"I have plenty of money and never have to work again. Luckily, I was always very smart in how I invest my money. Unlike other actors who make a lot of money then all of a sudden, they find out that they have no money. They cannot pay the taxes. Not just actors, but also athletes. I'm talking about people who make millions but end up with nothing. So I'm not in that category."
"I have always kept every dollar that I made and invested it so wisely that it made up for the amount of taxes that I paid. So that's why I'm one of those guys who never worries about big taxes."
"When it comes to filming, I have an underlying health issue, which is my heart. I had two open heart surgeries in the past due to congenital disease, with the heart valves that my mother and grandmother had. So I will always have that. Someone like me has to be extra cautious."
"I will only go and film when I feel that it is safe, the right system is in place for testing and checking temperatures. And everyone is tested. Hopefully in the next few months, there will be a vaccine becoming available so that this problem will slowly go away."
The two-time governor of California is a member of the Republican party but said before the 2016 US presidential elections that he would not vote for Donald Trump. He has criticized Trump on a host of issues.
In this interview, Arnold, when asked if he was voting for Joe Biden over Trump, answered, "I'm not (yet) going to make any announcements who I'm going to vote for. But I tell you, there are a lot of things that I do see eye to eye with Donald Trump and there's a lot of things where I don't."
In the meantime, Arnold, who is not eligible to run for the US presidency because he isn't a natural-born American citizen, ticked off what he would tackle if he could become a president.
"America is searching for a way to create more equality," he began. "I would say that equality is a priority since I came to this country. I want to make sure that a black kid in Philadelphia or Baltimore can have the same opportunities that I had when I came to this country. I enjoyed a great education system. I enjoyed that I could get a loan, that I could buy apartment buildings and get into real estate. I got an easy good credit rating."
"All of these things are not equally available to minorities, especially for Blacks. So that would be one of my main issues, not just talk about it but to sit down with Democrats and Republicans and do work on equal housing opportunities, equal criminal justice system and voting rights so that everyone can vote."
"And not have the polling places of Blacks close down so that they make it more difficult for them to vote. But basically, you come up with a new Civil Rights Act, so to speak, just to upgrade what was done in the past. America does not even have an anti-lynching law. That is horrible. So those are the issues that are really pressing today."
"There are all the other issues that America has been falling behind in because our politicians are lazy and locked into their system. Even though they have an 18 percent approval rating, 95 percent of them get reelected because of the way the district lines are drawn. It's a fixed system. So I would reform that issue to make sure that those politicians do their work."
"We have to build new infrastructure in America, do immigration reform, healthcare reform where everyone is insured and no one has to worry about that. And everyone pays their fair share on that. The list goes on and on. Those things cannot wait any longer."
As he finished his cigar, Arnold reflected on his Hollywood career. Like many film stars, he is jumping into the small screen where the interesting projects are these days. He just signed on to make his TV debut in a spy series for Skydance Television.
 "Am I at the top of my acting career?" he asked aloud. "No, because I think that as age goes on, you are going to lose that luster of being the top guy. There are always new guys coming up who are the new big guys on the block.  I enjoyed that when it happened to me but it doesn't mean that it is over."
"It just means that you are no longer in that category. But I cannot complain at all, because, like I said, whenever I want to work, I work. And when I look back at my history, I was very fortunate to have roles for so many years, decades actually. So my acting career has been really great." – Rappler.com