'I'm here for the work. Success is wonderful but at the end of the day, what we do every single day is get up and go to work,' Anya says.
Walk a dog in high heels and read a poem aloud – that's how you become a model and then an actress.
At least for Anya Taylor-Joy, that's how it worked – although not as simple and easy as it sounds, of course.
The acclaimed The Queen's Gambit and Emma actress, currently starring in Last Night in Soho, and will next be Furiosa in an origin story of the Mad Max female protagonist, hasn't stopped working since a black car started following her on a London street around Harrods.
"I was walking my dog and I was wearing high heels for the first time because I had a party that I was going to," Anya recalled the way she was discovered, at 16, as a model.
"I wanted to practice (wearing high heels)," reminisced Anya in this podcast interview with the Hollywood Foreign Press Association. "And this big black car just started following me and I panicked."
"Then I thought, oh there's no way it (the car) is following me. And it really was. I started to run. This guy stuck his head out the window and said, if you stop, you won't regret it. And weirdly, I stopped."
Laughing, the Miami-born, Buenos Aires and London-raised actress admitted, "I think about that moment a lot and I think, that was such a dumb move. Like who stops when someone yells something as creepy as that?"
"But yeah, it all worked out. I only did a couple of shoots as a straight model before I was lucky enough to get my acting break. But it was really fun because modeling is a form of acting."
"You put on the clothes and they are usually not clothes that you would wear yourself but you have to become the person who would wear those clothes. I got a buzz from collaborating with artists for the first time."
The self-described tomboy who loved playing with horses, dogs, and cats as a child in Argentina admitted, "I never thought I could be a model. It was never something that even entered my brain. I never paid much attention to my looks."
"My mother raised me to believe that my spirit was more important than my face. I am very grateful to her for that."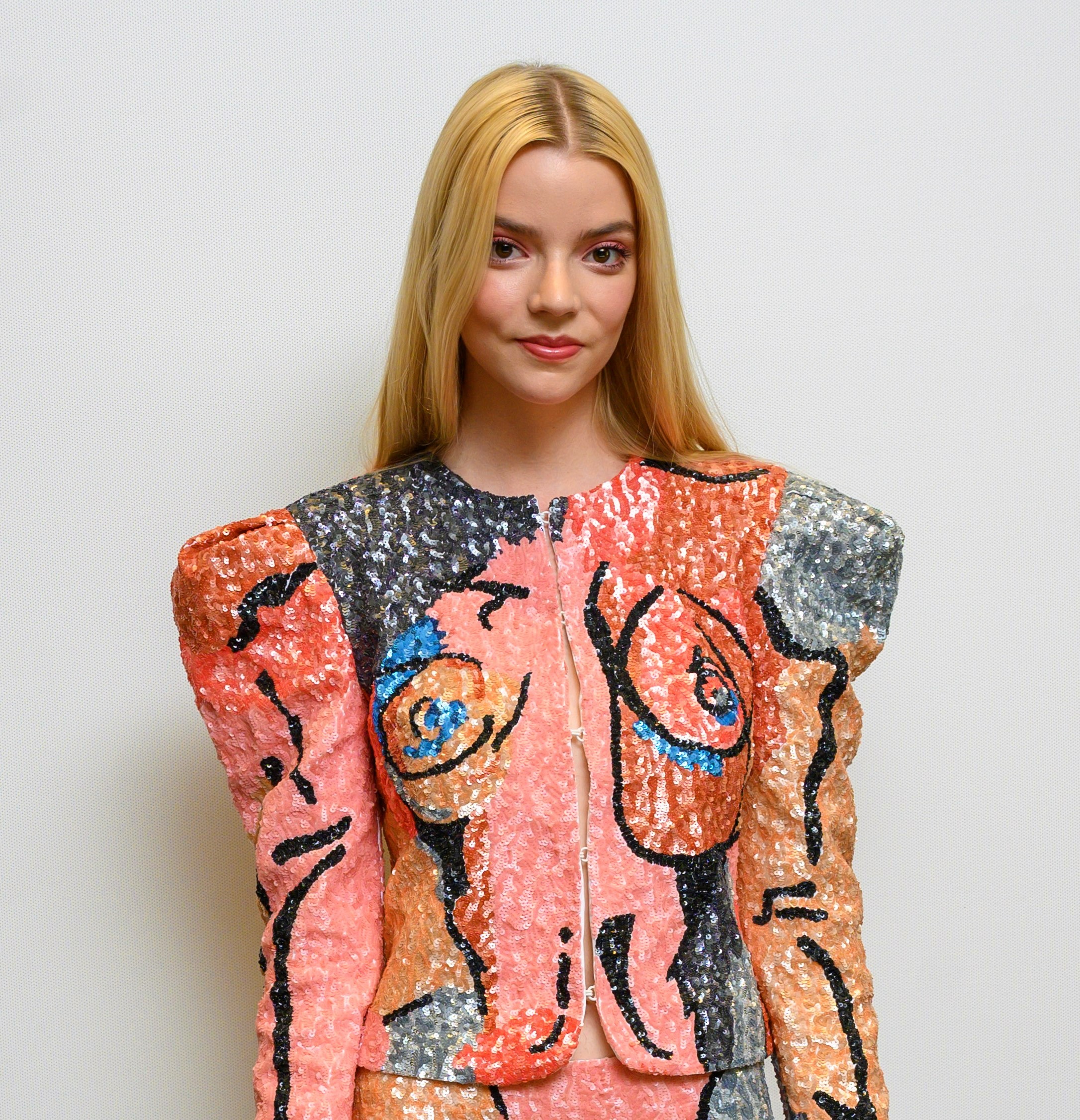 How she switched to acting was just as interesting. "It was my second (fashion) shoot," Anya recounted. "It was a shoot with the cast of Downton Abbey. I had my exams the next day. I was still at school at that point. I hadn't left yet."
"I was just reading some poetry (by Seamus Heaney) and one of the actors, Adam Leech, came up to me and asked what I was reading. He asked if I would recite a poem for him and I did."
"And he just asked me what do I want to be when I grow up. I said, you probably get this all the time but I want to be an actor. He took my number and said, expect a call."
"And the wonderful woman (Kat Gosling) who is still my agent to this day gave me a call about two weeks later. We have been together ever since."
The actress who landed her first big break in The Witch credited her parents, Dennis Alan Taylor, a former banker (an Argentine of English and Scottish heritage), and Jennifer Marina Joy, a psychologist (of English and Spanish descent), for her nurturing upbringing.
"I feel so lucky to have the parents that I do. My parents are, not to sound corny, my best friends. If I had been born to a different set of parents, my life would have potentially turned out very differently (laughs)."
"In Argentina, my childhood was beautiful," said Anya, who was born in Miami only because her parents happened to be visiting there, raised in Argentina until she was six, and moved to London.
"I was a real tomboy. I was constantly outside. I had dogs, cats, horses and ducklings. I was just over the moon in terms of animals."
"Then we moved to London. I had a three-legged hamster and that was an adjustment (laughs). I can remember arriving in London and being very confused and displaced. I just wanted to go home."
"So I refused to learn English for about two years, thinking that my parents would have to take me home, which clearly didn't work out."
"It's been interesting actually now as an adult. I love London so much and so much of my sense of humor and potentially where I feel the most comfortable is wrapped up in being a London girl."
"So yeah, it's been a long, rambling road of trying to understand that I come from lots of different places. I am okay with that. I don't need to fit into one box to make other people feel more comfortable. But that's taken me a long time."
Barely into her teens in London, Anya made a bold move. "I ran away to New York at 14. I was having a really bad time at school and I wanted to be an actor. So I enrolled in a director's program and I got in."
"I came down to go to school one day. I just said to my parents, look, I'm not going to school. I've saved up enough money to buy myself a plane ticket to New York."
"I am going to do this and you can either be a part of it with me or I am just going to go do it by myself. And my parents were amazing. They supported me on it."
Home for the young girl fluent in both English and Spanish has been anywhere work takes her.
"What's crazy is that I haven't stopped," she quipped with a laugh. "I keep doing that. Because of my itinerant upbringing, I have come to terms with the fact that home is a feeling and home can be people."
"I have never been that attached to home as an actual place, if that makes sense because you are able to find home in the people that make you feel understood and loved for being who you are."
"As a teenager especially, I didn't fit in at school at all. But when I would go to New York, I was doing directing and acting courses and so I was naturally meeting like-minded people. A lot of who are still close friends today."
"And plus, it was exciting. It was this rush of independence and being allowed to eat whatever you wanted at whatever time and go out and explore."
"So it was a time of a lot of firsts. It set me up really well because I have never taken anybody with me anywhere to work. I have always gone by myself. Having that independence that young really helped me with that."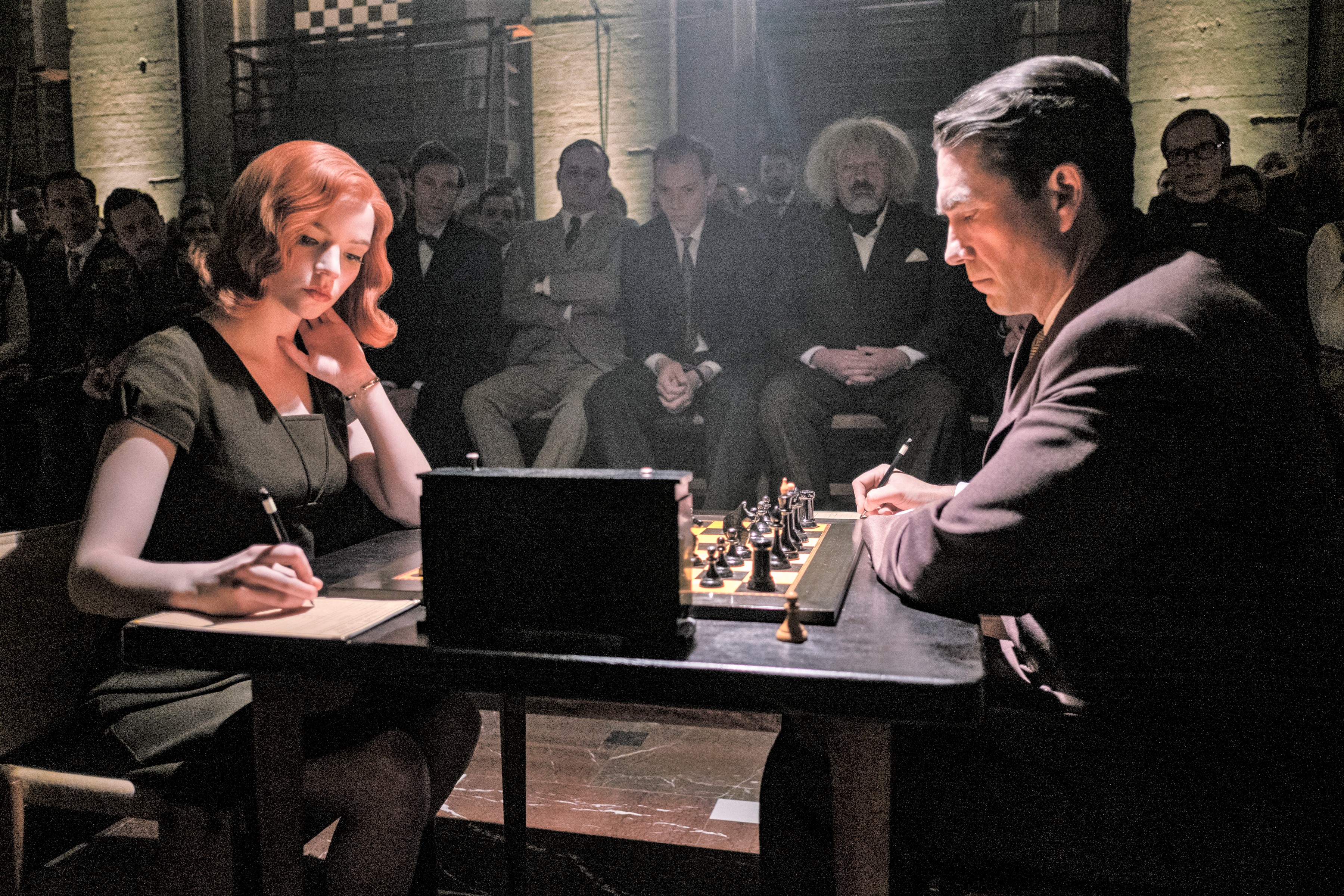 Looking back, Anya reflected on why she felt like an outsider, especially in her early teens in London. "All I do know is I remember coming home to my mom more than once and saying, mommy, I just feel like I am separated from everybody by a sheet of glass."
"I feel like I am on one side of the glass and everyone else is on the other side. I just can't connect."
"For my second movie, they actually put me in a glass box and it was a soundproof glass box. I was looking at everybody else on the other side of the glass and I was thinking, yep, okay, this is what it felt like (laughs)."
"I do know that I'm very grateful to go on a bit of a tangent. When I was playing Emma, there was something that was making me feel very uncomfortable about her."
"I realized it was because I had never been the bully. I had only ever been bullied. I am weirdly grateful that I have an understanding of what it is to feel that hurt so I can make sure that it never happens to anybody around me because nobody deserves to feel that way."
For Anya, daring to pick writer-director Robert Eggers' The Witch over a Disney show was a pivotal moment. "I was offered a Disney show and The Witch at the same time. At that point, I'd never been offered anything (laughs) so it was a bit of a gamble."
"But just something in my heart said, go to the middle of the woods in Canada with no phone and no way of communicating with anybody that you know, get on that plane, it will be fine (laughs). But I'm very grateful that I made that call now."
Playing Thomasin in Robert's 17th century-set horror-drama proved to be Anya's career breakthrough. Critics took notice.
That role led to projects like M. Night's Shyamalan Glass, Autumn de Wilde's Emma, and Scott Frank and Allan Scott's The Queen's Gambit, for which she won the 2021 Golden Globe best actress in a limited series, anthology series or a motion picture made for TV.
Anya jumps from playing chess and beating all the men in The Queen's Gambit to singing (yes, that's her real singing voice) in director Edgar Wright's Last Night in Soho. The film is a horror-drama but as Sandie, an aspiring singer in the 1960s, Anya gets to sing Petula Clark's classic, "Downtown," in an audition scene before a club owner (Matt Smith).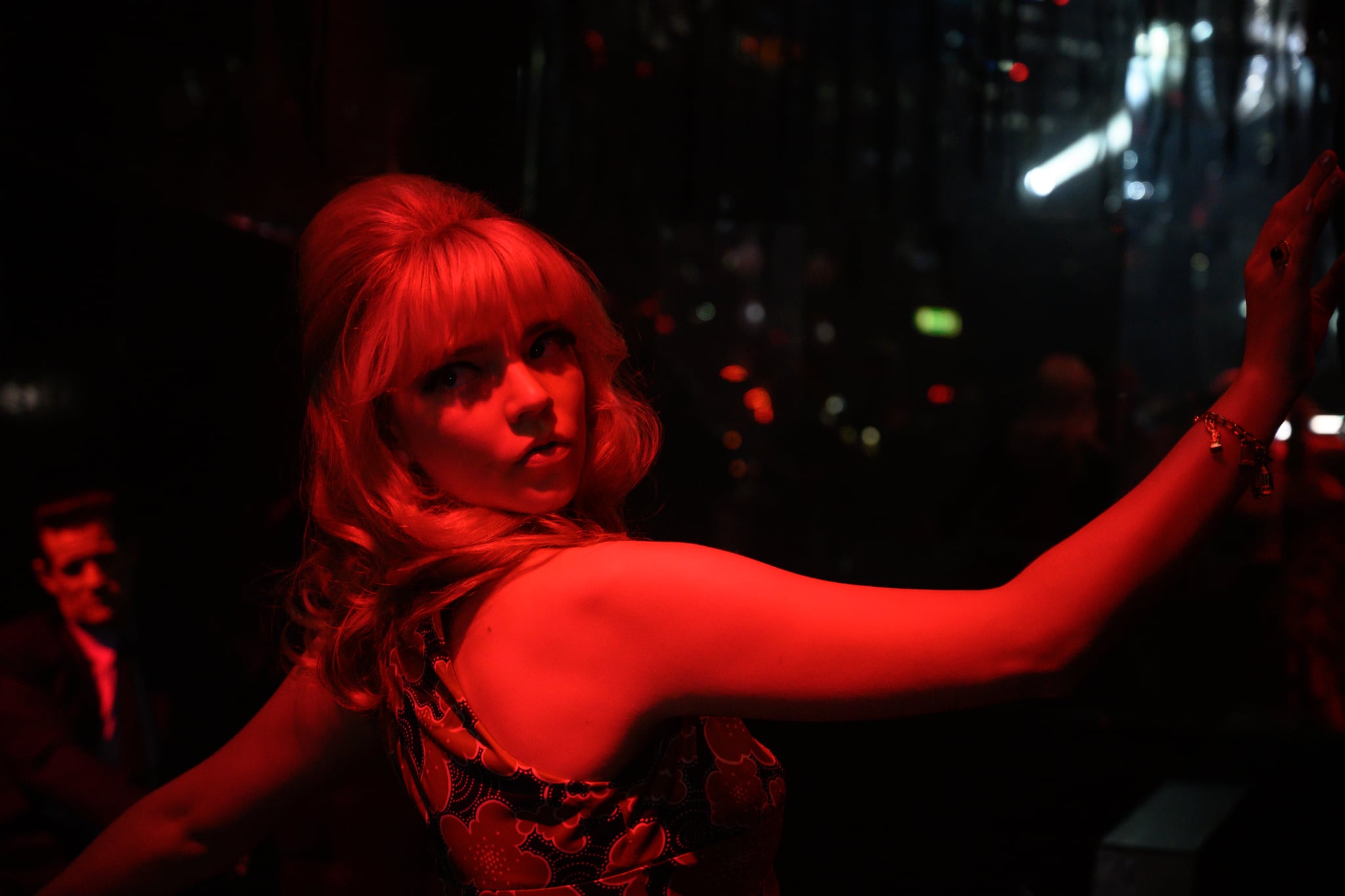 Thomasin McKenzie plays Eloise, who is mysteriously transported to the 1960s where she encounters Sandie. While the setting is the psychedelic 60s, the psychological horror turns dark.
"I've always sung for myself," Anya said with a laugh on another occasion, in a press conference in this year's Venice Film Festival where Last Night in Soho had its world premiere out of competition.
"In the shower but not quite on a stage staring at Matt Smith. So yeah, that was quite frightening (laughs)."
"But I was so excited about it. Edgar has been incredibly supportive and really bolstered me up to do it. Then we've had a lot of fun with it since."
Edgar, noted for his expressive use of music, resulting in memorable soundtracks, from Shaun of the Dead to Baby Driver, and now, Last Night in Soho, chimed in, "Yeah, we've actually expanded some of the tracks that were in the film because they were so great but they are only on screen for ninety seconds."
"So, at a certain point with Steven Price the composer, I said, we should just get Anya to record the rest of it, right? So, on the soundtrack album, there are longer versions of what you have already heard."
So the soundtrack features Anya's full version of a classic '60s ballad, "You're My World" and a cappella and uptempo interpretations of "Downtown."
Anya dived into the music of Petula Clark and Cilla Black with gusto. "The first music that I really fell in love with was the music of the '60s so this was glorious because I tend to make playlists for my characters. For Sandie, it was just all the music I listened to when I was 16."
"And it's so wonderful to act with music. For every script of Edgar's that I have ever read, it's so beautiful the way that he weaves music in because it really allows you to visualize the film. So you can then make sure that you are all making the same movie together. So yeah, it was a blast."
Anya enthused about Thomasin whose character parallel hers in Last Night in Soho: "It was incredibly fortuitous that we instantly had a sisterly bond. Whenever you meet people that you are working with, you hope for the best and hope that the chemistry is there."
"But when it is so immediate, it obviously makes your life a lot easier. We really took care of each other. It was wonderful having a partner throughout everything."
Anya spoke on how her recent characters resonate with her in real life. "The struggle to belong is something that we all go through at a certain point, whether that's as a child who is going to school or going into a new work environment. That's pretty universal."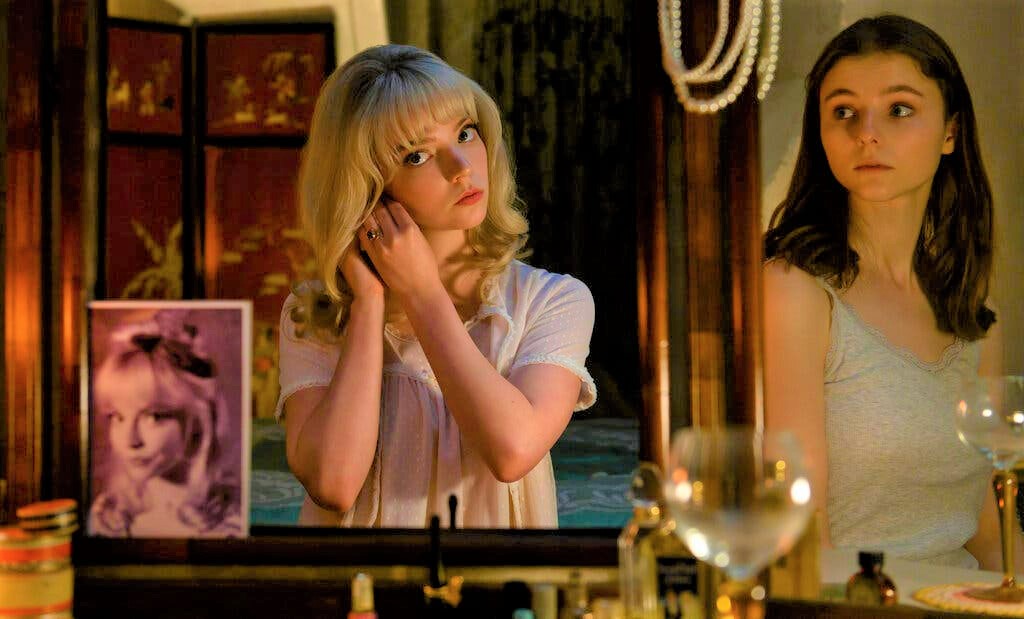 "But I definitely connected with Sandie's hunger, her wanting to be part of this world because I didn't know anybody in the film industry."
"I knew that I wanted to be a part of it so I was looking for my way in. Everything I ever read said the person was in the right place at the right time, which as a kid, you are like, I can't do anything about the right place and the right time (laughs)."
"But now, I am in a right place, right time story. So yeah, I connected with that."
Aside from starring in that exciting Mad Max prequel to be directed by George Miller, Anya has some of the most interesting projects: The Northman, which reunites her with Robert Eggers; an untitled David O. Russell film with a jaw-dropping cast; Mark Mylod's The Menu; an untitled animation movie where she voices Princess Peach; and Scott Frank's adaptation of Vladimir Nabokov's Laughter in the Dark.
The girl who decided at 14 that she will go to New York is grateful that she is succeeding as an actress beyond her wildest dreams.
Anya, who has since turned 25 and is finally the owner of a house in London, said, "I am very fortunate to have worked on the things that I have worked on. If anything, every day I fall more and more in love with what I do and that is what's important."
"I'm here for the work. Success is wonderful but at the end of the day, what we do every single day is get up and go to work. That's what I love to do so I just feel incredibly privileged to get the chance to keep doing that and to work with such wonderful talented people." – Rappler.com