Heart also meets with Kane Lim, Kevin Kwan, and Brandon Boyd in the US
Heart Evangelista is living her Gossip Girl dream!
The actress flew to the United States and has shared on social media her work engagements while serving her signature fashionista looks.
On April 11, Heart said that she spent an afternoon with the Vogue team in New York City. Seen in the photo were Vogue.com editor Chioma Nnadi, Ian Guilford Malone, Mark Bumgarner, and Katrina Cruz.
It was in November 2019 when Heart first revealed that she was selected to be part of the Vogue 100 – a "curated list of distinctive creative voices from around the globe, encompassing actors, artists, musicians, athletes, stylists, activists, chefs, choreographers, videographers, beauty fanatics, glamour girls, and wonderful weirdos of every stripe."
Heart has since uploaded several of her looks while in New York.
In a post on Tuesday, August 17, Heart said she attended a Vogue event at the Hamptons. "Am I really living my Gossip girl dreams?" she said.
Another one of Heart's viral posts was a clip of her recreating the iconic scene from the classic film Breakfast at Tiffany's.
Channeling Audrey Hepburn's character Holly Golightly, Heart donned a little black dress, black lace gloves, black sunglasses – complete with an updo.
Heart also met several famous personalities during her US trip.
On Sunday, August 15, Heart uploaded a photo with Bling Empire star Kane Lim.
"You epitomize what Philippines mean to me. A country with heart and kindness, a true beauty inside and outside. Perfection," Kane captioned his post with Heart.
Heart and Kane's meeting prompted followers to speculate whether the actress would appear in the reality series. Netflix's Bling Empire follows the wealthy lifestyles of Asian and Asian-American socialites in Los Angeles. The first season features Kane Lim, Kelly Mi Li, DJ Kim Lee, and more. In March, Netflix announced that the series will have a second season.
Heart also reunited with Crazy Rich Asians author Kevin Kwan on Monday, August 16. Based on her Instagram stories, Kevin gave Heart a signed copy of his latest book Sex and Vanity.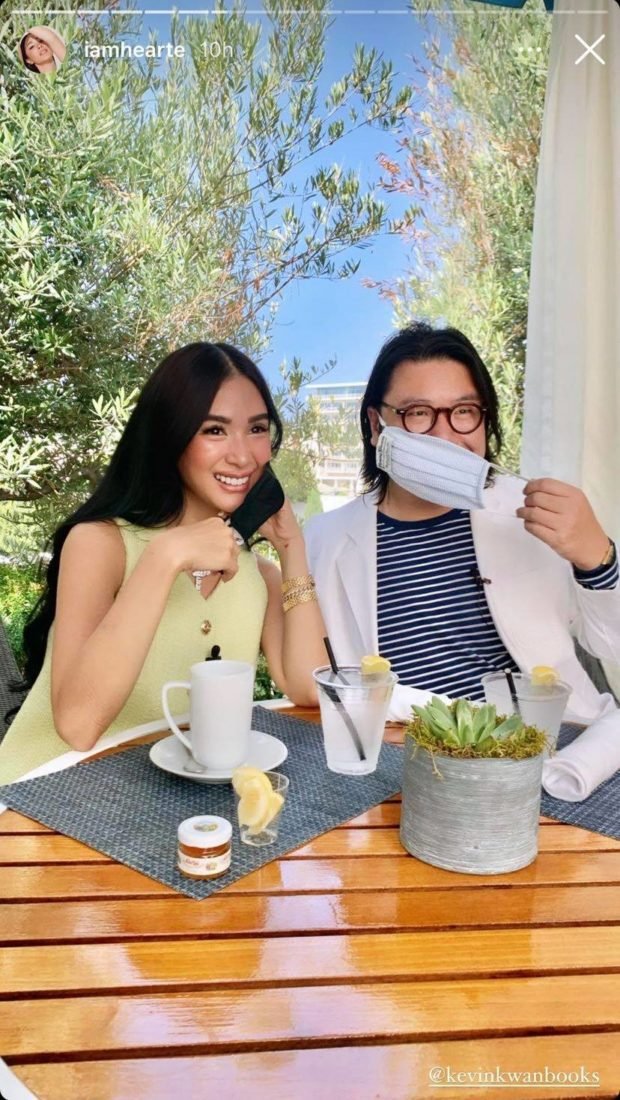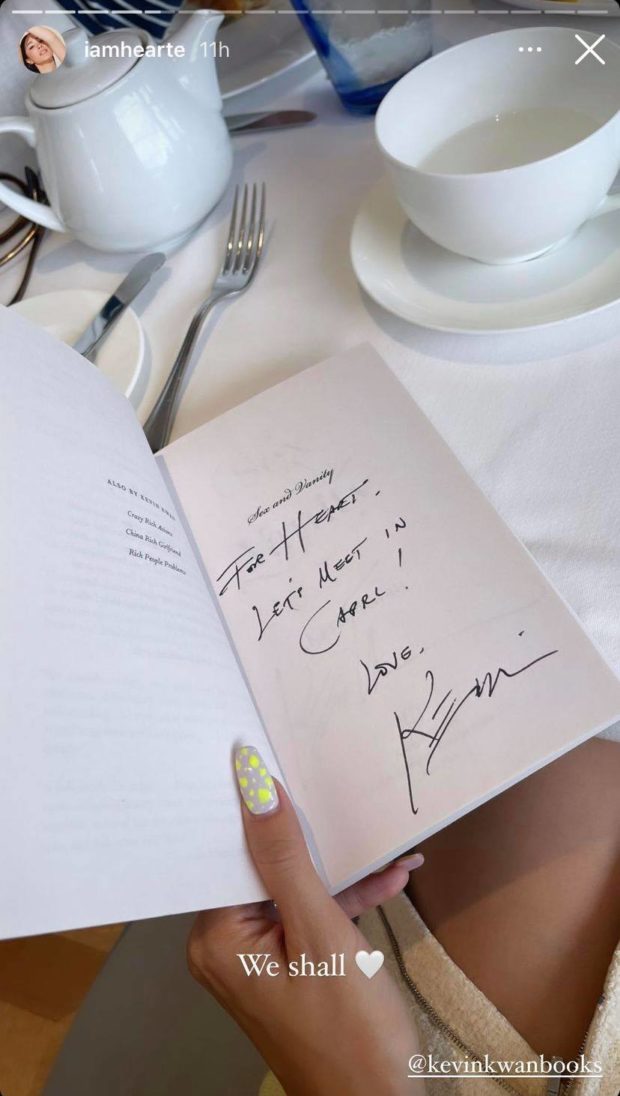 They first collaborated in a "Crazy Rich Asians" feature for Harper's Bazaar magazine in 2018. Kevin dubbed Heart a real-life "crazy rich Asian" along with other Asian fashion icons. Kevin also wrote the foreword to Heart's Styled with Heart book.
Heart also met up with Incubus' vocalist Brandon Boyd. In May, Heart revealed that she was collaborating with the rock artist for a "little art project."
Both Heart and Brandon are visual artists. The actress has been hand-painting luxury designer bags and has had several solo exhibitions, while Brandon has published several art books, and exhibited at the prestigious LA Art Show.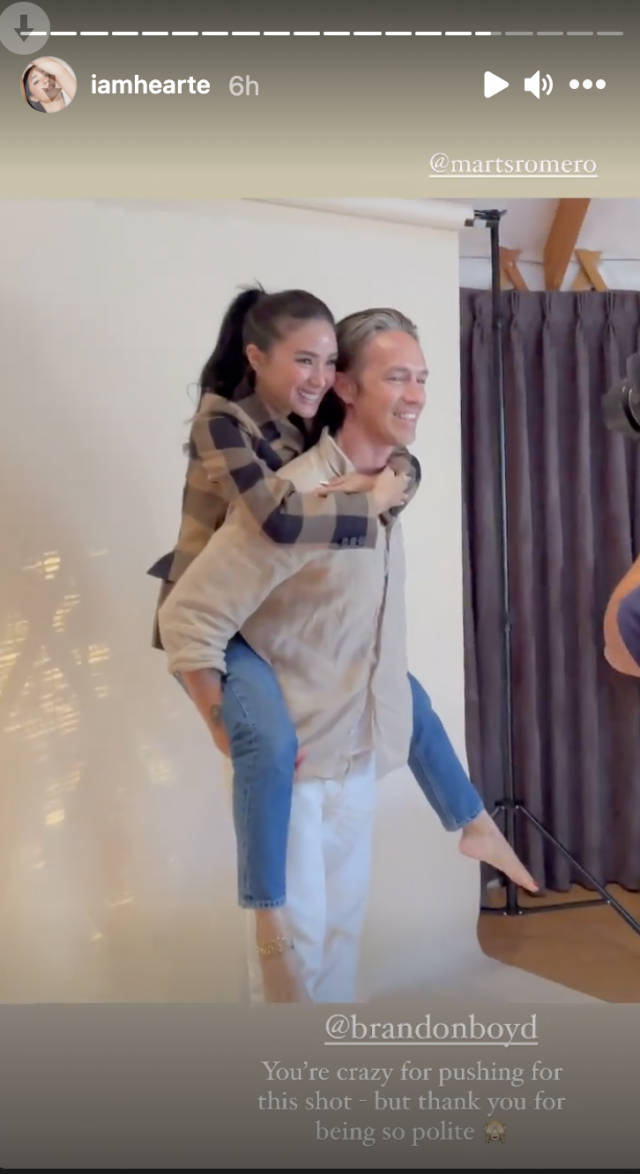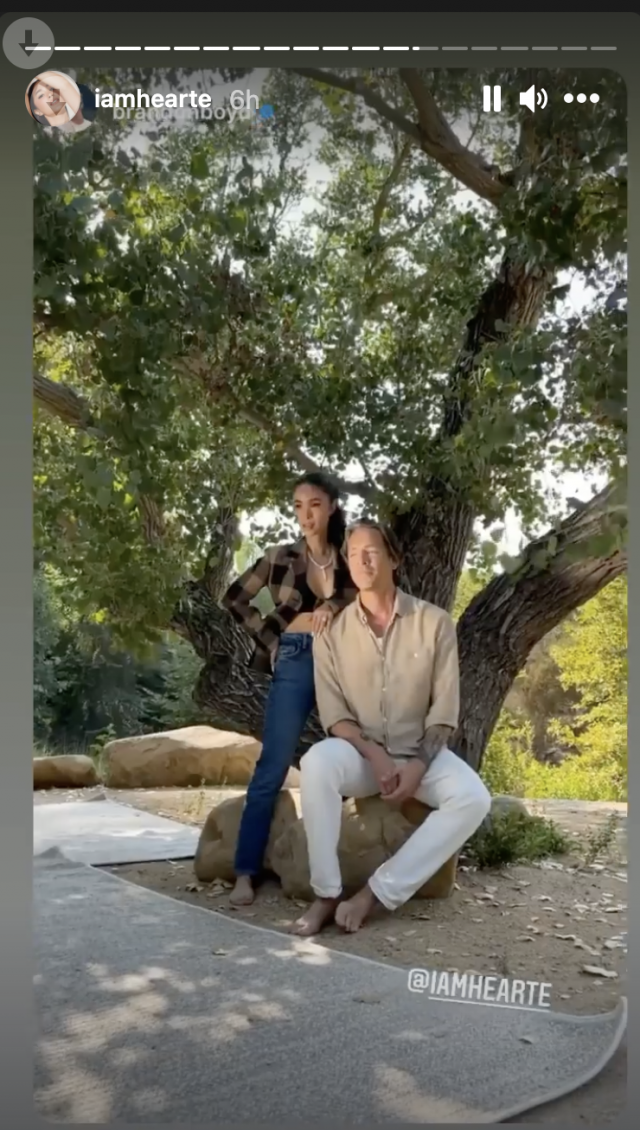 On their Instagram stories, Heart and Brandon shared some behind-the-scenes footage of their shoot but neither of the two gave further details about their new collaboration.  – Rappler.com
Steal Heart's style by shopping using this Zalora promo code.