This is AI generated summarization, which may have errors. For context, always refer to the full article.
An animated film about a dying woman to a docu-drama about eminent writer Nick Joaquin – this year's Cinema One Originals, as always, has found brave new stories to tell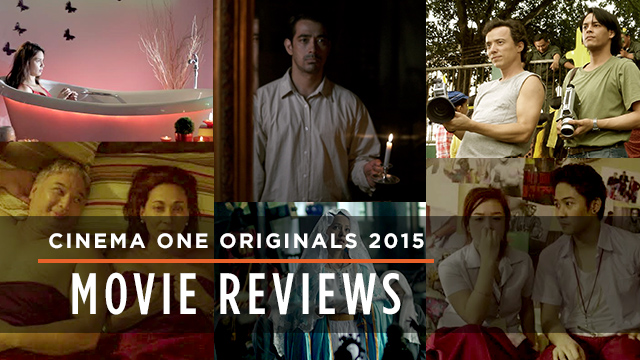 MANILA, Philippines – For over a decade now, Cinema One Originals has been championing up-and-coming talents and pushing the frontiers of Filipino filmmaking.
True to the tag line, "Kakaiba ka ba? (Are you different?)," this year's competition sees not only brave new stories and ways of storytelling, but even actors conquering previously unfamiliar grounds. There were intriguing world cinema and exhibition films on the bill, too.
Here's a look back on the films that screened at this year's Cinema One Originals:
Hamog
Hamog Official Trailer

Hamog Official TrailerPelikulang Handog ni Ralston G. JoverStarring Zaijian Jaranilla, Therese Malvar, Sam Quintana, Bon Lentejas, Kyline Alcantarawith OJ Mariano, Mike Liwag and Anna Lunawith Special Participation of Lou Veloso, Flor Salanga, Ruby Ruiz, and Jun-Jun QuintanaScreening Dates:November 10 2015 (GALA NIGHT ) | Glorietta 4 | 7:30 PMNovember 11 2015 | SM Megamall | 9:35 PM November 13 2015 | Glorietta 4 | 4:50 PMNovember 14 2015 | Trinoma Cinema 1 | 4:40 PMNovember 15 2015 | SM Megamall |12:30 NNNovember 16 2015 | Glorietta 4 | 2:30 PMNovember 17 2015 Resorts World Manila | 2:10 PM#HamogFilm #C1Originals #KakaibaKaBa #CinemaOne

Posted by HAMOG on Thursday, 5 November 2015
Filmmaker and screenwriter Ralston Jover has a penchant for crafting neorealist movies that take an unflinching look at Filipino society's ills. In Hamog (Haze) he tells a familiar coming of age tale – except that you can barely deem the characters as once innocent.
Bereft of a nurturing childhood, street urchins called batang hamog (literally "children of the dew") have resorted to petty crime against hapless motorists – often in broad daylight – just to scrape by. Jover's Hamog follows 4 of these youngsters: Rashid (Zaijian Jaranilla), Jinky (Teri Malvar), Tisoy (Sam Quintana), and Moy (Bon Lentejas).
Their life of delinquency has become routine, and they have toughened themselves up against the mayhem of it all. Following a foiled theft, however, their usual lives all unravel.
Hamog is built on an episodic structure, shifting perspectives along concurrent timelines. This, however, can prove to be the film's undoing, as it feels disjointed at times. The transitional devices that Jover uses hardly come to his aid and come across as incongruous – for example, a sequence set to a hushed voice over of a poem.
Jover seems to have a knack for character-driven storytelling though, and this shines through in the film. Beyond their faces caked with urban grime, the characters are compelling with their own histories.
Hamog avoids making grandiose and didactic statements. It's even fearlessly nihilistic, as each kid descends deeper than before into darkness. 
The Comeback
The Comeback is a somewhat optimistic Sunset Boulevard-esque tale in hypersaturated neon. The Norma Desmond in focus here is Angela Velasco (Kaye Abad), a has-been with a reputation for being insufferable and a propensity for scandal.
Having been barred from showbiz and the good life, Angela is prepared to end it all, but along comes a package containing an urn with the ashes of a man named Kiko and four letters. One is addressed to her, the current owner of Kiko's old home, asking her to look for the other addressees.
For Angela, this is an opportunity to generate good publicity, and thus, her comeback.
What ensues is an endless romp of screwball comedy and unabashed camp, which supposedly transforms into a journey of self-discovery and reconciliation for Angela. But altogether, The Comeback feels exactly like a caffeine rush followed by a crash.
Director Ivan Payawal and his well-put cast constantly bombard you with wacky histrionics, punchlines, and slapstick galore. By the third act though, as the search hits a roadblock, the over-the-top delivery turns obnoxious and wears you out.
Any attempt at profundity – how Angela has failed to see the good left in her life, et cetera – becomes preachy and vapid. Even with strong, hysterical performances from a mainly female cast, as the drama simmers down, it becomes unmasked as an aimless and haphazard affair. 
Baka Siguro Yata
Joel Ferrer's Baka Siguro Yata (Perhaps Maybe Supposedly) offers an amusing but insightful take on how three generations view and deal with relationships and sexuality.
At the center of it all is Carlo (Dino Pastrano), a proverbial man-child who knocks up his high school classmate Melissa (Valerie "Bangs" Garcia) in a one-night stand, so he suddenly has to man up.
Meanwhile, Myka (Katrina "Hopia" Legaspi), Melissa's sister, tries to stall her first time with her boyfriend (Boo Gabunada) – fearing she would end up the same as her sister. Carlo's separated parents (Ricky Davao and Cherie Gil), on the other hand, rekindle old times by having an affair behind their new partners' backs.
Baka Siguro Yata is a taut comedy filled with riotous moments. Even with all these characters, it has no burden to give incisive and wide-ranging perspectives. The stroke of genius here is how the film interweaves events and conflicts within the narrow scope of two small families.
The film is dense with jokes and witticisms, thanks to Ferrer peppering his dialogue with pop culture references, clever insults, and running jokes aplenty. He highlights the absurdities in the situations, which make good comedy fodder.
Stay for the punch lines; these are the heart and soul of the film. The characters don't just throw their lines around – no matter how cavalier they sometimes sound.
Bukod Kang Pinagpala
In his 2010 Cinemalaya-winning film, Halaw (Ways of the Sea), Sheron Dayoc drew up a tense atmosphere from a story about human trafficking. He shifts his attention to the occult in Bukod Kang Pinagpala (Blessed Art Thou), and creates a similar sense of foreboding throughout it.
After an inexplicable recovery from her stupor, Stella (Bing Pimentel) now fancies herself as the prophet of a "Jesus" in her dreams (Paolo Paraiso), and starts to show obsessive behavior. This takes a toll on her daughter, Stephanie (Max Eigenmann), as she turns into a deranged Abraham to Stephanie's terrorized Isaac.
Dayoc has struck gold with his otherworldly location – an ancestral house filled with Catholic icons, and milks it for what it's worth through stark chiaroscuro images and unsettling silence. The camera lingers as long as necessary, and there is terror even off-screen ­– in what lurks in the shadows.
Bukod Kang Pinagpala eschews tired genre tropes – cheap scares and shocks – and trades it for a claustrophobic, oppressive, and crawl-under-your-skin type of horror. It goes beyond the superficial and familiar stuff of your run-of-the-mill scary flicks, and banks on our deepest psychological impulses.
The film primarily succeeds as an exercise in the horror genre – save for a rather bewildering encore. Nonetheless, Dayoc impeccably applies his skill for atmospheric world building to a more or less straightforward foray into supernatural horror.
Mga Rebeldeng May Kaso
Cannes 2000 Short Film Palme d'Or winner Raymond Red goes back to a time of political upheaval and artistic flourishing in Mga Rebeldeng May Kaso (Rebels with a Cause). In this fictionalized memoir of sorts, he recalls real-life personalities and the filmmaking scene around the time leading up to the first EDSA revolution.
A band of young filmmakers scrambles to prepare for the closing night of the International Film and Video Festival they have organized. Rem (Dominic Roco), one of these budding auteurs, scrambles to finish editing the closing film while juggling logistical duties. Together with his friends Pat (Nicco Manalo) and Sid (Earl Ignacio), they muse about their careers and the future of Philippine cinema.
Mga Rebeldeng May Kaso tries to stretch a busy but rather uneventful day to a full-length feature. However, the film doesn't contrive to evoke the grind and rush, and it kind of saunters, even. As it progresses, it becomes evident that it aspires to be less dramatic than essayistic.
The film is more like a manifesto of New Wave filmmakers. There are even several vignettes shot with a Super-8 camera, accompanied by voice-overs, that convey certain views about cinema and society back then. As a whole, it's part love letter, too, to the real people who have supported Raymond Red himself and his cohorts.
Far from being simply nostalgic and self-indulgent, Mga Rebeldeng May Kaso offers a lens to view Filipino cinema today through the past. At one point, the characters ponder, "Will it evolve?" The film kind of answers it – as if saying that not much has changed since then; however, it disappointingly misses the chance to take bold strides.
Miss Bulalacao
Ara Chowdhury's Miss Bulalacao deals with consequential issues through a humorous and self-aware perspective. However, it never takes an irreverent stance towards its subject matter.
Teenager Dodong (Russ Ligtas) joins his sleepy little seaside town's gay pageant, Miss Bulalacao, where he is asked, "What is the essence of being a woman?" He fumbles for an answer, eventually uttering, "Motherhood" – his deepest desire, apparently. Later on, he gets his wish, as a falling star-like object engulfs him in a white light.
The barangay folks' speculations are as absurd as Dodong's situation – is he hermaphroditic, is it a UFO, or is it the second coming of Christ? Over nine months, Dodong turns from town pariah into saint – "Bakla, Ina ng Diyos," "Birheng Donna," the tabloids and townspeople declare.
Miss Bulalacao is a comedy that thrives on irony. It's delightfully quirky, even reminiscent of a Wes Anderson flick. Shot in the Academy aspect ratio (4:3), the camerawork is deliberate and still, which somehow makes the entire thing feel lighthearted and benign.
Without being heavy-handed, the film is able to explore the nuances of what it means to be vilified and tolerated at the same time, and then later, revered. Instead of dwelling on the bizarreness of it all, it examines the characters' internal turmoil, giving rise to some profound insights about, say, self-identity and gender. 
Dahling Nick
Documentary filmmaker Sari Dalena turns to a subject close to her own heart in Dahling Nick: the late Nick Joaquin – eminent poet, fictionist, and journalist.
The biopic weaves together on-cam interviews of Joaquin's writer friends, filmic adaptations of his poems and stories (e.g. May Day Eve, The Summer Solstice, etc.), reenactments of key moments in his life, and even audio and video recordings of Joaquin himself, in an attempt to paint an all-encompassing portrait of the artist as Filipino (mind the reference). It candidly tells the story of both the creator and his creations, and reveals someone who personifies contradictions.
He is Dr. Jekyll and Mr. Hyde – the documentary allegorizes at one point. In his work, piety and sensuality, as well as Christianity and paganism, are juxtaposed. As Nick Joaquin, litterateur, he is a romantic who lives in the past, but as a newsman, Quijano de Manila, he has to deal with current affairs. These are the flip sides of his being ­– an insight that the film discusses at length.
Joaquin's friends share how he is a Hispanophile at heart, and the cadence of the Spanish language reflects on the musicality and elegance of his writing. This is also the missed opportunity of the film: it could've evoked the grace of Joaquin's works. Instead, the documentary is unnecessarily protracted and repetitive, more like a cinematic bibliography masquerading as biography.
When taken apart to individual sequences, there are stellar bits. Raymond Bagatsing is brilliant and spot-on as Joaquin himself and his characters. 
Manang Biring
Carl Joseph Echague's animated film Manang Biring easily stands out in this year's lineup, but more intriguingly so, because it's not your ordinary character-has-a-dying-wish film.
Manang Biring (Erlinda Villalobos) is given only a few months to live because of stage-4 breast cancer. Despite her ripe old age though, she isn't exactly ready to meet the Grim Reaper with open arms.
She receives a letter from her estranged daughter, Nita (Cherry Pie Picache), who is coming home for Christmas. Biring is determined to live until December, and she comes up with the most bizarre means to achieve just that.
At first glance, Manang Biring, in its stark monochrome, seems to be in the vein of French-Iranian graphic novelist and filmmaker Marjane Satrapi's Persepolis. The hyperrealistic rotoscope animation used here recalls Richard Linklater's cyberpunk cult film A Scanner Darkly.
Animation here isn't just a gimmick though. Instead of laboring to achieve some sort of authenticity, the film stylizes – not glamorizes – the feisty old lady's final days. Realistic details such as time and geography yield in favor of the abstract: Biring's hopes and pains.
Manang Biring shines in other ways, too. It's wonderful when it draws laughs of a bleak situation or when madcap characters like Eva (Mailes Kanapi) and Terence (Alchris Galura) steal the scene. It's not mopey, either, and paces well.
Dayang Asu
Dayang Asu (In Pampanga, We Eat Dogs)

"Dayang Asu" would like to thank again its generous sponsors for helping us produce this pitching trailer: SQ Film Laboratories Inc., Mr. Ed Castro, Mr. Lorgen Magpantay, Ms. Ching Pangilinan, Ms. Relia Muñoz, Mr. Marni Castro, Mr. Manman Bengco, Mr. Edwin Santiago, Ms Vicky Vega, Mr. Hervy Faustino, Mr. Robert LaRue, Ms. Joan Carreon, Mr. Pines Pineda, Mr. and Mrs. Jay and Jenny Timbol, Mr. Christopher Cuyugan, Mr. JB Reyes, Ms. Marjorie Guese, Panni Carlo Bakery, The Partyland Restaurant and Partyplace Bar, Wilee Pao Delights, Pampangueños Catering & Super-Mart, Barney's Burger, Applemint Ice Cream Parlor, San Miguel Brewery Inc., SOGO, MS Velasquez Funeral Home, and EV Punzalan Funeral Home. 🙂 We are now officially looking for an executive producer to be part of our advocacy against animal cruelty and legalized corruption in our society. :)For more information, email us at ikotproductions@gmail.com or call our line producers Mikee or Alex at 090943 559 6988 / 0917 800 4409. Spread the word. Thanks 🙂 <3

Posted by Dayang Asu on Sunday, 7 December 2014
It's not just a dog-eat-dog world in Bor Ocampo's Dayang Asu. As the Kapampangan title suggests, a whole nation of them thrives on a vicious cycle of corruption and intimidation.
In a Pampanga town, the men in the capitol overlook mafia-esque operations, including fronts like a quarry, which conceal the under-the-table deals and all the filth. There, the quarrymen are actually the mayor's goons who perpetrate depravities. Apart from this, these dogs also look for actual dogs to cook up into a stew.
Tonton (Junjun Quintana), the quarry master's son, seems like a good-natured fella, and doesn't flinch at his father (Ricky Davao) and his henchmen's deeds. It's his birthday, and he somehow wants to prove to his father that he can take over the reins of the business. He learns that to shape up for that role, he has to become a fiercer dog.
In Dayang Asu, the camera fluidly glides and winds through the alleyways like a slimy, treacherous snake that perfectly fits this savage world. The film doesn't shy away from depicting graphic violence, too, and the picture it paints of society is just pitch black and dreadful.
If it still has to be said: the bleak view of small town politics Dayang Asu shows is achingly familiar. It's such a downer, but it clearly took great pains to achieve just this. – Rappler.com
Paolo Abad is a cinephile and pop culture enthusiast to his core. While he cuts and animates short films, TV shows, and ads for a living, he fancies himself as a frustrated film theorist. He's an avid concertgoer as well, and enjoys taking snaps at various gigs.