How does this horror-comedy measure up to Vhong Navarro's body of work?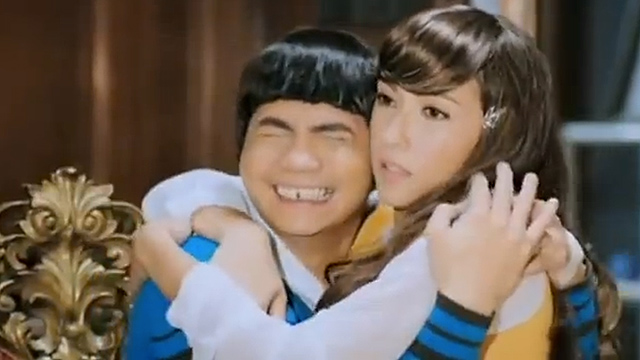 Da Possessed throws comedian Vhong Navarro back into the limelight following the mauling incident that he faced in January. In this movie, Vhong is the obnoxious scaredy-cat Ramon, who, after finding a job as a landscape artist, falls head over heels for his boss, Anna (Solenn Heussaff).
But in a mistaken effort to impress Anna, Ramon ends up disturbing the remains of three vengeful spirits Kemerut (John Lapus), Dado (Empoy Marquez) and Anga (Aaliyah Belmoro). Suddenly, Ramon's life, love life, and family are placed in jeopardy when he is used as a vessel to avenge the deaths of the lingering spirits.
A comeback film for Navarro, Da Possessed places the Showtime host back in familiar territory. Being familiar with the horror-comedy genre, Navarro channels his previous work on Bulong and D' Anothers into another attempt at mixing frights with the funny.
Unfortunately, Da Possessed suffers from a half-baked plot that feels unmistakably rushed out the door. Like the erratic behavior of its lead character, Da Possessed suffers from its own personality disorder. By trying to be too many things at the same time, Da Possessed ends up being a little bit of nothing. And it all feels like part of an effort to ride on Navarro's newfound tabloid popularity.
Too much story, too little sense
Da Possessed starts with a sliver of promise. Ghostly figures are gunned down under the cover of night, setting up a mystery that is initially intriguing. But as the story trudges on, the film flails wildly, touching on everything from an indebted family, a mismatched love story, a haunted house, to a comedic spiritual possession, all in a span of an exhausting two hours. 
The story seems so confused with its own plot that the first full-on possession doesn't happen until well into the second hour of the film. And though the Da Possessed lands a good number of well-placed gags, these feel more credited to the cast's command of comedy, as well as director Joyce Bernal's knack for the bizarre.
Despite the evident failings of the film's story, Bernal manages to run a tight ship among her band of hardy comedians. Beverly Salviejo and Joy Viado are in particularly hilarious form as two warring old women, while Smokey Manoloto and Matet de Leon round up Ramon's quirky family. But while Da Possessed tries to make fun of its seemingly contrived plot, it just isn't enough to throw a blanket on its cemetery-sized plot holes.
Wasted potential                                                                                                                                                                    
Da Possessed wastes most of its screen time dragging its feet through its murky story, hinging on hit-or-miss punchlines and elaborate visual gags. Despite the film's mile-a-minute puns, Vhong Navarro is given very little to do. As a character, Ramon fails to bank on the usually sharp-tongued and outgoing Navarro. The result is a Vhong Navarro that feels restrained, closed off, and uncharacteristically shy. But the real disappointment here is that there are remnants of a far better story buried underneath the film's under-baked crust.
Towards the latter part of Da Possessed, Ramon is told that it is better to be possessed by spirits than it is to be possessed by fear. While there's an elegant simplicity to such an unassuming line, that potential is thrown to the wind when the film fails to explore that theme any further than the expected monologue.
Taking the next step
It's easy to pin the flaws of Da Possessed on an exploitative studio system. But to blame Star Cinema or Regal Films for wanting to turn a profit would be excluding the business from show business.
The real shame here isn't that Da Possessed fails to live up to its potential, but that there's a wasted opportunity here for Vhong Navarro. Whatever you might think of Navarro's brand of comedy, he is arguably one of the more exciting and underutilized stars of Star Cinema. Unlike the studio's other big name superstars, Navarro's filmography is as unpredictable as his onscreen personas. From the smooth-operating Mr. Suave, the quirky superspy Agent X44, to a charming romantic in My Only U, Navarro's career has allowed him a level of diversity few other actors appreciate.
In its own way, Da Possessed is distinctly Vhong Navarro. Despite the films shortcomings, it does deliver on a brand of comedy that only a Vhong-Bernal tandem can deliver.
But where does Navarro go from here? While he could very well fall back to the old rhythms of his job at Showtime, Navarro is always a great vehicle to try out unconventional material on the mainstream market.
Vhong Navarro may not have been thinking of his career when he first faced his ordeal last January. But he definitely should be thinking about it now that the spotlight is back on him. – Rappler.com

Zig Marasigan is a freelance screenwriter and director who believes that cinema is the cure for cancer. Follow him on Twitter at @zigmarasigan.
More from Zig Marasigan