Director Gareth Edwards gambles on the chance to take Godzilla back to his roots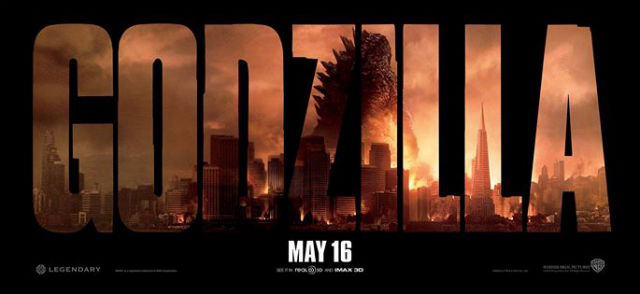 MANILA, Philippines – There is nothing intimate about a 300-ft tall radioactive lizard. Godzilla, a creature whose size is only rivaled by the monster culture he himself had spawned, is about as intimate as a jack hammer in a ballet recital. But in his latest Hollywood iteration, there is a stunning sense of smallness to him, and small isn't a word that should be used lightly when describing Godzilla.
When a Japanese nuclear power plant is destroyed in a mysterious earthquake, engineer Joe Brody (Bryan Cranston) is determined to find out the truth behind what he thinks is a large cover-up. Fifteen years later, the signs lead him to believe that something much more dangerous is lurking underground. Joe enlists the help of his son Ford (Aaron Taylor-Johnson) to follow the clues back to the destroyed power plant only to discover an ancient monster lurking underneath the oceans of the Earth.   
Godzilla is a long overdue attempt to right the many wrongs across Godzilla's 60-year cinematic legacy. While audiences have mostly attributed the series' many missteps to director Roland Emmerich's laughable 1998 Hollywood version, fans of the long proclaimed King of Monsters will be quick to admit that the franchise has long regressed into camp comedy and over-the-top antics well before Emmerich took the director's chair.  
This time around, director Gareth Edwards gambles on the chance to take Godzilla back to his roots, retreading the same themes, motifs and narrative tricks that made the original Ishiro Honda film such an enduring classic. 
Godzilla is an intentional departure from the hollow spectacle that has come to define most big budget summer releases. It carefully avoids the front-facing city wide destruction that audiences have come to expect. But while the film runs the risk of losing out on audiences frothing at the mouth for mindless chaos and devastation, Godzilla takes the high road by offering something more clever, more calculated and particularly more pronounced. 
Old themes, new story
When the atomic bomb was dropped over the cities of Hiroshima and Nagasaki, the resulting devastation marked a dramatic shift in Japanese culture. The ensuing fallout gave birth to one of the richest collections of post-apocalyptic narrative. Godzilla was one of them.  
Despite Godzilla's predilection for destruction, the older Japanese films were largely pacifistic in nature.  Amidst the outright flattening of Japanese cities, the earlier films stood strongly for nuclear disarmament and environmental responsibility. Even during the many defeats and deaths of Godzilla over the years, his demise has always been punctuated by an overbearing air of tragedy. This was because Godzilla represented something more than a lumbering monstrosity. He represented the errs of humanity and our arrogance as a species. 
In the original film by Ishiro Honda, these anti-military sentiments were personified by Dr. Saisuke Serizawa, a scientist who initially refused to share the weapon capable of defeating Godzilla. Although Serizawa would eventually concede by giving the weapon to the military, he did so at the price of his own life. 
In 2014, the spirit of Serizawa is reincarnated through Dr. Ichiro Serizawa (Ken Watanabe), a scientist who believes that military action isn't the answer to humanity's building-sized problem. 
"The arrogance of man is thinking that nature is in their control and not the other way around," he warns. 
Although Godzilla takes considerable liberties with the origins of its title character, its anti-military themes remain largely intact. The military makes up a large and strong presence throughout the film, but none of their tactics have any real bearing in the defense against Godzilla. In the eyes of Godzilla and his monstrous peers, we are but dust mites in their wake. Even our mightiest weapons are nothing compared to the raw and brutal force of nature. 
Less is more
While most summer blockbusters have been quick to pump their films with as much visual spectacle as possible, director Gareth Edwards exercises disciplined restraint. We are never given a clear shot of Godzilla until half way through the film, and even then, coverage of his monstrous peers is sparse at best.
Here, Edwards returns to the past for inspiration. Godzilla mimics the same pace and temperament of Ishiro Honda's original film, alongside Stephen Spielberg's Jaws and Ridley Scott's Alien. This is high praise for a relatively new director, but by teasing his audience with mere morsels of the chaos to come, Edwards whips his viewers into a near ravenous frenzy in time for film's skyscraper sized climax.
It's a big gamble amidst today's ADD generation who want their fight scenes big, loud and now. But for viewers aching for more than just another embattled North America, Godzilla is as refreshing as it is risky. 
Changing perspectives
There's little doubt that Godzilla is the star of the show, but director Gareth Edwards grounds the film by anchoring the story's perspective to a handful of changing individuals. We see Godzilla through the eyes of wide-eyed children, scurrying soldiers and panicked civilians. A view from the air is only conceded when there is a helicopter flying overhead, intentionally limiting our experience to the devastation in our periphery. 
But unlike Stephen Spielberg's own War of the Worlds or even Matt Reeves' more recent Cloverfield, two monster-sized films that traded scope for intimacy,we are never robbed of the film's sense of scale. Godzilla shifts constantly from the boots on-the-ground to the top-ranking officials in high command, giving us a bird's eye and worm's eye view of the devastation, without conceding too much in process. 
A triumphant return
Godzilla is a triumphant return for the Japanese born behemoth. Restrained, calculated and well-crafted, Godzilla manages to tear away the bulkiness that has weighed it down for decades. The film doesn't pander to the often blind demands of its audience, intentionally lacking in action but never lacking in tension. And while the film does slip into the realm of ham and melodrama, Edwards does a remarkable job of keeping his film on rails and on course. 
Godzilla may mark the start of a much larger, much grander plan. But until then, the film thinks big but keeps small. And the result is the kind of success that goes well beyond size; something that shouldn't matter when story should be king.  – Rappler.com

 Zig Marasigan is a freelance screenwriter and director who believes that cinema is the cure for cancer. Follow him on Twitter at @zigmarasigan.
More from Zig Marasigan