There's a lot to like about this sequel, writes Zig Marasigan, including its own ability not to take itself too seriously
There's nothing quite as awkward as a comedy that tries to make fun of itself. But when the punchline is in the hands of unlikely comic tandem Jonah Hill and Channing Tatum, the result is as hilarious as it is self-referential.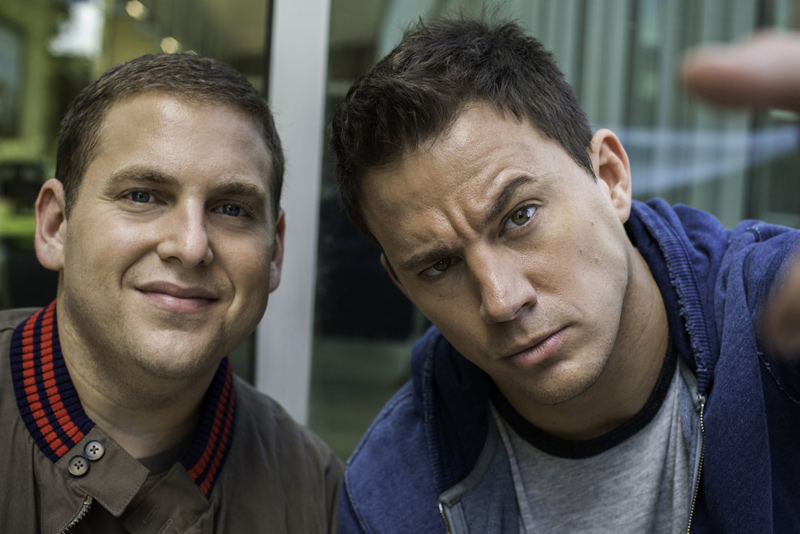 22 Jump Street is the much-awaited sequel to the unexpectedly hysterical 21 Jump Street. This time around, buddy cops Schmidt (Jonah Hill) and Jenko (Channing Tatum) are going to college.
Working undercover to track down a new illegal drug, Schmidt and Jenko are tasked once again by Captain Dickson (Ice Cube) to disguise themselves as undergrads in the name of clean streets and effective law enforcement. Thankfully, the most effective thing about 22 Jump Street is its ability to make fun of itself and get away with it.
When Deputy Chief Hardy (Nick Offerman) assigns Schmidt and Jenko back to Jump Street, he admits that it's another lazy attempt to try to do the same thing all over again. But by calling out the various sequel clichés and comedy tropes right to its face, 22 Jump Street dives headfirst in a self-indulgent, self-deprecating whirlwind of punchlines and comic sucker punches.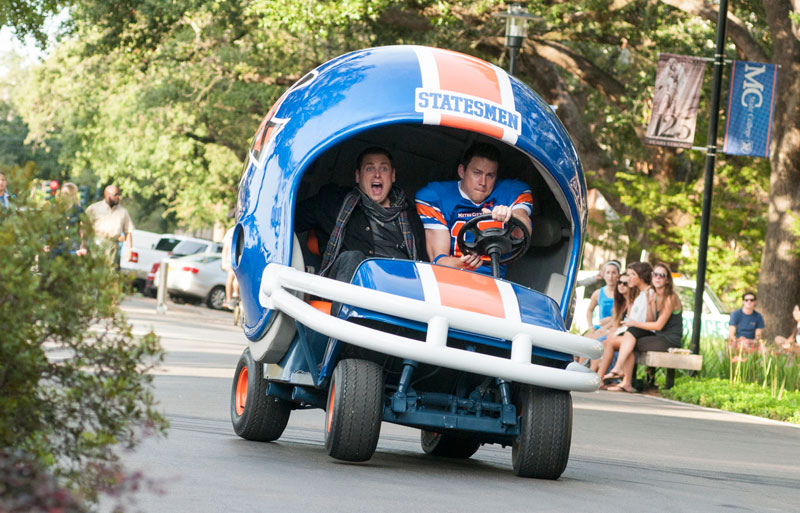 Although 22 Jump Street never quite reaches the heights of its predecessor, it manages a good deal of goodwill by ironically admitting that it can't.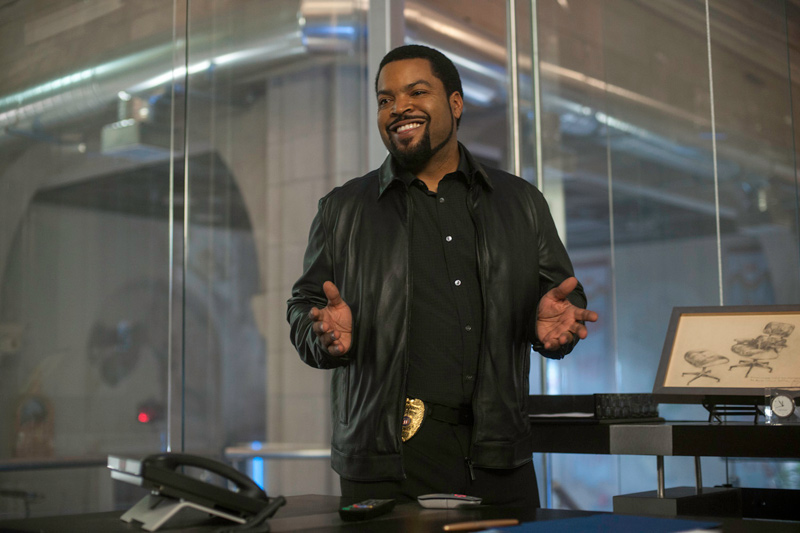 Same case, new laughs
22 Jump Street makes a big deal about formulaic sequels, and does a remarkable job of calling them out. But the real joke here is that the film isn't afraid to admit that they're no better. 22 Jump Street lifts more than a few plot points from the original film, but does so in such deceptively riotous fashion that the lack of ingenuity is almost excusable. 
"It's the same case," Captain Dickson tells Schmidt and Jenko. "Do the same thing."
But returning directors Phil Lord and Christopher Miller are the real buddy cops of the franchise, working like butter on toast to deliver their expected brand of irreverent humor and sharp-witted antics. Mix that up with the tried-and-tested comic timing of Jonah Hill and Channing Tatum, and 22 Jump Street sends the usual sequel comedy back to school.
22 Jump Street calls back a number of familiar faces, like convicted drug dealers Eric Molson (Dave Franco) and Mr. Walters (Rob Riggle) for a well-seeded cameo. But the film refreshes its roster with a host of new talent like Wyatt Russell and big screen newcomer Jillian Bill. While the new names do liven up the film, the story still centers around Jump Street's unlikely stars, Schmidt and Jenko.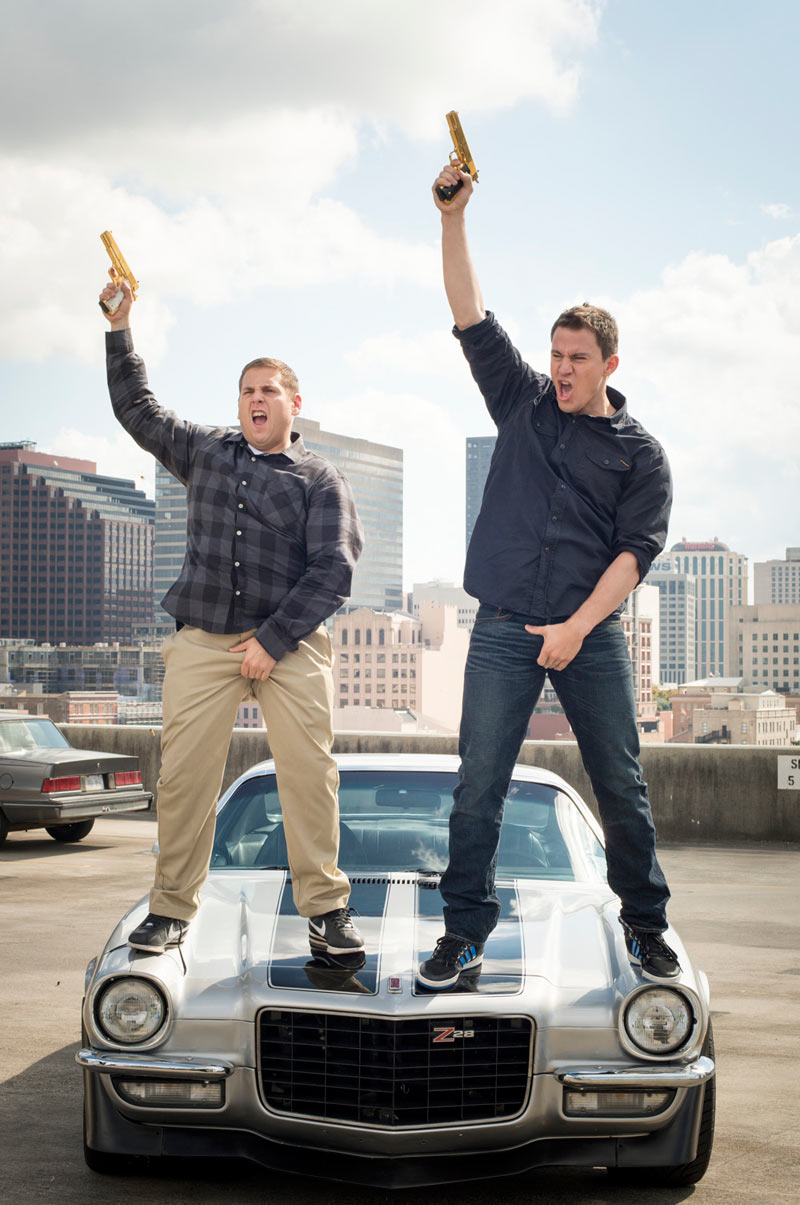 Not your ordinary buddy cop comedy
22 Jump Street mixes things up by throwing a heaping dose of bromance between the undercover partners. When Jenko strikes an unlikely friendship with campus quarterback Zook (Wyatt Russell), Schmidt ends up caught in their rather awkward, but admittedly hilarious triangle. It's another wrench in the typical buddy cop formula and does a good job of breaking up the film's self-referential humor.
Unfortunately, the joke admittedly runs itself ragged as it's repeated ad nauseam throughout the film. And while Hill and Tatum do an entertaining job of keeping their unconventional relationship on its toes, it would've done the sequel a great deal if it had simply added some variety to the expected homosexual punchlines.
Despite these added complications, Schmidt and Jenko's relationship remains in rather comfortable stasis. They are never challenged in any meaningful way, and though the film never aspires to illicit anything more than well-timed guffaws, it makes it difficult to deduce just where the franchise can go from here.
But in a manner completely fitting to the film, directors Phil Lord and Christopher Miller answer that very same question by showing off one of the most comically inventive credit sequences in sequel history.
Still a sequel
Despite all the praise, 22 Jump Street never quite achieves the magic of the first film. Like most sequels, 22 Jump Street contends with the high level of expectation set by its predecessor. While the film mostly shrugs that aside by calling its own faults to its face, it doesn't really resolve the fact that it is, in fact, another sequel.
But by mixing incredibly large doses of self-deprecating humor and self-referential antics, 22 Jump Street ends up on a higher note than anyone was expecting. As far as lazy sequels go, 22 Jump Street at least makes a worthwhile punchline out of it. – Rappler.com

 Zig Marasigan is a freelance screenwriter and director who believes that cinema is the cure for cancer. Follow him on Twitter at @zigmarasigan.