This is AI generated summarization, which may have errors. For context, always refer to the full article.
Rappler's movie reviewer Zig Marasigan rounds up the entries from Cinemalaya 2014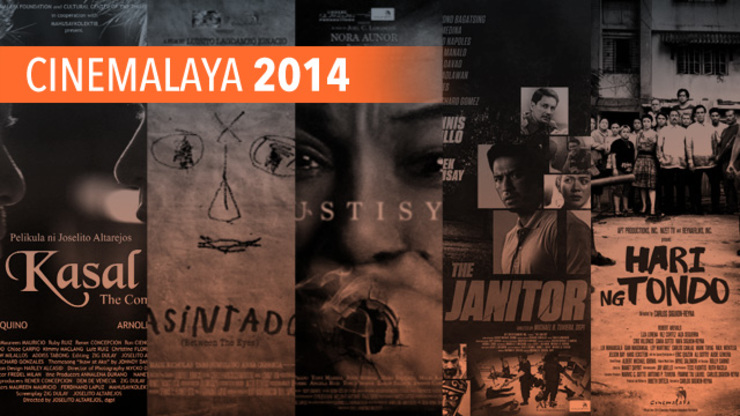 It's been ten years since Cinemalaya first opened its doors to a brand new generation of filmmakers. But despite all the scandal and controversy over the years, the festival still holds up as one of the best venues to find new and exciting Filipino films from the independent scene.
This year, 15 filmmakers have been given the opportunity to tell their stories. Let's look at each one: 
DIRECTORS SHOWCASE
Asintado
Director: Louie Ignacio
Starring: Aiko Melendez, Gabby Eigenmann, Miggs Cuaderno, Rochelle Pangilinan, Jake Vargas
Synopsis from Cinemalaya: In the middle of the preparation for Taong Putik Festival, a young man, penniless and in love, takes on a job as a drug courier that goes terribly wrong. To save him, his mother now makes the most difficult decision of her life.
Why you should watch: The Taong Putik Festival has been depicted many times in both independent and mainstream cinema, so the challenge on director Louie Ignacio's part would be giving audiences something both original and insightful.
But Ignacio's fondness for music and spectacle should only help in driving home the emotion of this mother-centric film. But the real sell of the film is on leading lady Aiko Melendez. After nearly half a decade away from the big screen, Asintado is her much-awaited comeback to feature length fims. 
Hari ng Tondo
Director: Carlos Siguion-Reyna
Starring: Robert Arevalo, Rez Cortez, Cris Villonco, Rafa Siguion-Reyna, Lorenz Martinez, Liza Lorena, Lui Manansala, Aiza Seguerra
Synopsis from Cinemalaya: A grandfather on the brink of bankruptcy brings his grandchildren back to the community that made and shaped him, only to find out the place is no longer the same.
Why you should watch: There's a lack of family ensembles in this year's festival line-up, but director Carlos Siguion-Reyna is filling that gap with Hari ng Tondo. But while the trailer points to some unmistakable similarities with most OFW-family dramas, the raw Tondo slums could help deviate from the usual commercial polish popularized by mainstream films.
It's also worth noting that Hari ng Tondo was penned by Bibeth Orteza, the same scribe behind My Little Bossings and a number of the Enteng Kabisote films. It'll be interesting to how the script shapes up now that Orteza has been given the opportunity to work outside the commercial restraints of the Metro Manila Film Festival. 
Hustisya
Director: Joel Lamangan
Starring: Nora Aunor, Rocco Nacino, Rosanna Roces, Sunshine Dizon, Gardo Versoza, Chynna Ortaleza 
Synopsis from Cinemalaya: A foul-mouthed woman fights for her soul in the belly of the city. Working for a human trafficking agency controlled by a powerful syndicate, she sees no evil, hears no evil. In a society like ours, you have only two choices – to be a victim, or a victimizer – she makes her choice.
Why you should watch: Stars don't get any bigger than Nora Aunor. But while she happens to be the most obvious selling point of Hustisya, she's in good company. Hustisya, directed by filmmaking veteran Joel Lamangan (Muling Umawit ang Puso, Mano Po) and screenwriting legend Ricky Lee (Jose Rizal, Muro Ami), Hustisya carries the ambition worthy of its staff and stars.
With Nora Aunor playing a woman of questionable morals, Hustisya will hopefully not be pulling any punches with regard to its material. But while big name celebrities don't always equate to quality, Hustisya should definitely be a film to look out for, if only for the sheer talent of those behind it. 
Kasal 
Director: Joselito Altarejos
Starring: Arnold Reyes, Oliver Aquino, Rita Avila, Maureen Mauricio, Rener Concepcion
Synopsis from Cinemalaya: Kasal is a slice of life drama of a gay couple whose resolve to stay together is challenged as they attend a wedding. It also is an examination of how a gay couple navigates through the different institutions in Philippine society.
Why you should watch: Director Joselito Altarejos has been a long-standing proponent of local gay cinema with previous works like Ang Lihim ni Antonio and the more recently released Unfriend. But while gay cinema has been unfairly stigmatized as pornography disguised as legitimate cinema, Altarejos has made a point not to let the genre go to waste.
Instead, Alterejos expounds and explores his subjects not simply through eroticism and sexual preference, but through depth of emotion and character. With his previous works garnering wide critical acclaim both locally and internationally, audiences wouldn't be remiss to expect Kasal to follow those very same lines. 
The Janitor
Director: Michael Tuviera
Starring: Dennis Trillo, Richard Gomez, Ricky Davao, Dante Rivero, Irma Adlawan, Derek Ramsay
Synopsis from Cinemalaya: Crisanto Espina, a cop on suspension and under investigation, is tasked to eliminate the suspects involved in a bank robbery/massacre that shocked the whole nation.
Why you should watch: Philippine action movies are a long way from seeing a renaissance, but The Janitor looks like it's following the slow yet steady trend of local action thrillers. With big name stars like Dennis Trillo, Ricky Davao, Richard Gomez, Derek Ramsay and Irma Adlawan headlining the film, director Michael Tuviera has enough worthy talent to allow for a wide release after the festival.
It's interesting to note that The Janitor was lensed and lit by cinematographer Marissa Floriendo, the very same name behind last year's Robin Padilla drama-thriller 10,000 Hours. 
NEW BREED
#Y
Director: Gino Santos
Starring: Elmo Magalona, Coleen Garcia, Sophie Albert, Kit Thompson, Slater Young, Chynna Ortaleza
Synopsis from Cinemalaya: #Y chronicles the adventures of the members of this generation know for their affinity with social media and the Internet, and combines this with a tale of sex, drugs, and alcohol, and the nights they won't remember but will never forget.
Why you should watch: Director of the recently released Island Dreams, Gino Santos' latest film appears to be born out of the same DNA as his visceral feature length debut, The Animals. But while detractors may be quick to criticize Santos for treading familiar territory, it's obvious that his storytelling interests (and strengths) lie in exposing the vanities and indulgences of the nation's young upper class.
Based on the film's teaser trailer, Santos has traded the raw visuals of his first film for the more polished aesthetic of cinematographer Carlo Mendoza (Manila Kingpin). It will be interesting to see if Santos alongside screenwriter Jeff Stelton will be recycling old material or breaking new ground. 
1st ko si 3rd
Director: Rel Florido
Starring: Nova Villa, Dante Rivero, Freddie Webb, Ruby Ruiz, Lara Morena
Synopsis from Cinemalaya: A 65-year old woman gets reunited with her first love, and finally the supposed first date happens four decades after they got separated.
Why you should watch: 1st ko si 3rd may sound like a mainstream film disguised as an indie effort, but it's premises like this that prove how Cinemalaya can still have mainstream appeal without the shackles of big studio trappings.
With Nova Villa and Freddie Webb playing each other's bygone loves, 1st ko si 3rd could be the festival's stand-out love story. Although the trailer keeps things light and frothy, audiences will have to wait and see what writer-director Rel Florido will have up his sleeve to keep the film above the expected tropes of mainstream cinema. 
Bwaya
Director: Francis X.E. Pasion
Starring: Angeli Bayani, Karl Medina, RS Francisco, Jolina Salvado
Synopsis from Cinemalaya: Divina, a 35 year old Manobo, is preparing for her daughter Rowena's 12th birthday when she hears shocking news: her daughter has been attacked by a crocodile, her body still missing. As Divina searches for the body of her daughter in the marshlands of Agusan, she learns a lesson more tragic than her fate: not all predators are underwater. 
Why you should watch: Despite director Francis Pasion's television background, Bwaya is shaping up to be a far cry from the formulaic soap operas of local networks.  Based on actual events, Bwaya was shot on location in Agusan del Sur to maintain the authenticity of the story.
If initial footage of Bwaya is anything to go by, the film promises hauntingly eerie but honest visuals from veteran cinematographer Neil Daza (Badil, Emir). Urian Best Actress Angeli Bayani (Norte, Ilo Ilo) headlines the film, in what could be one of the more exciting selections in this year's New Breed category. 
Children's Show
Director: Roderick Cabrido
Starring: Allen Dizon, Suzette Ranillo, Nathan Lopez, Jacob Clayton, Miggs Cuaderno, Buboy Villar
Synopsis from Cinemalaya: Children's Show is a full-length film based on a real life story of children ages 10-15 years old being used  by a syndicate for an underground wrestling match.
Why you should watch: Inspired by director Roderick Cabrido's very own made-for-tv documentary, the irony of the film's title is an easy one to spot. The film's trailer doesn't concede much in terms of story, but what few morsels are presented hint at a milieu that's both violent and honest.
The film puts a spotlight on syndicate-run fistfights, where the combatants are mere children. However, it'll be Cabrido's utilization of his young cast that will ultimately make or break the film. If done right, Children's Show could surface as one of the festival's brightest entries. 
Dagitab (Sparks)
Director: Giancarlo Abrahan V
Starring: Eula Valdez, Nonie Buencamino, Martin del Rosario
Synopsis from Cinemalaya:  While the marriage of two professors is on the verge of falling apart, the woman is dragged into a scandal involving a young student. On the other hand, the man falls in love with his research – a deity (supernatural being) that appears to him as the ghost of an old flame.
Why you should watch: If the film's various teasers are any indication, it wouldn't be much of a surprise to see Dagitab stray from narrative convention. And though the idea of a limp marriage and a kindling affair are by no means original material, audiences can expect writer-director Giancarlo Abrahan to tackle his subjects with eyes allergic to cliché.
More widely recognized for his screenwriting work on the critically acclaimed Transit and the beautifully poetic Islands, Abrahan is finally given the chance to helm his first feature length film with Dagitab. Abrahan's knack for ambitious and alternative-structured stories are self-evident, but it'll be his work on Dagitab that will ultimately cement his visual style. 
K'na, The Dreamweaver
Director: Ida Anita Del Mundo
Starring: Mara Lopez, Ramon Bagatsing, Alex Medina, Nonie Buencamino, Bembol Roco
Synopsis from Cinemalaya: When a young T'boli woman, becomes a dreamweaver, she has the chance to weave together her village's warring clans. But, will she give up true love to do so?
Why you should watch: The rich and fascinating traditions of the T'boli tribe have always been a storytelling goldmine. But in the case of first time feature film director Ida Anita Del Mundo, she's putting the spotlight on a T'boli dreamweaver who's torn between love and loyalty.
Set in Mindanao, K'na, The Dreamweaver looks outside of Metro Manila for its material. But it'll be interesting to see how Del Mundo will be grounding her story to connect with local audiences not too familiar with T'boli beliefs and traditions.  But it's Del Mundo's background as a musician that may give her film a unique voice to differentiate herself from the other filmmakers. 
Mariquina 
Director: Milo Sogueco
Starring: Mylene Dizon, Ricky Davao, Bing Pimentel, Che Ramos, Barbie Forteza, Dennis Padilla
Synopsis from Cinemalaya: Unlike the former Philippine First Lady, this Imelda is indifferent towards shoes. To her, they are fraught with the bittersweet nostalgia of childhood, one that was marred by a difficult relationship with her shoe-maker father, Romeo. Growing up, all of hers were handmade by him.
Now a mature woman, she takes a pivotal call from the morgue, spurring her search for the perfect pair of shoes for her dead father. The more she searches for the perfect shoes, the more she finds herself.
Why you should watch: Despite various casting changes during the course of production, Mariquina still looks to be one of the more sought after films in this year's festival. Although Mariquina's premise is simple enough, the exploration of the local shoe trade is rich with potential.
With a script penned by writer-director Jerrold Tarog (Sana Dati, Senior Year), it'll be interesting to see how director Milo Sogueco will be translating Tarog's penchant for the intimate and the authentic. But Sogeuco is no stranger to such themes himself, especially after the critical success of his full-length narrative debut, Sanglaan.   
Ronda
Director: Nick Olanka
Starring: Ai-Ai delas Alas, Perla Bautista, Bernardo Bernardo, Menggie Cobarrubias, Carlo Aquino
Synopsis from Cinemalaya: A policewoman who patrols Manila during the night arrests her teenage son for killing his lover.
Why you should watch: Ronda will most definitely be getting buzz purely from its leading lady, Ai-Ai delas Alas. More widely recognized for her comedic work, delas Alas will definitely be stepping out of her comfort zone as a no-nonsense Metro Manila policewoman.
But writer-director Nick Olanka is also the talent to look out for. Although Olanka has spent the last few years directing for network television and mainstream cinema, it's easy to forget that Olanka had first cut his teeth with Ang Huling Araw ng Linggo, a feature-length drama that debuted during the earlier years of Cinemalaya.
It'll be interesting to see how his background in theater, his roots in independent cinema and his experience as a mainstream director will come together in Ronda. 
Separados 
Director: Giuseppe Bede Sampedro
Starring: Victor Neri, Ricky Davao, Jason Abalos, Anjo Yllana, Erik Santos, Alfred Vargas
Synopsis from Cinemalaya: This is the bittersweet saga of 6 men who have separated from their wives. Inspired by true stories, their parallel and overlapping tales offer 6 different portraits of the failure of monogamy in a society where divorce is supposedly not an option. Ironically, fate and circumstance bring them together at a church wedding, where one of them takes a second chance at marital bliss.
Why you should watch: It wouldn't be director G.B Sampredo's first time dealing with multiple protagonists. His Cinemalaya debut, Astig, put the spotlight on 4 strong men with very real flaws. But in Separados, Sampedro's concerns appear to be more intimate.
It isn't often that relationships are examined through a predominantly male perspective, much less six of them. Separados boasts a top tier cast including Ricky Davao, Victor Neri, Anji Yllana and Jason Abalos, but it'll be worth seeing how Sampedro juggles multiple narratives with a very clear central theme: separation. 
Sundalong Kanin
Director: Janice O'Hara
Starring: Nathaniel Brit, Ian de Leon, Gardo Verzosa, Via Veloso, Enzo Pineda, Marc Abaya
Synopsis from Cinemalaya: Set during the Japanese Occupation, four friends (Nitoy, Benny, Carding, and Badong) aspire nothing more than to become soldiers fighting the Japanese until they are confronted by the realities of war that threaten to destroy their families and their friendship.
Why you should watch: Independent films have only become more ambitious over the years, and Sundalong Kanin may be further proof of that. Set during the Japanese occupation, Sundalong Kanin tackles an era not often portrayed in Philippine cinema.
But director Janice O' Hara seems especially interested in not letting the film's grandiose backdrop get in the way of telling a story of four young boys. This will be O' Hara's feature length debut after years as a television writer, but that shouldn't deter audiences from checking out Sundalong Kanin if only for its notable premise.  – Rappler.com

Zig Marasigan is a freelance screenwriter and director who believes that cinema is the cure for cancer. Follow him on Twitter at @zigmarasigan.