Want to watch everything? Here's a primer for this year's Cinemalaya Film Festival. Happy viewing!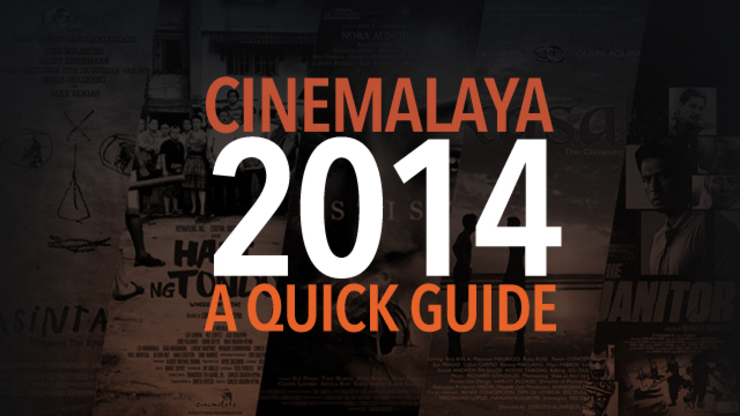 The Cinemalaya Philippine Independent Film Festival is a local film competition that showcases cinematic works from established and upcoming Filipino filmmakers. While the same can be said about the Metro Manila Film Festival, the fact that the Cinemalaya Film Festival is "independent" allows filmmakers to produce films that wouldn't otherwise have been made through the traditional studio system. This year's is from August 1-10.
For anyone interested in supporting local cinema, Cinemalaya is a must-experience event. The festival has been a great source for some of the best local films of the last decade while acting as an annual reminder that Philippine cinema is far from dead. The festival, billed Cinemalaya X this year, is currently on its tenth year and is gearing up to be bigger than ever.
Films to see, what to watch
There are more than fifty films showing at the Cinemalaya Film Festival, with most screenings being held at the CCP. These films cover everything from documentaries, short films to full length narratives. But the festival's highlight is the fifteen films in competition.
The films in competition are divided into two categories: the Director's Showcase and the New Breed category. The Director's Showcase is composed of 5 films made by established directors who have already directed a number of independent or commercial films. The New Breed category is reserved for 10 new or up-and-coming filmmakers who have little or no feature length directing experience.
For a rundown of the fifteen films in competition along with their descriptions, trailers, and reasons to watch each of them, click here.
When and where to watch
The CCP provides printed versions of the full festival schedule for free. But Cinemalaya isn't simply limited to the CCP. It has since partnered up with cinemas all across Metro Manila to help expose audiences to films from the festival. Here is a list of theaters that will be showing films from Cinemalaya.
CCP: Main Theater, Little Theater, Dream Theater, MKP Hall, Studio Theater
Alabang Town Center: Cinema 4
Greenbelt: Cinema 3,Cinema 4, Cinema 5
Fairview Terraces: Cinema 5
Trinoma: Cinema 1, Cinema 2, Cinema 4
For a full schedule of the films in competition, click here.
Make the most out of your Cinemalaya experience
Cinemalaya films have only risen in demand over the years, and though the number of theaters showing the films has increased, the festival is still only from August 1-10. So the best way to make the most out of your Cinemalaya experience is to prepare early.
Don't come to a theater 10 minutes before screening and still expect to have a ticket ready for purchase. Plan ahead. Make reservations ahead of time and plan out what films you want to watch.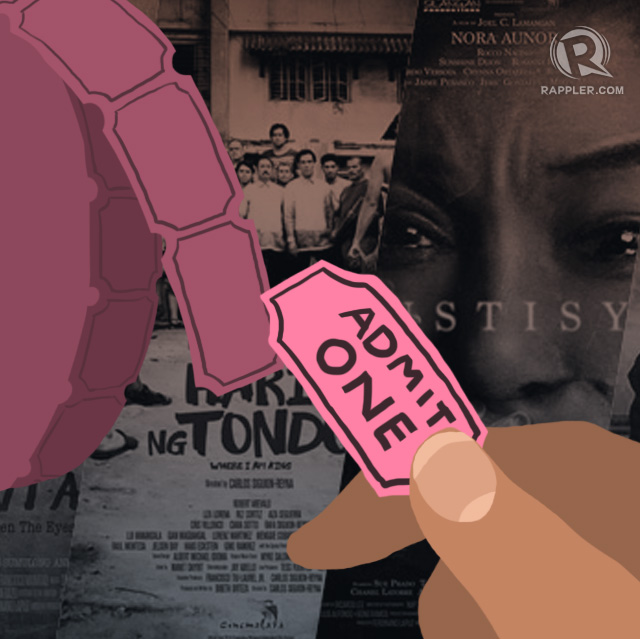 How much, where to buy tickets 
Cinemalaya tickets to the CCP screenings can be purchased at various CCP ticket booths for the following prices:
P150.00 (single, regular screening)
P200.00 (single, MKP Hall screening)*
Purchases can also be made online through TicketWorld.
However, tickets to screenings at any of the partner malls are subject to change in pricing and can only be bought via the mall's own ticket outlets. They can also be bought their own respective online reservation services.
*Prices for the MKP Hall are more expensive due to the limited number of seats available.  
Discounts?
A variety of discounts are available for those with the appropriate credentials. But passes are also available for those who looking to spend entire days at the festival. As per the Cinemalaya website, the discounts and passes are as follows:
50% Discount for Students*

20% Discount for Senior Citizens and PWD*

20% Discount for Government and Military Personnel*
*Discounts are only available to those with valid I.Ds.
Passes you can purchase 
Festival (All Access) Pass: P3,500.00
Festival Pass grants admission to all festival screenings at CCP Venues (not valid in Ayala Cinemas) via the priority lane. This pass is non-transferrable.
Films-in-Competition (FIC) Pass: P2,500.00
The FIC Pass grants admission to all in-competition films at CCP venues (not valid in Ayala Cinemas) via the priority lane. This pass is non-transferrable.
One Day Pass (4 screenings): P500.00
Admission to four screenings during a single day at any CCP venue (valid on the date of purchase).
One Day Pass (5 screenings): P700.00
Admission to four screenings during a single day at any CCP venue (valid on the date of purchase).
But the film I want to watch is sold out! What do I do?
If the film you were planning to see just happens to be sold out, simply make reservations for the next available screening (which could possibly be on a different day). But as mentioned earlier, there are more than 50 films being screened at the CCP.
Although a majority of them are not films in competition, each one of the films at CCP is a quality selection curated from previous years, various award giving bodies, or other local film festivals. Don't be afraid to deviate from your intended schedule. If a non-competition film is being shown, it's probably for good reason.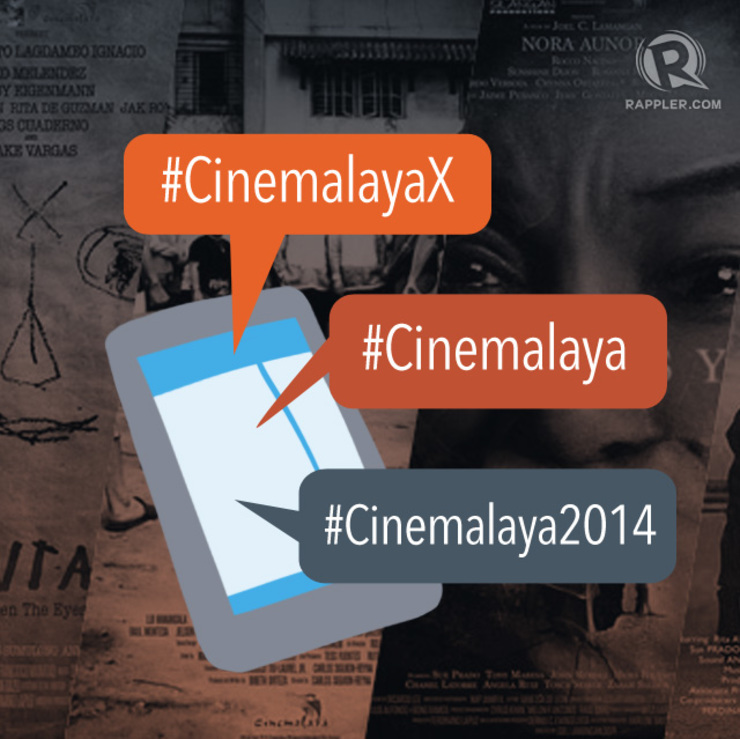 Support the films you like
The filmmakers appreciate praise for all their hard work, but they also need help spreading the word. Feel free to let your friends and family know about the films you liked through social media. Here are just some of the possible hashtags you can include when supporting your favorite films on Twitter and Facebook:
#Cinemalaya
#CinemalayaX
#Cinemalaya2014
Don't forget to hashtag the title of your favorite films.
But you can also support your favorite films by voting for them for the Audience Choice Award. Cinemalaya hands out an Audience Choice Award every year and it is the only category that can be voted on by the audience.
Audiences are given the opportunity to drop their ticket stubs at designated drop boxes outside each of the CCP theaters after every screening. Each ticket stub serves as a vote for the film for the Audience Choice Award. This is only valid in CCP screenings, however, so hold on to your ticket stubs and don't forget to vote for your favorite films.
Where else to watch the films
Unfortunately, Cinemalaya is a yearly event, with a limited number of days. Some films get reruns in the following years, but screenings will most definitely be limited, and aren't always a guarantee. However, here are some ways you can catch additional screenings after the festival:
Wide theatrical release
Some of the films are fortunate enough to acquire a wide theatrical release either in SM, Robinsons or Ayala Theaters.  This isn't always the case, but if they do manage a theatrical release, it will most certainly be only for a couple of days.
Cinemalaya goes to UP
Every year, the films from Cinemalaya are brought to U.P Diliman where they are shown at the U.P Cine Adarna. This is only a single theater, with the films only getting a single screening (two, if they happen to be some of the few award winning films to come out of the festival), so make sure you reserve tickets as soon as the schedule is announced once the Cinemalaya Film Festival is over.
Independent screenings
Filmmakers often organize their own independent screenings to recoup the costs of production. These can be held in schools, boutique theaters, specialty stores or even malls. However, these independent screenings are sparse and aren't well advertised. To get the latest updates on screenings, follow the filmmakers on social media.
But all these alternative screenings are never a sure thing. If you really want to see a film, it's best that you make the effort and reserve yourself a ticket. Happy viewing, and we'll see you at the festival. – Rappler.com

Zig Marasigan is a freelance screenwriter and director who believes that cinema is the cure for cancer. Follow him on Twitter at @zigmarasigan.