'Soriano's film is brimming with imagery and symbolisms, all forwarding the notion that Pacquiao's struggles and eventual success are products of fate and faith,' writes movie reviewer Oggs Cruz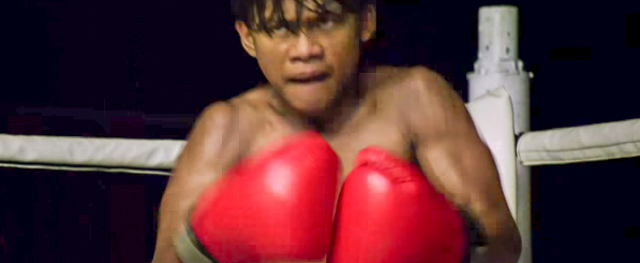 With the undying infatuation of Filipinos for both boxing and movies, it is unsurprising that Manny Pacquiao, the most famous professional boxer to come from the country, will also turn out to be some sort of movie star, in one way or another, and for better or for worse.  
Manny and the movies 
Prior to becoming the superstar that he is today, Pacquiao appeared in a number of forgettable films like Willy Milan's Di Ko Kayang Tanggapin (2000) and Jose Balagtas' Mahal Kita… Kahit Sino Ka Pa! (2001) where he played sidekick to crooner April Boy Regino and then presidential son Mikey Arroyo, respectively. 
As Pacquiao defeated bigger opponents and became more famous, he started to headline his own films like Tony Bernal's Lisensyadong Kamao (2005), where he also plays a boxer; Balagtas' Anak ng Kumander (2008), where he plays a righteous leader of a paramilitary group in war-torn Basilan, and Topel Lee's Wapakman (2009), where he dons a costume to appear as a crime-fighting superhero. 
Pacquiao has also been the topic of several films, including Joel Lamangan's Pacquiao: The Movie (2006), a glamorized biopic that has former matinee idol Jericho Rosales play the famed pugilist, and Leon Gast and Ryan Moore's Manny (2014), a documentary that focuses on Pacquiao's intriguing career path.  
Interestingly, almost all of the films that center on Pacquiao are grounded on a single motivation, which is to create a certain image for the ambitious sportsman.
The fictional films have Pacquiao playing characters borne out of the same mold: men who have dealt with some type of suffering but were destined to become heroes.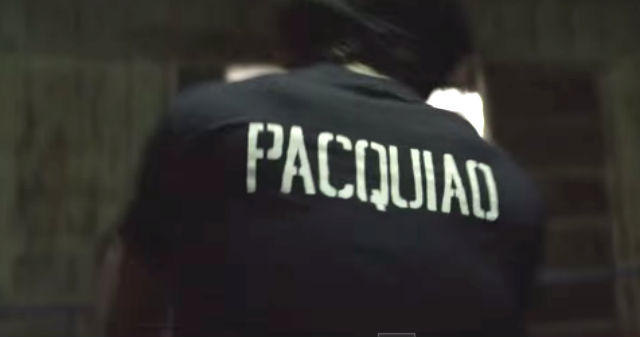 The films based on his life focuses on that same facet, which is the fact that he is a man who outlived tremendous trials to achieve something both great and selfless. 
No different 
Paul Soriano's Kid Kulafu, which tells the story of Pacquiao prior to his glory days, is no different from all the films that utilized the boxer's name and reach in one way or another. Its intention is still crystal clear, to portray Pacquiao as this man who strove for greatness despite all the odds against him.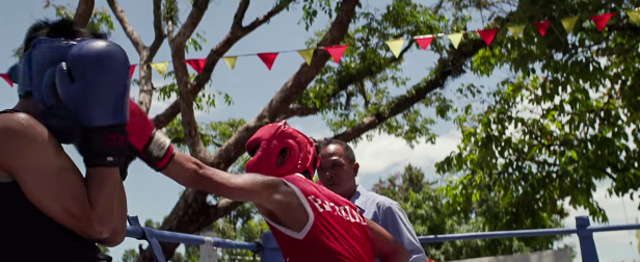 What separates Kid Kulafu from the rest is its manner of image-crafting, which resembles more mythmaking rather than unadorned storytelling. Soriano's film is brimming with imagery and symbolisms, all forwarding the notion that Pacquiao's struggles and eventual success are products of fate and faith.   
Soriano makes that very clear early on, with Soriano's camera following a frazzled midwife as she hurries through the violence and the noise that seem part and parcel to the dimly lit setting that is Pacquiao's birthplace. Opening text plainly states that the boxer's hometown is one that has been riddled with military encounters. The visuals depict a village that delights in nightly brawls for entertainment. 
It is as if Soriano wants his audience to quickly embrace the position that greatness has been predestined for Pacquiao. Everything has connived to dictate the future for the baby born in the midst of nothingness where everything is ironically happening, presumably for him to find his place. The narrative bluntly reinforces this, with plot points that never stray far from the direction that he has envisioned for the hero that is destined for success. 
Where image is king
Kid Kulafu is not a film where plot is essential. Pacquiao's story has been told and retold countless times. Soriano concentrates on crafting images and sequences that propel the familiar rags-to-riches story of Pacquiao into something legends are made from. Kid Kulafu is a film where image is king.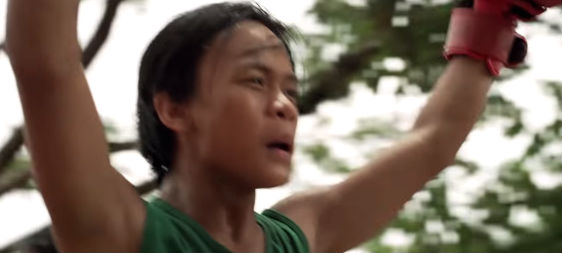 The film is designed in a way that each of its elements supports the characterization of Pacquiao as this nobody who struggles his way towards becoming an idol. Instead of casting an actor with typical good looks to play Pacquiao, Soriano goes for an everyman, the immensely talented and dedicated Buboy Villar, having him supported by actors and actresses with either more acting experience or more conventional movie star looks. 
This intriguing casting decision reinforces the film's intention of celebrating not what has become of Pacquiao but where Pacquiao originated from. There is an actual effort in at least maintaining the images of rural poverty and violence even if they are stylized and glamorized for the sake of grand fiction to bolster the exaggerated reality that Soriano is keen on depicting.
That said, Kid Kulafu is an indubitably pretty film, crafted precisely for its intention of shaping Pacquiao's image and story as near-biblical in scope. It is nearly impossible not to get swayed by the film's interpretation of provincial hardships, which mixes gloss and grit in a way that is not off-putting, not manipulative. 
Singular vision
Soriano has the discipline not to get distracted by sidestories, such as that of Pacquiao's various relationships with the friends he gathers from his bouts and trainings, or his not-so-complex interactions with his flamboyant mother, Dionisia (Alessandra de Rossi). 
Those threads of plots are not there to sway the story from Pacquiao but to complete its indelible image of Pacquiao as this impressive athlete, one who has acknowledged the evils of his sport but nevertheless excels at it without any compromise or any remorse.  
By the end of the film, nothing new gets revealed about Pacquiao. However, that doesn't really matter anymore. The film's incessant bombardments of images of a young and persevering Pacquiao in various states of emotional, physical and spiritual distress and resilience are enough to drive whatever point about Pacquio the film wants to instil to its viewers. That said, Kid Kulafu has done its job in shaping Pacquiao's myth. 

Kid Kulafu succeeds because it knows exactly what kind of commodity Pacquiao's life story is. It does not stray from being purely inspirational. It mines on the struggles and rewards its audience with the emotional heft of Pacquiao's success, which if viewed from the perspective of an unabashedly biased film feels very well-deserved. – Rappler.com

Francis Joseph Cruz litigates for a living and writes about cinema for fun. The first Filipino movie he saw in the theaters was Carlo J. Caparas' 'Tirad Pass.' Since then, he's been on a mission to find better memories with Philippine cinema. Profile photo by Fatcat Studios