Hiroyuki Sanada – as Shimazu Koji, the Osaka Continental Hotel manager – leads the first-timers in the cast
LOS ANGELES, USA – "Always humble, a hard worker, and very hard on himself, but very kind to others." That was how Keanu Reeves was summed up by his John Wick: Chapter 4 costar, Hiroyuki Sanada.
In their first film since 2013's 47 Ronin, the two actors play old friends. Let's just say that in the fourth installment of the hit franchise, Keanu's eponymous hunted assassin, in order to finally gain his freedom from The High Table, battles a seemingly endless array of powerful adversaries in a world where old dalliances may be new foes.
Chapter 4 may have a running time of almost three hours, but in the screening I caught in LA, the nonstop action scenes – several spectacularly staged – made the time go fast. Two scenes in particular, shot at the Arc de Triomphe and Sacre Coeur stairs, stand out in the movie, which was also filmed in Berlin, Osaka, and New York.
So far, most of the early reviews have been enthusiastic, with IndieWire's Rafael Motamayor going so far as to write, "The result is not only the best movie in the franchise, but the best American action blockbuster since George Miller's Mad Max: Fury Road."
Chad Stahelski again directs, but this is the first in the series not written by Derek Kolstad. Instead, Shay Hatten, who cowrote the third outing, came up with the screenplay with Michael Finch.
Keanu is joined by a returning cast that includes Laurence Fishburne (Bowery King), Lance Reddick (Charon), who recently passed away, and Ian McShane (Winston).
Hiroyuki, as Shimazu Koji (Osaka Continental Hotel manager), leads the first-timers in the cast, including Donnie Yen (Caine), Bill Skarsgard (Marquis), Shamier Anderson (Tracker), Rina Sawayama (Akira, Koji's daughter), Scott Adkins (Killa), Clancy Brown (Harbinger), and Marko Zaror (Chidi).
The topnotch cast no doubt helps propel the film, so recent news of the death of Lance Reddick, who was also noted for The Wire, is a sad and shocking development as Chapter 4 is released.
Keanu and Chad, in a statement to Variety, expressed their sadness on the passing of Lance, who apparently died of natural causes. He was 60.
The duo wrote, "We are deeply saddened and heartbroken at the loss of our beloved friend and colleague Lance Reddick. He was the consummate professional and a joy to work with. Our love and prayers are with his wife Stephanie, his children, family, and friends. We dedicate the film to his loving memory. We will miss him dearly."
In Chapter 4, Stahelski showcases Hiroyuki's martial arts expertise, especially in a riveting duel with Donnie, a blind High Table assassin and also an old buddy of Wick's.
While Hiroyuki made his international breakthrough as Ujio in Tom Cruise's The Last Samurai, he's been acting in Japan since he was a child. From a theater group he joined at five years old, he made his film debut at age 6 in Sonny Chiba's Game of Chance.
As Sonny Chiba's protégé, Hiroyuki appeared in the veteran actor's films. But Sonny advised him to concentrate on his education first.
When he went back to acting in 1978, Hiroyuki also starred in Hong Kong action movies. A friend of Jackie Chan, Hiroyuki acted opposite Michelle Yeoh, recent Oscar and Golden Globe best actress winner, in 1986's Royal Warriors.
As a theater thespian, the Tokyo native made waves when he appeared in the Royal Shakespeare Company's King Lear in 1999 and 2000. The performance led to him being cited as an Honorary Member of the Order of the British Empire in 2002.
Hiroyuki went on to make his mark internationally, including the recent Bullet Train (as The Elder), Mortal Kombat, Westworld, Avengers: Endgame (Akihiko), Minions (voice of Sumo Villain), The Wolverine (Shingen), Sunshine, Ring, Lost (the series), Speed Racer, and Rush Hour 3.
One interesting facet of Hiroyuki is that he is also a singer, with albums and singles to his name, released from 1980 to 1991.
In our interview via Zoom, Hiroyuki enthused about Shogun, a coming TV series where he stars as Lord Toranaga, played by the great Toshiro Mifune in the 1980 miniseries version. In this new FX production, also based on James Clavell's novel of the same name, Hiroyuki is one of the producers.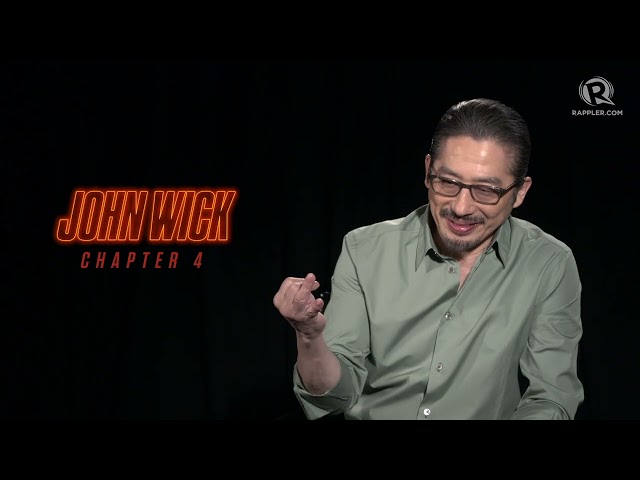 The following are excerpts of my Zoom chat, edited for clarity, with Hiroyuki.
Your fight scene with Donnie Yen is epic. Can you talk about preparing for that fight scene and then filming it, especially since Donnie's character is blind?
I really enjoyed collaborating with him. It was my first time to work with him but it was so easy to collaborate. We both have experience so we put some ideas together, putting our characters in the situation, adding emotion to the choreography.
The reason to fight or the emotion behind it is most important during the fight scene. Action is a peak of drama, I believe. So we tried to create a good balance between entertainment and drama and staying in character.
He was easy to collaborate with. He would say, "If you do that, I can do this. Oh, then do this." And Chad said, "In that case, how's this? How's this?"
So right after the choreography was completed, we started shooting without any more rehearsal, just shoot, shoot, shoot. "And cut. Okay, next. High five."
So, easy to collaborate [with Donnie] and it was fun. He has a lot of his own ideas, too. And of course, like you said, he's a blind man so the fight has to look real, and then how the distance should be.
He (Caine) doesn't want to fight but I try to stop him to save John Wick. All the reasons [behind the fight] go into the choreography. That's the most important. So each move has a meaning. We try to create those kinds of things. It was so much fun.
This is your second time to work with Keanu Reeves, so this is like a reunion for both of you – first, in 47 Ronin in 2013 and now, in John Wick: Chapter 4. Can you talk about that? And also, you have worked with many actors. What makes Keanu Reeves different from the rest? What do you think is unique about Keanu?
Yeah, I worked with him in 47 Ronin 12 years ago, and at that time, he told me, "I'm planning to make a big action movie with Chad." That was John Wick. So I said, "Good luck."
I watched one, two, three, then finally, Chad called me: "I created the role for you. It's John Wick's old friend." And I was so excited and then so happy to reunite with him.
He never changed. Always humble, a hard worker, and very hard on himself, but very kind to others. That's his biggest point for me.
John Wick 3 and 4 are showcases for Asian actors. Mark Dacascos made his mark in Chapter 3 and now, the moviegoers are fortunate to have you, Donnie Yen, and Rina Sawayama. Can you talk about Asian actors starring in major roles in these two John Wick movies?
Yeah, especially [the actress who plays] my daughter, Rina Sawayama. She has great talent. It was her first experience to act in a movie. But she was a quick learner.
And then in acting and the fighting sequences – in both – she did a great job. We spent a long time together during the rehearsals and stunt training and tried to create father-daughter bonding time.
So when we started shooting on the first day, we already felt like real father and daughter. She had confidence as Akira, her role. She was so wonderful. I'm proud of my daughter.
The director, Chad Stahelski, is a big fan of samurai and Japanese films. Can you talk about that and did you talk to Chad about his love for Japanese films and TV shows?
Yeah, I know how much he loves samurai things. When I visited his office for the first time, I saw so many Japanese swords or weapons and armor in his office. Oh my gosh, it was like a museum.
And especially this time, my role Koji Shimazu grew up with John Wick, so we have the same style, like kung fu style, because we trained together. But Chad said, "Please use a Japanese sword, put some Japanese flavor, samurai flavor into your role."
He told me that Koji Shimazu, physically and also mentally, has some kind of samurai spirit. That's why he has his own rules in his mind – what is beautiful, what is shameful?
That's the dilemma, including whether to save John Wick or sacrifice him for the brotherhood – it all came from his samurai spirit. That was what Chad needed me to do, so easy to understand and I could use it.
Can you talk about your TV miniseries, Shogun?
Right after this John Wick, I jumped into the shooting of Shogun. I'm a producer as well of this show so it was fun. Before, I've done a lot of consulting on set about Japanese culture but just as an actor.
This time as a producer, I can say more. So I tried to make the drama as authentic as much as possible. It was a great experience. We are still in the post-production but I hope we can release Shogun this year. – Rappler.com