Rappler's Ruben Nepales was backstage at the Oscars! Here are the most memorable post-win interviews.
LOS ANGELES, USA – "This night served as our despedida (send-off party), as it closes our journey with our film. It was the best way to end the wild ride," Dolly de Leon said about attending her first Oscars night, where her film, Triangle of Sadness, was up for the evening's top plums – best picture, best director, and original screenplay (both for Ruben Ostlund).
The pioneering Filipina actress, who graced the 95th Academy Awards Sunday night (Monday morning, Manila time) with Ruben and costars, including Harris Dickinson, added, "It was a great way of reuniting with the cast and creative team of Triangle of Sadness. I've missed them so much and love them so dearly."
Dolly, who made history as the first Filipino to earn Golden Globe and BAFTA best supporting actress nods, also said via private message, "Mostly, I'm so happy to be reunited with the cast, crew, producers, and our director, Ruben. And to be able to share this very special and rare moment with them is mind-blowing."
"Nag-shoot lang kami (We just shot the film) two years ago and now, we were reunited in a place where we are recognized. It's a dream come true."
Dolly, in a black and red look styled by fellow Pinoy LJ Perez, told me she was especially happy to see actresses Sandra Oh, Allison Williams, and Jenny Slate. The Pinay who so memorably played Abigail in her breakthrough international film, Ruben, and fellow actors were shown in the telecast when the Triangle of Sadness clip was presented as a best picture nominee.
In her Instagram story, Dolly humorously posted a photo of light snacks, including Raisinets and mints, arrayed on the rail of the balcony where she and her Triangle of Sadness team were seated inside the Dolby Theatre. "May pa i-snacks si Mayor dito kina Kuya Oscar (The mayor got us snacks here at Brother Oscar's)," she hilariously quipped.
On the champagne-hued carpet, Dolly, who wore a blue ribbon on her black power suit in solidarity with refugees around the world, and Ruben (who returns in May as the jury president in Cannes, where Triangle's triumphant journey began) were interviewed by Laverne Cox of E! Live From the Red Carpet.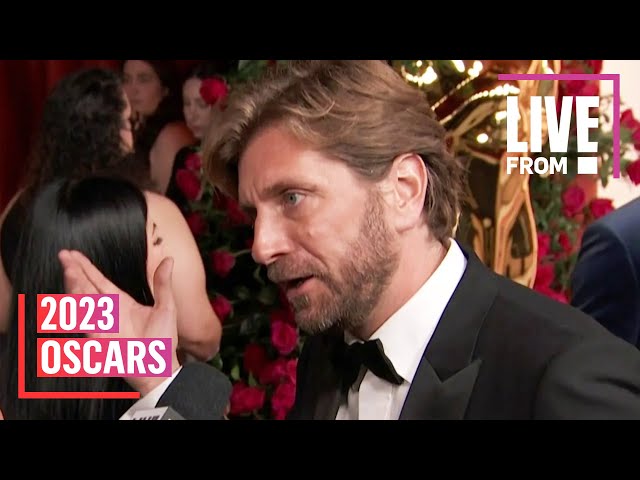 Michelle Yeoh
I was backstage in the press room on this historic Oscars night, which set many firsts and milestones for Asian talent.
Michelle Yeoh, the first Asian to win best actress in the Academy's near century of existence, stressed the evening's significance. She scored the honor for her performance in Everything Everywhere All at Once, which scooped seven Oscars, becoming the most honored best picture awardee since Slumdog Millionaire dominated in 2008.
"This is actually a historical moment," Michelle exulted before the assembly of top entertainment journalists from around the world. "I have to thank the Academy for acknowledging, embracing diversity and true representation. This is something that we have been working so hard towards for a very long time."
"Tonight, we freaking broke that glass ceiling. I kung fu'd it out and shattered it. We need this because there are so many who felt unseen, unheard. It's not just the Asian community. This is for the Asian community and anyone who has been identified as a minority."
"We deserve to be heard, to be seen, to have the equal opportunity so we can have a seat at the table. That's all we're asking for. Give us an opportunity. Let us prove we are worth it."
The former Miss Malaysia packed a wallop beneath her serene demeanor. Asked for her advice to people who are afraid to take up space from her perspective as a woman of color, Michelle answered, "You should never be afraid. If this is your passion, this is your love, you have to stand up for yourself and for what you believe in and for what you want to do. I think that is what it is."
"I'm still here today. Finally, after 40 years, I get this. It just goes to show, we will win the battle. And that's what we're doing. So don't give up. Never give up. Because when you give up, then it's a loss. It's a total loss, right?"
"So, yes, don't let anybody put you in a box. Don't let anybody say, oh, you are past your prime, blah, blah, blah, blah, blah. No, because we are proud. We believe in what we do. We love what we do."
"So light that fire in your soul and stay on the path. Believe. Dare to dream. Because if you don't dream, it's impossible. Nothing is impossible. Look at me, I'm here."
On the remarkable saga that Everything Everywhere… achieved since debuting in last year's South by Southwest Film Festival, Michelle replied, "It's been quite a marathon, isn't it? To be honest, when we did South by Southwest, that was the first time when everybody [came]. Why do we make movies? For the cinema, we want a collective experience where we want to enjoy, share that laughter, crying, or whatever it is together."
"That is what the magic of being at the movies –at South by Southwest, it was the first actual – not streaming, not virtual, festival. And we were so blessed that everyone came, and we were blown away."
"Because you give your heart and soul to a movie but there is never any guarantee that when you put [it] up in the sky, please don't fall flat on your face, right? And please breathe."
"I swear to God, it's you (media), all of you because you made it interesting. You made it wild and wacky to people who hadn't had an opportunity to watch it."
"You (media) made it so interesting. They had to come to the cinemas to watch this – what crazy, wacky movie are we talking about? Because you didn't want to be left out of the conversation."
"So in that way, thank you to all of you. You propelled our little gem of a film. Yes, we had a huge beating heart. But you propelled us to the skies and the world embraced us."
"So I thank you from the bottom of my heart. Because all of you had a place – you had something to do with that and I am really grateful. Because this movie has helped in some healing process. This movie has helped in communication."
"This movie has helped to open hearts between families, whether it's husband and wife, daughters and mothers, daughters and fathers, but just simply family. And we never give up on each other. So I thank all of you for helping us do that."
Michelle, requested by a reporter to address the Asian community in Chinese, obliged with: "All the Asian communities – we are seen, heard, and we have a seat at the table. I am so grateful, so eternally grateful to all of you. I know my Cantonese is not very good."
Mothers also ruled the night, during the show and backstage with the victors. Elaborating on dedicating her win to her 84-year-old mom and "all the moms in the world because they are really the superheroes," the UK-educated thespian said, "Mothers are very important to all of us because, without them, none of us would be sitting in this room, to start with."
"The most important thing is, my mother has always instilled confidence in me. Taught me about love. Taught me about kindness and compassion. I'm not very good at that at times."
"Actually, the recent thing that she asked me to do is don't wear pants to the Oscars," she added about her mom, Janet Yeoh. The mother looked equally glamorous in a video, posted by The New York Times, showing her joyful reaction to Michelle's triumph at a gathering in Malaysia.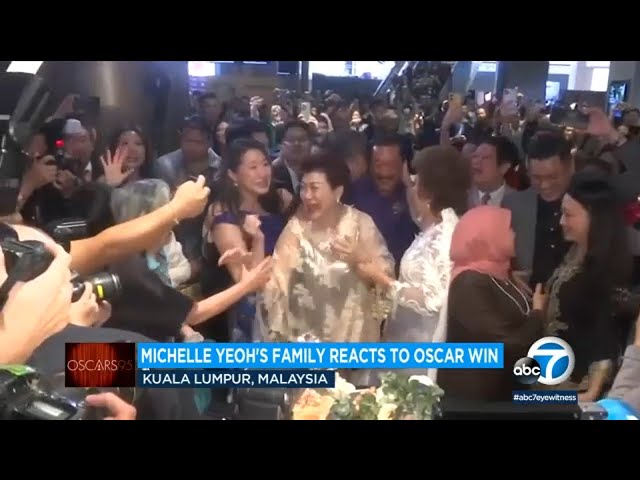 "What mothers do is they're constantly reminding you to be better. And they do it with love. They do it because they really want you to be better so you have more opportunities and you will have a better life. And that, for them, is their ultimate goal."
Ke Huy Quan
The first Vietnam-born best supporting actor winner literally bounced with joy into the media room.
"Oh my gosh, wow!" he exclaimed. "Can you believe I'm holding one of these [trophies]? This is so surreal. Wow. So this is the famous room where all the winners come."
Ke Huy Quan, who began as a child actor in Indiana Jones and the Temple of Doom and The Goonies, explained his screen name change.
"When I started as a kid, it was my birth name [that I used], Ke Huy Quan," began the actor who used the screen name, Jonathan Ke Quan, at one point in his career.
"I remembered when it got really tough, my manager told me, that maybe it would be easier if you were to have an American-sounding name. I was so desperate for a job that I would do anything."
"And it's insane that I, at one point, tried a different name, not the name that was given to me. But it can only show you how desperate I was to try to make things different."  
"So when I decided to get back into acting, which was three years ago, the very first thing that I wanted to do was to go back to my given birth name, and tonight, to see Ariana (DeBose) open that envelope and say 'Ke Huy Quan,' that was a really special moment for me."
"And then immediately, I was so emotional.  But the first image that I had in my mind was my mom, who is the reason why I am in America, who is the reason why I have a better life. I have all these opportunities." He and his family fled Vietnam's Communist regime on a boat in 1978 and lived in a refugee camp for a year until they moved to Southern California.
"Like I said in my acceptance speech, she sacrificed so much. She had a great life where we came from and she gave all that up so that all her children – there are nine of us and every single one of them is so grateful to my parents."  
Ke, who did not act for almost two decades because of the dearth of Asian roles, also said about this milestone Oscars victory (he's only the second Asian to win in the category after almost four decades since Haing S. Ngor ), "Tonight, my family – a portion of them – I have a big family flew in from Houston to be with me. So that was really special."
"And during one of the commercial breaks, I ran up to Steven Spielberg and he gave me a big hug. He put his arms around me and he said, 'Ke, you are now an Oscar-winning actor.' And hearing him say that meant the world to me. I still cannot believe it."
On what he would say to his young self – if he can – Ke replied, "My younger self would not know all the struggles that I went through to be here because he was just having the time of his life being a kid, being on a set, on a pirate ship going down a water slide."
"Right before this night started, Corey Feldman, one of my Goonies brothers, called. I was [also] talking to Kerri Green. Sean (Astin) reached out, Josh (Brolin), Martha (Plimpton) – we are always bonded, we're family together. Goonies never say die."
"It's how I was brought up," the amiable actor responded on how he stays grounded. "It's how I was taught and, also, that's why I always say, 'Never forget where you came from because if you forget that, then all humility goes out the window.'"
"I remember how difficult it was for me so that's why every time I walk on a movie set, I'm so grateful. This [award] tonight certainly wasn't, you know, I didn't think this was possible. But yeah, I don't ever want to forget that. It's important to appreciate where you are [from]."
"And I'm just so grateful. I've said this, maybe some of you have heard it – I didn't think any of this would be possible. And I'm, God, it has been so crazy. All of a sudden, my mind is drifting back to the days when I lost my health insurance during the pandemic, when I couldn't get a job."
"Somebody asked me this earlier – do I have anything planned?  What am I doing next? I don't know what I'm doing next. All I know is, first thing tomorrow morning, I'm going to call my agent because I remember when I was struggling."
"I would call my agent. I try not to bother him too much. But I would call him once every three months, once every six months, and I would say, 'Hey, is there anything out there for me?'"
"And the answer would always be the same, 'Oh, I'm so sorry. There's nothing out there but I'll continue to look.' So hopefully, when I call my agent tomorrow, he will give me a different answer!"
Jamie Lee Curtis
Queried about being among over 60 women Oscar nominees this year, Jamie Lee Curtis reflected, "Surreal and proud, and obviously, I would like to see a lot more women being nominated so there's gender parity in all the areas, in all the branches. I think we're getting there. We're not anywhere near there."
"And of course, the inclusivity that involves the bigger question, which is, how do you include everyone when there are binary choices, which is very difficult."
"As the mother of a trans daughter, I completely understand that and yet, to de-gender the category, I'm also concerned it will diminish the opportunities for more women, which is something I have also been working to try to promote."
"So it's a complicated question but the most important thing is inclusivity and more women. Basically just f***ing more women anywhere, anytime, all at once."
On whether she thinks her famous late actor parents, Tony Curtis and Janet Leigh, were looking at her tonight, Jamie said, "Let me just be honest. I don't believe in a world where there are a bunch of people looking down on us."
"I think we are them in our actions, deeds, and ideas and then we build our own and we give them to our children and that's how the world goes on. I am a proud product of them. I know they would be incredibly proud of me, of course."
Brendan Fraser
Brendan Fraser, beaming as he held his 8.5-pound best actor statuette for The Whale, admitted, "I feel a bit light in the head. This is actually kind of heavy. One arm might be longer than the other by the end of the evening."
"I guess it means that I'm going to have to find a job. I'm grateful for this because of the number of people who worked during the time of COVID that we all lived under. We had to be very careful with one another to stay safe."
"I think all the films we've seen this year, there's a secret ingredient, and my guess is that it's that concern that we showed for one another and for the work that we do because we all lived under an existential threat. We didn't know if there would be a tomorrow."
"So going to make a film with this gravity just reinforced how important it is to perform as if it's the first and last time you ever will."
The Daniels – Daniel Kwan and Daniel Scheinert
The Daniels, who walked into the press room with their fellow best picture winner and producer, Jonathan Wang, also won best original screenplay and best director for Everything Everywhere…
"How are you guys doing tonight?" Kwan greeted the journalists, many slaving away before their laptops and trying to meet deadlines as they asked questions and also watched the live show proceedings. "Is the food good here? Do you guys have pizza here or something? Okay. I'm hungry. I might come [back] after this."
Jonathan and The Daniels were also asked about their own moms since Everything Everywhere… is essentially about a mother and daughter's relationship.
A reporter asked about Kwan's mother who is from Taiwan. Scheinert said, "We got to bring her (Kwan's mother) up here. She's here tonight!"  
Kwan, who is the first best original screenplay winner of Chinese roots, replied, "My mom is somewhere running around celebrating. Honestly, the more I grow up, the more she's like me. She is someone who loves to change her passions every couple of years."
"She's always chasing after new dreams and she's always doing a really good job of it. And then getting bored and moving on to the next thing. She's someone who sacrificed a lot for her kids."
"I think she never actually really wanted to be a mother, to be honest, and she told me that before because she's very candid, which is a very Asian thing to do. But that actually makes it even more beautiful knowing how much she gave up for me and my siblings and for how many years."
"One story that she likes to tell is that when I was really young, she read a story that I wrote and then next year, she read my writing and realized my writing had gotten worse. She panicked and said, 'Oh, no! My storyteller is dying in this school.'"
"And so, she actually pulled me out and became a home school teacher for, like for two or three years just to protect my creativity. At that time, I didn't know why she did that."
"But now, obviously, it paid off. So that's the kind of mother my mom was. And yeah, this film is a tribute to that."
Jonathan brought up his father: "My dad is also Taiwanese and he passed away before he could see this movie but the movie is dedicated to him. And yeah, the joke about Raccacoonie (played by Harry Shum Jr.) is very much inspired by my dad."
"He was a movie buff in the most Taiwanese dad way when he would always get movie titles wrong. So this movie is very much a love song to our Taiwanese parents but also the Southern parents."
"Because there is a universal truth to our parents. And even though it is about an immigrant story, there is something very universal about our parents."
On their film as a surprising yet profound statement on mental health and depression, Kwan said, "I think we are in a mental health crisis right now, especially the younger generation. They don't have much to look forward to. When you talk to students these days, there's a bleakness that is kind of all-pervasive."
"I do think that one of the best superpowers I have is being able to talk about my experience. I had a very similar experience in high school. I had a lot of dark times and I think the radical, transformative power of joy and absurdity and chasing your bliss is something that I want to bring to people who were like me when I was that age."
"And this movie is a shotgun blast of joy and absurdity and creativity. I shouted out to my friends from high school. We used to call ourselves RCCC. Don't ask me what that means because it's a secret."
"But they were one of the first people that I fell into a group of people with – just, every single day, we didn't know what we were going to do but we would discover it through creativity and we would break a lot of rules."
"We were really sweet kids but we would get in trouble a lot. I remember those moments as like, again, the power of creativity and the way it can pull us out of these really dark places."
"I really hope that the next generation can watch a movie like ours and be just, oh, there's another way to look at the bleakness and to face it head-on."
Jonathan chimed in: "There's one thing that I would like to add.  It's just that the movie – the reason why we ended up making it was because we wanted to be able to end up in a warm embrace at the end of it, even though it was all about chaos. I think that we all, in this room, do a job that drives eyes to a thing, right?"
"We pull people's attention. And sometimes we do it nefariously, and that leads to problems with mental health. Sometimes we do it with beauty and we want to instill a certain light and we are drawing people towards a light."
"And I would encourage us all in this room – we all work in entertainment, we all work in information – at the end of the road, there's someone who reads that, and there's an implication of their mental health."
"And so we have committed our lives to make movies that will ultimately lead to something good, and isn't just something that will lead to attention that will then lead to some downstream consequences of spiraling."
M.M. Keeravani and Chandrabose
The duo made history with their "Naatu Naatu," the first best song winner from an Indian film (RRR, starring charismatic leads N.T. Rama Rao Jr. and Ram Charan).
M.M. Keeravani gushed, referring to an old pop hit, "It feels like a most favorite song. Just a while back.  Feels like top of the world. Standing on top of the world. I'm feeling very proud of my country and the whole team who just dedicated their energy and time to this song, including Mr. Chandrabose."
On the challenges of composing in Telugu, which has 56 letters, Chandrabose answered, "That's right. We have a lot of words, expressions, a lot of feeling in our language, great and very literary language.  Very musical language to use."
"If you write a Telugu word, it sounds like music. So this song in RRR, even non-Telugu people like you people are loving the song, means this kind of music inside the song make this possible."
M.M. Keeravani spoke about their milestone victory's significance. "I feel this is just the beginning of everything so that the world – particularly the Western world – focuses more on Indian music and Asian music, which is long due. And I feel very happy. It's like opening doors for the world to embrace our culture and music."
He cited the inspiration behind the catchy song which was performed on the Oscars stage, complete with the film's energetic choreography, by Rahul Sipligunj and Kaala Bhairava and more than 20 dancers.
"'Naatu Naatu' is the pure original cultural and genre of Indian music, particularly south Indian music which has a lot of percussions and the rustic texture of the music and to bring it out with the beautiful words written by Chandrabose and beautiful steps composed by our choreographer Prem Rakshith. It's a great deal of teamwork, which brought us this far and to win this greatest award."
Chandrabose added, "And the lines I wrote in the song are the experience in my village."
On what was on their mind at the moment, M.M. shared, "Right now, I'm on cloud nine. I feel very blessed to have this kind of greatest recognition in the world for my country, culture, motherland, and my movie industry, in Telugu language. It feels so great."
Chandrabose said, "The only thing running in my mind now is I have to go to India. I want to show this honor to my wife and my children." – Rappler.com