MMILive confirms the news on Instagram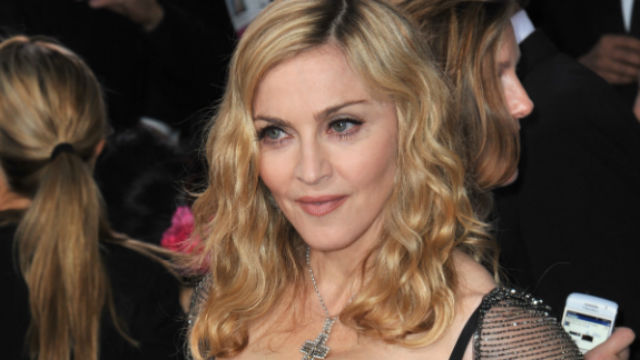 MANILA, Philippines – Filipino fans of Madonna will have not one but two chances to see her perform live in Manila. A second date has been added to the Manila leg of her world tour.
On Instagram, Music Management International (MMILive) announced that due to demand, Madonna will hold a second day of her concert on February 25 at the Mall of Asia Arena. This comes after it was announced she will perform in the Philippines February 24.
{source}  <blockquote class="instagram-media" data-instgrm-captioned data-instgrm-version="4″ style=" background:#FFF; border:0; border-radius:3px; box-shadow:0 0 1px 0 rgba(0,0,0,0.5),0 1px 10px 0 rgba(0,0,0,0.15); margin: 1px; max-width:658px; padding:0; width:99.375%; width:-webkit-calc(100% – 2px); width:calc(100% – 2px);"><div style="padding:8px;"> <div style=" background:#F8F8F8; line-height:0; margin-top:40px; padding:50% 0; text-align:center; width:100%;"> <div style=" background:url(data:image/png;base64,iVBORw0KGgoAAAANSUhEUgAAACwAAAAsCAMAAAApWqozAAAAGFBMVEUiIiI9PT0eHh4gIB4hIBkcHBwcHBwcHBydr+JQAAAACHRSTlMABA4YHyQsM5jtaMwAAADfSURBVDjL7ZVBEgMhCAQBAf//42xcNbpAqakcM0ftUmFAAIBE81IqBJdS3lS6zs3bIpB9WED3YYXFPmHRfT8sgyrCP1x8uEUxLMzNWElFOYCV6mHWWwMzdPEKHlhLw7NWJqkHc4uIZphavDzA2JPzUDsBZziNae2S6owH8xPmX8G7zzgKEOPUoYHvGz1TBCxMkd3kwNVbU0gKHkx+iZILf77IofhrY1nYFnB/lQPb79drWOyJVa/DAvg9B/rLB4cC+Nqgdz/TvBbBnr6GBReqn/nRmDgaQEej7WhonozjF+Y2I/fZou/qAAAAAElFTkSuQmCC); display:block; height:44px; margin:0 auto -44px; position:relative; top:-22px; width:44px;"></div></div> <p style=" margin:8px 0 0 0; padding:0 4px;"> <a href="https://instagram.com/p/5sy-ERmk0W/" style=" color:#000; font-family:Arial,sans-serif; font-size:14px; font-style:normal; font-weight:normal; line-height:17px; text-decoration:none; word-wrap:break-word;" target="_top">BECAUSE YOU ASKED FOR IT! Day 2 for #MadonnaLiveinManila: Feb. 25, 2016! Tickets go on-sale Aug. 2, 2015 – 10am at SM Tickets outlets, smtickets.com or SM Tickets hotline 470-2222!</a></p> <p style=" color:#c9c8cd; font-family:Arial,sans-serif; font-size:14px; line-height:17px; margin-bottom:0; margin-top:8px; overflow:hidden; padding:8px 0 7px; text-align:center; text-overflow:ellipsis; white-space:nowrap;">A photo posted by Music Management Intl (@mmilive) on <time style=" font-family:Arial,sans-serif; font-size:14px; line-height:17px;" datetime="2015-07-29T00:28:27+00:00″>Jul 28, 2015 at 5:28pm PDT</time></p></div></blockquote>
<script async defer src="//platform.instagram.com/en_US/embeds.js"></script>{/source}
Months back, Madonna announced the dates of her Rebel Heart Tour which will start in the US and in Canada this September.

Prices of Madonna's concert have been released and tickets went on sale last July 26. Tickets for the second show date will go on sale August 2.  (READ: Material World: What can Madonna's Super VIP ticket cover? ) – Rappler.com
Madonna photo from Shutterstock