It's a few hours shy of dawn when the festival comes to a close, but hardly anyone looks too tired after Road to Ultra, with fans still on a high from the thumping beats and euphoric melodies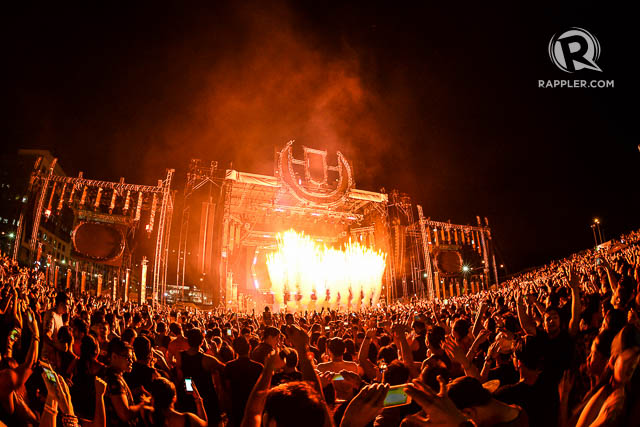 MANILA, Philippines – No other music genre captures the current zeitgeist like electronic dance music (EDM).
On one hand, everything seems to be made for an instantaneous, hedonistic thrill. A DJ or two, at a massive festival, plays a set chock full of earworm material, accompanied by loud but sumptuous LED visuals. In short, it's the soundtrack of millennials.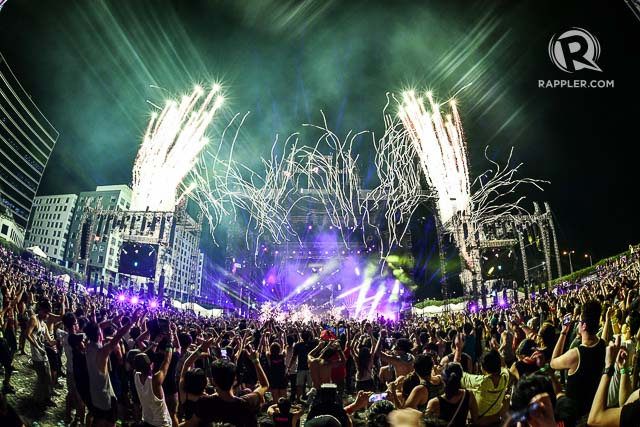 In a way, it's also functional entertainment. A favorite DJ of mine, Porter Robinson, rustled some feathers in thinking likewise, so he explained, "[T]here are requirements when you're making a big, main stage smash song." He added, "If it doesn't succeed in making people jump up and down and go crazy, then the song does not succeed as an EDM song."
There's truth in this, and it seems that everything hinges on a precise science. For example, there's the so-called "drop," a build up of beats that exponentially tighten towards a break, before promptly resuming with an uplifting melodic section – as in the case of trance music. (Although EDM has been rendered as a catch-all term, electronic music taxonomy is more complex and diverse, with several strains under it and even more sub-genres).
However, at the same time, the electronic music festivals can force us out of a bubble, when our eyes have constantly been glued to our mobile screens (save for the occasional Snapchatting, Instagramming, or Tweeting). As most festivals (of any sort) do, these create a sense of community, uniting people to one beat.
In this same vein, Ultra, one of the titans of the electronic music circuit, welcomed the Philippines into its "global family." The MC and "Voice of Ultra," Damian Pinto proclaimed, "The first-ever Ultra Philippines – you guys are making history!"
On Saturday, September 26, the Miami-based festival brought together revelers from Guam, South Korea, Japan, Singapore, and the United States – all corners of the globe – to the Mall of Asia Concert Grounds.
Supported earlier in the day by the finest local acts, the up-and-coming and most sought-after DJs in the world – Mija, Vicetone, A-Trak, Fedde Le Grand, Zeds Dead, W&W, and finally, Skrillex – spun their banging tunes early in the evening until the ungodly hours. Needless to say, the Manila crowd soon lost themselves to the frenzy – ecstatically dancing and jumping along to the thumping basslines and blissful melodies dished out by the headliners.
In a male-dominated scene, wunderkind Mija stands out for all the right reasons. At Ultra, she showcased her versatility and eclecticism. It's not necessary to compare, but I can say that she's right up there with tastemakers like Flume. It also helps that a top DJ like Skrillex is supportive of her, too.
Mija effortlessly switched from crowd-pleasing trap bangers to more edgy and alternative material: edits of indie tunes, post-dubstep and future bass tracks, even salsa – stuff that aren't your normal fare at a festival like Ultra. She definitely brought a refreshing sense of cool that night.
Up next, Dutch duo Vicetone brought their melodic and euphoric house tracks to the decks, even dropping disco classics along the way. They also paid homage to the high priests of French House, Daft Punk, with "One More Time."
A-Trak's time onstage also proved to be eye candy, thanks to the trippy '80s sci-fi-meets-glitch art visuals by Kidmograph, which was on-point and got the vibe of his brand of electro house.
The Canadian producer and virtuoso turntablist also showed off his mad scratching technique. After all, he's a world champ and has been at his thing since he was 15.
@atrak showing off his mad scratching skills! pic.twitter.com/4cuxEWpJn9

— Out of Tune (@outoftunelive) September 27, 2015
Dutch House stalwart Fedde Le Grand spun his famous remixes of electronic dance classics and pop standards, as well as his mash-ups, for the Manila crowd. He also dropped some remix previews exclusive to Ultra.
Genre-bending Zeds Dead got everyone bouncing along to their very own tracks, with their signature blend of hip-hop, drum-and-bass, electro, and dubstep.
Zeds Dead! #Ultra_PH @rapplerdotcom pic.twitter.com/ZAVoeW2sJK

— Out of Tune (@outoftunelive) September 26, 2015
W&W brought some good ol' Dutch trance to the house. They also proved themselves as quite the charismatic pair, as they kept the audience's spirits up, asking them to jump and clap along.
Skrillex, the man everyone had been waiting for, hit the decks way past midnight, but as the excitement built up, the energy showed no signs of abating.
He dished out his crowd-favorite electro house and dubstep tracks like "Bangarang," "Ease My Mind," and "Recess."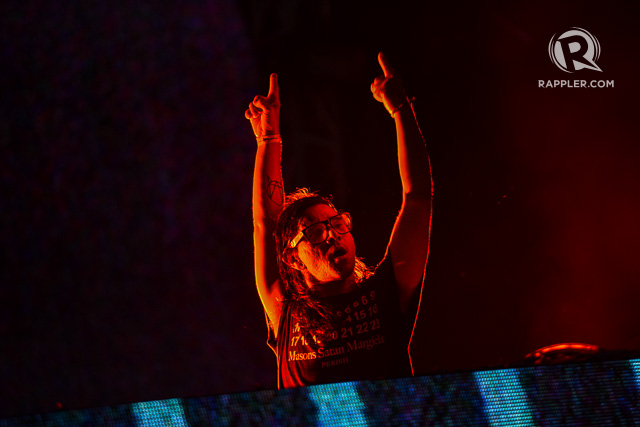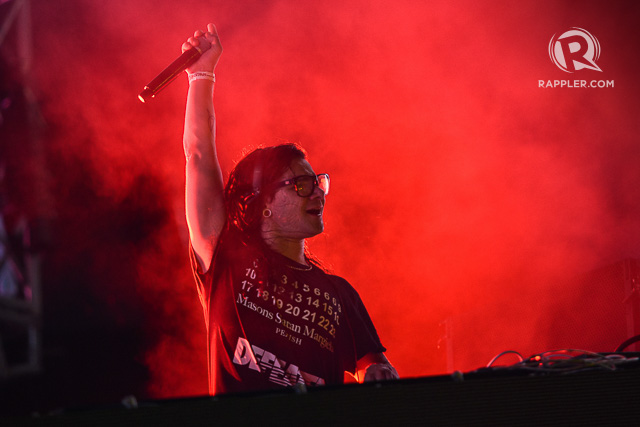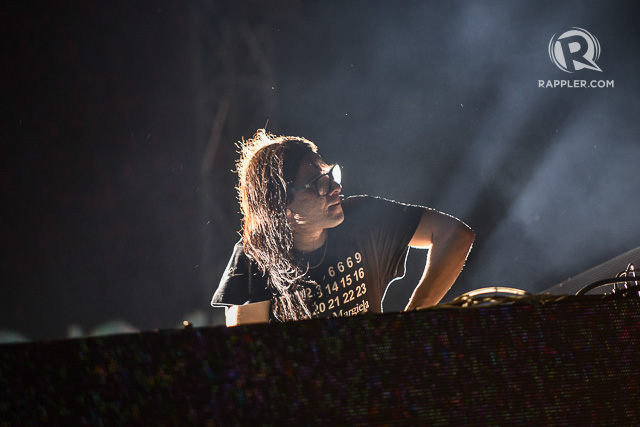 "Let me see your bass face right now!" exclaimed Skrillex, and everyone just surrendered to the maelstrom of gritty basslines and campy visuals (dancing demons, 8-bit art, Alien emojis, and glitched-up clips from Beyoncé's "7/11").
The former band frontman established his stage presence, riling up the crowd to jump along and urged them, "Yo, Manila, put your motherf*cking phones down!"
Skrillex ended the night with the extremely catchy Justin Bieber tune, "Where Are Ü Now," his collab with Diplo – together as Jack Ü. Its "sharp dancehall stabs and a gloriously sad Eastern melody," as Pitchfork puts it, didn't seem like the stuff a quintessential Skrillex track is made of, at first glance. But once the crowd danced along, there was evidence of Skrillex's deft craftsmanship deeply woven into the song.
Where Are Ü Now? @Skrillex and @hi_mija waving that Ayy lmao… I mean Recess flag! pic.twitter.com/yifinGuwc4

— Out of Tune (@outoftunelive) September 27, 2015
It was a few hours shy of dawn when the festival came to a close, but hardly anyone showed a sullen face, still on a high from the thumping beats and euphoric melodies.
Were you there at the festival? Share with us your favorite moments in the comments below.
– Rappler.com
Paolo Abad is a film/television editor and motion graphic designer. He is also a self-confessed concert junkie. Follow his Instagram for live music @outoftunephoto