Madonna puts on another magnificent show on the 2nd and last day of her 'Rebel Heart' Manila concert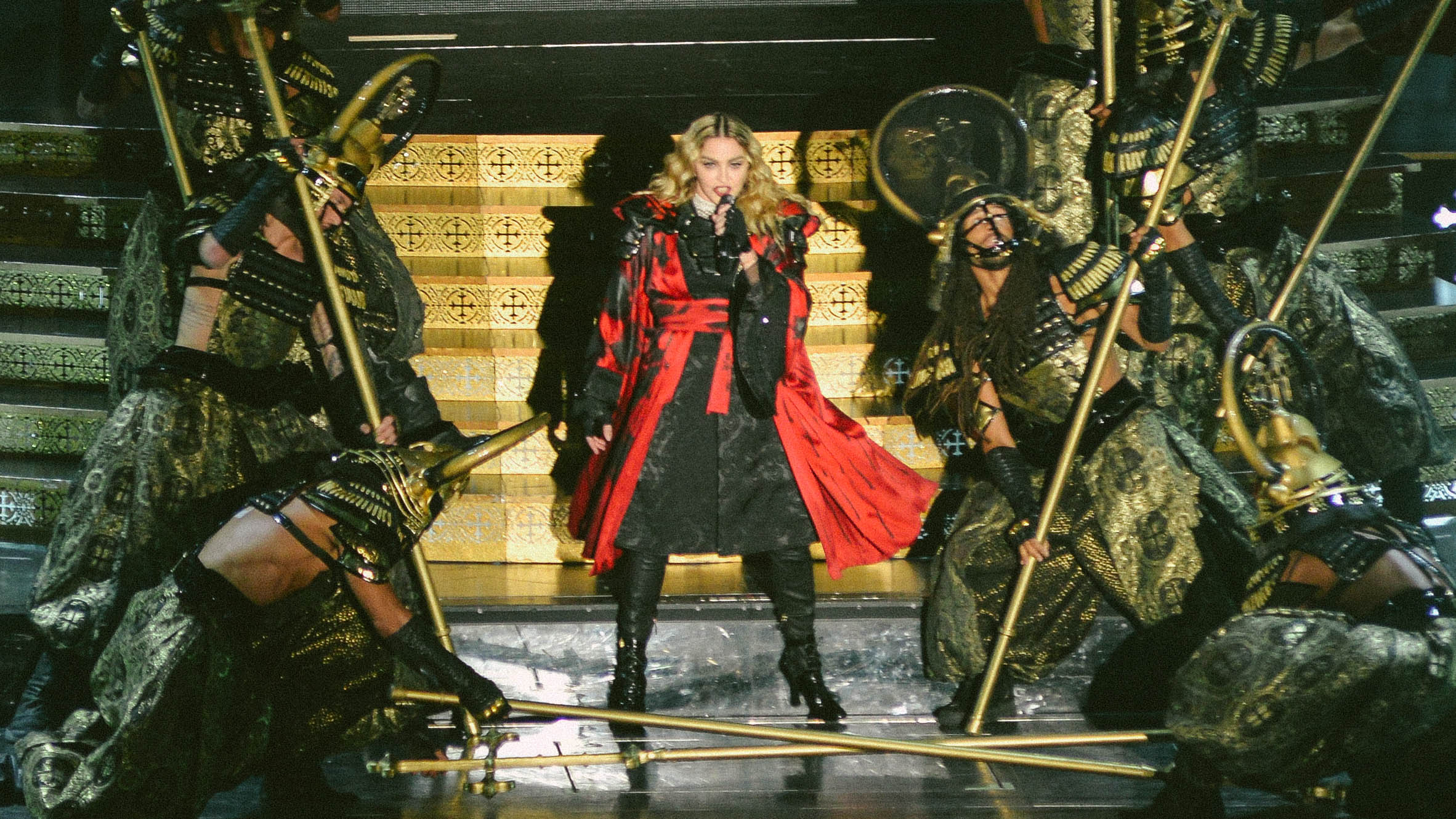 MANILA, Philippines – On the first day of her Rebel Heart Tour stop in Manila, Madonna delivered a breathtaking spectacle of a show. (IN PHOTOS: Madonna's 'Rebel Heart' concert live in Manila, day 1)
There were unforgettable moments, too, especially for superfan Shahani Gania (aka Super Starlet), who cherished every moment of dancing with Madonna onstage. (IN PHOTOS: Stars at Madonna's 'Rebel Heart' Manila concert, day 1)
On the second night, Thursday, February 25, she also gave the Mall of Asia Arena crowd something they will never forget. 
Again, Madonna thrilled Filipino fans with a dazzling, theatrical performance and a set that took them through a prolific career that spans more than 3 decades. (IN PHOTOS: Stars at Madonna's 'Rebel Heart' Manila concert, day 2)
From classics like "Holiday," "Like a Virgin," and "Vogue," to new tracks like "Iconic" and "B*tch, I'm Madonna" off her latest record Rebel Heart, Her Madgesty showed the Manila crowd that she indisputably reigns as the Queen of Pop.
She turned on the heat by adding "Dress You Up" and "Lucky Star" to her usual set – and flamenco-dancing to these timeless tunes. But the real treat for the fans in attendance was "Crazy For You," a  Filipino household favorite. (WATCH: Madonna performs 'Crazy For You' for PH fans on 30th EDSA anniversary)
"That's the first time I sang that song onstage in 30 yrs." ❤️ you, @Madonna!!!! #BeOneWithMadonna #GlobeMadonna pic.twitter.com/4U0u2u8YnS

— Globe Telecom (@enjoyGLOBE) February 25, 2016
Check out more photos and video clips from the show, as taken by local celebrities and the concert's corporate partners like Globe and Huawei:
https://www.instagram.com/p/BCNsvwXEXrJ/" style=" color:#000; font-family:Arial,sans-serif; font-size:14px; font-style:normal; font-weight:normal; line-height:17px; text-decoration:none; word-wrap:break-word;" target="_blank">Bitch, she's Madonna! #rebelhearttour #madonnaliveinmanila
B*tch I'm Madonna #MadonnaInManila pic.twitter.com/m2ld7V6HV9

— Astroplus (@Astroplus1) February 25, 2016
We're getting freaky tonight with the #QueenOfPop @Madonna! RT if you agree! #HuaweiXMadonna #RebelHea pic.twitter.com/D5plfkB5mw

— Huawei Device PH (@HuaweiDevicePH) February 25, 2016
You are ICONIC, @Madonna!!!  #BeOneWithMadonna #GlobeMadonna  pic.twitter.com/UxyIs037fU

— Globe Telecom (@enjoyGLOBE) February 25, 2016
Look at THE QUEEN spice it up onstage!  #BeOneWithMadonna #GlobeMadonna pic.twitter.com/srBcMtUQpC

— Globe Telecom (@enjoyGLOBE) February 25, 2016
Madonna with Like A Virgin #MadonnaInManila pic.twitter.com/AABduT22Jq

— Astroplus (@Astroplus1) February 25, 2016
Our rebel hearts go out to the Queen tonight!  #BeOneWithMadonna #GlobeMadonna pic.twitter.com/9MCSkx3Gow

— Globe Telecom (@enjoyGLOBE) February 25, 2016
Not giving up, we're living for LOVE!!! #BeOneWithMadonna #GlobeMadonna pic.twitter.com/RL4PFCMF6v

— Globe Telecom (@enjoyGLOBE) February 25, 2016
.@Madonna asks the crowd to count in spanish as she tosses her Maracas! #RebelHeartTourManila #HuaweiXMadonna pic.twitter.com/uh4DKd60G6

— Huawei Device PH (@HuaweiDevicePH) February 25, 2016
Let @Madonna show you what it takes to be the ICONIC #QueenOfPop of all time! #RebelHeartTourManila #HuaweiXMadonna pic.twitter.com/JjCKlyoChz

— Huawei Device PH (@HuaweiDevicePH) February 25, 2016
"Is everybody having a good time?" And the crowd goes wild! #RebelHeartTourManila #HuaweiXMadonna pic.twitter.com/c2vRrohJzr

— Huawei Device PH (@HuaweiDevicePH) February 25, 2016
You know its true love with @Madonna when she serenades the crowd like this! #HuaweiXMadonna #RebelHeartTourManila pic.twitter.com/Fcj1uTDgtV

— Huawei Device PH (@HuaweiDevicePH) February 25, 2016
Nobody rocks out on a spiral staircase like @Madonna ! #RebelHeartTourManila #HuaweiXMadonna pic.twitter.com/tMa9ZznNSZ

— Huawei Device PH (@HuaweiDevicePH) February 25, 2016
"Thank you for giving me a piece of your heart." We love you @Madonna ! #RebelHeartTourManila #HuaweiXMadonna pic.twitter.com/yiDG54AcGZ

— Huawei Device PH (@HuaweiDevicePH) February 25, 2016
.@Madonna sings "Crazy for You" to celebrate love and freedom during EDSA revolution! #HuaweiXMadonna pic.twitter.com/vSFaYt4SQM

— Huawei Device PH (@HuaweiDevicePH) February 25, 2016
Move your body to the beat with La Isla Bonita! #HuaweiXMadonna #RebelHeartTourManila pic.twitter.com/GVLWNaXnzk

— Huawei Device PH (@HuaweiDevicePH) February 25, 2016
"Music makes the people come together!" #HuaweiXMadonna #RebelHeartTourManila pic.twitter.com/j8cqP4WorU

— Huawei Device PH (@HuaweiDevicePH) February 25, 2016
https://www.instagram.com/p/BCNl6ehCiBP/" style=" color:#000; font-family:Arial,sans-serif; font-size:14px; font-style:normal; font-weight:normal; line-height:17px; text-decoration:none; word-wrap:break-word;" target="_blank">ICONIC! #MadonnaAtMOAArena #MadonnaInManila #RebelHeartTourManila
https://www.instagram.com/p/BCNm6UFiiDV/" style=" color:#000; font-family:Arial,sans-serif; font-size:14px; font-style:normal; font-weight:normal; line-height:17px; text-decoration:none; word-wrap:break-word;" target="_blank">"I'm burnin' up for your love!" #MadonnaAtMOAArena #MadonnaInManila #RebelHeartTourManila
https://www.instagram.com/p/BCNnAx7vK9l/" style=" color:#000; font-family:Arial,sans-serif; font-size:14px; font-style:normal; font-weight:normal; line-height:17px; text-decoration:none; word-wrap:break-word;" target="_blank">It's time!!! Let's #BeOneWithMadonna! #GlobeMadonna
https://www.instagram.com/p/BCNtQ1Xmk0a/" style=" color:#000; font-family:Arial,sans-serif; font-size:14px; font-style:normal; font-weight:normal; line-height:17px; text-decoration:none; word-wrap:break-word;" target="_blank">Bow down to the queen! #RebelHeartTourManila #MadonnaInManila
https://www.instagram.com/p/BCNuD_5CiBb/" style=" color:#000; font-family:Arial,sans-serif; font-size:14px; font-style:normal; font-weight:normal; line-height:17px; text-decoration:none; word-wrap:break-word;" target="_blank"> #MadonnaAtMOAArena #MadonnaInManila #RebelHeartTourManila
https://www.instagram.com/p/BCNq2z6iiK7/" style=" color:#000; font-family:Arial,sans-serif; font-size:14px; font-style:normal; font-weight:normal; line-height:17px; text-decoration:none; word-wrap:break-word;" target="_blank">Heartbreak City.. #MadonnaAtMOAArena #MadonnaInManila #RebelHeartTourManila
Were you there at the show? Tell us about your experience in the comments below! – Rappler.com
More from Madonna's Rebel Heart tour in Manila: