YouTube stars and musicians Alex Goot and Against the Current are making their way here. More details below
MANILA, Philippines – Mark your calendars, everyone. It looks like yet another global YouTube star will be gracing Manila with their talent, as Alex Goot and band Against The Current will be performing at the CCP Main Theater on August 30 at 8:00PM.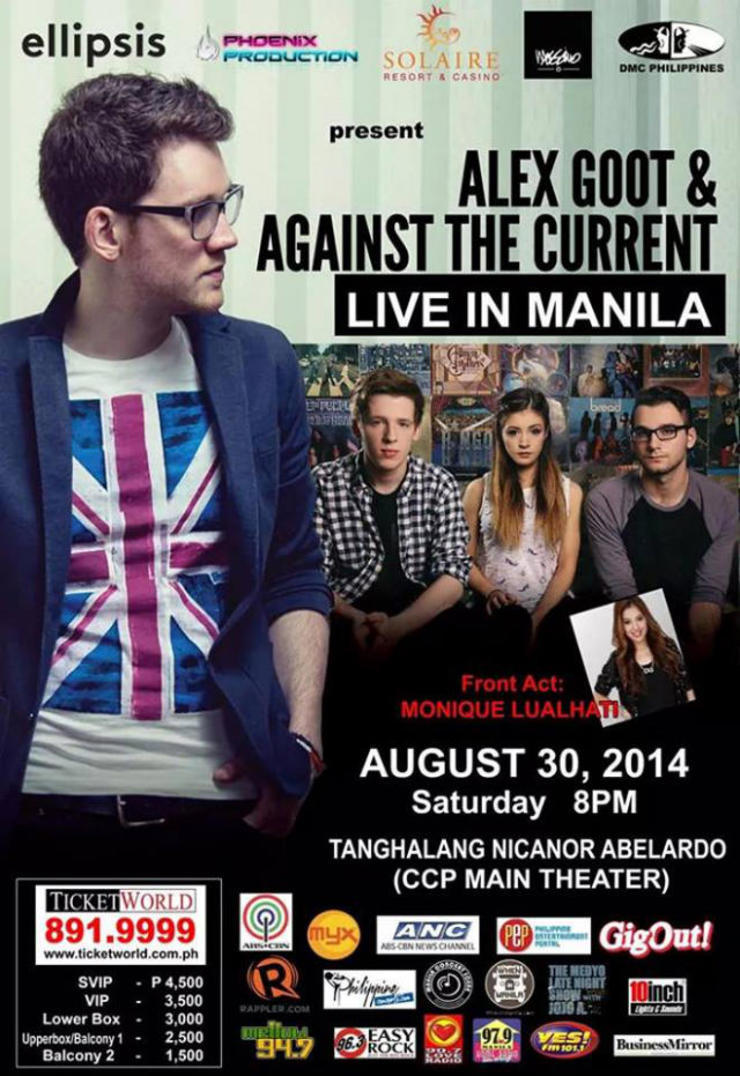 Alex Goot has been producing videos on YouTube channel GootMusic since 2010, gradually gaining a large following that has resulted to over 1.8 million subscribers today.
Among the songs he has covered are One Direction's Story Of My Life and Photograph by Nickelback (with Against The Current), in addition to collaborations with other YouTube stars (including Sam Tsui & Kurt Schneider, who also recently held their concert in Manila) and his original songs, such as "Wake Up Call."
Goot is a singer-songwriter from New York, and can play multiple instruments, including (but not limited to) the acoustic guitar, bass guitar, piano, and drums. He has been recording and self-producing music since the age of 16, finally releasing the studio album In Your Atmosphere in 2012, made possible by his fan base through a KickStarter campaign. His second EP, Wake Up Call, was released just this year. 
Alex also won Best Fan Cover for Britney Spears' Hold It Against Me at the MTV O Music Awards in 2011, and got a nomination for Best Original Song at the Steamy Awards just last year. 
He has collaborated with numerous other YouTube artists, such as the all-male Boyce Avenue (who have also performed in Manila) and Against The Current. 
Against The Current is a pop-rock band also from New York, consisting of Chrissy Costanza, Dan Gow, Jeremy Rompala, Joe Simmons, and Will Ferri. Chrissy, Daniel, and Will will be performing for this tour. The band joined YouTube in 2011, gaining fame through their collaboration with Alex Goot in their cover of Good Time by Owl City and Carly Rae Jepsen. 
Since then, the band has released two original singles entitled Thinking and Closer, Faster, which are both available on iTunes. Like Goot, their lead vocalist, Chrissy Costanza, has also been featured in collaborations with YouTube duo Sam Tsui & Kurt Schneider. 
Alex and Chrissy's collaboration with Kurt Schneider, on a cover of Justin Bieber's "Beauty and a Beat," has over 58 million views on YouTube.
Against the Current's first album Infinity was released in May this year on iTunes, and have just finished their first US- Canada tour, performing in 13 cities and states over the course of a month. 
Enjoy these videos from the band: 
Manila will be the third leg of their tour, after Kuala Lumpur and Indonesia, and before Sydney and Melbourne. – with reports from Marina Ferrer/Rappler.com