This is AI generated summarization, which may have errors. For context, always refer to the full article.
Join the conversation! Phoenix, Taylor Swift, Bruno Mars – which was your favorite international act to visit the Philippines this year? Plus, behind-the-scenes tidbits from your favorite shows
MANILA, Philippines – 2014 was a banner year for
international concerts
in the Philippines. Here are some of the best shows and our favorite moments in each one. 
PJ, Rappler music columnist: Phoenix is incredibly cool, and Thomas Mars is perhaps the nicest rock star I've ever met. During their Manila show, they did all the hits, but a big surprise was when Mars climbed down the stage and casually walked to the back of the venue, all the while singing "Entertainment," and the crowd reaching out to touch him like he was some sort of rock god, which, I guess, he kind of is.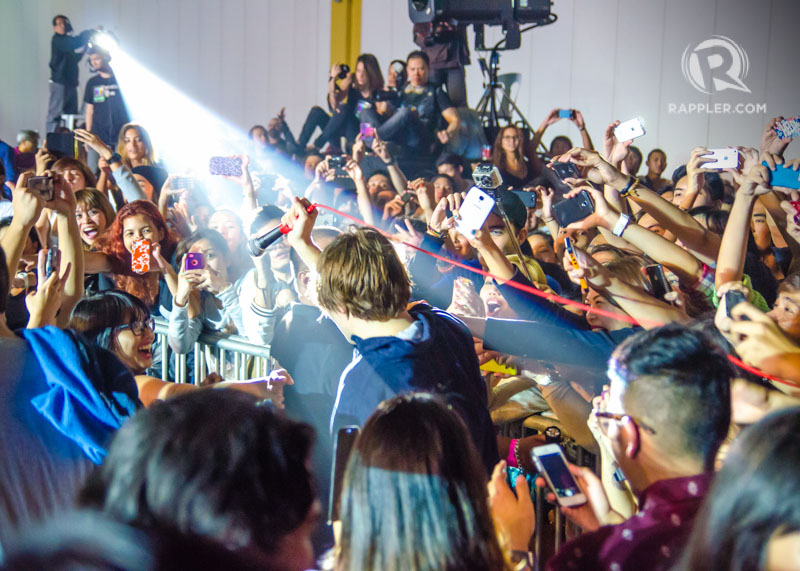 Stephen Lavoie, concert photographer: My favorite for the year for sure. 
I wasn't surprised when he made his way into the crowd, he almost always manages to do that. But it's the how and when he does it, that catches you off guard.
Most of the time, I can position myself to capture the crowd interaction photo, because the artist will usually do it at specific intervals of the show or at specific places, sometimes makeshift stairs can be a giveaway.
That way, security is prepared and everyone performing knows what will happen at that specific time, kinda takes away the spontaneity of it all. With Thomas no one knows, not even him, if or when it will happen, he says he does it when the moment feels right. 
Got to meet them back stage after the show, approachable, friendly, easy going, just really nice folks.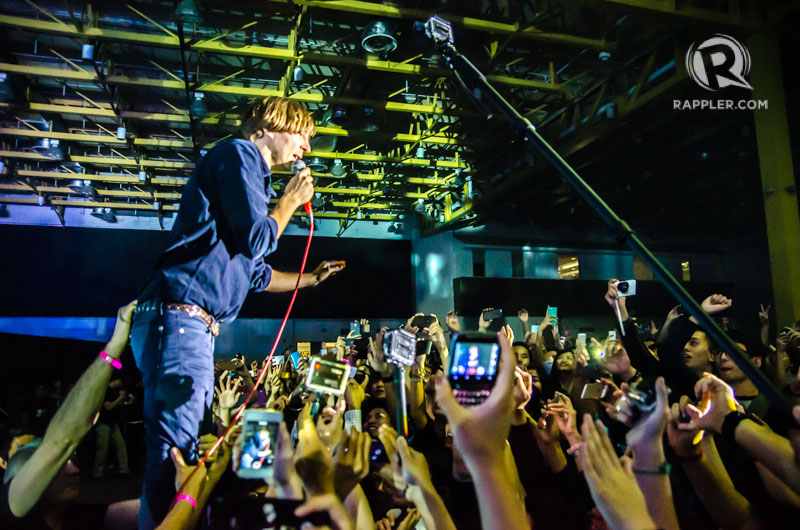 Wyatt Ong, Rappler entertainment editor: I had been waiting years and years to see Phoenix in the flesh – I honestly never thought I'd ever get to see them live. So the whole time, from the big hits like "1901" and "Girlfriend" to the "Entertainment" finale, I was just standing there, quietly losing it. Seeing Phoenix was a dream come true. 
PJ: It's great when bands with a relatively smaller, but no less devoted following can come play in the Philippines. This happened at this year's FebFest. 
Of course, The National, with the deep, mesmerizing voice of Matt Berninger, stood out.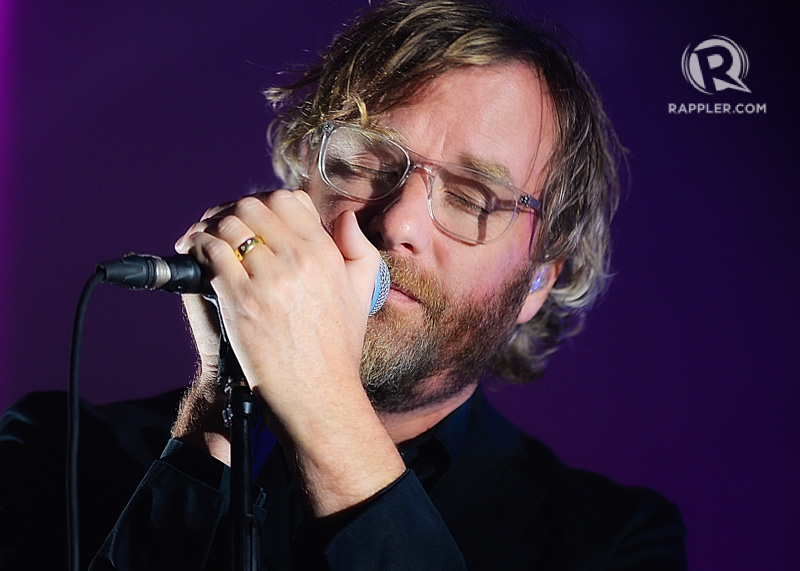 When they did "Bloodbuzz Ohio," it was almost like a spiritual experience. Watch here: 
Stephen: I loved that performance of "Bloodbuzz," a surreal moment, you could really feel something special in the air.
Kinda dark photographically though, which is part of the moody atmosphere they are going for but makes it tough to capture moments in the dark.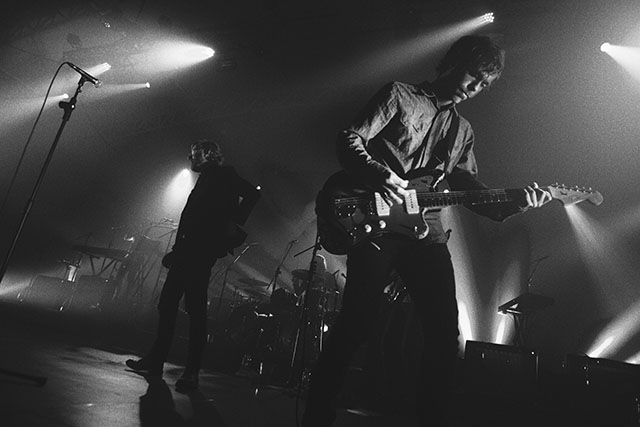 Warpaint also stood out for me for the year. These women clearly enjoy performing together and it came through in the music.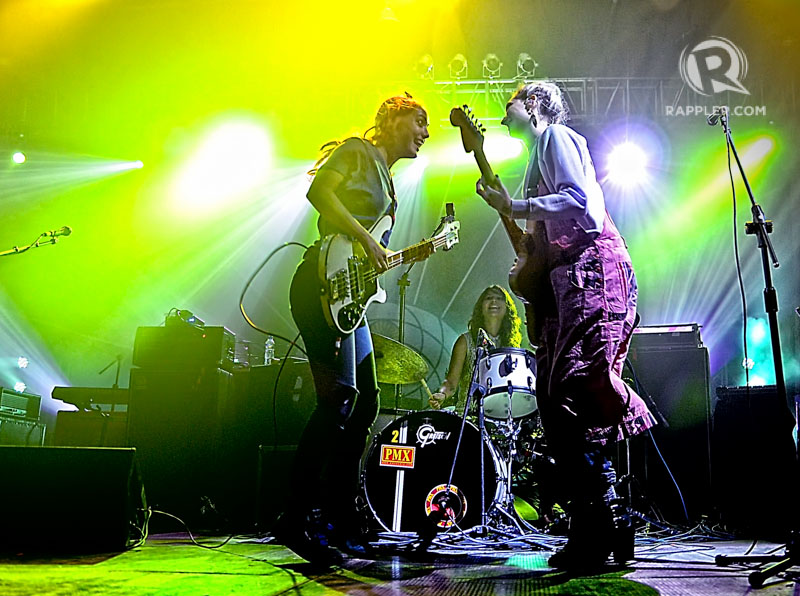 What surprised me was Mogwai, the contrasting elements of their sound. It would go from instrumentally soft and touching, almost imperceptible, if you weren't paying attention, to a deafening volume, a fraction of a second later but clear, no distortion, just pure loudness that literally rattled my chest.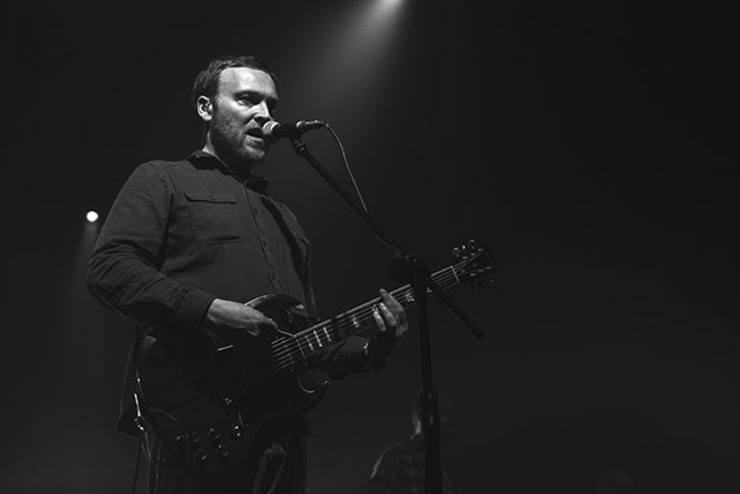 PJ: Speaking of festivals, several were notable this year, all with excellent headliners. 
It was two days of live music at 7107 music festival, from some pretty amazing local and international acts, including Asteroids Galaxy Tour, Red Jumpsuit Apparatus, Empire of the Sun, Kendrick Lamar, and, of course, the main act, the Red Hot Chili Peppers.
After the shirts came off later in the set (which obviously pleased the crowds) the best moment in the whole show came when they did an incendiary, face-melting performance of "By The Way."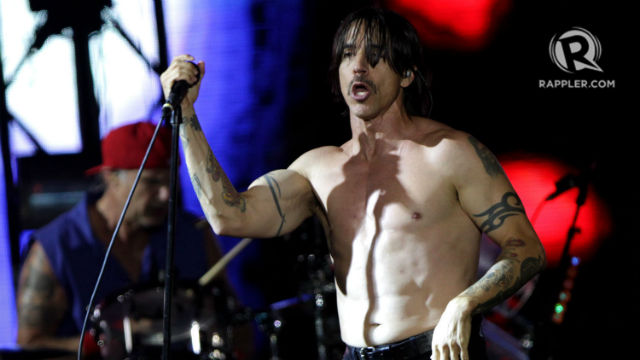 Stephen: I missed the first day but the second day rocked for sure. You can see why the RHCP is one of the premier names in the music industry today, outstanding performance. 
Highly skilled artists, they effortlessly combined, top of the line sound system, a perfectly balanced lighting set-up, unparalleled stage presence and just super high energy, to produce one of the best live acts out there.
Catch one of their performances and it's readily apparent why they are at the top of the stack.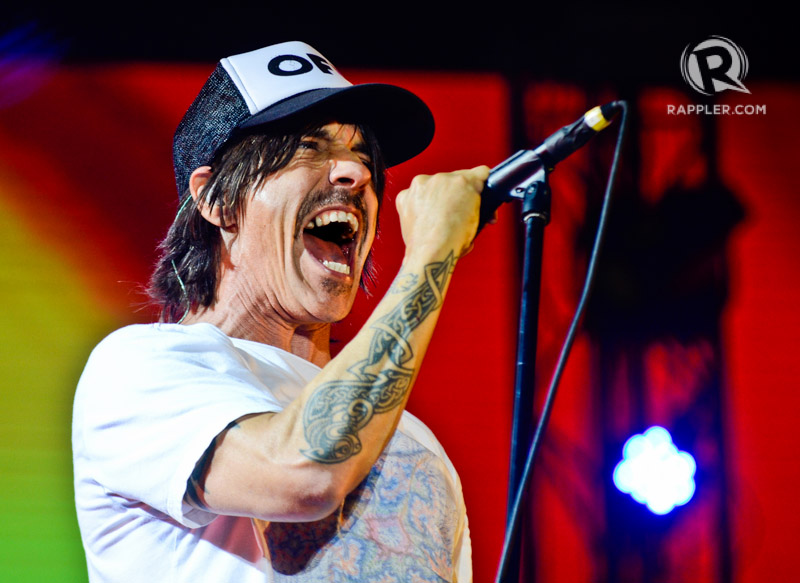 PJ: There's also Malasimbo, back in March. It may cater to a different crowd – there are plenty of activities, not just for music-lovers – but its lineup the last couple of years has been nothing but exemplary for music fans.
This year, Swedish indie folk-pop artist Jose Gonzalez calmed an insanely pumped-up crowd with his delicate guitar-playing and soothing vocals.
The big finale was his acclaimed cover of the Knife original "Heartbeats," and those three minutes was definitely worth the price of admission.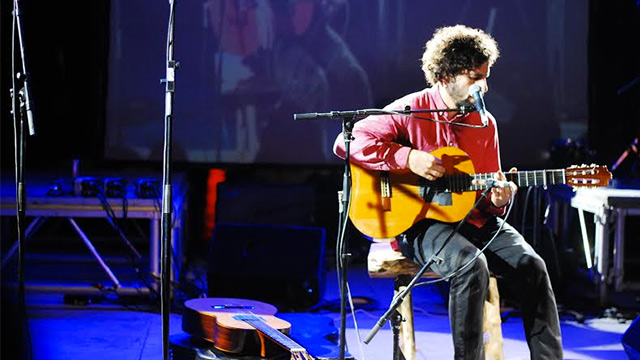 Stephen: Photographing The Royal Concept at the Wanderland music festival was one of the highlights of the year for me.
They have wonderful onstage energy, with lots of movement, animated expressions, a drummer that just goes wild, all of which, are what we photographers look for.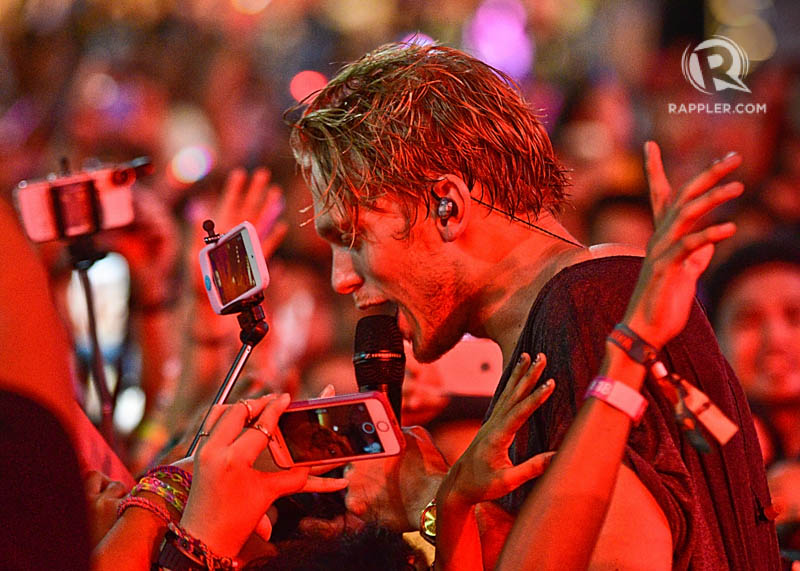 PJ: Yeah, they had a true rock star moment when vocalist David Larson took his shirt off after their very last song.
Still, my favorite part of the whole festival came when Jonny Pierce and Jacob Graham of The Drums did "How It Ended" and "Let's Go Surfing."
It was past 1 a.m. when they went up onstage, but their music was like an adrenaline shot that re-energized the weary crowd.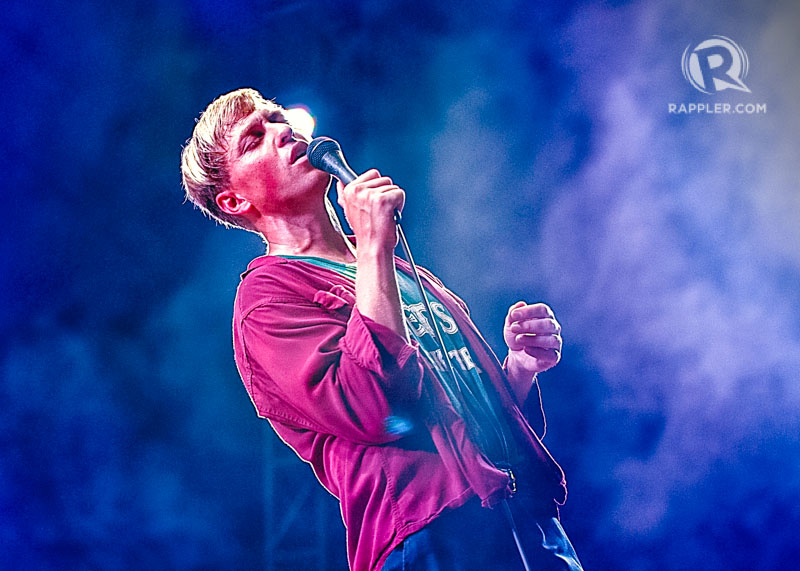 Stephen: One of the standouts for the year was Dishwalla – a pleasure to shoot due to lenient photographic restrictions, maybe not the best lighting but the band members were enjoying themselves onstage and not freaking out about who's photographing them, no ridiculous rules. The management and band are easygoing, relaxed and just having fun – refreshing to see these days.
PJ: Dishwalla was supposed to play in La Union for Soul Surf, but this was canceled at the last minute because of weather issues. Organizers regrouped and invited headliners Dishwalla back to perform in Manila.
The new vocalist Justin Fox is no JR Richards, but he was quite the entertainer and managed to satisfy the crowd, though, for me, "Counting Blue Cars" will always carry Richards' voice.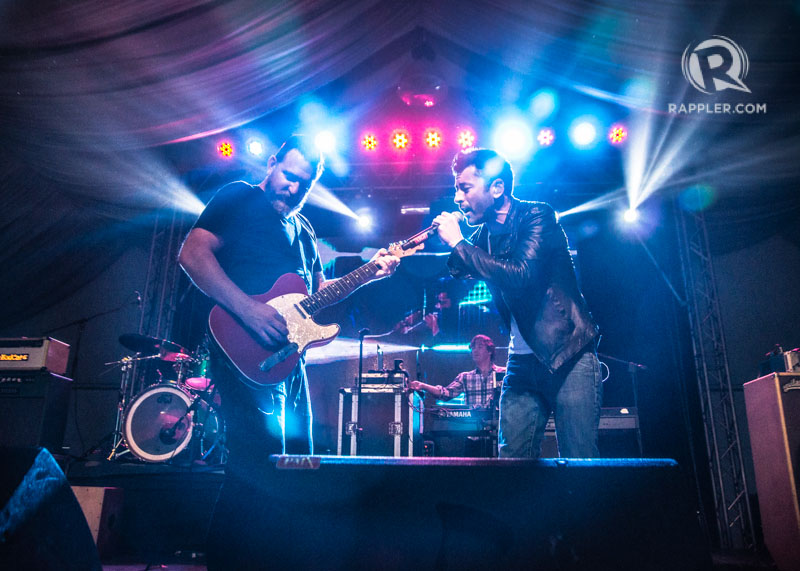 Wy: I think this was a great year for venues other than arenas and huge festivals. YouTube and The Voice star Christina Grimmie held this amazing 2-day mall show.
She completely had the crowd mesmerized, and her vocals were incredible. Look at this crowd shot: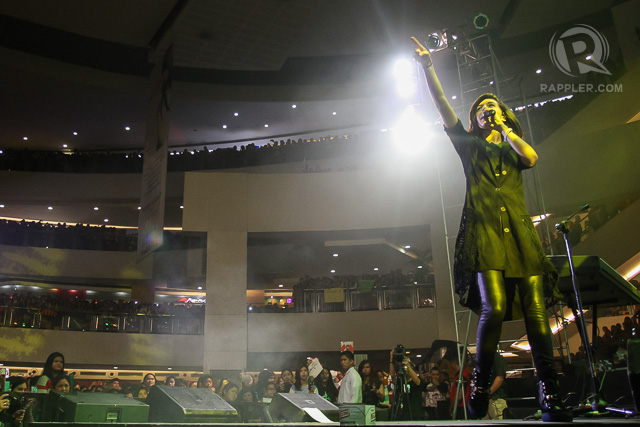 I positioned myself strategically in front, to the side at her presscon and was rewarded with the full blast of her considerable stage presence and power. She sang "With Love" and the media there couldn't get enough. 
Stephen: That's right, about the smaller venues.
Echosmith and Capital Cities rocked the malls with impressive performances. Echosmith is a group of 4 siblings, which I always find interesting.
There really is no match for vocal harmonies that are produced by members of the same family and there's a long list to prove it, the Jackson Five is the first to come my mind.  
Wy: Now The Jacksons, they also made their way to Manila this year. Our other music writer Rome told me the show was excellent, too – a diverse mix of people in the audience, and a good sign that they've retained and grown their fan base.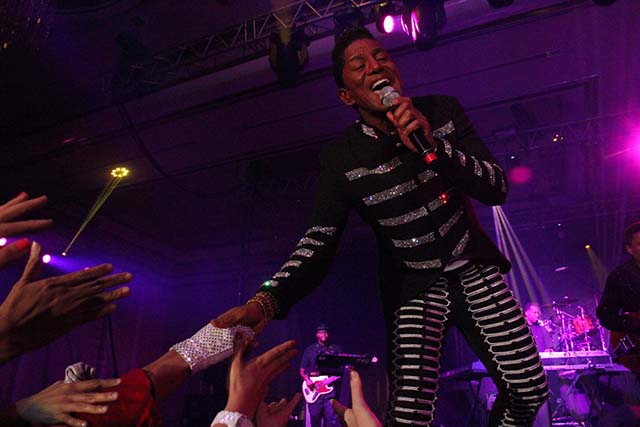 Stephen: Back to the mall shows – you should've seen the huge crowd dancing to Capital Cities, you could have mistaken it for a small tremor.
And I'm a sucker for a band that has some brass wind instruments, impressive trumpet work here.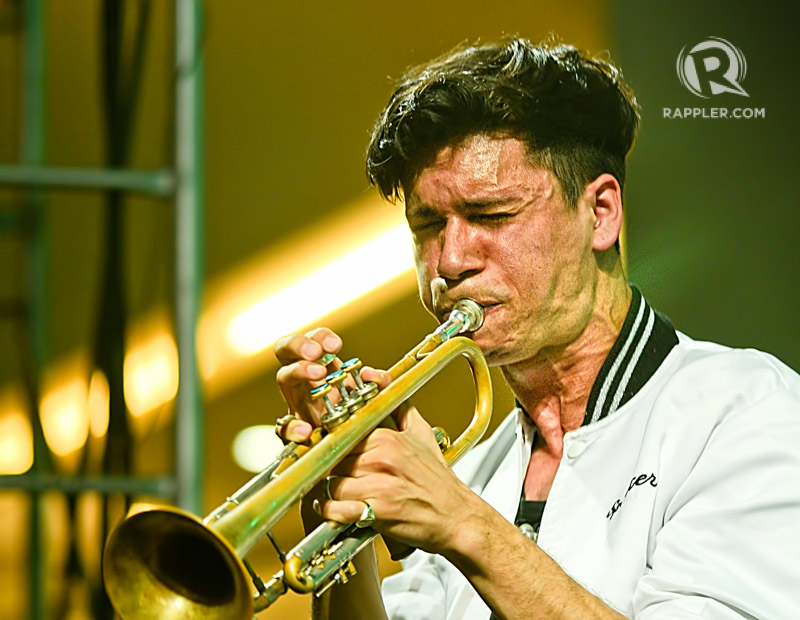 Wy: I really, really appreciated the smaller venues. Particularly true for Sam Tsui and Kurt Hugo Schneider's 2-day concert in the Philippines. You can't find two nicer guys who want nothing but to play for their fans and perform. Getting to meet them was one of the highlights of my year. Watch their video interview with Rappler here.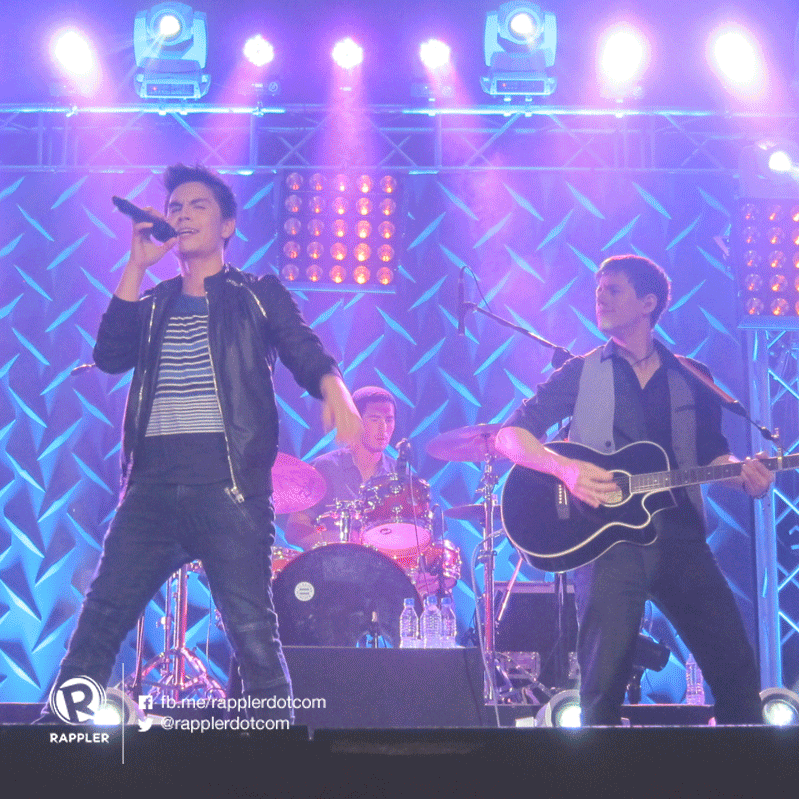 Masters of the mash-up and incredibly down-to-earth, Kurt and Sam played a generous set for their fans, then invited everyone to come close for one of the final songs, an original called "Don't Want an Ending." 
Other YouTube stars made their way here, too – the fantastic AJ Rafael, Jeremy Passion, Alex Goot and Against the Current, Tanner Patrick and Tiffany Alvord. This was a great year for fans of artists who became popular via YouTube. I hope this trend continues into next year. 
Stephen: Events I find most interesting now are the ones held in medium-sized venues, usually in a large tent structure or convention centre space. A large enough room for thousands of spectators but not cavernous, where you can easily lose that intimate feeling. This was true for Bombay Bicycle Club's show.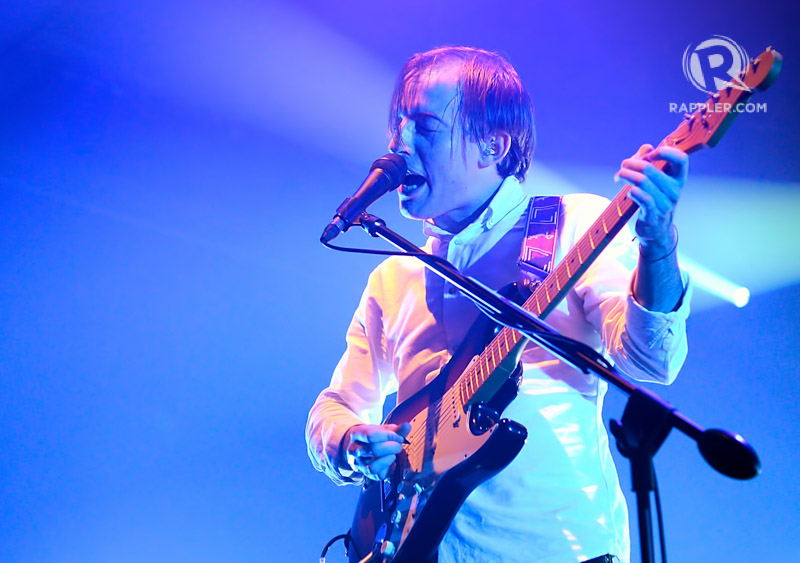 Quality sound, decent lighting, excited and dedicated fans, all added up for a brilliant night of music. And the boys in the band were adventurous, even eating Balut backstage after the show. 
PJ: True also for the Lemonheads, who played at Whitespace. 
Evan Dando and the rest of the band had never performed in Manila before, despite being active for close to 30 years.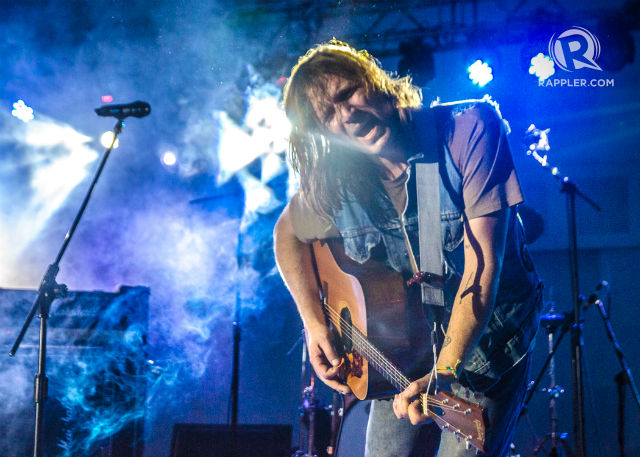 The frontman seemed a bit out of it, but they managed to power through and deliver a solid set, especially when they did the hits, including "It's About Time," "My Drug Buddy" and "Into Your Arms."
Wy: There were some huge acts and 2014 hitmakers that made their way to Manila this year. Bruno Mars, Taylor Swift, Boyz II Men, Mariah Carey, Disclosure, Kimbra, Chvrches, The 1975, MAGIC!, and Macklemore and Ryan Lewis all played shows in the Philippines in 2014 – judging by the responses from our readers and contributors, all performed at their usual best.
Some of the best reviews from our readers, though, were for John Legend's Manila show.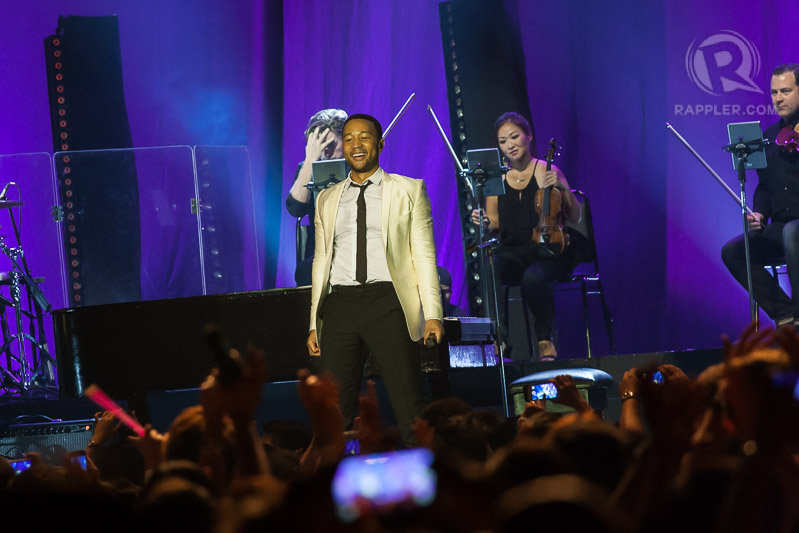 Here's an instavideo of John singing what's pretty much the song of the year for most, "All of Me." See more photos here. 
PJ: Bruno Mars! I saw his first show in Manila in 2011 and the return engagement was bigger and better.
The part-Filipino singer and songwriter connected with the local audience the most with ballads like "Just The Way You Are," but he's clearly a born entertainer, so my favorite bits were when he ran around and danced onstage with the Hooligans (his backing band), especially on "Locked Out Of Heaven."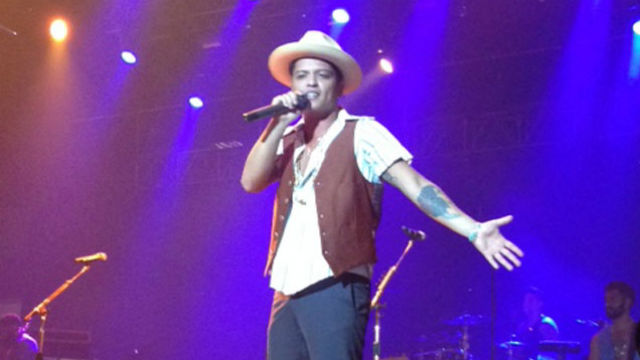 Wy: Taylor Swift had a great year this year, releasing a new album, 1989, breaking all sorts of records.
She made a stop here last June, her second time in Manila. I remember the first show – it was classic Taylor, very sweet and feminine.
But this time, there was this more intense energy, a tougher, more assertive sound. Her fans grew up right along with her, though younger fans keep coming.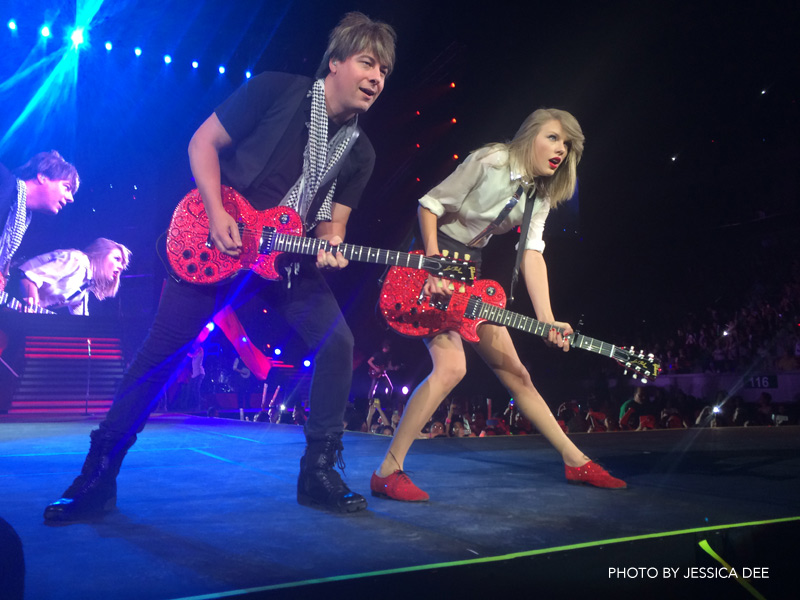 Stephen: To me, one of the best was Jessie J's show. This one also hit all the marks: quality sound, well designed lighting scheme, entertaining stage set-up, skilled musicians and Jessie's vocal prowess really put it over the top.
But surprisingly, what made it a standout for me, was not the songs themselves but what she had to say between them. At one point, she even read a fan's letter aloud to the packed house at Araneta. It explained how her music actually saved him from committing suicide – I don't think there was a dry eye in the place.
Sometimes as a performer, it's not what you do while singing that makes a difference but what you do while you're not.
Wy: At one point, Jessie sang her hit "Who You Are" with The Voice's Morissette Amon.
She let Morissette have her moment, and it was this incredibly powerful number because of that. We're all lucky to get to see it on YouTube. 

PJ: One of the best shows for me this year was Howie Day's quiet set this past September. 
If there's any justice in this world, Howie Day would be as popular as his contemporaries John Mayer and even Jason Mraz. Howie hasn't quite reached the teeming masses, which has its benefits as the small, intimate show he did at Amber Ultralounge Manila was just perfect for his type of music.
The best moment in the show came when he sang "Ghost," which extended into his signature style of manipulating the effects and delay pedals, adding a few extra layers into his one-man show. Definitely one of the year's best. 
Stephen: Agreed, outstanding event, goes to show ya, you don't need a huge production, sometimes less is more. And he makes the use of those looping machines look easy, and it's far from it. Added pressure, it's live, one wrong step and you're up the creek without a paddle.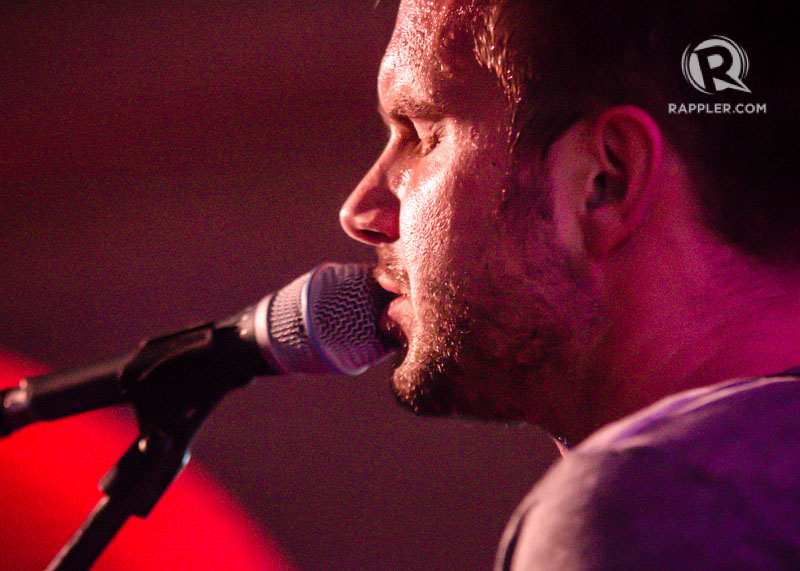 PJ: There were quite a few throwback moments this year, too, that gave everyone a dose of nostalgia. 
Vertical Horizon played in Manila twice before, but this third show was a bit different because it was at the swanky Newport Performing Arts Theater in Resorts World Manila.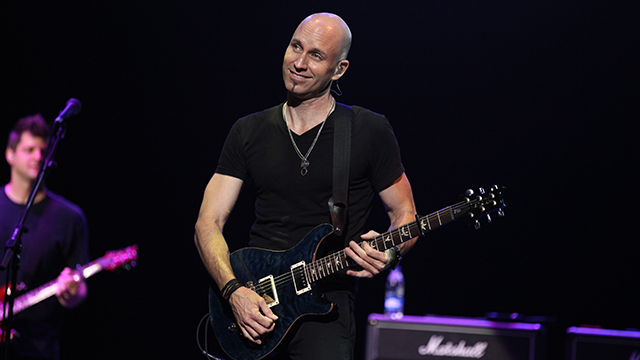 I loved it when frontman Matt Scannell admitted that one of their signature hits, "Send It Up," really didn't mean anything. No matter, it's still my favorite VH song and hearing it sung live is always fun.  
Stephen: Two such moments for me. The first, Lionel Richie. Always impressive to witness a consummate performer take the stage. Everything was just perfect, and if it wasn't he would find humor in it.
Once, a stage hand rushed onstage to help him with his mic, which had fallen between his legs. As the stage hand repositioned the gear near his waist, Lionel quipped, "We don't know each other that well, shouldn't we go out for a drink first?"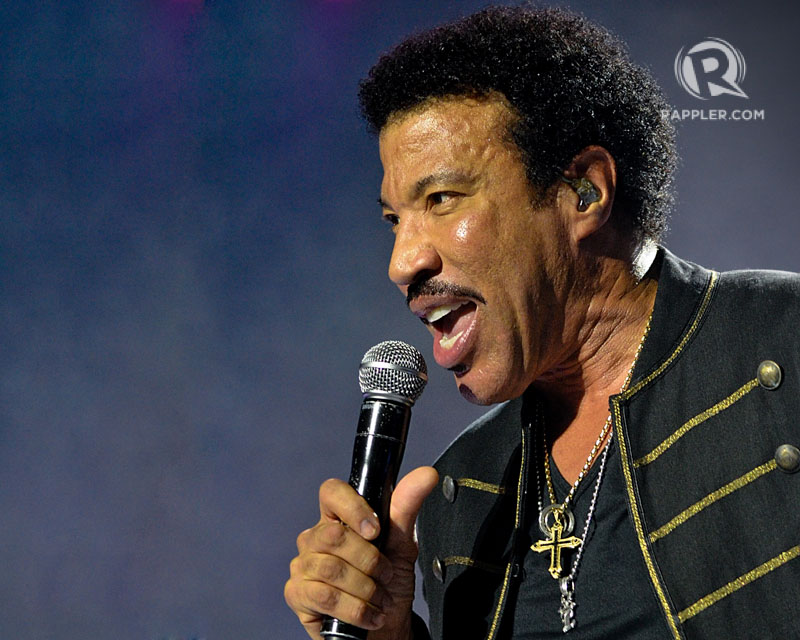 What I found to be most revealing about him was his request to ride in a jeepney after the show on his way back to the hotel.  For most big names, it's limos and fancy cars demanded, not public transportation – goes to show you how down to earth he is, one of the nicest superstars I've every met.  
Second, When in Rome. I'm an '80s kid, so these throwback events are always something special for me. The event was well organized, decent lighting and sound but what I found engrossing was watching someone still passionate about performing even if they never made it to the higher echelons of the music world.
May not have had all the vocal nuances like back in the day, but they more than made up for it with heart.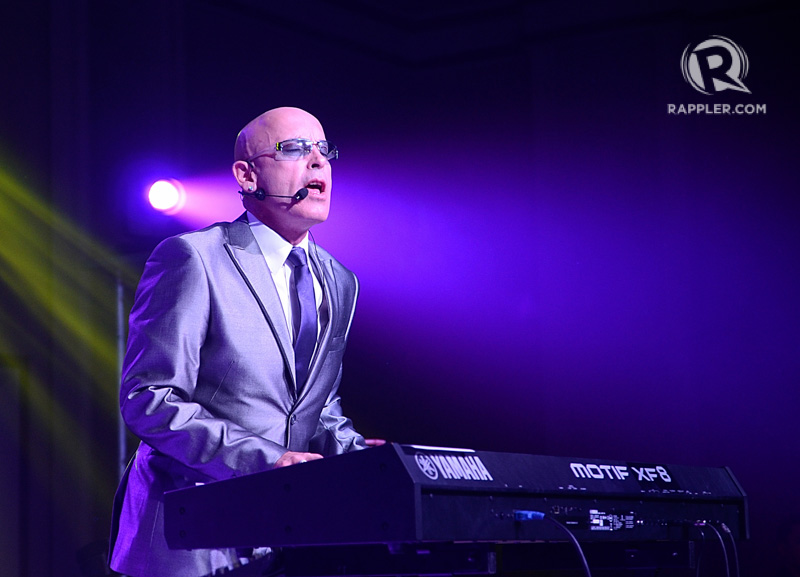 Wy: Children of the '90s – who was not a fan of Westlife? To the delight of his fans, Westlife's Shane Filan was here for a solo concert, but he did not coast on his boy band roots – far from it. The photos I received from this concert were very varied and interesting – our writer Alexa said that he was great with the crowd.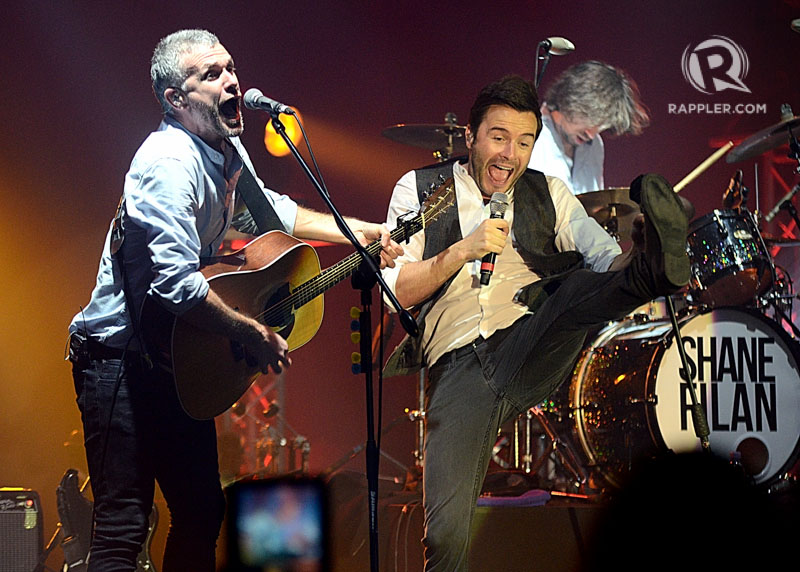 Stephen: I've never been a big Westlife fan, pretty much off my radar, but this music is not what you'd expect from a former boy-band artist, going solo.
This artist had greater depth, a pleasant and interesting mix of pop, soul, country and for good measure, traditional Irish music. More of what you'd think of as indie-folk rock, with super talented multi-instrumental musicians on acoustic guitars, an upright bass, a violin, and a mandolin. And to top it all off, finely tuned stage presence that had the fans eating out of the palm of his hand. 
PJ: One last great show – Il Divo. The highlight was when Lea Salonga emerged to sing with them.  
I was never really a fan of the quartet of classically trained singers doing contemporary pop hits, but there are no doubts they were pretty entertaining. My favorite part was when they did "A Whole New World" from the Disney film Aladdin. Never gets old.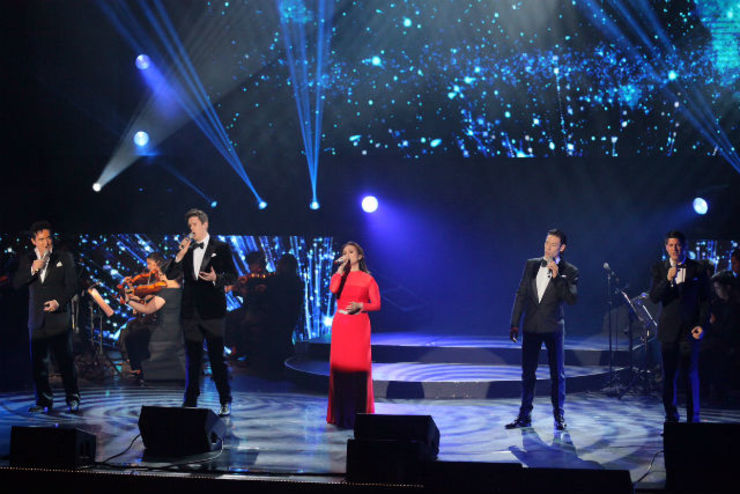 ——-
These are only a few of many amazing acts who visited the Philippines this year. Share your favorite concert photos and moments with us in the comments below. 
There's more to come as we look forward to 2015: in the first half of next year alone, we're expecting Sam Smith, Ed Sheeran, One Direction, The Script, Christina Perri, Michael Buble, Lenny Kravitz, and Boyce Avenue, among others. Check back here for more concert coverage and keep the conversation going! 
Who would you like to see next year? – Rappler.com