Scenes from the show that had passionate fans screaming, crying, laughing, clapping
MANILA, Philippines – It was a night to remember for Filipino Directioners, who finally got to see One Direction live in concert Saturday, March 21, the first night of their 2-night Manila show. 
The boys, who arrived earlier in the day without 5th member Zayn Malik, who earlier pulled out of the tour due to stress, to the dismay of many fans. Still, the group charged on ahead to deliver an energetic show despite the rain. 
Check out a few photos from the show: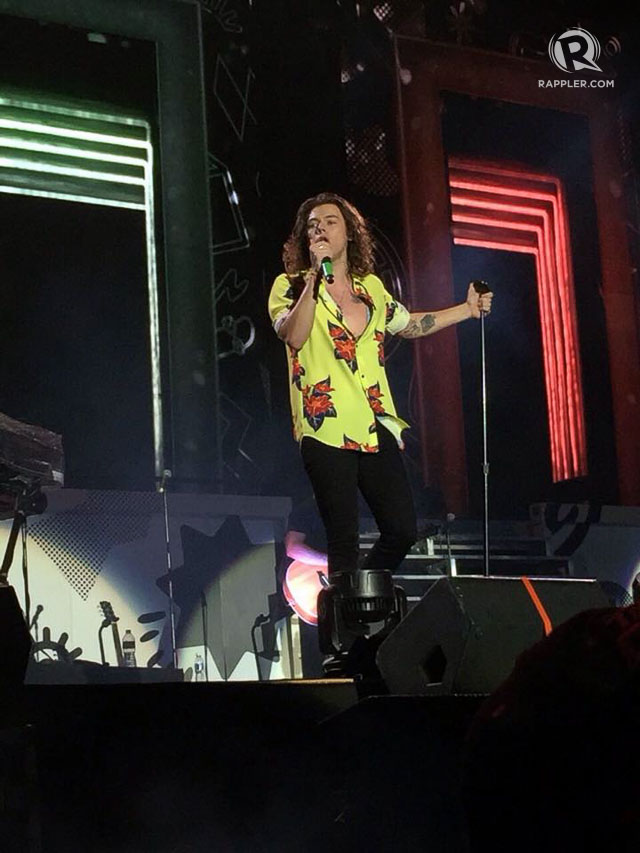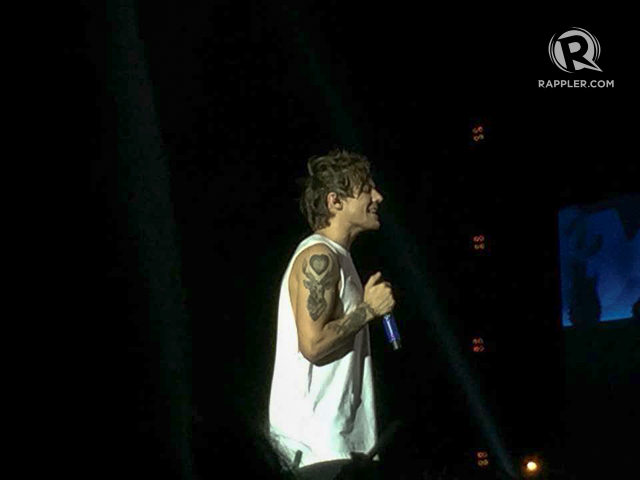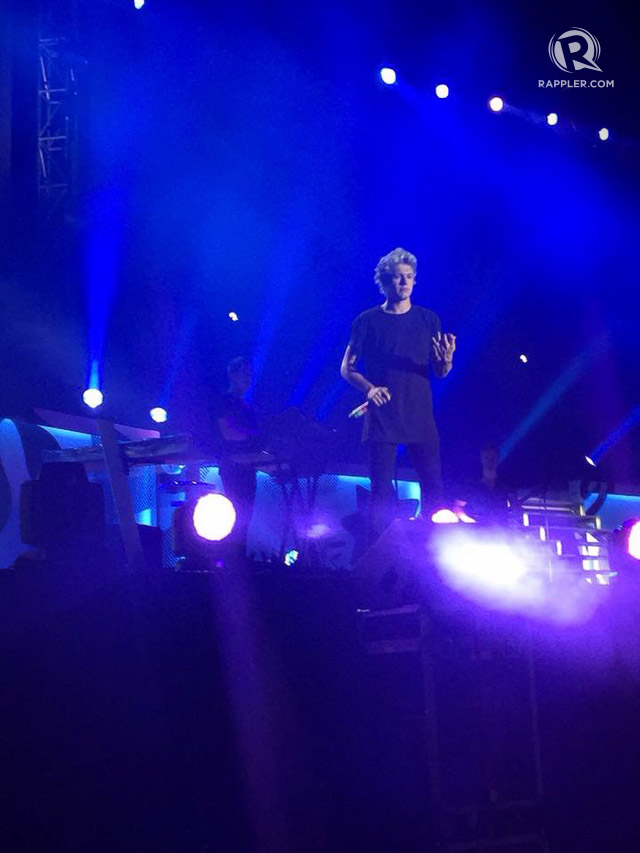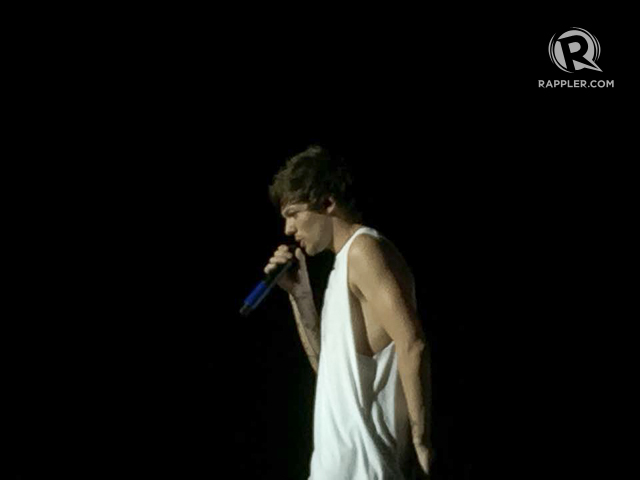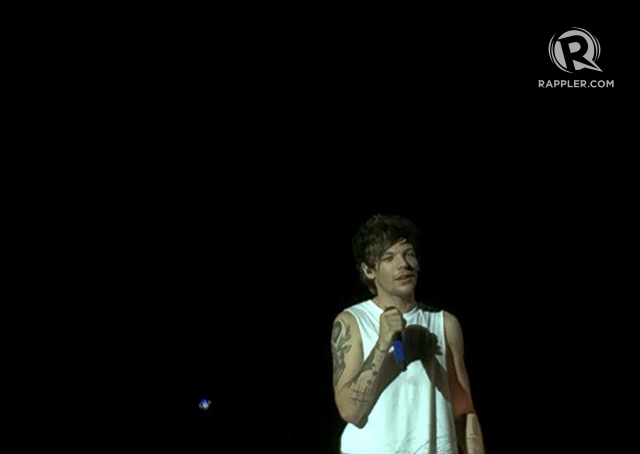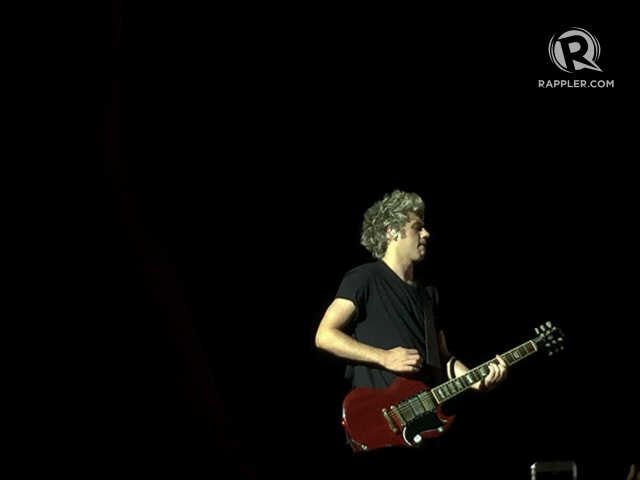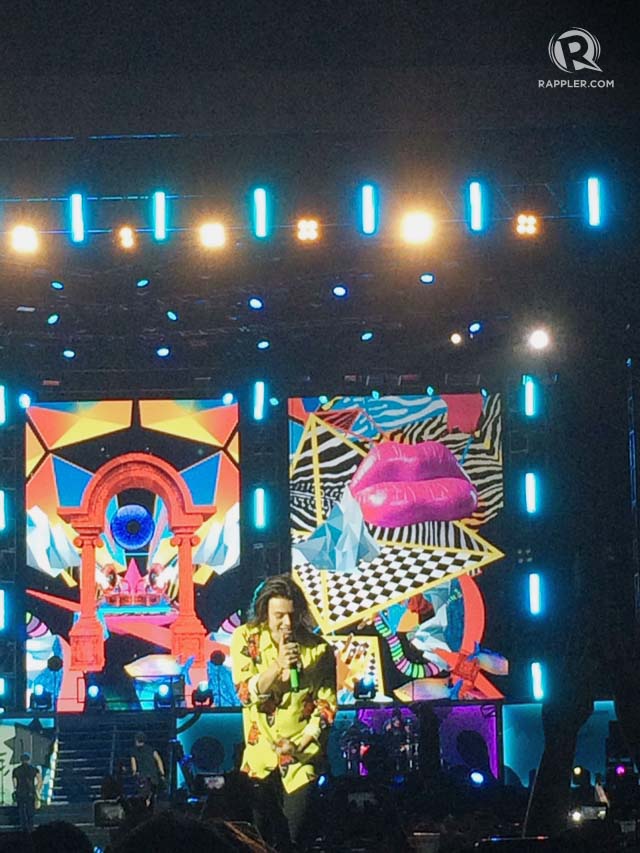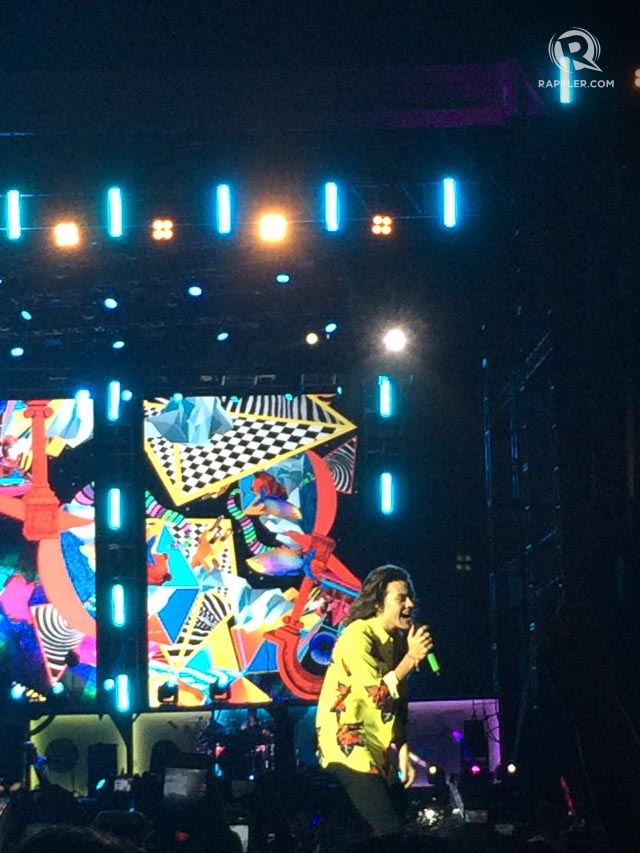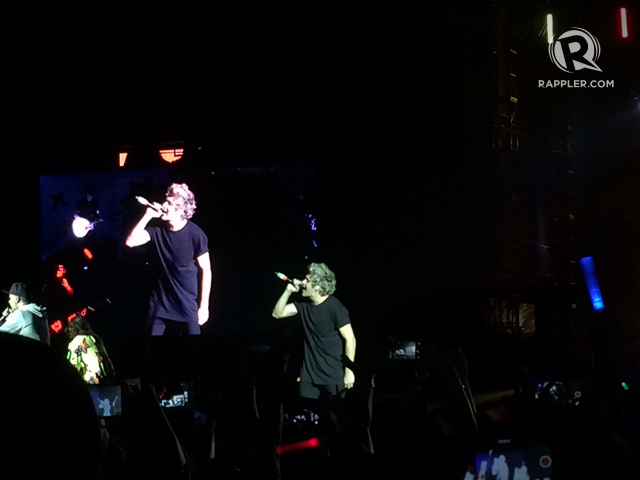 {source}
<blockquote class="instagram-media" data-instgrm-captioned data-instgrm-version="4″ style=" background:#FFF; border:0; border-radius:3px; box-shadow:0 0 1px 0 rgba(0,0,0,0.5),0 1px 10px 0 rgba(0,0,0,0.15); margin: 1px; max-width:658px; padding:0; width:99.375%; width:-webkit-calc(100% – 2px); width:calc(100% – 2px);"><div style="padding:8px;"> <div style=" background:#F8F8F8; line-height:0; margin-top:40px; padding:50% 0; text-align:center; width:100%;"> <div style=" background:url(data:image/png;base64,iVBORw0KGgoAAAANSUhEUgAAACwAAAAsCAMAAAApWqozAAAAGFBMVEUiIiI9PT0eHh4gIB4hIBkcHBwcHBwcHBydr+JQAAAACHRSTlMABA4YHyQsM5jtaMwAAADfSURBVDjL7ZVBEgMhCAQBAf//42xcNbpAqakcM0ftUmFAAIBE81IqBJdS3lS6zs3bIpB9WED3YYXFPmHRfT8sgyrCP1x8uEUxLMzNWElFOYCV6mHWWwMzdPEKHlhLw7NWJqkHc4uIZphavDzA2JPzUDsBZziNae2S6owH8xPmX8G7zzgKEOPUoYHvGz1TBCxMkd3kwNVbU0gKHkx+iZILf77IofhrY1nYFnB/lQPb79drWOyJVa/DAvg9B/rLB4cC+Nqgdz/TvBbBnr6GBReqn/nRmDgaQEej7WhonozjF+Y2I/fZou/qAAAAAElFTkSuQmCC); display:block; height:44px; margin:0 auto -44px; position:relative; top:-22px; width:44px;"></div></div> <p style=" margin:8px 0 0 0; padding:0 4px;"> <a href="https://instagram.com/p/0flE0EIpO_/" style=" color:#000; font-family:Arial,sans-serif; font-size:14px; font-style:normal; font-weight:normal; line-height:17px; text-decoration:none; word-wrap:break-word;" target="_top">Don&#39;t you just love @harrystyles?? @onedirection #OnTheRoadAgain1D #onedirection #OneDirectionMNL #otratmnl #OvationProductions Photo by @magicliwanag</a></p> <p style=" color:#c9c8cd; font-family:Arial,sans-serif; font-size:14px; line-height:17px; margin-bottom:0; margin-top:8px; overflow:hidden; padding:8px 0 7px; text-align:center; text-overflow:ellipsis; white-space:nowrap;">A photo posted by Ovation Productions (@ovationprod) on <time style=" font-family:Arial,sans-serif; font-size:14px; line-height:17px;" datetime="2015-03-21T14:39:56+00:00″>Mar 21, 2015 at 7:39am PDT</time></p></div></blockquote>
<script async defer src="//platform.instagram.com/en_US/embeds.js"></script>{/source}
{source}
<blockquote class="instagram-media" data-instgrm-captioned data-instgrm-version="4″ style=" background:#FFF; border:0; border-radius:3px; box-shadow:0 0 1px 0 rgba(0,0,0,0.5),0 1px 10px 0 rgba(0,0,0,0.15); margin: 1px; max-width:658px; padding:0; width:99.375%; width:-webkit-calc(100% – 2px); width:calc(100% – 2px);"><div style="padding:8px;"> <div style=" background:#F8F8F8; line-height:0; margin-top:40px; padding:50% 0; text-align:center; width:100%;"> <div style=" background:url(data:image/png;base64,iVBORw0KGgoAAAANSUhEUgAAACwAAAAsCAMAAAApWqozAAAAGFBMVEUiIiI9PT0eHh4gIB4hIBkcHBwcHBwcHBydr+JQAAAACHRSTlMABA4YHyQsM5jtaMwAAADfSURBVDjL7ZVBEgMhCAQBAf//42xcNbpAqakcM0ftUmFAAIBE81IqBJdS3lS6zs3bIpB9WED3YYXFPmHRfT8sgyrCP1x8uEUxLMzNWElFOYCV6mHWWwMzdPEKHlhLw7NWJqkHc4uIZphavDzA2JPzUDsBZziNae2S6owH8xPmX8G7zzgKEOPUoYHvGz1TBCxMkd3kwNVbU0gKHkx+iZILf77IofhrY1nYFnB/lQPb79drWOyJVa/DAvg9B/rLB4cC+Nqgdz/TvBbBnr6GBReqn/nRmDgaQEej7WhonozjF+Y2I/fZou/qAAAAAElFTkSuQmCC); display:block; height:44px; margin:0 auto -44px; position:relative; top:-22px; width:44px;"></div></div> <p style=" margin:8px 0 0 0; padding:0 4px;"> <a href="https://instagram.com/p/0fkqyJIpOK/" style=" color:#000; font-family:Arial,sans-serif; font-size:14px; font-style:normal; font-weight:normal; line-height:17px; text-decoration:none; word-wrap:break-word;" target="_top">@fakeliampayne making directioners wave! So much fun! @onedirection #onedirection #OneDirectionMNL #otratmnl #OvationProductions Photo by @magicliwanag</a></p> <p style=" color:#c9c8cd; font-family:Arial,sans-serif; font-size:14px; line-height:17px; margin-bottom:0; margin-top:8px; overflow:hidden; padding:8px 0 7px; text-align:center; text-overflow:ellipsis; white-space:nowrap;">A photo posted by Ovation Productions (@ovationprod) on <time style=" font-family:Arial,sans-serif; font-size:14px; line-height:17px;" datetime="2015-03-21T14:36:23+00:00″>Mar 21, 2015 at 7:36am PDT</time></p></div></blockquote>
<script async defer src="//platform.instagram.com/en_US/embeds.js"></script>{/source}
{source}
<blockquote class="instagram-media" data-instgrm-captioned data-instgrm-version="4″ style=" background:#FFF; border:0; border-radius:3px; box-shadow:0 0 1px 0 rgba(0,0,0,0.5),0 1px 10px 0 rgba(0,0,0,0.15); margin: 1px; max-width:658px; padding:0; width:99.375%; width:-webkit-calc(100% – 2px); width:calc(100% – 2px);"><div style="padding:8px;"> <div style=" background:#F8F8F8; line-height:0; margin-top:40px; padding:50% 0; text-align:center; width:100%;"> <div style=" background:url(data:image/png;base64,iVBORw0KGgoAAAANSUhEUgAAACwAAAAsCAMAAAApWqozAAAAGFBMVEUiIiI9PT0eHh4gIB4hIBkcHBwcHBwcHBydr+JQAAAACHRSTlMABA4YHyQsM5jtaMwAAADfSURBVDjL7ZVBEgMhCAQBAf//42xcNbpAqakcM0ftUmFAAIBE81IqBJdS3lS6zs3bIpB9WED3YYXFPmHRfT8sgyrCP1x8uEUxLMzNWElFOYCV6mHWWwMzdPEKHlhLw7NWJqkHc4uIZphavDzA2JPzUDsBZziNae2S6owH8xPmX8G7zzgKEOPUoYHvGz1TBCxMkd3kwNVbU0gKHkx+iZILf77IofhrY1nYFnB/lQPb79drWOyJVa/DAvg9B/rLB4cC+Nqgdz/TvBbBnr6GBReqn/nRmDgaQEej7WhonozjF+Y2I/fZou/qAAAAAElFTkSuQmCC); display:block; height:44px; margin:0 auto -44px; position:relative; top:-22px; width:44px;"></div></div> <p style=" margin:8px 0 0 0; padding:0 4px;"> <a href="https://instagram.com/p/0fkMT4opNX/" style=" color:#000; font-family:Arial,sans-serif; font-size:14px; font-style:normal; font-weight:normal; line-height:17px; text-decoration:none; word-wrap:break-word;" target="_top">@niallhoran hyping up the crowd! @onedirection #OvationProductions #OnTheRoadAgain1D #onedirection #OneDirectionMNL Photo by @magicliwanag</a></p> <p style=" color:#c9c8cd; font-family:Arial,sans-serif; font-size:14px; line-height:17px; margin-bottom:0; margin-top:8px; overflow:hidden; padding:8px 0 7px; text-align:center; text-overflow:ellipsis; white-space:nowrap;">A photo posted by Ovation Productions (@ovationprod) on <time style=" font-family:Arial,sans-serif; font-size:14px; line-height:17px;" datetime="2015-03-21T14:32:14+00:00″>Mar 21, 2015 at 7:32am PDT</time></p></div></blockquote>
<script async defer src="//platform.instagram.com/en_US/embeds.js"></script>{/source}
{source}
<blockquote class="instagram-media" data-instgrm-captioned data-instgrm-version="4″ style=" background:#FFF; border:0; border-radius:3px; box-shadow:0 0 1px 0 rgba(0,0,0,0.5),0 1px 10px 0 rgba(0,0,0,0.15); margin: 1px; max-width:658px; padding:0; width:99.375%; width:-webkit-calc(100% – 2px); width:calc(100% – 2px);"><div style="padding:8px;"> <div style=" background:#F8F8F8; line-height:0; margin-top:40px; padding:50% 0; text-align:center; width:100%;"> <div style=" background:url(data:image/png;base64,iVBORw0KGgoAAAANSUhEUgAAACwAAAAsCAMAAAApWqozAAAAGFBMVEUiIiI9PT0eHh4gIB4hIBkcHBwcHBwcHBydr+JQAAAACHRSTlMABA4YHyQsM5jtaMwAAADfSURBVDjL7ZVBEgMhCAQBAf//42xcNbpAqakcM0ftUmFAAIBE81IqBJdS3lS6zs3bIpB9WED3YYXFPmHRfT8sgyrCP1x8uEUxLMzNWElFOYCV6mHWWwMzdPEKHlhLw7NWJqkHc4uIZphavDzA2JPzUDsBZziNae2S6owH8xPmX8G7zzgKEOPUoYHvGz1TBCxMkd3kwNVbU0gKHkx+iZILf77IofhrY1nYFnB/lQPb79drWOyJVa/DAvg9B/rLB4cC+Nqgdz/TvBbBnr6GBReqn/nRmDgaQEej7WhonozjF+Y2I/fZou/qAAAAAElFTkSuQmCC); display:block; height:44px; margin:0 auto -44px; position:relative; top:-22px; width:44px;"></div></div> <p style=" margin:8px 0 0 0; padding:0 4px;"> <a href="https://instagram.com/p/0fj8XTopMt/" style=" color:#000; font-family:Arial,sans-serif; font-size:14px; font-style:normal; font-weight:normal; line-height:17px; text-decoration:none; word-wrap:break-word;" target="_top">Manila sings along with @louist91! @onedirection #onedirection #OneDirectionMNL #OvationProductions Photo by @magicliwanag</a></p> <p style=" color:#c9c8cd; font-family:Arial,sans-serif; font-size:14px; line-height:17px; margin-bottom:0; margin-top:8px; overflow:hidden; padding:8px 0 7px; text-align:center; text-overflow:ellipsis; white-space:nowrap;">A photo posted by Ovation Productions (@ovationprod) on <time style=" font-family:Arial,sans-serif; font-size:14px; line-height:17px;" datetime="2015-03-21T14:30:03+00:00″>Mar 21, 2015 at 7:30am PDT</time></p></div></blockquote>
<script async defer src="//platform.instagram.com/en_US/embeds.js"></script>{/source}
{source}
<blockquote class="instagram-media" data-instgrm-captioned data-instgrm-version="4″ style=" background:#FFF; border:0; border-radius:3px; box-shadow:0 0 1px 0 rgba(0,0,0,0.5),0 1px 10px 0 rgba(0,0,0,0.15); margin: 1px; max-width:658px; padding:0; width:99.375%; width:-webkit-calc(100% – 2px); width:calc(100% – 2px);"><div style="padding:8px;"> <div style=" background:#F8F8F8; line-height:0; margin-top:40px; padding:50% 0; text-align:center; width:100%;"> <div style=" background:url(data:image/png;base64,iVBORw0KGgoAAAANSUhEUgAAACwAAAAsCAMAAAApWqozAAAAGFBMVEUiIiI9PT0eHh4gIB4hIBkcHBwcHBwcHBydr+JQAAAACHRSTlMABA4YHyQsM5jtaMwAAADfSURBVDjL7ZVBEgMhCAQBAf//42xcNbpAqakcM0ftUmFAAIBE81IqBJdS3lS6zs3bIpB9WED3YYXFPmHRfT8sgyrCP1x8uEUxLMzNWElFOYCV6mHWWwMzdPEKHlhLw7NWJqkHc4uIZphavDzA2JPzUDsBZziNae2S6owH8xPmX8G7zzgKEOPUoYHvGz1TBCxMkd3kwNVbU0gKHkx+iZILf77IofhrY1nYFnB/lQPb79drWOyJVa/DAvg9B/rLB4cC+Nqgdz/TvBbBnr6GBReqn/nRmDgaQEej7WhonozjF+Y2I/fZou/qAAAAAElFTkSuQmCC); display:block; height:44px; margin:0 auto -44px; position:relative; top:-22px; width:44px;"></div></div> <p style=" margin:8px 0 0 0; padding:0 4px;"> <a href="https://instagram.com/p/0ffk6CIpB8/" style=" color:#000; font-family:Arial,sans-serif; font-size:14px; font-style:normal; font-weight:normal; line-height:17px; text-decoration:none; word-wrap:break-word;" target="_top">Oh these boys putting up such a show! @onedirection @harrystyles @fakeliampayne @louist91 @niallhoran #OneDirectionMNL #otratmnl #OnTheRoadAgain1D #onedirection #OvationProductions Photo by @magicliwanag</a></p> <p style=" color:#c9c8cd; font-family:Arial,sans-serif; font-size:14px; line-height:17px; margin-bottom:0; margin-top:8px; overflow:hidden; padding:8px 0 7px; text-align:center; text-overflow:ellipsis; white-space:nowrap;">A photo posted by Ovation Productions (@ovationprod) on <time style=" font-family:Arial,sans-serif; font-size:14px; line-height:17px;" datetime="2015-03-21T13:51:54+00:00″>Mar 21, 2015 at 6:51am PDT</time></p></div></blockquote>
<script async defer src="//platform.instagram.com/en_US/embeds.js"></script>{/source}
{source}<div id="fb-root"></div><script>(function(d, s, id) {  var js, fjs = d.getElementsByTagName(s)[0];  if (d.getElementById(id)) return;  js = d.createElement(s); js.id = id;  js.src = "//connect.facebook.net/en_US/all.js#xfbml=1″;  fjs.parentNode.insertBefore(js, fjs);}(document, 'script', 'facebook-jssdk'));</script><div class="fb-post" data-href="https://www.facebook.com/ovationproductions/posts/907508729269406:0″ data-width="600″><div class="fb-xfbml-parse-ignore"><a href="https://www.facebook.com/ovationproductions/posts/907508729269406:0″>Post</a> by <a href="https://www.facebook.com/ovationproductions">Ovation Productions</a>.</div></div>{/source}
{source}<div id="fb-root"></div><script>(function(d, s, id) {  var js, fjs = d.getElementsByTagName(s)[0];  if (d.getElementById(id)) return;  js = d.createElement(s); js.id = id;  js.src = "//connect.facebook.net/en_US/all.js#xfbml=1″;  fjs.parentNode.insertBefore(js, fjs);}(document, 'script', 'facebook-jssdk'));</script><div class="fb-post" data-href="https://www.facebook.com/ovationproductions/posts/907505275936418:0″ data-width="600″><div class="fb-xfbml-parse-ignore"><a href="https://www.facebook.com/ovationproductions/posts/907505275936418:0″>Post</a> by <a href="https://www.facebook.com/ovationproductions">Ovation Productions</a>.</div></div>{/source}
{source}<div id="fb-root"></div><script>(function(d, s, id) {  var js, fjs = d.getElementsByTagName(s)[0];  if (d.getElementById(id)) return;  js = d.createElement(s); js.id = id;  js.src = "//connect.facebook.net/en_US/all.js#xfbml=1″;  fjs.parentNode.insertBefore(js, fjs);}(document, 'script', 'facebook-jssdk'));</script><div class="fb-post" data-href="https://www.facebook.com/ovationproductions/posts/907504215936524:0″ data-width="600″><div class="fb-xfbml-parse-ignore"><a href="https://www.facebook.com/ovationproductions/posts/907504215936524:0″>Post</a> by <a href="https://www.facebook.com/ovationproductions">Ovation Productions</a>.</div></div>{/source}
Were you at the concert? Will you be seeing them on Day 2? Tell us your favorite moments and relive the night in the comments below. – Rappler.com
More One Direction on Rappler here:
One Direction in Manila:
Day 2
Day 1
Arrival
Zayn Malik:
Other news: