Route 196's owners and patrons look back at music hub's history, legacy, and impact
Route 196 is a place many call home.
A roadside mainstay of Katipunan Extension is a humble one-story building whose neutral exterior leads to a pure musical wonderland. As Route 196 takes its final bow from the local music scene, many remember the role it has played in giving bands a place to thrive in for the past 16 years.
The making of a home
Originally a restaurant called the Border Grill in the mid 2000s, Route 196 was the brainchild by Monica Barretto, Geth Savellano, Eric Enriquez, Allan Madrilejos, and JP Balboa in 2007, who decided one night to invite their musician friends to play, despite having no sound system.
Located at 196 Katipunan Extension, the bar many know today as Route was after the success of the event prompted its former owners to change their business strategy and create a gig place in the residential area.
"Route at the time had so much potential," recalls current co-owner and Itchyworms member Jugs Jugueta.
"It used to be one of those small bars that had tugtugan (music hub). We, as the Itchyworms, first met JP [Balboa] because we played there. [Kelvin Yu], Ebe Dancel, and I used to hang out in Katipunan every night back then. We were young and had no money at the time, but we wanted the cheap beer that was in Katipunan."
With their backgrounds as true blue natives of Katipunan, it then became a no brainer for Jugueta and Yu when the original owners offered their shares to the two Itchyworm members. Lack of funds aside, they knew the space was something to bet on. Along with Spongecola drummer TedMark Cruz, Spongecola manager Saul Ulanday, chef Waco Mapua, and Red Ninja founder Nicole Sarmiento, they took on the reins of Route 196 in the mid-2010s and, inadvertently, the local music scene in that part of Quezon City.
"For every successful band that makes it, there are thousands that don't get the same success," said Jugueta and Ulanday, who, as a band member and band manager respectively, are painfully aware of the struggles bands gave in putting their music out there.
"Wala naman tayo dito para kumita ng pera, nandito nalang tayo para to give back. To give back to the scene who gave us so much (We're not here to make money, we're just here to give back)," said Ulanday, who said it was the mission of the partners to have a space for artists, regardless of genre, so they had a home to play their art.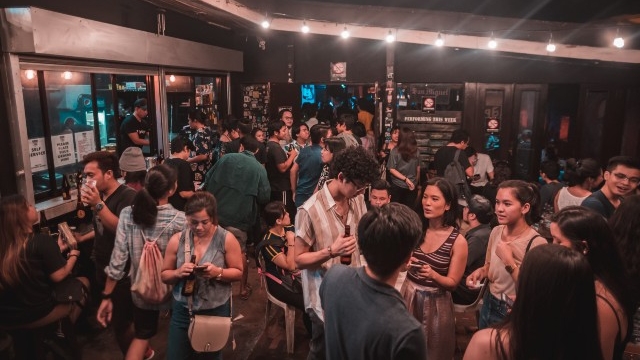 Where dreams are made
When Ulanday and Jugueta were in university, the entire strip from the intersection of Katipunan and Santolan up until Ateneo de Manila was full of little bars and haunts for gig-goers to listen to music. It was around this time that the Itchyworms started to get attention and other bands were entering the scene like wildfire. But as most college haunts go, the turnover happened quickly and bars started dropping like flies in the early 2010s, when music trends shifted to EDM.
"Lumiit at lumiit yung mundo. Lahat nagsara, kami lang natira (The world got smaller and everything closed. We were all that was left," Ulanday said.
Route 196, according to the owners, became the place to go to, just because it was one of the only ones left for bands to play in. It also became a sanctuary for young, upcoming bands.
While the owners, who are all Atenean, didn't intend for it to be this way, being near the universities added to its reputation.
According to Anj Mercado, the current president of the UP Music Circle (UPMC), "Route made a lot of dreams possible."
"You can just show up and you'll feel great. [You'll feel] included and accepted," said former Ateneo Musicians Pool (AMP) president Andy Pavia.
While Jugueta and Ulanday humbly joke that they became the default just because they were the only ones left, members of AMP and UPMC attest that Route 196 became the ground which many of their alumni found their footing in the local music scene.
"In every single gig that you're going to, it feels like you're making history or creating history," said Fiona Bacani, current External Relations head of UPMC. Many of AMP's younger members, for instance, consider Route 196 as their dream gig – mostly because of the acts who've played there before.
The flagship projects for these student organizations, such as UPMC's anniversary gig and AMP's annual album compilation launch, "had" to be staged at Route 196 as a ceremonial rite. It was a way of saying young musicians could be just as great as the musicians before them.
This constant stream of young musicians allowed Route's owners to achieve their vision of making Route 196 a launching pad for indie artists.
UPCM president Jairus Calpatura said while no one can pinpoint exactly when Route became an institution in the local music scene, it somehow just became the go-to for anybody who wanted to step into the music scene.
As stories of household names such as Itchyworms and Spongecola playing alongside newcomers such as Oh, Flamingo! started to circulate, the lore and magic of the tiny bar started to stretch far beyond the Katipunan strip.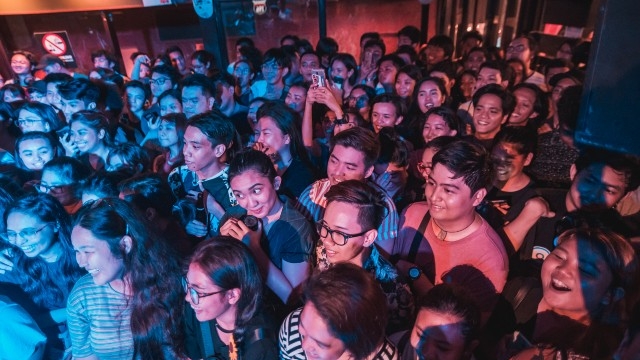 From strangers to friends
Part of the reason why so many people enjoy being in Route 196 is because of its quirks that people find endearing – yes, the lack of a proper parking area and its spot beside a busy highway included.
Kathy Gener and Anj Pessumal from Attraction! Reaction! remembered how the inaccessible nature of the place drew them to organizing gigs every first Saturday of the month for almost 9 years.
"We wanted the audience to watch the bands we would feature, the fact that the place wasn't easy to go to, yet people would still show up gave us the impression that they really go to watch the performances," said Gener and Pessumal.
Then, of course, there's the intimacy of a Route 196 gig.
On most nights, watching a performance meant being part of the performance. That there wasn't a huge holding room for performers also meant it was easier for musicians to interact with the bar's patrons.
It was a small and intimate place where you could be yourself and be met with no judgements.
Route 196's welcoming environment was also built through the selfless and caring staff. A highlight amongst them would be Kuya Mads, who has been with the place ever since it was first established.
Co-owner Nicole Sarmiento fondly looks back on her first few experiences in Route 196. "It was amazing that looking at it now, there's a sense of community already. It was amazing that such a small venue could hold so many people. It was a humble venue that had great music to enjoy with great people," said the Red Ninja founder.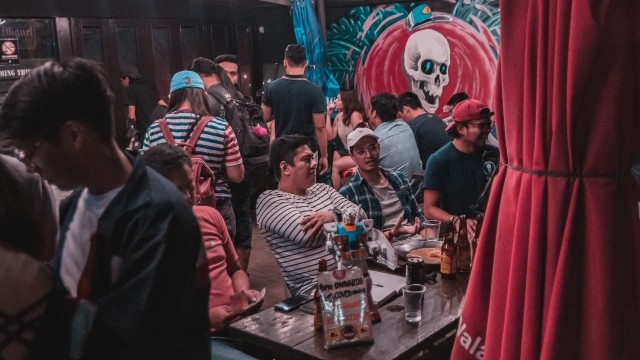 The Legacy of Route 196
As all good things must come to an end, Route officially announced on August 23, 2020 that the music hub would be closing its doors.
The announcement, to be realistic, should not have come as a surprise. Live events, after all, have ceased to exist since the coronavirus lockdowns began. What was a surprise to its owners, however, was the outpouring of grief over its closure.
"People have come up to us and asked if they could hold fundraisers or donations in order to help keep Route alive," said Sarmiento.
The current owners of Route 196 never expected much from its patrons when they first announced the closure. "We were overwhelmed. We couldn't keep up with the posts and responses. We knew for a bit that the place was already in danger but it was just nice to see the legacy we left," said Jugueta and Ulanday.
As a way to give a proper send off, they will be hosting their final gig on their Facebook page for free on September 12, 2020. They are also selling a custom made Route 196 Farewell shirt designed by Rob Cham, which can be ordered here.
And while the sting of losing one's musical home will take a while to heal, Jugueta is the first to say his thank yous.
"Thank you for everything. All the artists, prods, all those who came to support. For those that enjoyed and didn't. For those who became a couple and for those who broke up because of Route. Thank you to the people feeding the cats, thank you to the ones selling balut. Thank you to the neighbors who tolerated us. And so much more. Hanggang dito nalang e (We end here)," he said. – Rappler.com
Alexandra Goño and Renzo Guevara are Rappler interns