'Online concerts might not be perfect, but seeing as how they can be wellsprings of hope and excitement for fans in times as precarious as these, perhaps – for now – they are enough'
Despite travel restrictions and lockdowns worldwide, South Korean girl group Twice somehow managed to do the impossible: travel the world in a little more than an hour.
Twice's first virtual concert, titled Beyond LIVE: World in A Day, saw the girls breathe new life into the memories of Twicelights, their first world tour. The group had their first show in Manila during Twicelights, performing at the Mall of Asia Arena on June 29, 2019
With a little help from Onces, the group's global fanbase, the girls lit up the stage with well-known title tracks like "Cheer Up" and "TT" as well as with fresh tracks like "Shadow" and "Firework" off their latest mini-album, More & More.
Going beyond LIVE
It is no secret that the coronavirus pandemic has taken a toll on the K-pop industry. Concert postponements and cancellations for K-pop acts began in February, as South Korea fought to contain an outbreak in the city of Daegu. Twice's own finale concert in Seoul, which was meant to close out Twicelights, was cancelled late in February due to government restrictions.

Until the pandemic is fully reined in, live concerts in performance halls, stadiums, and arenas are suspended indefinitely. In the face of such uncertainty, the K-pop industry has attempted to push intersections of technology and performance in the hope of discovering mediums that – at the very least – parallel the concert experience.

Beyond LIVE, the platform used to air World in A Day, is the product of a joint venture between South Korean entertainment giants JYP Entertainment and SM Entertainment and tech giant NAVER and its V LIVE app. Beyond LIVE boasts the use of cutting-edge technology like augmented reality (AR) and special effects to usher in the "beginning of a new performance culture."
Twice is the first JYP group and the first girl group to use the platform, but SM groups such as SuperM, NCT127, and TVXQ! have already held their own concerts on Beyond LIVE prior to the girl group.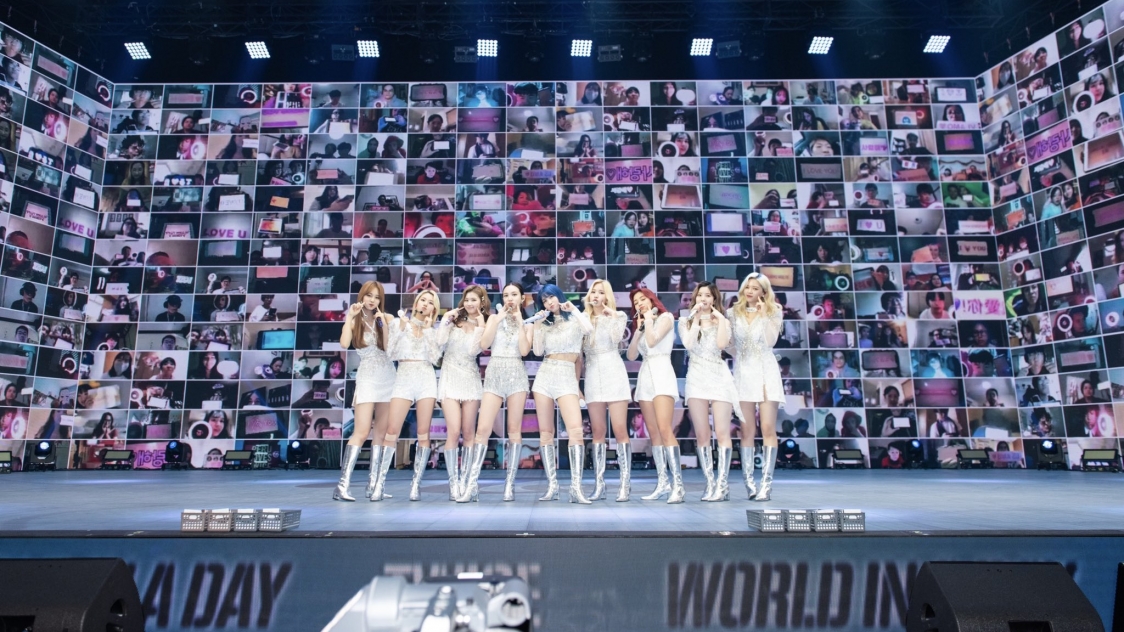 Nostalgia and New Memories
Given Twicelight's untimely end, World in A Day functioned as a de facto finale for the girls' first world tour. As backdrops representing tour stops flashed on the giant screen behind the group during performances, fans and the members reflected on Twice's growing global presence.
The group opened with remixes of "Stuck In My Head" and "Touchdown," much like they did during Twicelights, but managed to switch their setlist up by throwing in a new rock remix of "Fancy."
Rumors about a performance of the fan-favorite track "Love Foolish," written by Twice member Momo, proved to be true, and set Twitter ablaze with videos and gifs of new choreography. Twice also took the opportunity to premiere full performances of newer tracks like "Turn It Up," "Firework," "Shadow" during the show.
Member Jeongyeon was unable to participate in the concert due to injuries yet continued to deliver powerful vocals from a seat onstage and stood to join her fellow members during speeches.
World in A Day also served as a homecoming of sorts for Twice member Mina, who went on a hiatus in July 2019, in the middle of touring for Twicelights, due to bouts of "extreme anxiety." During their final speech, Mina also announced a forthcoming English version of Twice's latest title track "More & More".
The future of live performances?
Beyond LIVE: World in A Day has sketched out the arc of live performances for an indefinite amount of time. Yet streamed performances are not new to K-pop concertgoers outside of Korea, as music shows, concert DVD's, and recorded performances were often the medium through which international fans engaged with their idols.
K-pop concerts themselves were also mediated by cameras and screens pre-pandemic. Often, the only way that fans and audience members could see idol groups up close is if they had the resources to afford tickets that got them close enough to the stage.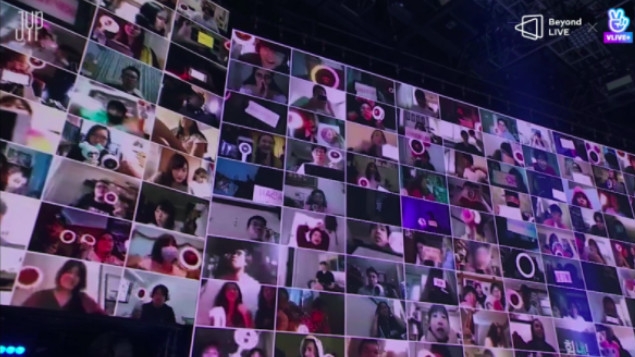 World in A Day ticked the boxes of an "actual" concert: the larger-than-life LED screens, the flashing lights, the costume changes – even the intermittent speeches in between numbers for Twice members to interact with fans and catch their breath.
But in some ways, could this be even better than "actual" concerts? The light work for Twice's performance of "Shadow" was facilitated by the small set and stage, and probably would not have carried the same visual weight in a concert setting. The mind-boggling cloning effect during the group's performance of "Yes or Yes" surely would not have been as convincing in person.
Fans can also opt to watch the concert in the comfort of their own homes, or wherever it is most convenient for them. Enjoyment carries none of the usual concert woes like stepping on anyone's toes, the long lines for the bathroom, or the traffic on the way out.
Yet all these minor, insignificant encounters seem worthy of missing now.
Performance studies scholar Suk Young Kim has made the argument that "live" performances in K-pop are not merely defined by how artists and fans share physical space and time. Rather, it's how fans at a venue connect with each other to produce a sense of "aliveness."
A challenge then, for virtual concerts, is not merely to bridge the gap between artists and fans, but to connect fans to each other in such a way that generates heung: an affective mode akin to excitement that, according to Kim, captures the "fluid and amorphous" aliveness of K-pop.
Ultimately, the greatest challenge of the present is learning to muster up all that we can with what little we have. Online concerts might not be perfect, but seeing as how they can be wellsprings of hope and excitement for fans in times as precarious as these, perhaps – for now – they are enough. – Rappler.com
Ally Benitez is a Rappler intern