Binibining Pilipinas Supranational 2019 Resham Saeed leads the queens in this year's call to support the LGBTQ+ community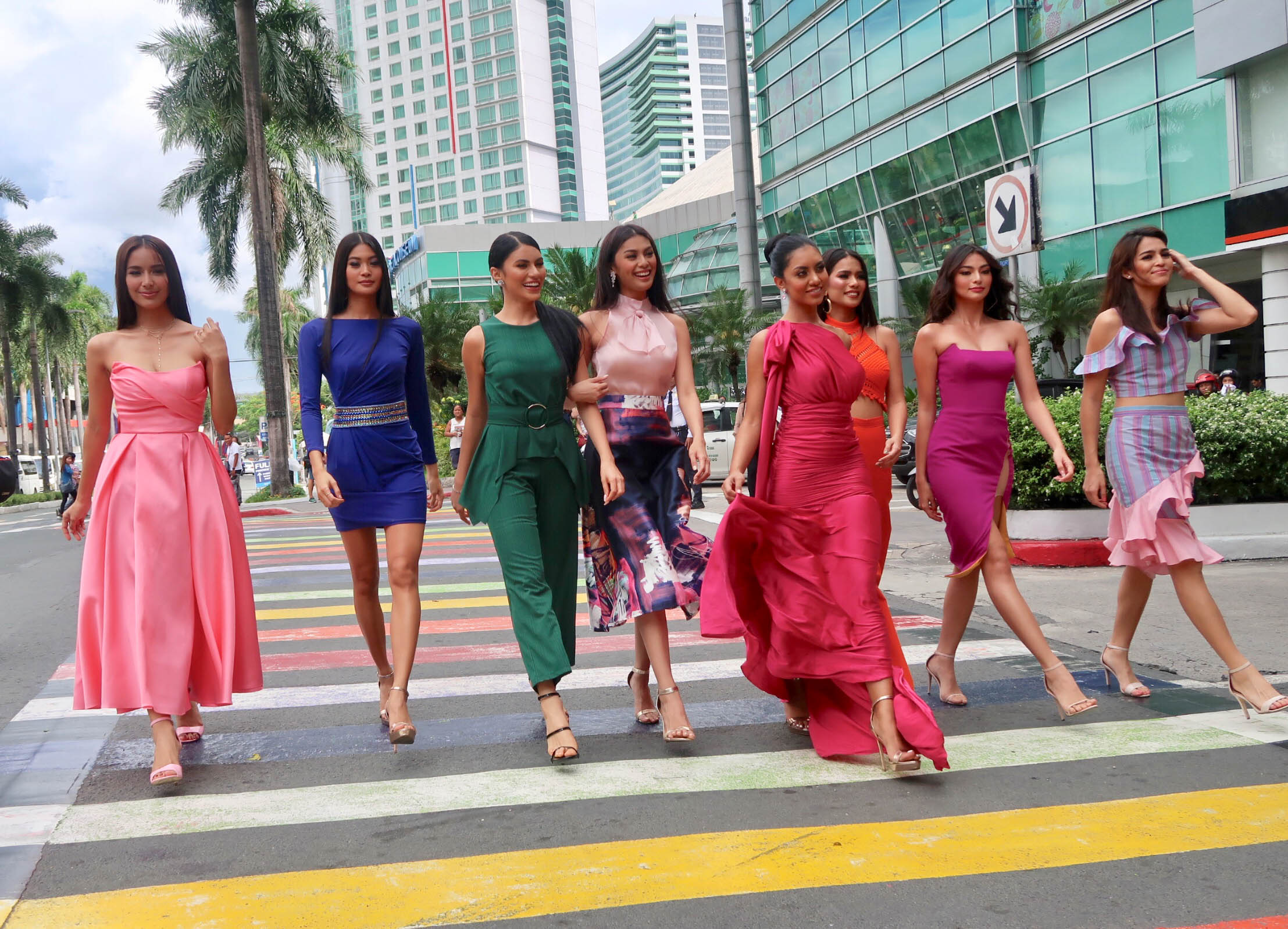 MANILA, Philippines — Diversity, inclusivity, and equality are buzz words that we've heard quite often in recent years. 
Although the Philippines is touted as one of the most gay-friendly nations in the world, there is still much to be done to ensure that members of the LGBTQ+ community are given the equal rights and treated with equal respect as their heterosexual brothers and sisters. In most cases, the biggest struggles of the LGBTQ+ community exist on a personal level.
Pride Month is celebrated in June as a commemoration of the Stonewall Riots in New York City, which occurred at the end of June 1969. What started out as a police raid of the gay bar, Stonewall Inn, turned into a violent protest against the maltreatment of the LGBTQ+ community now stands for the celebration of sexual diversity, dignity and pride.
The Binibining Pilipinas 2019 Queens came in full force and met the media at Black Scoop, Gateway Tower, near the Rainbow Pedestrians at the Araneta Center to show their support for the Pride March in the Philippines.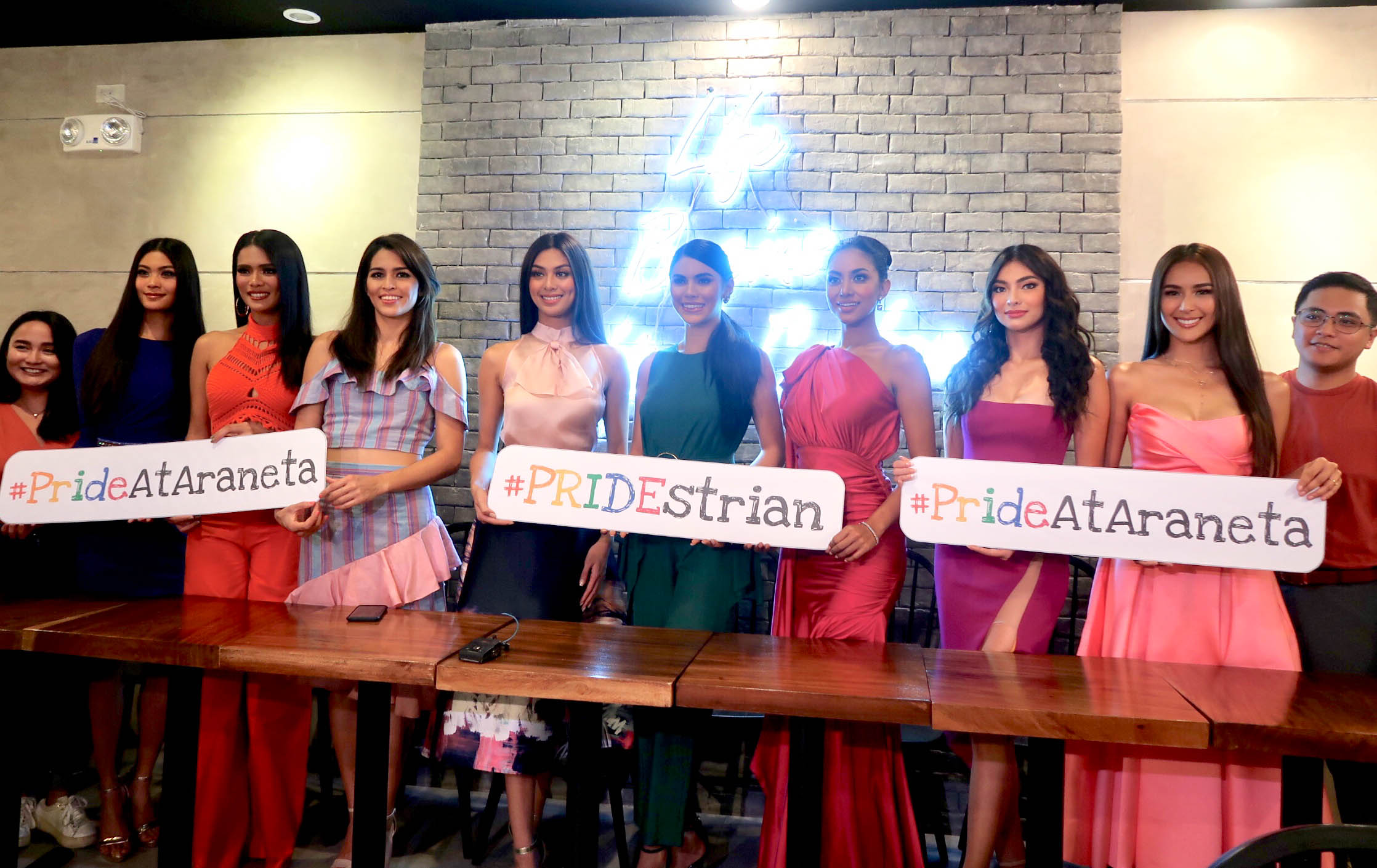 Bb. Pilipinas Supranational 2019 Resham Saeed, led the queens who feels very strongly in advocating for the LGBTQ+ community. She showcased her LGBTQ+ advocacy beautifully through her "Muslim-Filipino Queen" costume which featured a sarimanok headdress with colorful rainbow ribbons cascading from the back symbolizing the rainbow flag.
Resham said, "As some or all of you may know that I'm a supporter of the LGBTQ community, not only through my advocacy but it's something that's very dear to my heart. I've had a lot of friends who are from the LGBTQ community, I have relatives who are from the LGBTQ community. I've second-hand experience of the pain and the trauma that they go through. I think that yes, love is love. But to begin with love you must respect first. And to begin with respect, you must accept not just tolerate."
"That's really important especially where we are in our world today. It's important for us to reach for progressiveness, to reach for greater heights, to push our community to expand not only their mindsets but their hearts too. Let everyone enjoy their life the way they choose to live. I think that's what God would want, I think that's what we want for one another. We all want to be loved, we all want to be celebratedfor who we are. This month, that's what it's all about."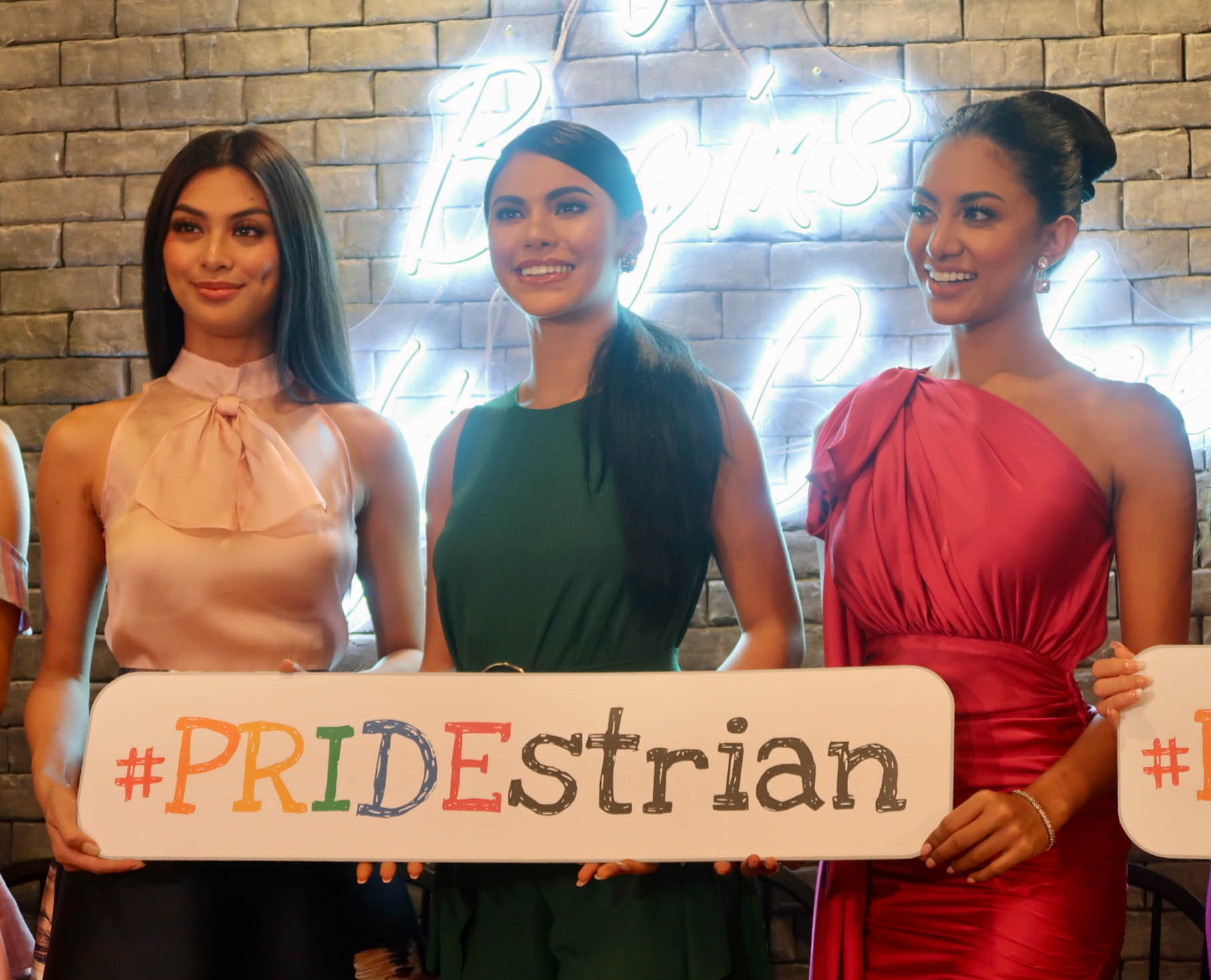 Here's what her Binibini sisters had to say about LGTBQ+ rights and Pride month:
Aya Abesamis, Bb. Pilipinas 1st Runner-up 2019: "Love is love. We are all here to love each and everyone."
Leren Mae Bautista, Bb. Pilipinas Globe 2019: "I'm so happy to be celebrating Pride Month together with my sister, Resham. I support it simply because my makeup artist, my friends, are all part of the LGBT community and they all amazing, very kind, very supportive, very talented. So why can't we have that equality in this country."
Samantha Lo, Bb. Pilipinas Grand International 2019: "I just want to say thank you for coming supporting the Pride Walk today and supporting Rae. I'm very proud of her and what she's done and I'm excited. We're gonna be at the march this weekend on Saturday. So I'll see you guys there. But like what Aya said, Love is love."
Samantha Bernardo, Bb. Pilipinas 2nd runner-up 2019: "This is a worldwide issue for all of us. They just don't want to be tolerated but accepted. It all boils down to one thing — respect. Respect each other's differences and celebrate their own identity. So I think it's a really good thing that one of our queens this year is supporting this cause. To have a voice for gender equality and for all us to be accepted."
Emma Tiglao, Bb. Pilipinas Intercontinental 2019: "We're supporting our sister because we are wearing vibrant colors to celebrate Pride Month. We should educate people about this and after that we can accept and respect. We should appreciate and love each other's differences"
Patch Magtanong, Bb. Pilipinas International 2019: "As a heterosexual, cisgender female, I can't even to understand what kind of difficulty that our LGBTQ+ brothers and sisters are going through. But it doesn't take a person to be a member of that community to understand that every person deserves equal rights. They're not asking for greater rights, they're asking for new rights, they're only asking for equal rights. I think this is something that everybody can support. So let's support the SOGIE Equality Bill and let's celebrate Pride Month."
Gazini Ganados, Miss Universe Philippines 2019: "Everyone deserves the equal rights and we fully support Rae with her advocacy and we're so proud of her. I'd like to keep it short by saying let us all be diverse and united at the same time."
When the Binibinis were asked which LGBT celebrities they admired, Gazini, Patch, and Samathana Lo all agreed that Boy Abunda is a Filipino celebrity who has done so much in uplifting the LGBTQ community. 
Aya and Leren cited legendary fashion designer Renee Salud as a very influential and inspirational person who has been very helpful in their lives. Samantha Bernardo mentioned BJ Pascual as an inspiration for his authenticity and knowing who he is at a very young age.
Emma said that if she could name all the designers she would but felt it was timely to say Frederick Peralta. She said, "He brought a big name in the industry. Right now, he needs our prayers and our support."
Resham said she really admires Manila Luzon for being an international trailblazer for Filipinos and the LGBTQ+ community. She also made a shout out to RuPaul for being such a huge part of helping bring awareness to mainstream society.
The Binibinis will be joining the Pride March on June 29, 2019 at the Marikina Sports Complex. — Rappler.com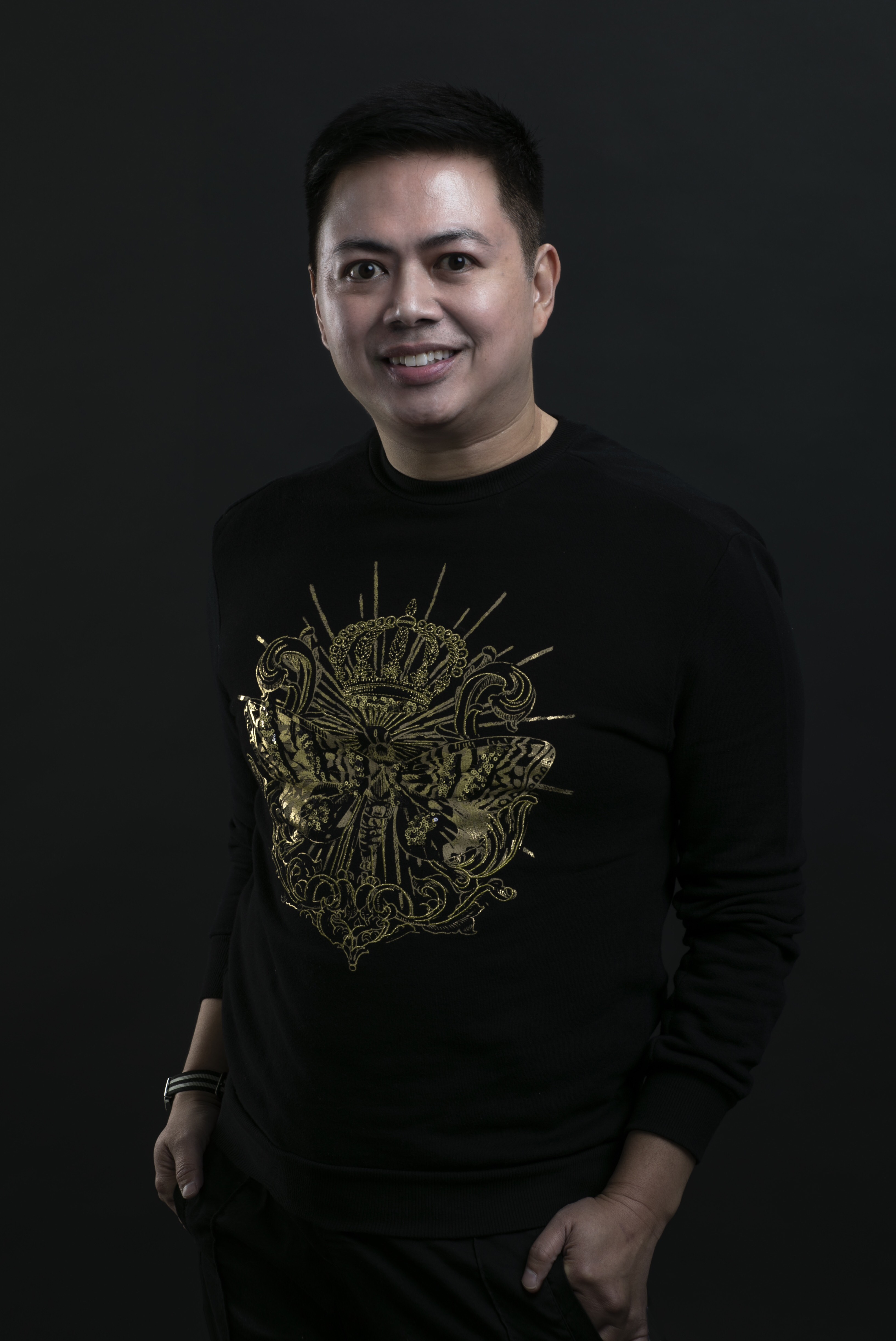 Voltaire has 10 years experience in the fashion industry. He previously worked with a luxury clothing and accessories brand in Los Angeles, CA. He graduated magna cum laude from the Fashion Institute of Design and Merchandising, major in Fashion Design. He also holds a BS in Applied Economics and BS in Marketing from DLSU. He is now doing real estate but finds ample spare time to pursue his passions.