Rappler contributor Voltaire Tayag reviews the 69th edition of the Miss Universe pageant
The year of uncertainty plagued the Miss Universe 2020 candidates because of the COVID-19 pandemic. With or without the pandemic, preparing for Miss Universe is a daunting task.
The mounting of this much anticipated pageant proves why Miss Universe reigns supreme above all others. To bring together all these phenomenal women from all over the world and stage a live pageant is admirable.
The hosting of the Seminole Hard Rock Hotel & Casino was paramount to this undertaking. It provided everything that a pageant could want: an official hotel, lots of scenic backgrounds, water elements, ballrooms and the all important venue.
The mental game
More than being a physical, runway, and style game, the Miss Universe competition is a mental game. Preparing for event without knowing a definite date is an enormous challenge in itself. It is but fitting to congratulate each and every candidate and their teams for overcoming tremendous obstacles to successfully compete.
There is huge pressure placed upon these young women, particularly from the pageant crazy countries like the Philippines, Thailand, Vietnam and Indonesia. Each and every move and outfit is scrutinized.
It was heart-wrenching to see Miss Universe Philippines Rabiya Mateo cry on social media for apologize for those who were disappointed with her national costume performance. Pageants fans don't realize some forms of criticism at the height of the competition can be counter productive. But she rallied her strength to put up a good preliminary performance.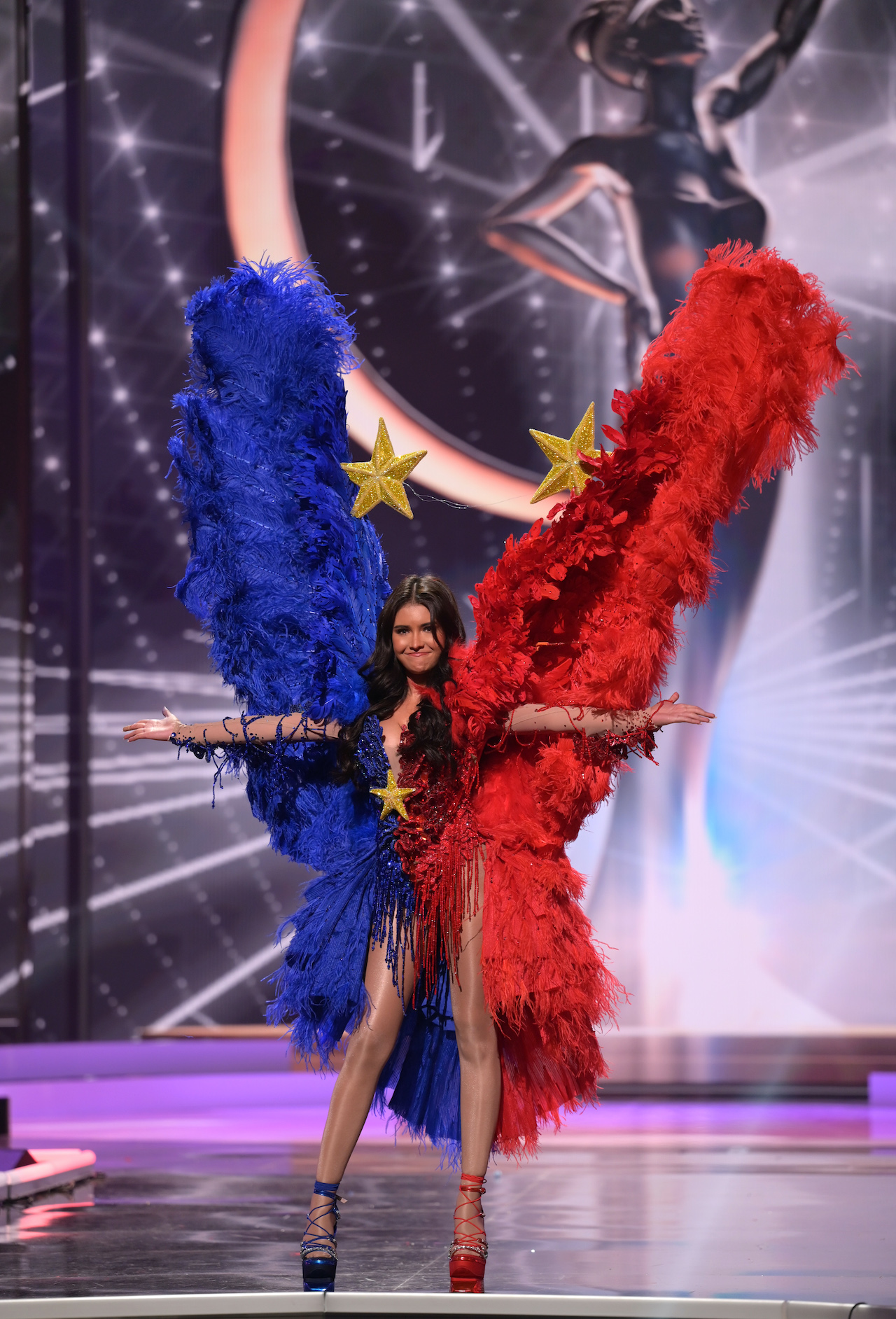 Perhaps, the best example of mental fortitude is Miss Universe Myanmar Thuzar Wint Lwin. On top of preps for the pageant, she also had to deal with the political unrest in her home country.
It didn't end there. Unfortunately, her luggage was allegedly lost by the airlines and did not arrive in Hollywood, Florida. This meant her outfits, national costume, and evening gown didn't make it on time. Thankfully, her Miss Universe sisters lent her outfits, her countrymen residing in the US sent her a national costume and the MUO supplied her with a red evening gown.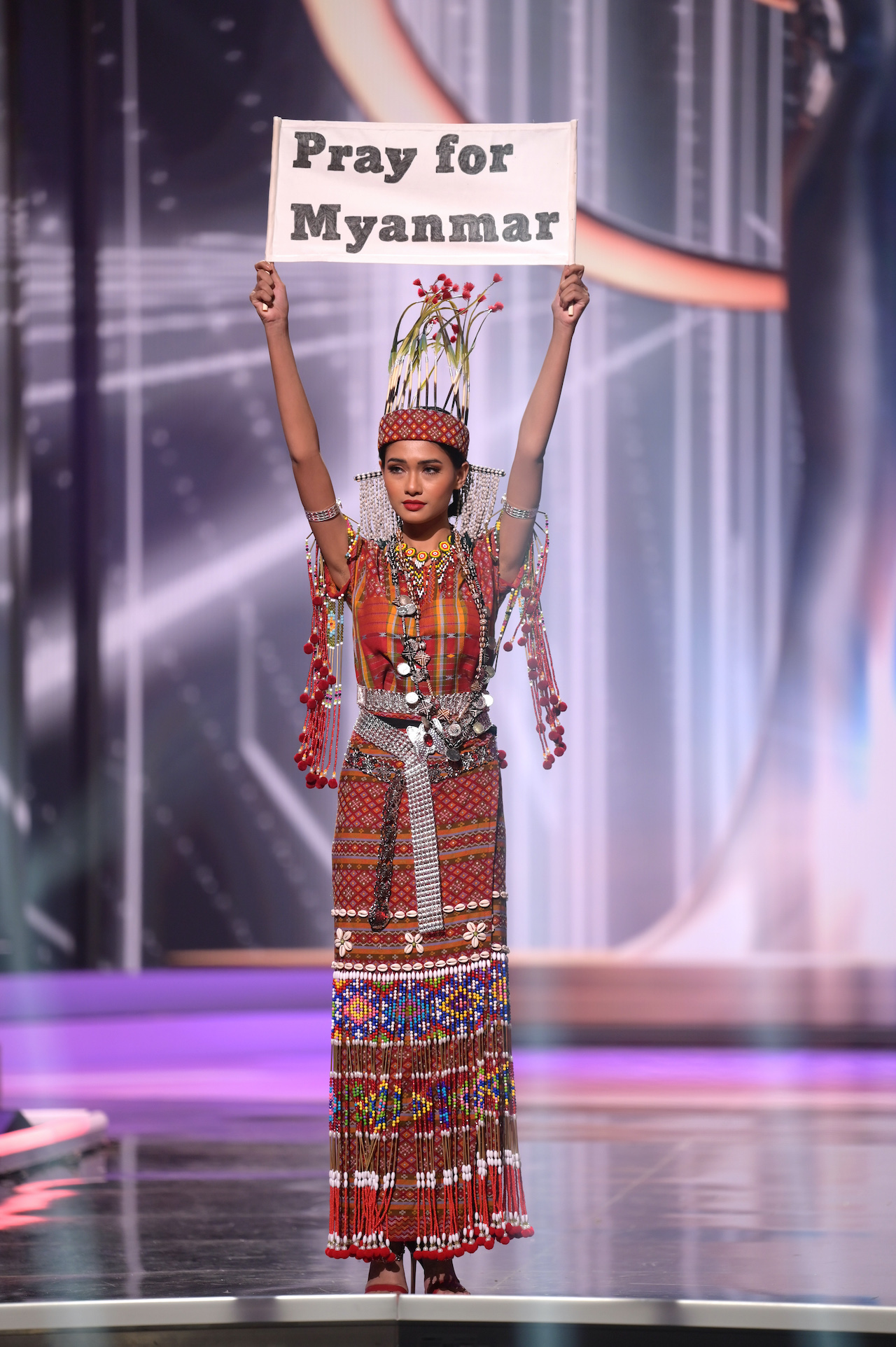 While many would have cracked under this stress, Lwin forged ahead. She ended up winning the Best in National Costume and landing the first ever semifinals placement for Myanmar. Now that's a strong woman right there.
The production
Although the preliminary competition left much to be desired, the Miss Universe pageant delivered during the finals night. The stage was as glossy as ever and those dominating LED screens screamed Miss Universe. 
While the pageant production lacked the excitement and exuberance we've come to expect from Miss Universe, we can't really be too critical because just to have staged it was already a feat. For future editions, I hope for the entertainment value to be amped up a lot more.
First and foremost, the comedic presence and energy of Steve Harvey was badly needed. Mario Lopez is a dependable host but Harvey's punchlines really spoiled us. 
In theory, having former Miss Universes host and provide is a good idea. But some are just not cut out for the job. Miss Universe 2012 Olivia Culpo's amazing stage presence was severely lacking in her hosting. She was overthinking and it showed.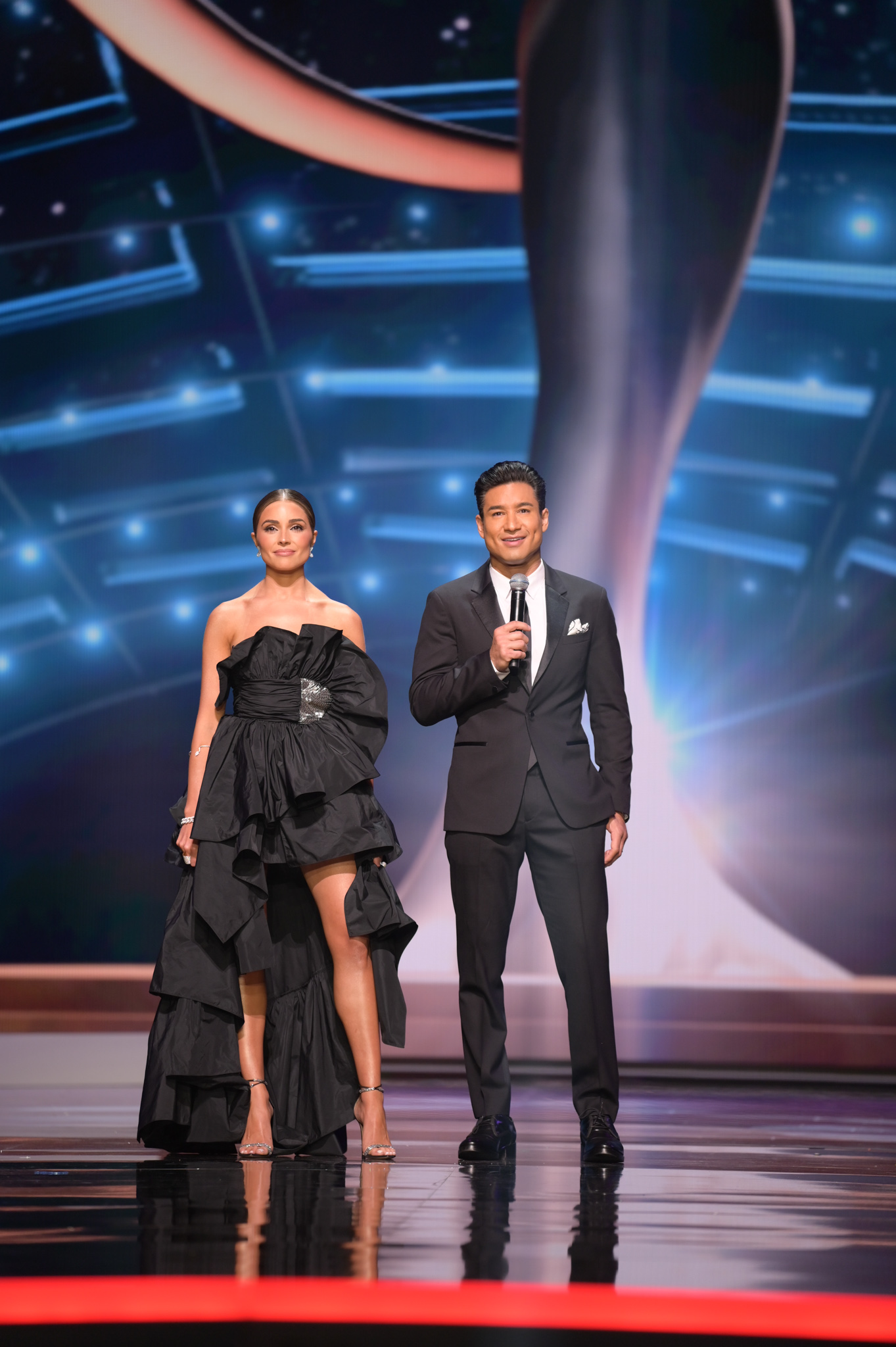 Paulina Vega and Demi Leigh Nel-Peters Tebow did not have the chemistry necessary to be the commentators. I love these two, but not as commentators. The tandem of Miss USA 2004 Shandi Finnessey and Carson Kressley provided a dynamic rapport that resulted in witty and entertaining insights.
Like in previous years, there were too many video packages. I just want to see everything happening on stage. Everything else can be uploaded on the Miss Universe app and watched on demand. I would have rather spent those valuable minutes allowing each candidate to walk out in their evening gowns.
The top 21
The top 21 installment announcement was anti-climatic and boring. It would have been far more thrilling to hear the successive calling out of countries in one segment. The contestant video profiles could always be shown after all of them had already been called out. Somehow, seeing all the semifinalists in one line visually creates an impact that is ingrained in the minds of viewers.
In my Best Bets List, I pointed out the fact that a majority of the judges were of Asian-American and Latin descent and the strong visibility of the Telemundo Network. Also, in the IMG/WME era of Miss Universe, there has not been a Latina winner. This led me to speculate that the chances of a Latina winning were quite high. With Asia being a strong and dominant market of Miss Universe, that too could very well influence the winner.
Thankfully, the semifinals' regional/continental groupings was eliminated. It assured that only the strongest candidates would advance to the semifinals regardless of the region. It proved to be beneficial to the two strongest regions of Asia & the Pacific (7 semifinalists) and the Americas (12 semifinalists). Europe secured only 2 semifinalist positions.
The top 21 were composed of the following:
Asia & the Pacific: Philippines, Indonesia, Thailand, Myanmar, India, Australia, Vietnam (fan vote)
Americas: Colombia, Peru, Jamaica, Mexico, Domincan Republic, USA, Argentina, Curacao, Puerto Rico, Brazil, Nicaragua, Costa Rica
Europe: France, Great Britain
Noticeably absent from the top 21 were Nepal, South Africa, Canada, Czech Republic, and Romania, who were top picks for many pageant watchers.
Their exclusion and the inclusion of Australia, USA and Great Britain in the semifinals can most likely be attributed to their preliminary interviews. This is the part that truly determines who judges would score favorably in other preliminary events. For South Africa, I really feel that her evening gown choice hurt her chances. 
The fact that the preliminary judges are the same as the telecast judges, it can be inferred the candidates' overall performance was factored in and not simply what the general audience saw on stage.
The swimsuit competition
It was great to see Filipino-owned Bragais Footwear as the official sponsor for the shoes during the swimsuit competition. All the candidates wore the silver "Jehza" style shoes along with the colorful and sexy Ema Savahl swimwear. 
The semifinalists swimsuit performance is extremely important because it determines who advances to the Top 10.
Great performers: Dominican Republic, Puerto Rico, Thailand, Brazil, Colombia
It was very nice to see countries like Myanmar, Nicaragua, and Costa Rica have their moment on stage. It is seldom that they get in and these three absolutely deserved their placements.
Sometimes, what is in a candidate's mind translates different on stage. Great Britain's version of fierce was to beat up the cover-up. In some cases, maybe they needed to amp it up much more like in the case of Jamaica. She's a professional model but being in a pageant is a different game.
On Rabiya Mateo's swimsuit performance
I know that many are speculating that her national costume performance affected her mental game. But landing in the Top 21 on her own merit and without the fan vote proves that she performed well in the preliminary swimsuit and evening gown portions.
Throughout her reign, I have been extremely supportive of Rabiya and will continue to do so. I  certainly would have wanted her to progress futher, at least into the Top 10. That way, she can showcase her astonishing Furne Amato "Phoenix Rising" inspired evening gown.
However, I can also be objective in my assessment of her performance.
During the swimsuit, I felt that she was either nervous, overthinking, or both. It registered on her face throughout the entire runway. I kept waiting for her to break out into her glorious smile but it didn't happen. It was like she inhaled and never allowed herself to exhale.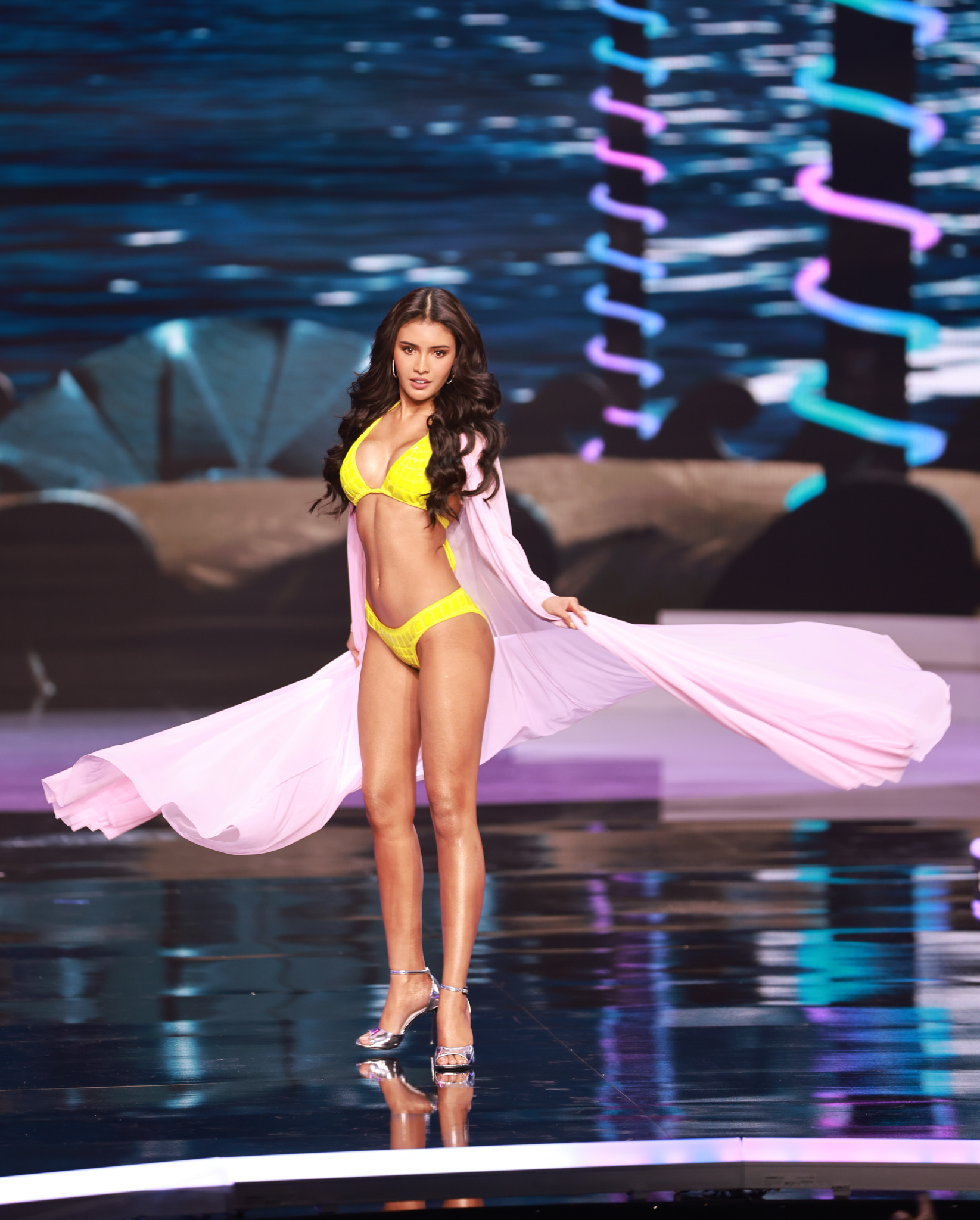 On stage, a smile and simply having fun is usually interpreted as confidence. But if the judges see a face that is overthinking, it can be construed as lack of confidence or lack of joy. 
Candidates who look the happiest on stage tend to do better.
The Top 10 evening gown competition
Proving earlier Latina and Asian showdown speculations were the top 10. We had 7 from the Americas and 3 from Asia & the Pacific. 
Asia: India, Australia, Thailand
Americas: Jamaica, Dominican Republic, Peru, Puerto Rico, Costa Rica, Mexico, Brazil
Without a doubt, this is my favorite part of the competition. This year, the candidates delivered with spectacular gowns.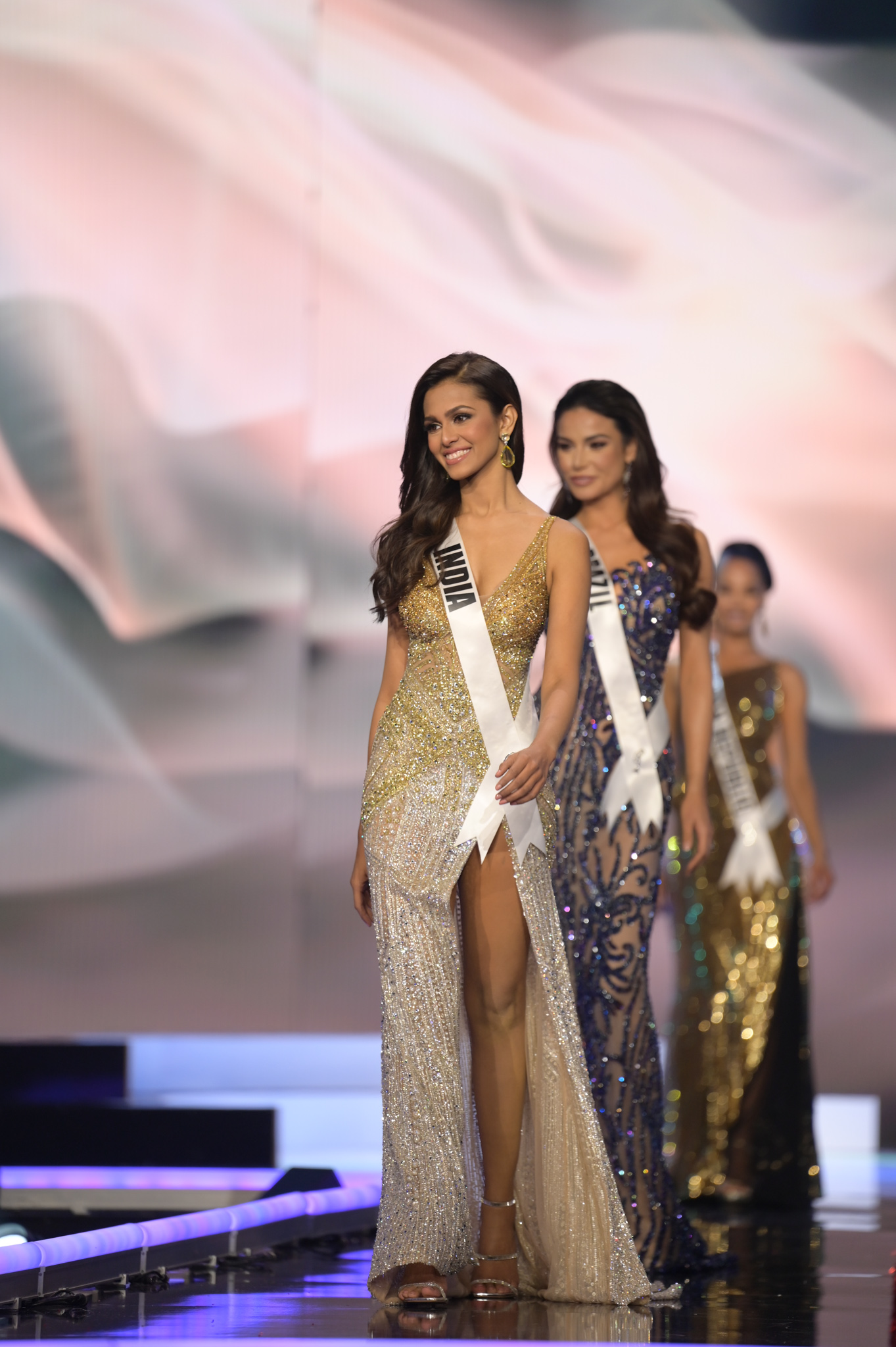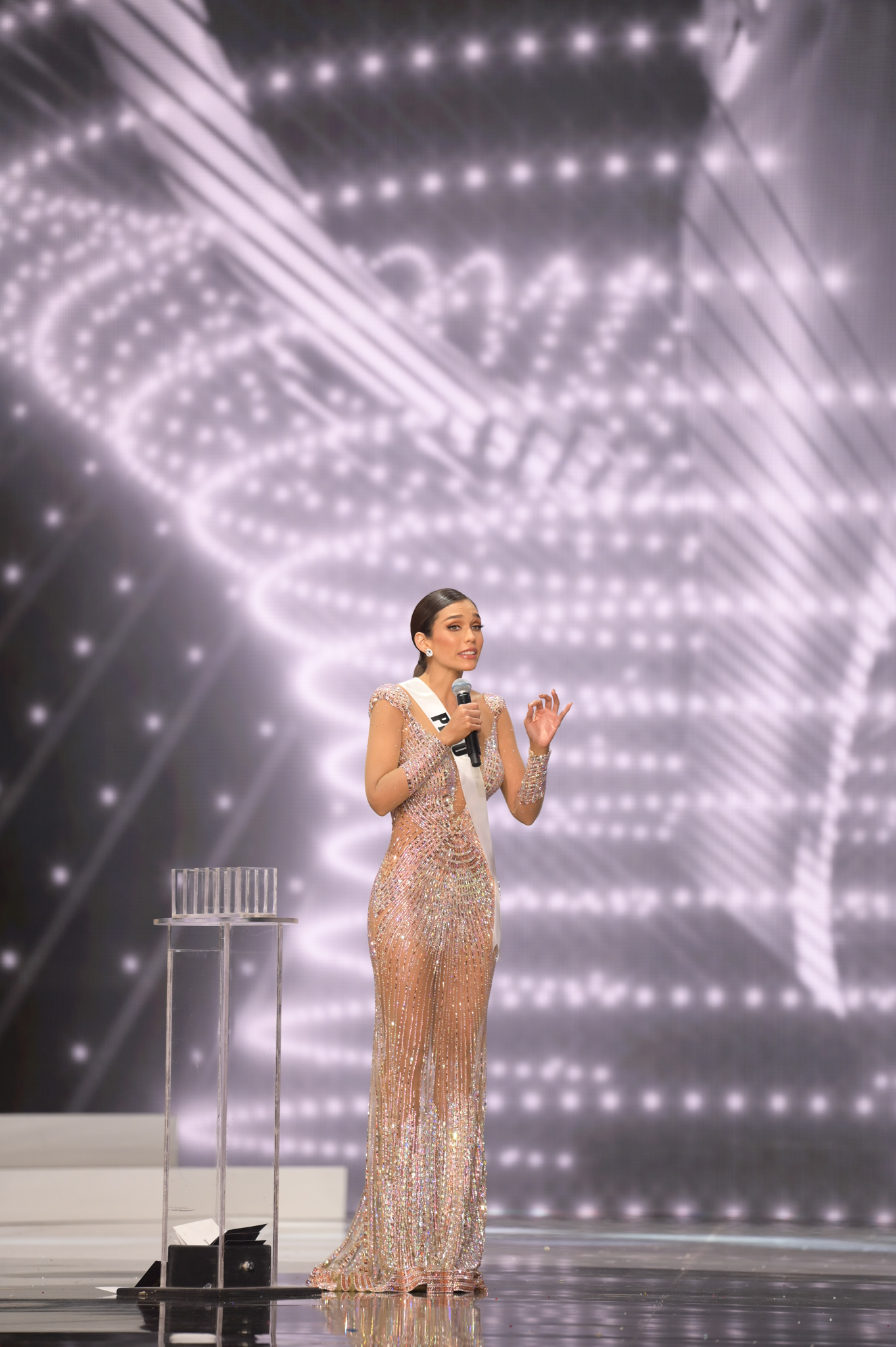 A favorite among candidates is the sheer, nude illusion, crystal embellished gown in all its variations. India, Peru, and Brazil had the best of this style. Brazil's Julia Gama was a reimagined version of Jessica Rabbit.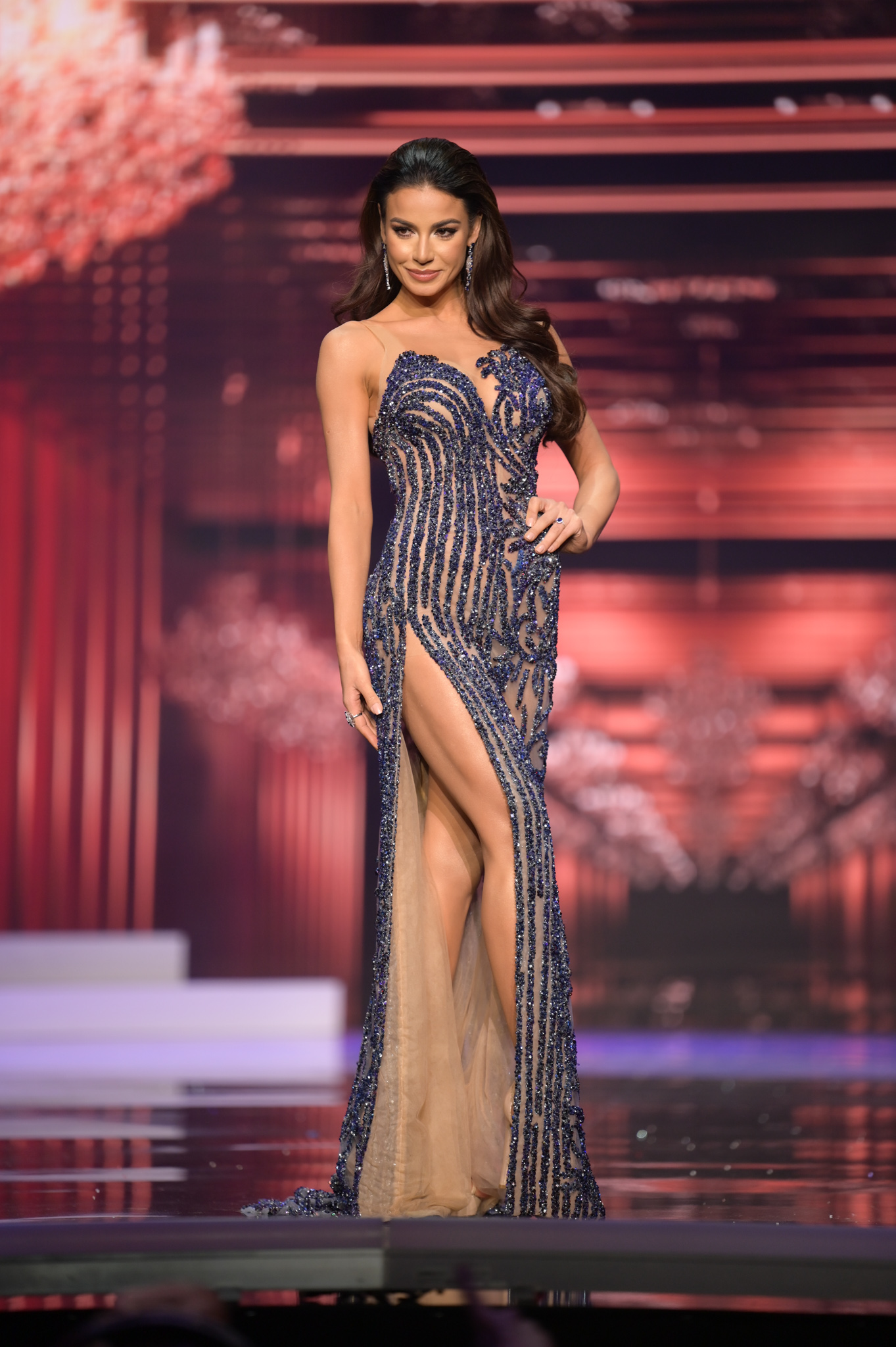 Dominican Republic's Kimberly Jimenez was a golden goddess in this asymetric gold gown with that sleek, elegant hairstyle.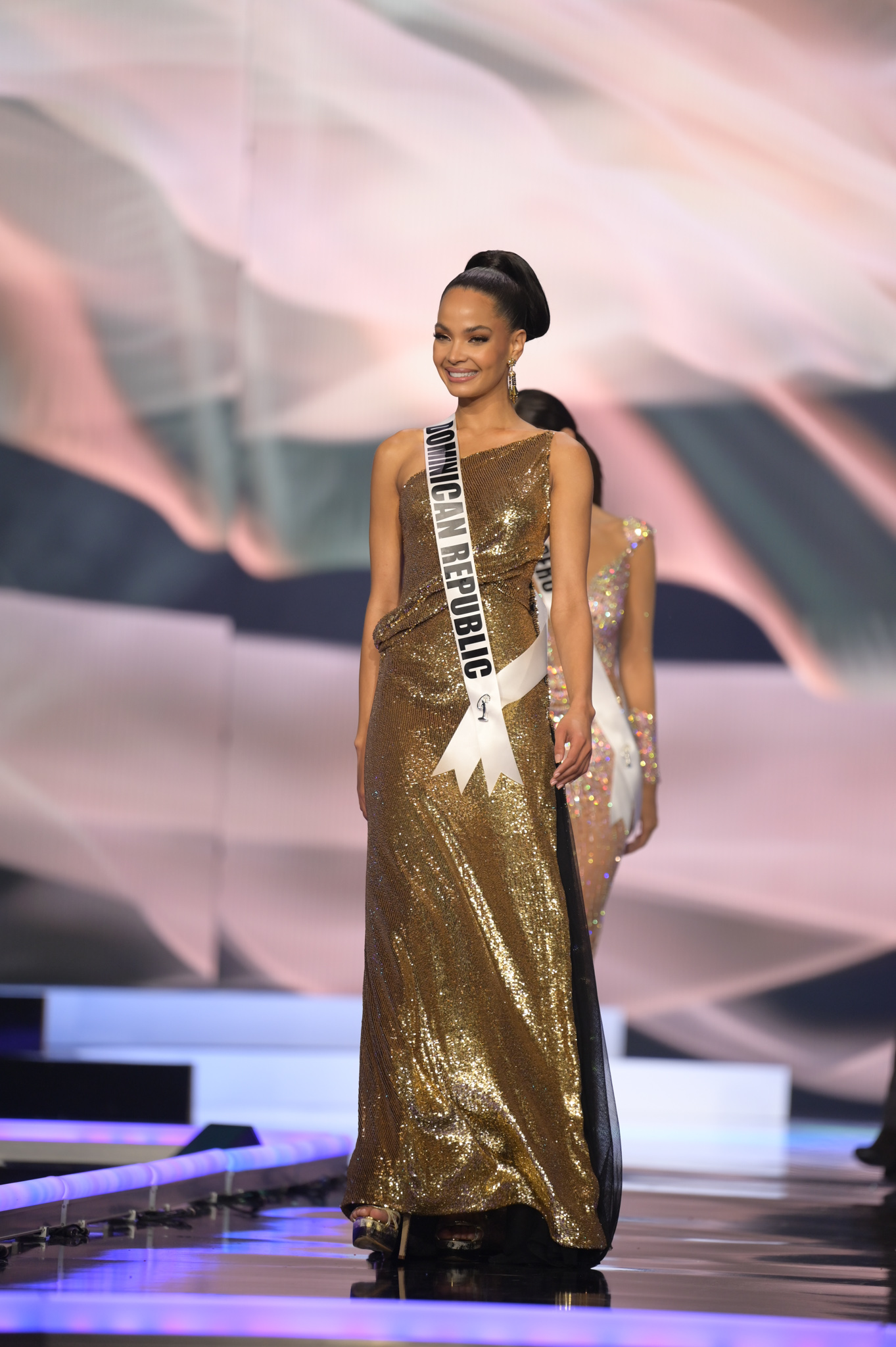 Jamaica looked exceptionally beautiful in that crushed silver gown with golden flecks. But again, she was another stunner who was either nervous or overthinking, which translated to a flat performance. She needed more energy.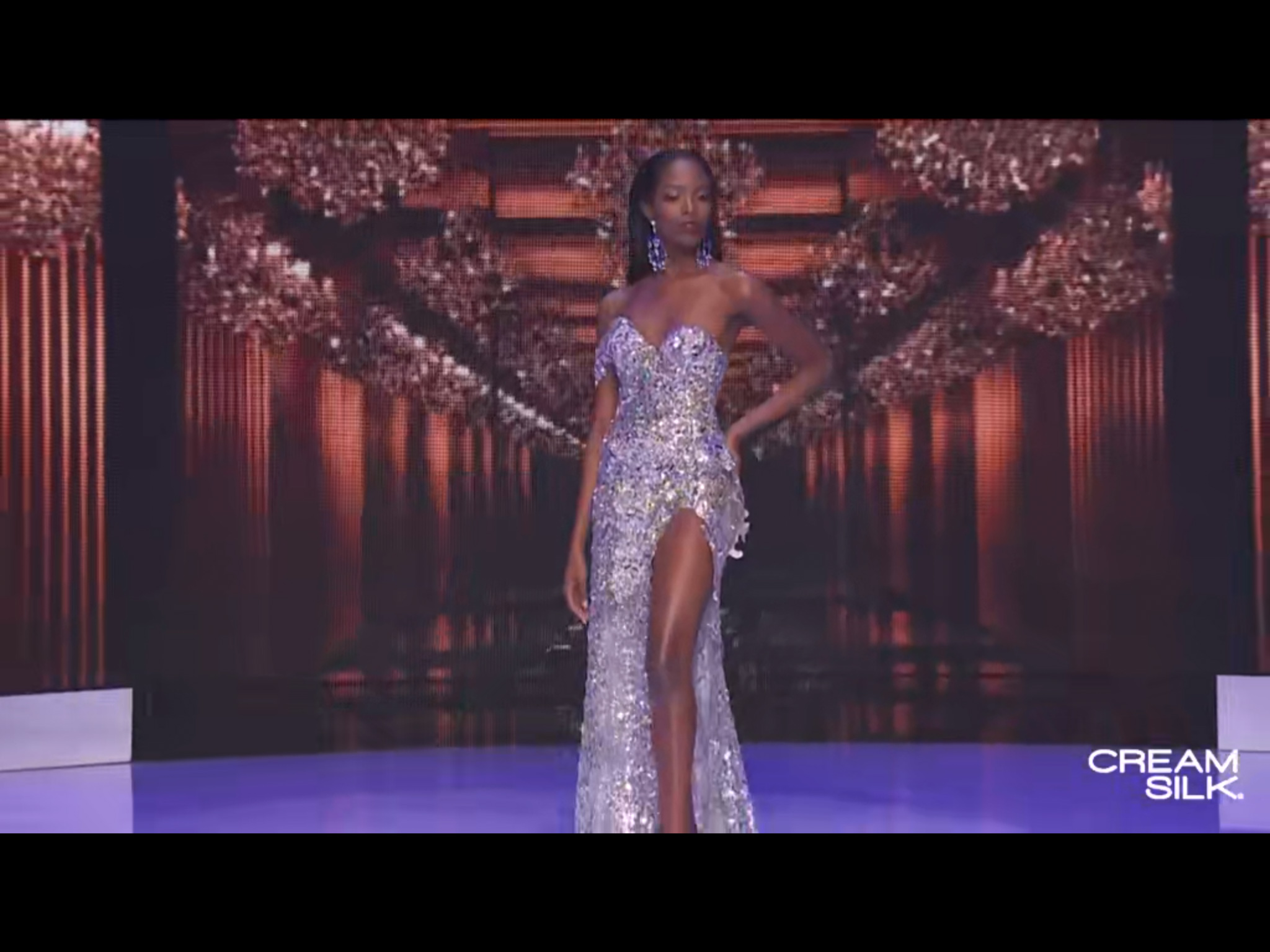 Thailand's Amanda Obdam started her Miss Universe journey with an impeccable style and she finished it beautifully. Her Phuket ocean/sea inspired gown was exquisite.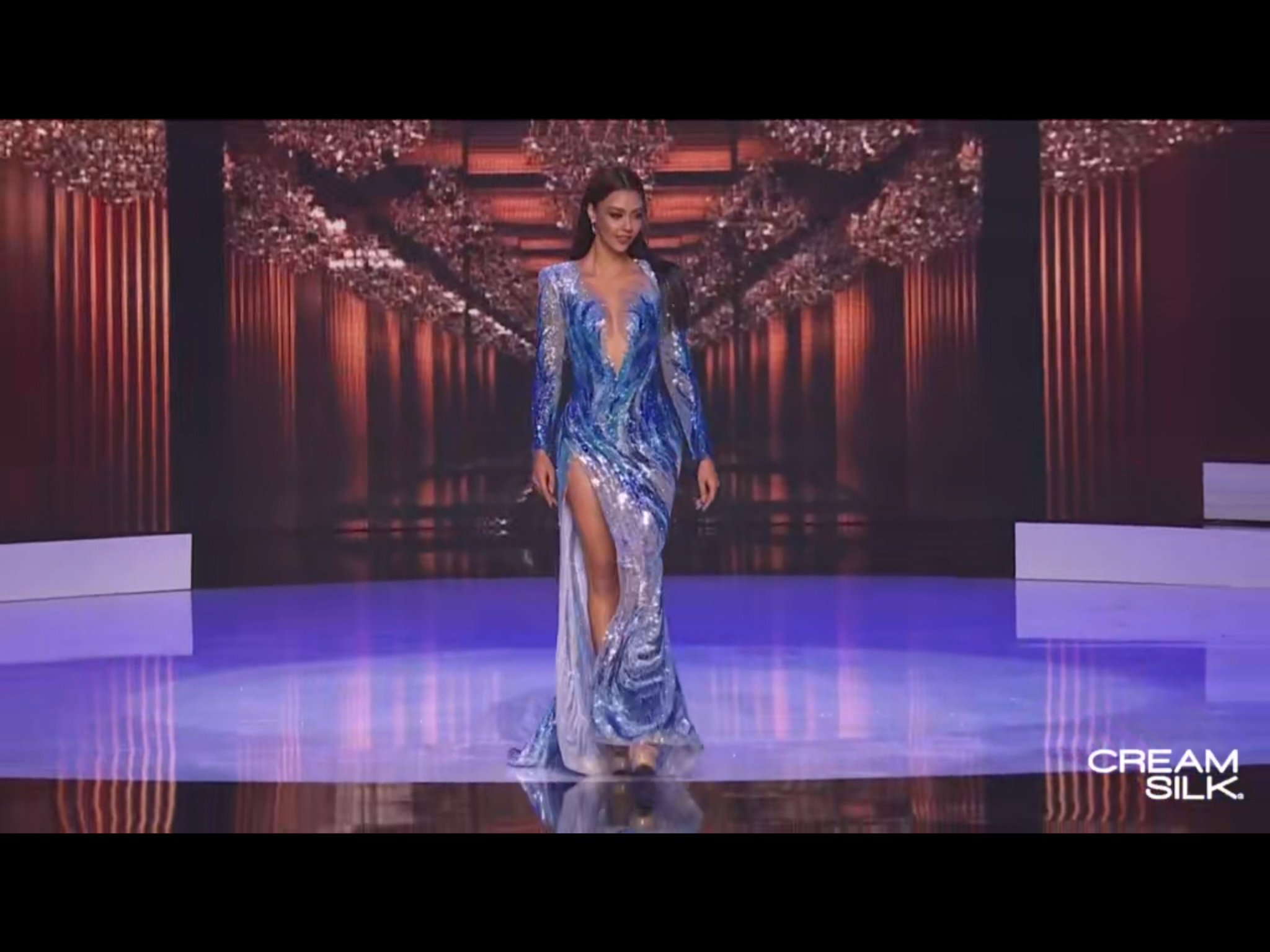 Costa Rica's Ivonne Cerdas wore the most quintessential pageant gown – an asymmetric, beaded, high slit red gown with a plunging neckline and a train. It complemented her long, black, shiny hair.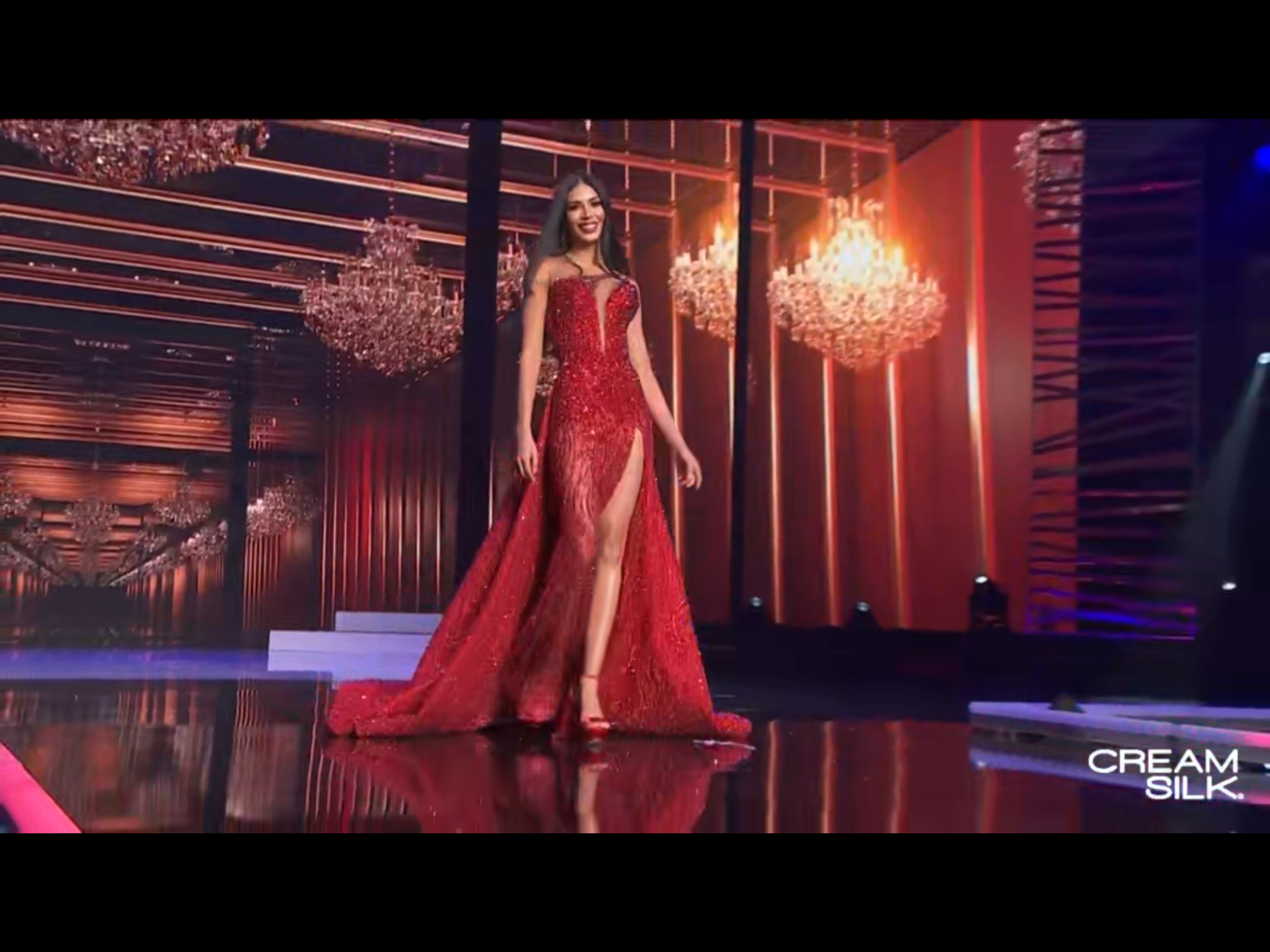 Mexico's Andrea Meza came out in a red, heavily embellished gown with a scalloped, fringe skirt, beaded top and a draped sleeve detail. I felt it was very busy and over designed.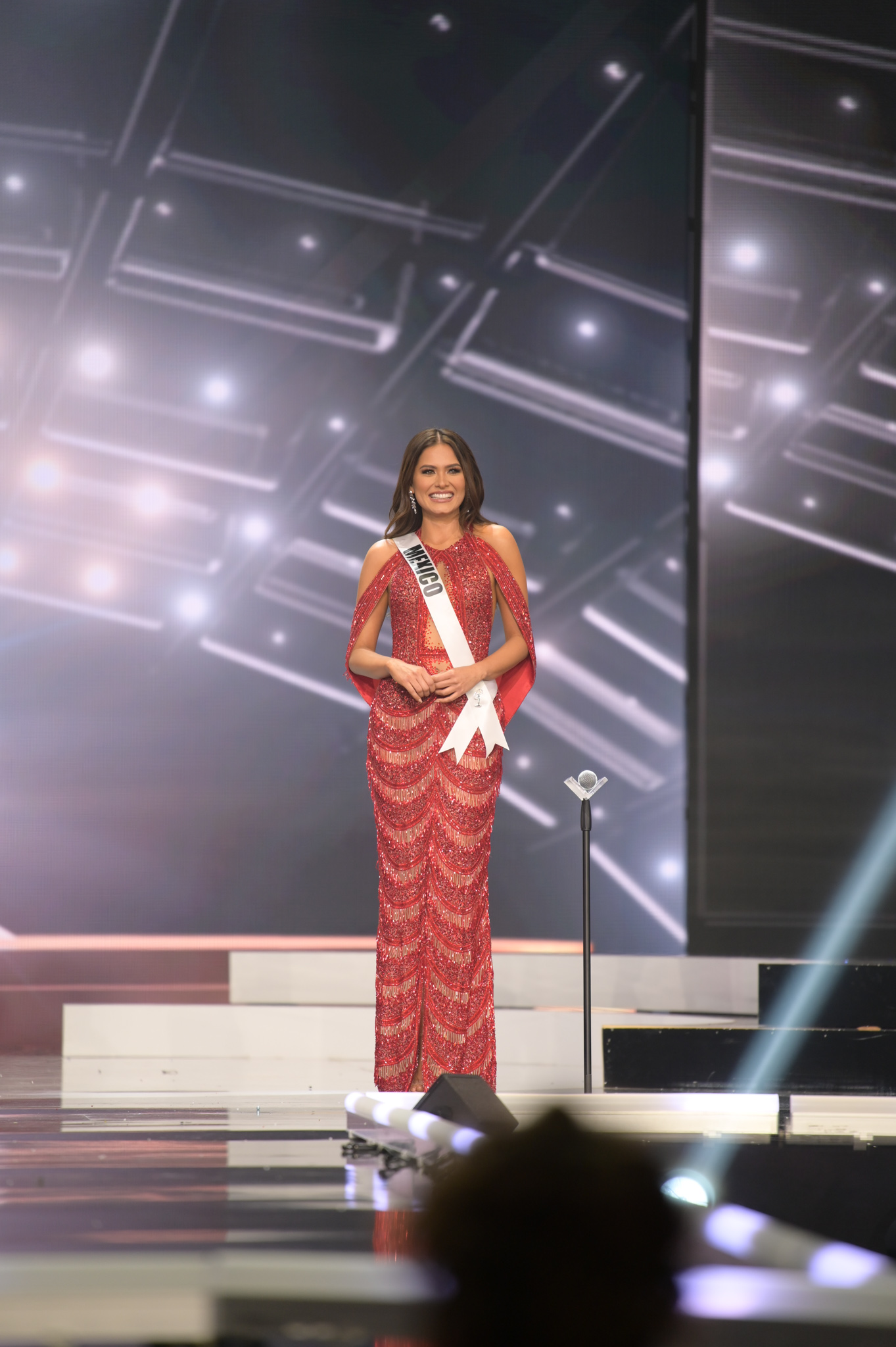 Puerto Rico's gown featured a barely there, crystal encrusted top and a white fringe skirt. If you are trypophobic, like myself, this gown is certainly not for you. It did not do justice to her beauty unlike the green, pleated gown she wore in the preliminaries. Had she worn a white version of that, it may have landed her a spot in the Top 5.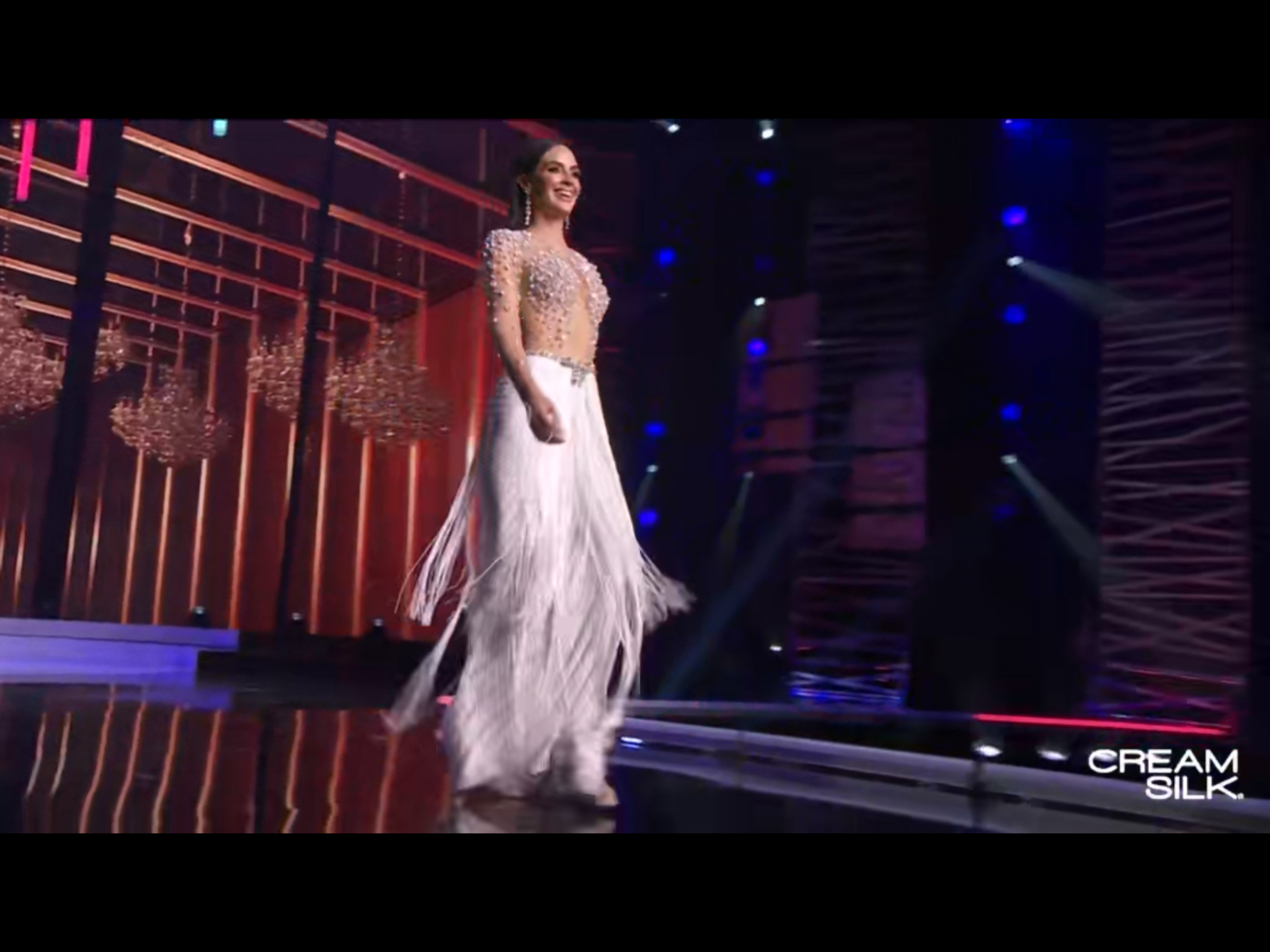 The Top 5 placements
What many viewers fail to consider is that at this point of the competition, a judge's preferences and biases go into play in a big way. It is not merely about how contestants answer the final questions.
If the judge is smart, they will take everything into consideration. Choosing a winner based solely on the final question is something I've never agreed with. Imagining which candidate would be the best Miss Universe should be the guiding factor.
Clearly, the results proved that this was the judges' mindset.
Based on the final portions, I felt that Peru was overwhelmingly convincing as a winner. Brazil and India seemed to also answer with strength and conviction. Brazil has a very charming way of delivering her answers. India sounded powerful and intelligent. The Dominican Republic had okay answers but delivered her answers with such warmth, although she went way beyond the time limit. 
Miss Universe 2020: Andrea Meza of Mexico
During Mexico's Andrea Meza's first Q&A, I thought she answered a bit slow. But that could be because she was translating her thoughts into English. It was in the final statement, which she answered in Spanish, that I could feel her passion a bit more. She has a very chill vibe which worked to her favor.
She was asked by Miss Universe 1997 Brooke Lee how she'd handle the COVID-19 pandemic if she were a leader in her country.
She said: "I believe there's not a perfect way to handle this hard situation such as COVID-19. However, I believe that what I would have done was create the lockdown even before everything was that big. Because we lost so many lives and we cannot afford that. We have to take care of our people. That's why I would've taken care of them since the beginning."
This is one question that all the candidates should have prepared an answer for. Whether or not Mexico prepared for it, it's great that she answered in a way that felt organic – as if she came up with a thoughtful and realistic answer on the spot. That, coupled with a probably amazing preliminary interview and her beauty, made the judges really see her as the perfect representative for Miss Universe this year.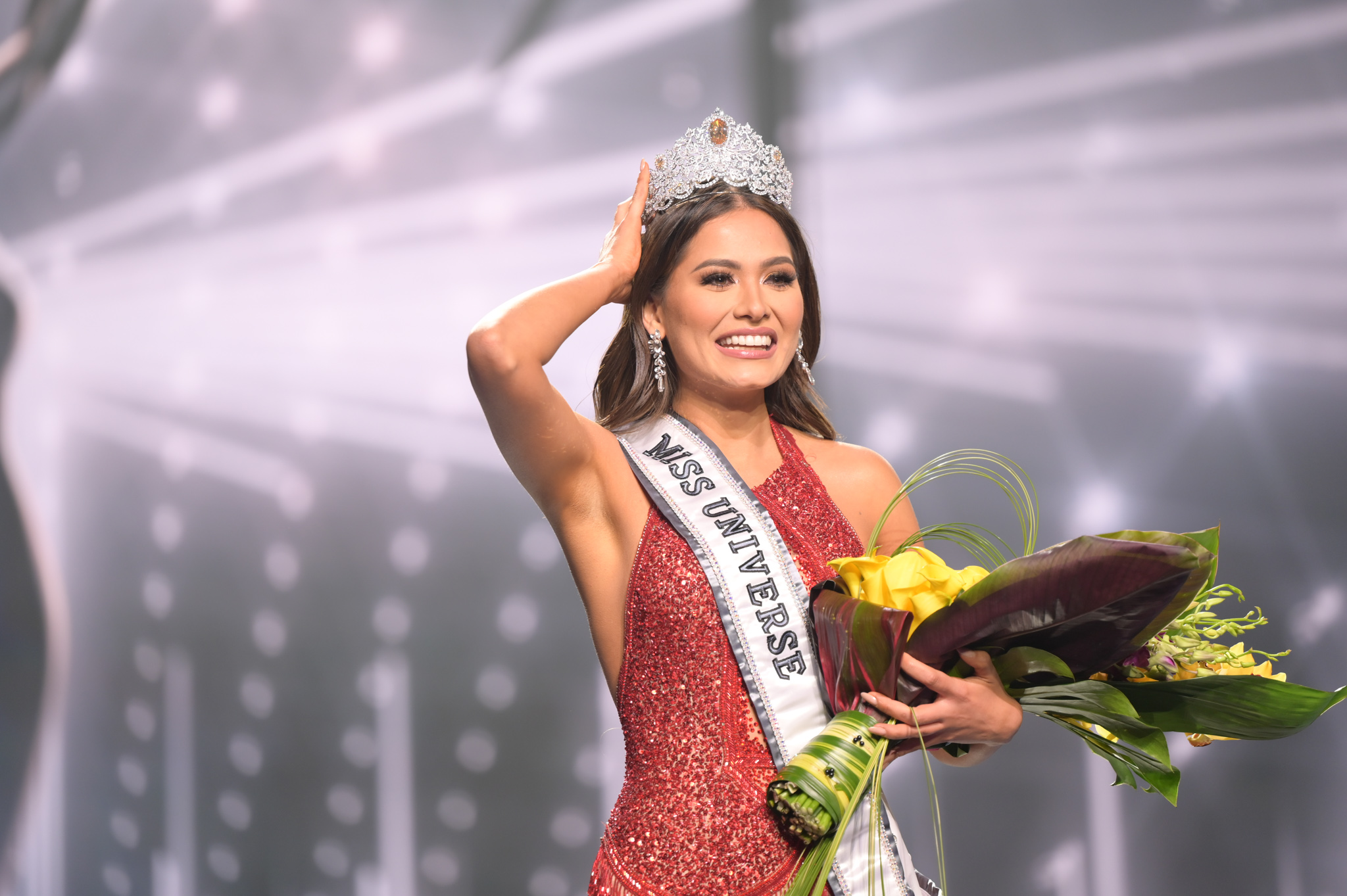 Andrea is the third Mexican woman to win the crown along with Lupita Jones (1991) and Ximena Navarrete (2010). Incidentally, all three of Mexico's crowns were won in the US.
1st Runner-up: Julia Gama of Brazil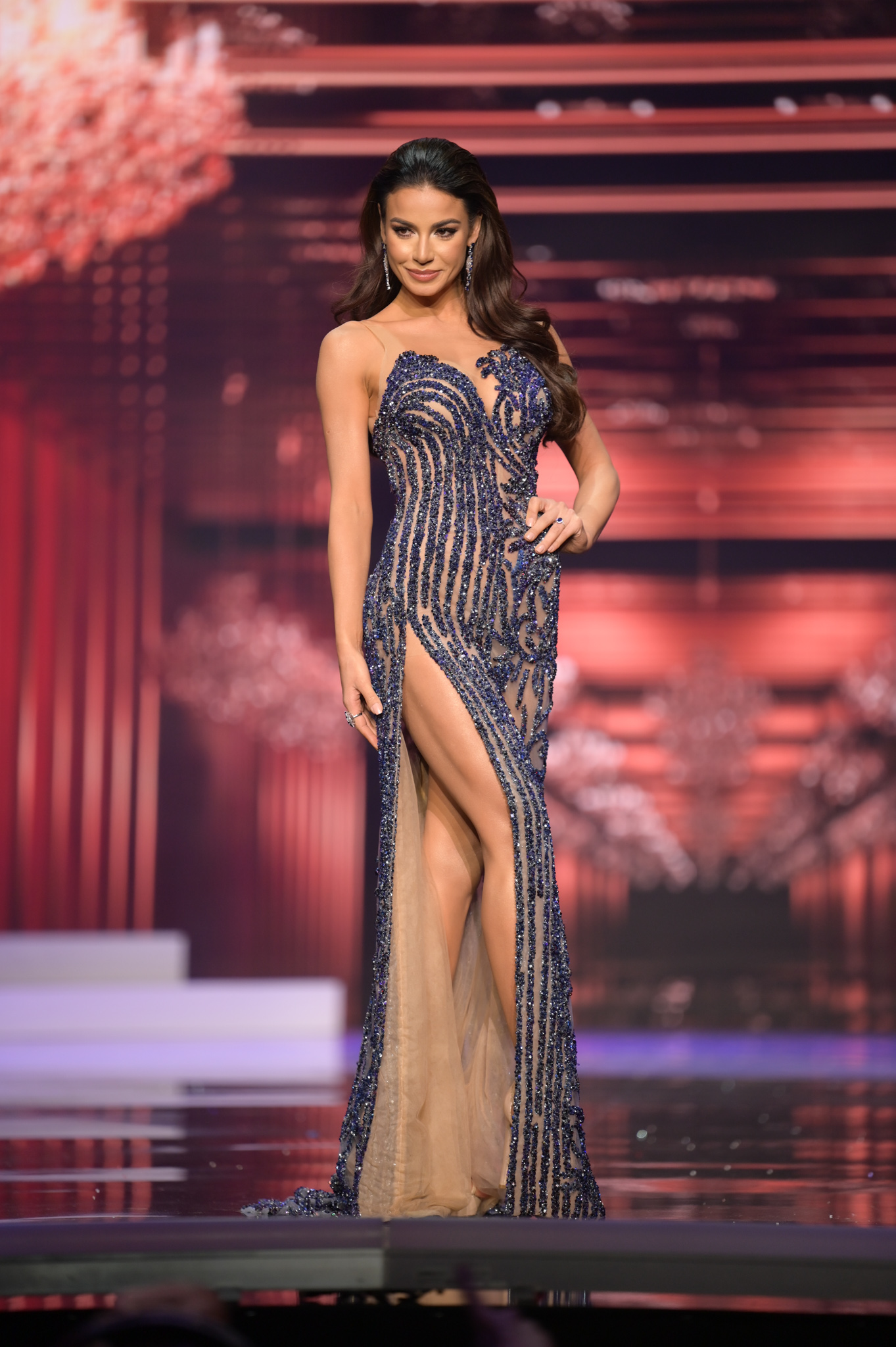 With a beautiful face, amazing body, and charming personality, I actually thought she would be the winner when it was down to just two. Brazil now has a total of 6 1st runner-up placements (1954, 1957, 1958, 1972, 2007, 2020). That's quite an achievement.
2nd Runner-up: Janick Maceta of Peru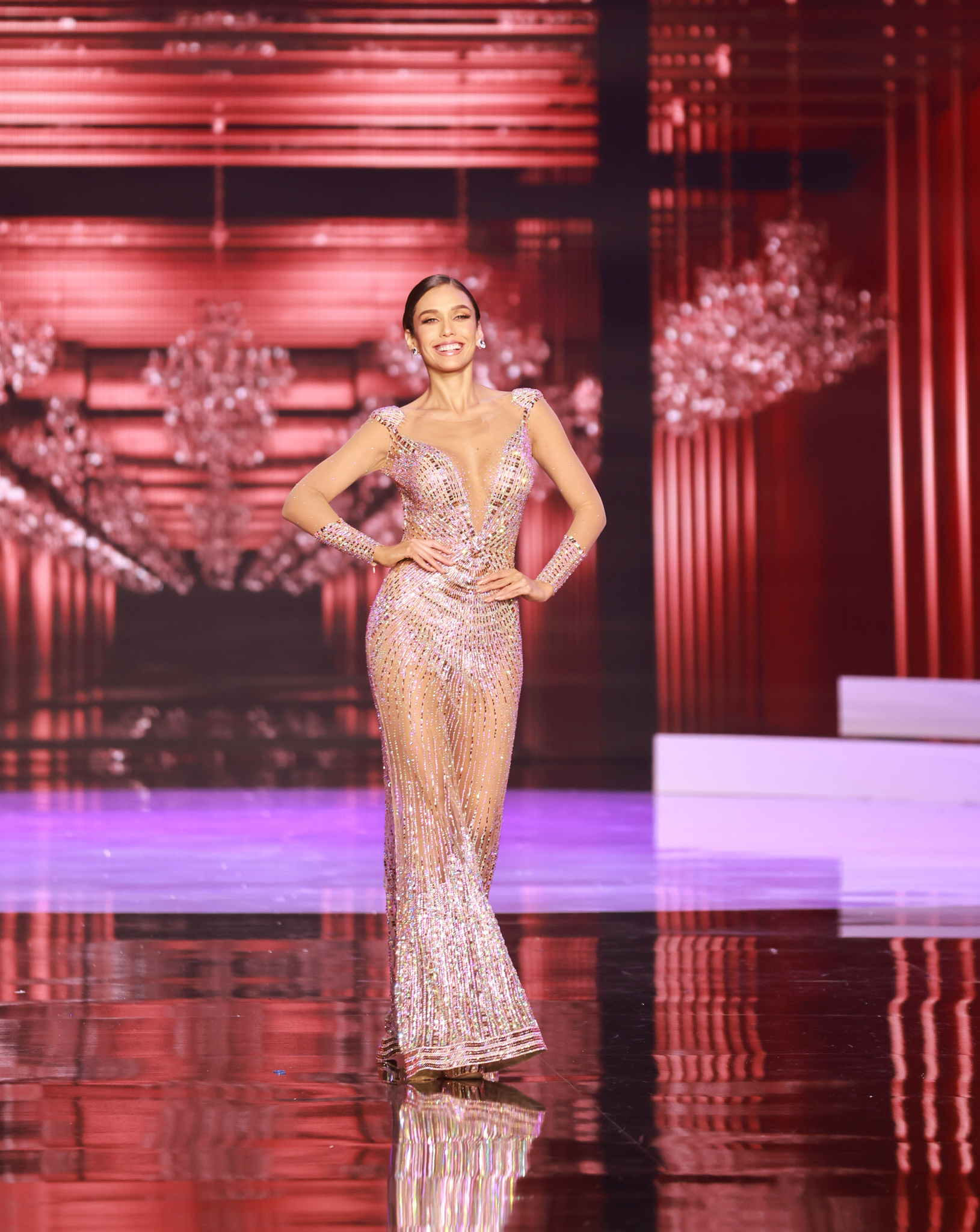 Many were expecting Janick to take home Peru's second crown. But it was not meant to be, despite the awesome effort of Janick. She can be very proud knowing that she did her best.
3rd Runner-up: Adline Castelino of India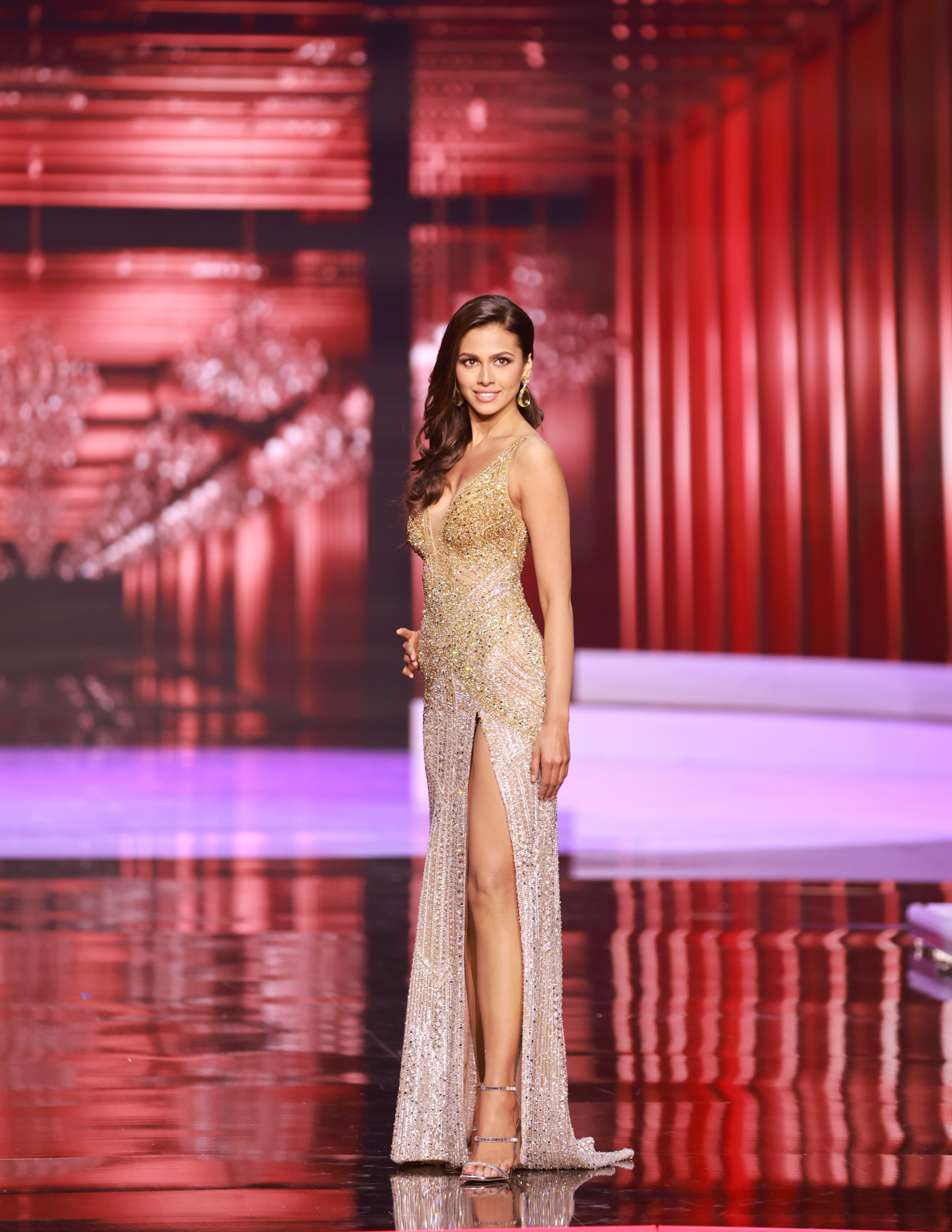 She was a heavy favorite going into the competition and carried it through to the end. She seemed very reserved and didn't have as much energy as the other top 5. It makes me wonder – if she did amp up her energy, could she have overtaken the other ladies?
She is the second Indian woman to land 3rd runner-up in Miss Universe. The first was Miss Universe 1966 (Yasmin Daji), when the pageant was held in Miami, Florida.
4th Runner-up: Kimberly Jimenez of the Dominican Republic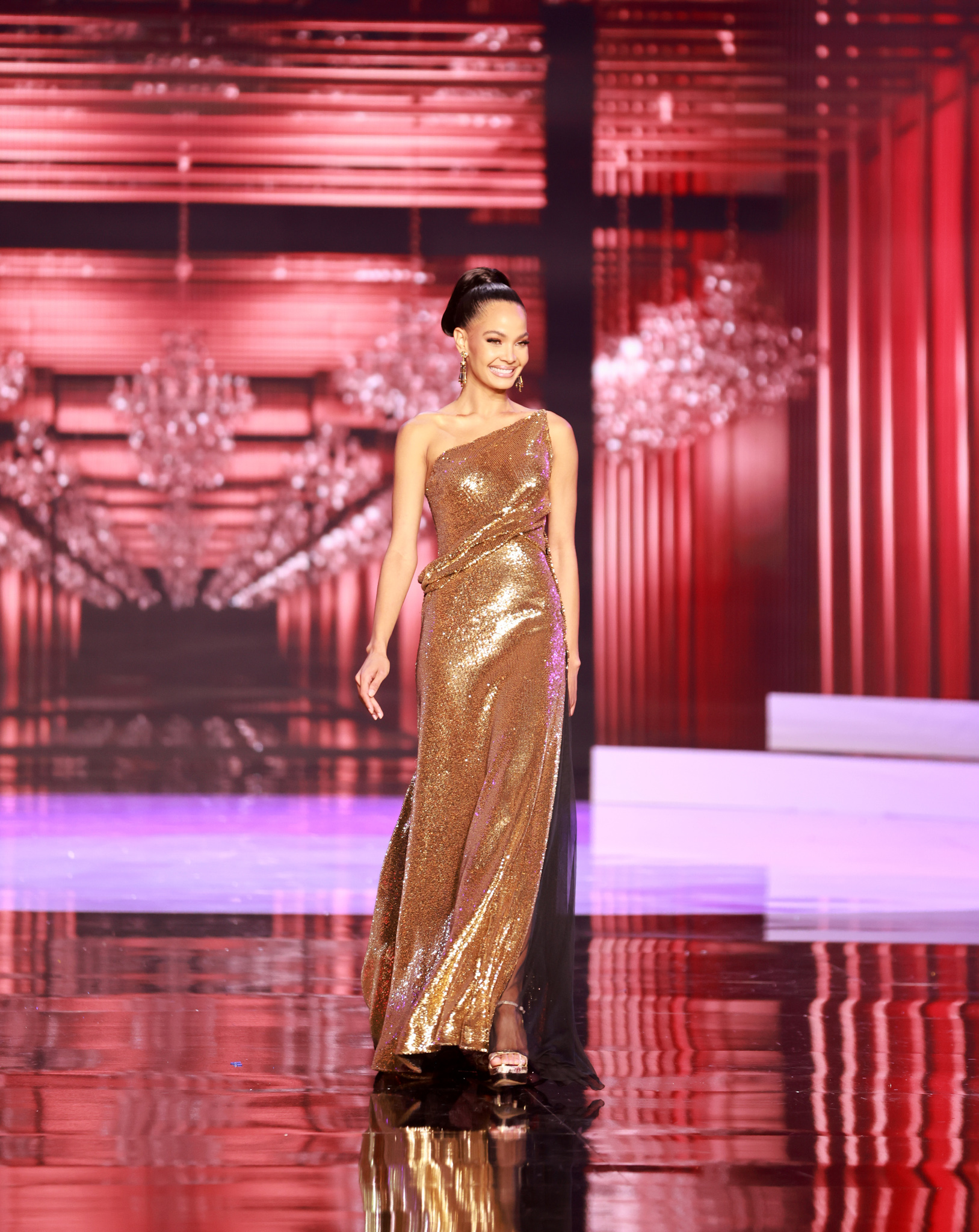 She is their country's first 4th runner-up and Kimberly should be very proud of this accomplishment. She had amazing stage presence and it showed throughout the evening.
At the conclusion of the 69th Miss Universe competition, the biggest winners were all the candidates who got to experience a once-in-a-lifetime Miss Universe journey, the pageant fans who got to watch a live pageant, and the Miss Universe Organization for staging an edition amidst the pandemic. – Rappler.com