Not us getting emotional over a 'Blue's Clues' clip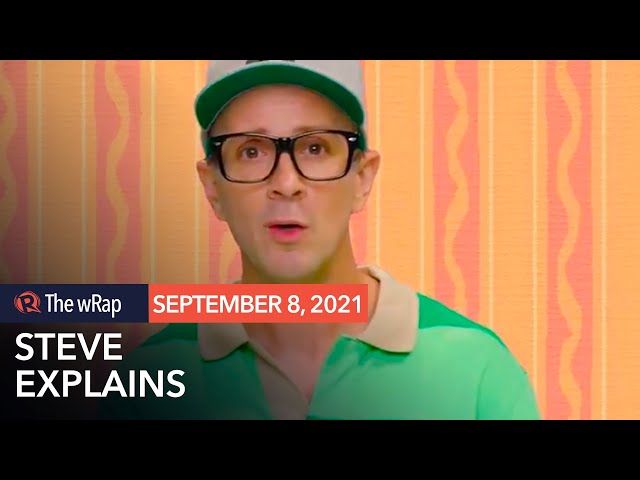 To celebrate Blue's Clues' 25th anniversary, its original host Steve talked about his "abrupt" exit from the show in a message that targeted not the show's current young viewers but its fans from its first run from the late '90s to early 2000s.
"Remember how, when we were younger, we used to run around and hang out with Blue and find clues and talk to Mr. Salt and freak out about the mail and do all the fun stuff? And then one day I was like: 'Oh hey, guess what? I'm leaving. This is my brother Joe, he's your new best friend.' Then I got on the bus and left," said Steven Michael Burns, who played Steve, Blue's original buddy from the show's launch in 1996.
"Can we just talk about that?" added Steve.
In 2002, Burns left the show and was replaced by Donovan Patton, who played Steve's brother Joe. In 2019, the show got a reboot and was renamed Blue's Clues & You! hosted by Filipino-American Josh (Josh dela Cruz), Steve and Joe's cousin.
"I realize that was kinda abrupt. I just kinda got up and went to college. And that was really challenging, by the way, but great because I got to use my mind and take a step at a time. And now I literally am doing many of the things that I wanted to do. And then look at you, and look at all you have done and all you have accomplished in all that time."
"And it's just so amazing, right? I mean we started out with clues. And now it's what? Student loans, and jobs, and families. And some of it has been kind of hard, you know? I know you know. I wanted to tell you that I really could not have done all of that without your help."
"And in fact, all the help that you helped me with when we were younger is still helping me today, right now. And that's super cool. I guess I just wanted to say that after all these years, I never forgot you. Ever. And I'm super great we're still friends."
The video, of course, addresses the show's original fans, many of whom might already be parents, or aunts and uncles, to young children – the show's target audience.
Nickelodeon recently released a video featuring Steve, Joe, and Josh answering the most-asked Blue's Clues questions – from how comfortable the "thinking chair" really is to whether they like wearing stripes. Steve and Joe had cameos in the first episode of the 2019 reboot.
Blue's Clues is a live-action/animated Nickelodeon children's series that features the host (Josh, in the current reboot) going on an adventure with young viewers to figure out a mystery through clues that Blue, a puppy, leaves around for them to find. In the course of the episode, kids learn a handful of new things – from math and logic to colors.
Each episode follows a unique storyline and is meant to encourage audience participation in helping "solve" puzzles and mysteries.
Blue's Clues & You! recently aired an episode that put a spotlight on Josh's Filipino heritage (in real life, host Josh dela Cruz is a Filipino-American, too). In the episode, which aired in the Philippines in May 2021, Josh introduced viewers to Filipino dishes, customs, and his own lola or grandmother. – Rappler.com