With a new look and a new story, the Emmy-winning Netflix series returns as both a strong LGBT drama and an awkward admission of guilt
It's impossible to view Master of None outside the context of its stars' personal lives. In its first two seasons, the show acted as a sort-of diary for co-creators Aziz Ansari and Alan Yang, pondering experiences of love, family, and trying to pursue one's career as a thirtysomething person of color in New York.
This newly released third season, entitled Master of None Presents: Moments in Love, feels almost like a confessional – arriving three years after the particularly messy sexual misconduct allegation made against Ansari, and one year after co-writer and star Lena Waithe's separation from her wife. I don't mention these events to stir any more intrigue; it's just that so much of Moments in Love seems to be driven by their feelings of regret and a desire to atone for their mistakes. It's an intentionally uncomfortable experience that, despite its earnestness, still doesn't hit as hard as it should.
Moments in Love is a massive stylistic and narrative departure for the series: filmed in long, static shots and a tighter aspect ratio, and with Ansari's original protagonist, Dev, pushed to the sidelines. These five new episodes instead shift their focus to Waithe's character, Denise – now a successful author – and her declining marriage with Alicia (played by Naomi Ackie). The tension between them is clear from the beginning, but it's still particularly moving to see these two Black women in love, living an idyllic cottagecore life in a house full of antiques.
When conflict does occur, these characters' sexuality is never called into question or used as fuel for drama. Denise and Alicia are proud of their ethnicity and of their being lesbian, but they're also allowed to breathe freely as complex, occasionally frustrating characters beyond that. If Dev's character in earlier seasons was marked by a constant restlessness and uncertainty, Denise and Alicia are certain of who they are and incredibly stubborn about what they want. It's a surprising shot of tough love for a series that was always hopelessly romantic.
But while Moments in Love might not be the most encouraging love story, it winds up becoming a beautiful tribute to a type of person we practically never get to see on-screen: the single queer mother.
Warning: Spoilers ahead
In the season's fourth and best episode, a newly-divorced Alicia decides to try getting pregnant again, even after her first attempt with Denise ended in a miscarriage. The episode is a candid, compassionate portrait of a woman forging ahead with in vitro fertilization, and the emotional toll it can take on somebody doing it alone.
Ansari (who directs every episode in this new season) patiently guides us along Alicia's odyssey, acknowledging every devastating low point and every surge of hope without slipping into histrionics. And Naomi Ackie is a revelation, letting Alicia be fully consumed by her moments of weakness but still staggering back to her feet at every turn.
The episode is a reminder to anybody who writes or produces television that LGBTQ+ characters don't need to be defined by their romantic relationships. Granted, in an industry that can still be incredibly regressive and tokenistic when it comes to LGBTQ+ representation – and in a world that still punishes and persecutes those who exist outside heterosexual norms – stories of sincere queer romance should always be welcome.
But episode four of Moments in Love seems to have been made specifically for LGBTQ+ individuals who could use reassurance that they are valid and valuable even on their own. Alicia doesn't need to be married to Denise to "confirm" her sexuality or to prove that she deserves to be a mom. She is and has always been whole.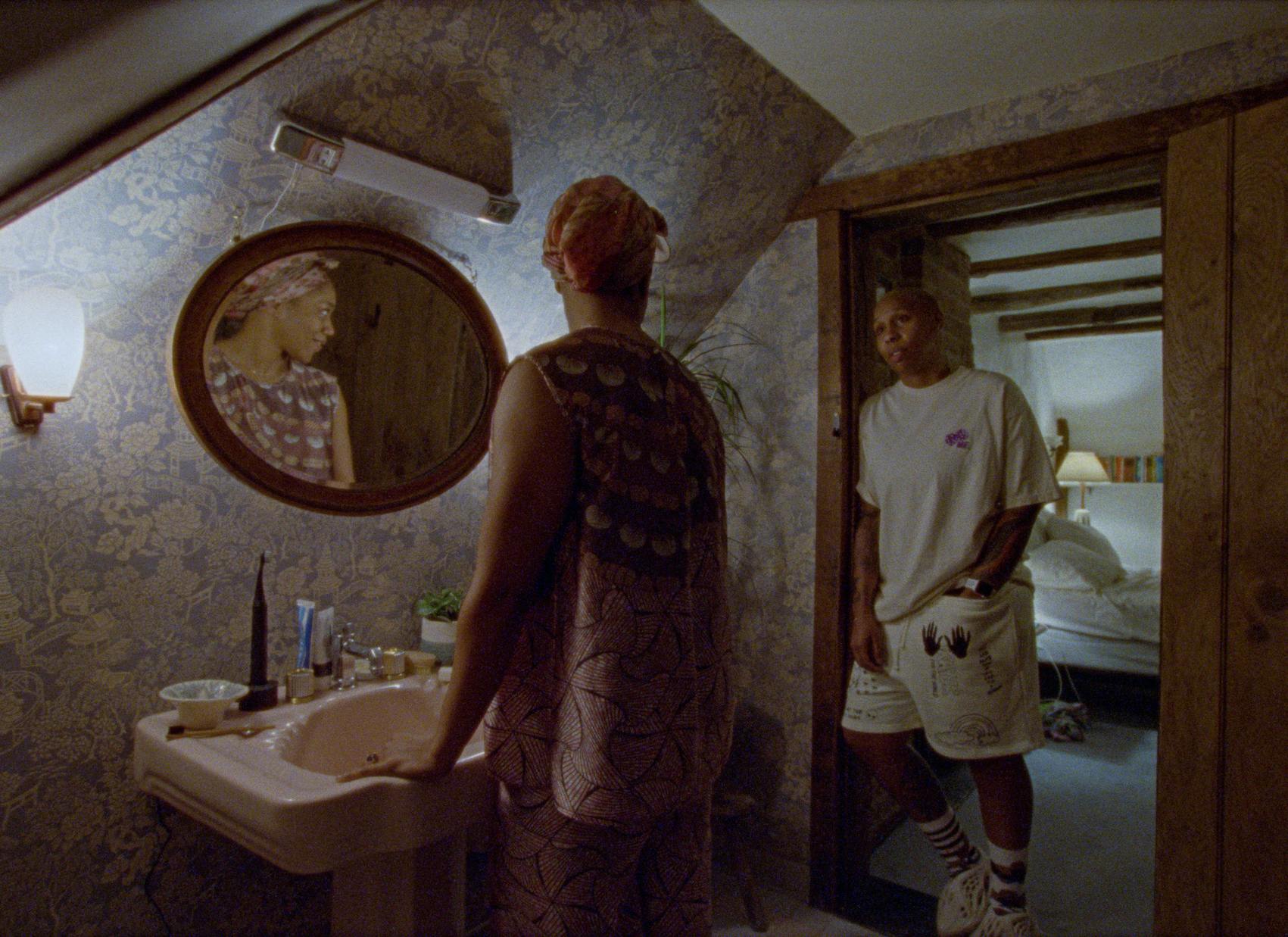 But with all that said, it's disappointing that the storytelling throughout the rest of Moments in Love just isn't as thoughtful. Ansari maintains a deliberate pace for the entire season, at times spending minutes-on-end fixed on a single spot, ostensibly to allow every mundane interaction to feel charged with tension. It may have worked for Alicia's solo episode, but for the increasingly fraught interactions between her and Denise, Ansari's distant, isolating approach doesn't ring true.
Moments in Love seems intent on portraying this marriage as monotonous from the get-go, when we can see that that isn't the reality at all. To be clear, nothing is wrong with slow pacing and a uniform look. But the season's style ends up preventing the central couple's separation from feeling like the result of many changes and failed compromises. Instead, it feels inevitable, cynical.
This is ultimately the biggest thing getting in the way of Moments in Love's success: at its worst, it draws dangerously close to being little more than a self-pitying screed from Ansari and Waithe. Their feelings about their respective mistakes and controversies are understandable, but it feels as if they've become so caught up in apologizing that they forgot to make any proper resolutions.
In fact, much of Moments in Love is spent with Denise simply thinking about the oncoming car crash of her marriage, without translating those thoughts into meaningful action. When she has a couple scenes alone with Dev, we learn that he isn't in a very good place either. But again, we simply listen to them air out their frustrations before receiving mutual reassurance that is, frankly, unearned for these characters.
Master of None has always had a little bit of an ego to it, which is true for all series loosely based on their creators' experiences. But this season, the show comes off overly defensive. Sure, it vaguely acknowledges what went wrong and how sorry Ansari and Waithe feel, but by having their sadness take up so much of their own scripts, it becomes unclear what they actually plan on doing about it.
It's a miracle, then, that Alicia emerges as such a strong, inspiring figure without the help of previous seasons for build-up. And maybe she's meant to act as the manifestation of who Ansari and Waithe wish they could be. But still, Alicia isn't the center of this series. Ansari and Waithe try to step to the side, but they end up taking the spotlight with them. – Rappler.com
Master of None Presents: Moments in Love is streaming on Netflix.