Ruben Nepales goes on the set of 'The Crown' to talk to its lead stars about playing the real-life royals
Just when you thought The Crown couldn't get any better, Lady Diana Spencer and Camilla Parker Bowles enter in season four and make the royal household even more interesting.
What's more, in the new season which premieres on November 15, there are passing mentions of the Marcoses in two scenes. In one, Princess Margaret, played by Helena Bonham Carter, regales the royal family, including Queen Elizabeth II (Olivia Colman), with a short anecdote about Imelda Marcos and her shoe collection.
Olivia and Helena are excellent, of course, but Emma Corrin and Josh O'Connor also command our attention, capturing the essence of Princess Diana and Prince Charles, respectively.
And then there's Gillian Anderson as Prime Minister Margaret Thatcher, brilliantly capturing The Iron Lady, from her coiffed hairdo, distinctive voice to her steely resolve.
Diana and Prince Charles' lover, Camilla (Emerald Fennell), have a lunch scene together which happened in real life.
But undoubtedly among the highlights of the Netflix series created by Peter Morgan are the regular meetings between the two strong-willed women, Margaret and Queen Elizabeth.
In early March this year, right before the coronavirus pandemic exploded, I was on The Crown set in London. Along with other journalists, we watched the cast, crew, and extras film a scene, set in the early 1980s, in which members of the royal family arrive to watch the annual Royal Variety Performance.
Also standouts in this season are Tobias Menzies (Prince Philip) and Erin Doherty (Princess Anne).
The following are excerpts of my interviews in London during the set visit and recent video calls:
Emma Corrin (Lady Diana Spencer)
Emma, a newcomer who is spot-on as the princess who captivated the world, talked about how she prepared for the plum role.
"I had a really interesting relationship with the research process because I was incredibly daunted and quite overwhelmed at the beginning," she said. "I felt I had to do a lot of research. I read a lot of biographies and watched a lot of documentaries."
"I was very frustrated with the iconology of it all because I feel like when someone becomes an icon, it immediately means you cannot know her because she become a kind of representative of herself. I really struggled to get any kind of sense of who Diana was which is really all I needed to know.
"There's a lot of tabloid noise around her. I just felt like it didn't really help me at. It all changed when I got the script because I realized, oh, this is Peter's take of the story. This is our interpretation. And this is my interpretation of Diana. It gave me such a freedom as an actor to suddenly start exploring it in a way that would be helpful to me."
"I started to have so much fun because I was working with Polly Bennett (a movement coach) who's amazing. She helped Rami Malek with Bohemian Rhapsody. We had this studio in London where we spent endless days just mucking around trying to get to grips with Diana's mannerisms and behavior, thinking about why she tilts her head or does this thing with her eyes."
The 24-year-old actress recalled the moment when she thought she finally had "it."
"I remember there was a wig shopping day because they needed to cut the wigs because they are all really long. Then they cut them into the right shape. You sit wearing the wig for hours. It's the dullest thing in the world. It was like three or four hours.
"There were pictures of Diana on a wall behind me. I have the pictures on my phone. Debbie just suddenly stopped cutting and she was like, oh my God. I was looking at my phone. I had my head this way (she tilts her head) and it completely matched the picture behind me."
"I remember everyone going (she gasps) which was really fun because it was the first taste of reaction that I got. It's like wow, this is really a transformation which is very cool."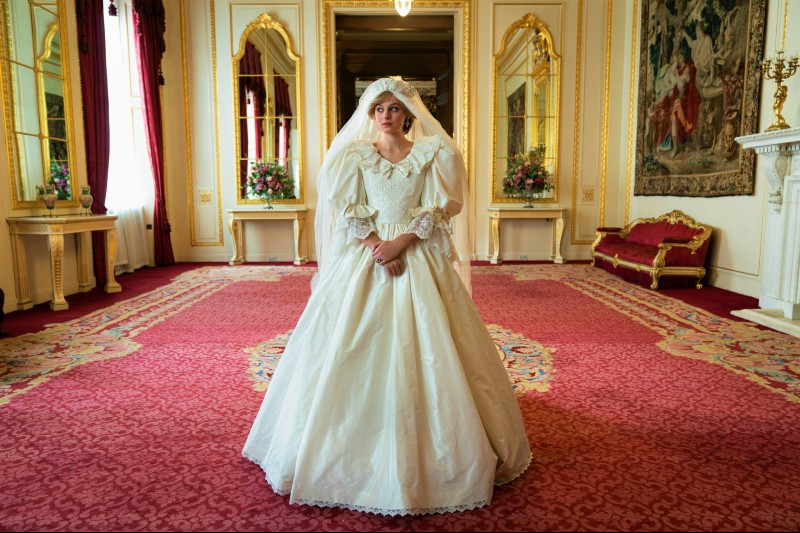 Emma said it was important for her and Peter to depict Diana's battle with bulimia.
"I remember reading the script and it alluded to her experience with bulimia," Emma began. "I remember talking to some of the script team and talking to Polly who helped me with character and movement. I said, if we're going to portray this (bulimia), I want to do it in a very full way because I don't think, especially these days, we can get away with just alluding to something like this."
"Also, the more research I did, the more I learned how Diana was very vocal about how bulimia was such a center point of her experience during that time. I didn't think I can portray this honestly if this time in her life wasn't shown properly. Bulimia ended up being a catalyst of, and a symptom, of a lot of her emotions at the time."
"Polly and I did a lot of research. Then tying our research into what she was going through in our script is really interesting as well. We realized that a lot of the emotions that she experienced or not experienced was in direct correlation to her (battle with bulimia).
"Like when how her life gets out of control, it was her way of taking back control, I suppose. It was like her secret, her friend. Oh, it was incredibly complex and obviously hard to portray but I really feel like I was doing something good to her to have it on screen."
Asked how Diana, if she were alive today, would have reacted to Prince Harry giving up his royal title, Emma replied, "From what I've learned, I think she would have been very proud of Harry. I think the royal family is a very interesting institution. It's quite antiquated in the sense that it doesn't clarify those things. I think Diana was maybe headed toward that change. People would have understood and been sympathetic of what Harry experienced."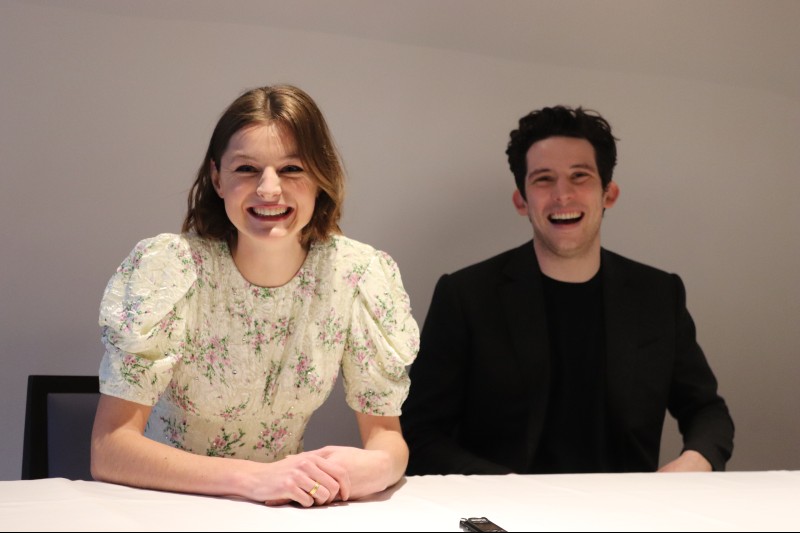 Josh O'Connor (Prince Charles)
Josh, playing the heir apparent to the British throne, weighed in on the Charles-Diana-Camilla love triangle.
"There are so many books and articles to wade through about the Charles and Diana love story. It's very hard to get one definitive impression of what actually happened, which is perfect in some ways because it means that we can create our own fiction and make decisions for ourselves."
"I decided very early on that Charles can't have just loved Camilla and not Diana. I think he did love Diana. He loved her in different ways and at different times."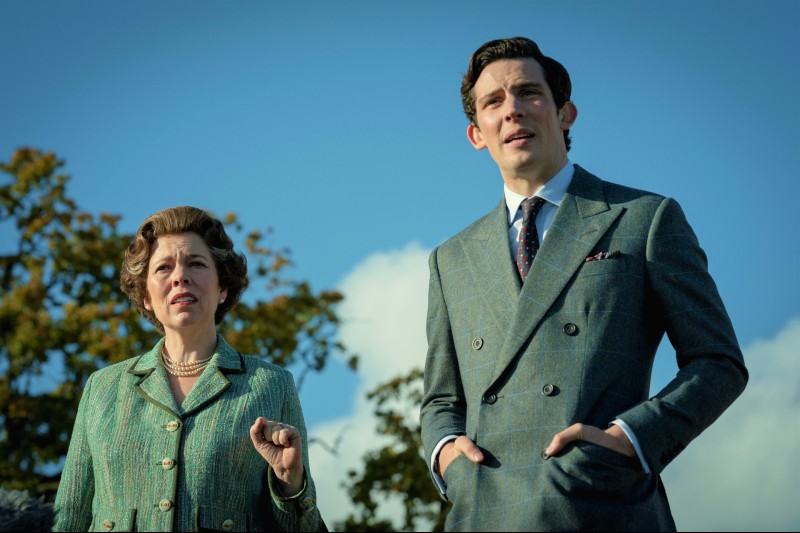 "I think if we go to when he first meets her, he's totally charmed by her and in love with her innocence, her naiveté. I think he falls in love with her as a woman, as this powerful, beautiful force that she becomes in Australia (during a 1983 royal tour), episode six."
"I think it's like in any marriage, it can never be one sided. Marriages end from both sides. It's heartbreaking to see it play out. I always thought that we have to have some sympathy for Charles. I was helped out with season three where all I had to do is make you all feel sorry for me (laughs)."
Gillian Anderson (Margaret Thatcher)
Meryl Streep was a tough act to follow in her film portrayal of The Iron Lady but Gillian also pulls off an acting coup in her take of the Prime Minister who died in 2013.
Peter, who is in a relationship with Gillian, popped on my computer screen before my recent Zoom interview with Gillian.
"I'm going to go and leave you guys to it. I brought a drink (for Gillian). That's what I do," quipped the award-winning screenwriter and creator.
"Yes, he brought me more Coca-Cola to keep me awake," cracked Gillian. They were both in London so it was late night for them while it was afternoon in LA.
Said Gillian about the challenge of playing an iconic real-life character like Margaret: "With something like this, a historic character who is also iconic, people love to hate her and hate to love her."
"I think that the chances of getting it wrong were so great (laughs) that I started very early and intensely watching everything that I could, reading everything that I could, studying her, listening to her voice and started working with movement and voice people."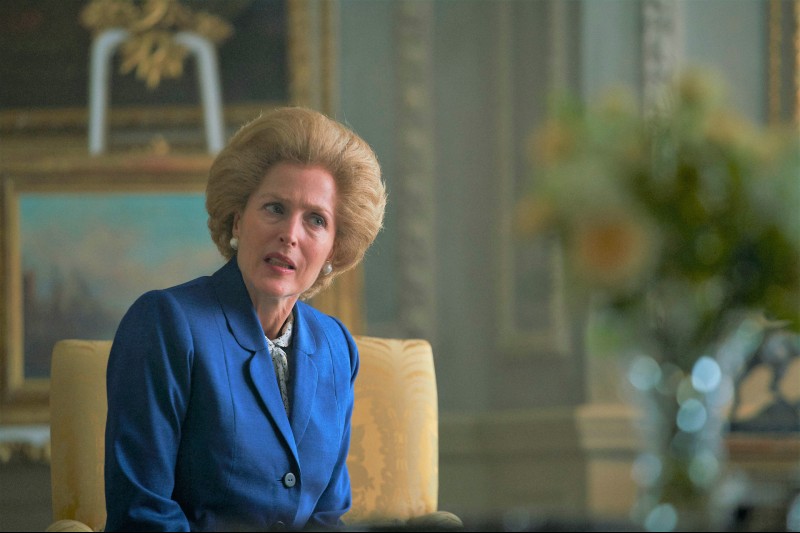 "On the one hand, that does sometimes get in my way. Sometimes, I'm not quite sure how to do it differently because I would feel if I were to wing it, I don't think I could. I'm definitely too controlling."
Like Emma, Gillian patiently went through several stages to transform herself into the first female British Prime Minister.
"There were a lot of wig meetings and then there were separate makeup and wardrobe meetings," said The X-Files star. "So probably, the first time that I saw it all together was when there was the first camera test."
"But the first camera test was still a work in progress so we all had things that we wanted to change, improve, get better after that test. It was nice to be a part of a group that was collectively working. We felt in our own ways that we all still had quite a lot of work to do."
On whether Peter gave her any feedback along the way, and what their working process was like since they lived together, Gillian answered, "We made a pact that we weren't going to talk about it at all. I wasn't allowed to talk with him or express opinions about the scripts. He wasn't allowed to express opinions about my performance in dailies.
"Somehow, we managed to stick to it which is unbelievable because neither one of us can keep from expressing our opinions the rest of the time."
Olivia Colman (Queen Elizabeth II) and Peter Morgan (creator)
Paired together in the earlier London set interview, Olivia and Peter have the easy camaraderie of friends.
Olivia opined on the world's longest reigning monarch: "The whole point is that she's been told, be the rock, the one everyone can rely on. So what happens behind closed doors? We don't know. I don't think she's cold-hearted. I think she's doing her job."
Peter shared his thoughts on writing about the corgi-loving Queen as she matures, from Claire Foy (who played the younger Elizabeth II) to Olivia to Imelda Staunton (who will take over in the final five and six seasons).
"There was a moment when I suddenly realized that what we were writing, with Thatcher and the Queen, it was sometimes a very challenging relationship," Peter said. "We're talking about menopausal women. It had never really occurred to me that we had these two extraordinary icons in the midst of hormonal and chemical turmoil."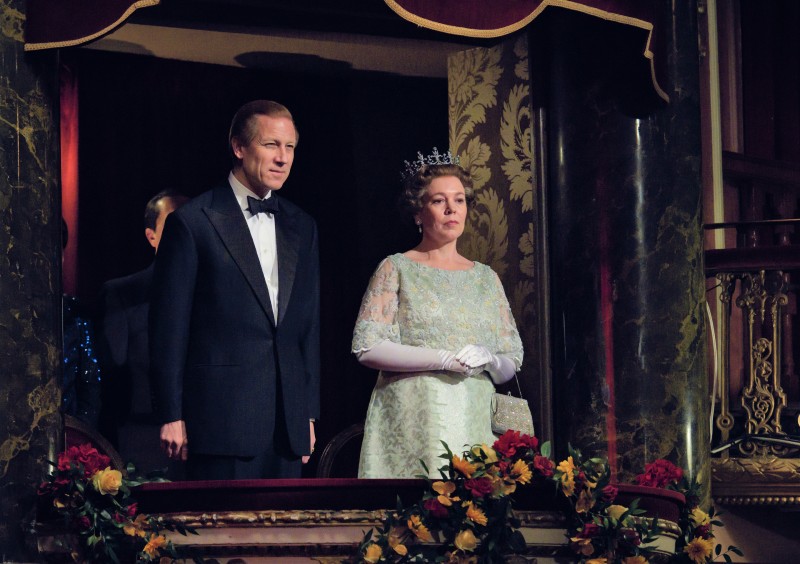 "I don't think I imagined what that would be like. But there was a time when I suddenly thought, oh, gosh. I get very moved when I see Olivia's face after Claire's face. And I will be very moved when I see Imelda's face after Olivia's face."
Olivia, for her part, discussed this phase in the Queen's life that she is depicting. "She's starting to wonder what she has been like as her children are grown up. So I think she's wondering, now, did I do that right? How have they turned out? Did I hope for them, that for them?"
The mother of three kids in real life added, "I imagine more than I normally do because I'm playing out of my comfort zone. I'm imagining what my children would be like grown up and so it's more pretending than feeling it."
Peter expounded on writing the parts of Diana and Camilla.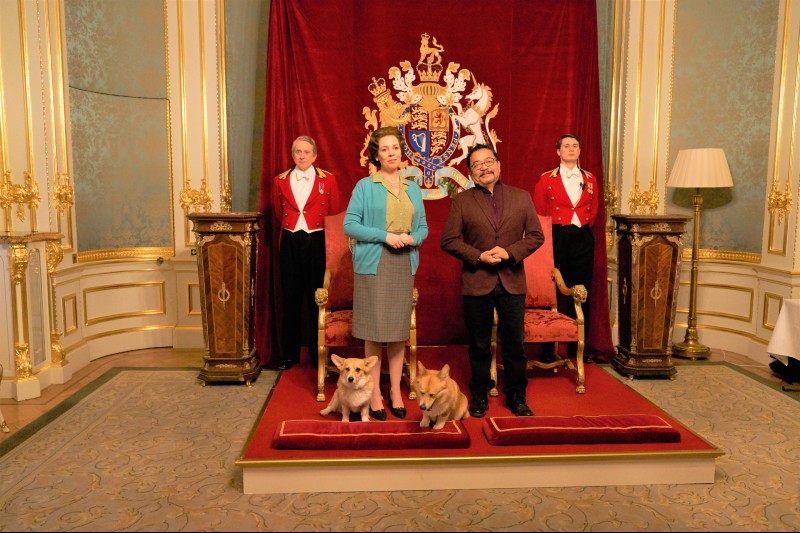 "We were just about to start filming season three and we needed to cast a Camilla Parker Bowles. But I was already writing season four at the time. So I'd written the whole of season three and we were just about to bring the person in. But I like to work ahead to see what's happening.
"In a very early episode of season four, Camilla and Diana go for lunch. I wrote about a seven or eight page scene. It's the one time they meet. It's just when Charles has proposed to Diana. So Camilla invites Diana to lunch, all of which is true."
With a laugh, Peter dished, "They went to have lunch in a restaurant called Menage a Trois." – Rappler.com