Beyond the hour is a future of apocalyptic proportions
It is a beautiful picture to imagine: millions of homes around the world switching off their lights, half of the world in darkness in a moment of solidarity for the planet.
On Saturday, March 27, citizens participating in Earth Hour across the globe will switch off their electricity for an hour in recognition of the growing climate crisis.
Organized by international organization World Wide Fund for Nature (WWF), Earth Hour is now in its 14th year since it was initiated in Sydney, Australia, in 2007. The Philippines started doing the campaign in 2008.
This year, WWF encourages people under lockdown to speak up for nature through their own means: sharing sustainable practices and joining online webinars on eco-friendly lifestyle choices.
As the coronavirus pandemic brought into sharp focus the interconnection of nature, environment, and wildlife exploitation, the WWF-Philippines saw this as a window of opportunity to send the message of conservation and climate emergency to leaders and the public.
"While we continue to exercise safety measures to stem the pandemic…we must address the root cause which is degradation of nature compounded by climate change," said WWF-Philippines executive director Katherine Custodio in a media launch last March 11.
But with an escalating climate crisis, how much does turning off one's lights for an hour contribute to the bigger call for climate justice?
Beyond the hour
The unity inspired by celebrating Earth Hour is something that climate justice activist Mitzi Tan has experienced since childhood.
In an interview with Rappler, she recalled how her family would turn off their lights for an hour once a year when she was a child.
Nowadays, Tan, who serves as the international spokesperson of Youth Advocates for Climate Action Philippines (YACAP), sees Earth Hour more as a "symbolic action" that is meant to be a conversation starter.
While Tan recognizes the merit of celebrating Earth Hour, however, she is more intent in sounding the alarm on a crisis that the world only has less than 10 years to solve.
"The latest report of the Intergovernmental Panel on Climate Change (IPCC) has shown that we only have less than 10 years before we reach the 1.5℃ limit," Tan said in a mix of English and Filipino.
"That will have unimaginable consequences," she added.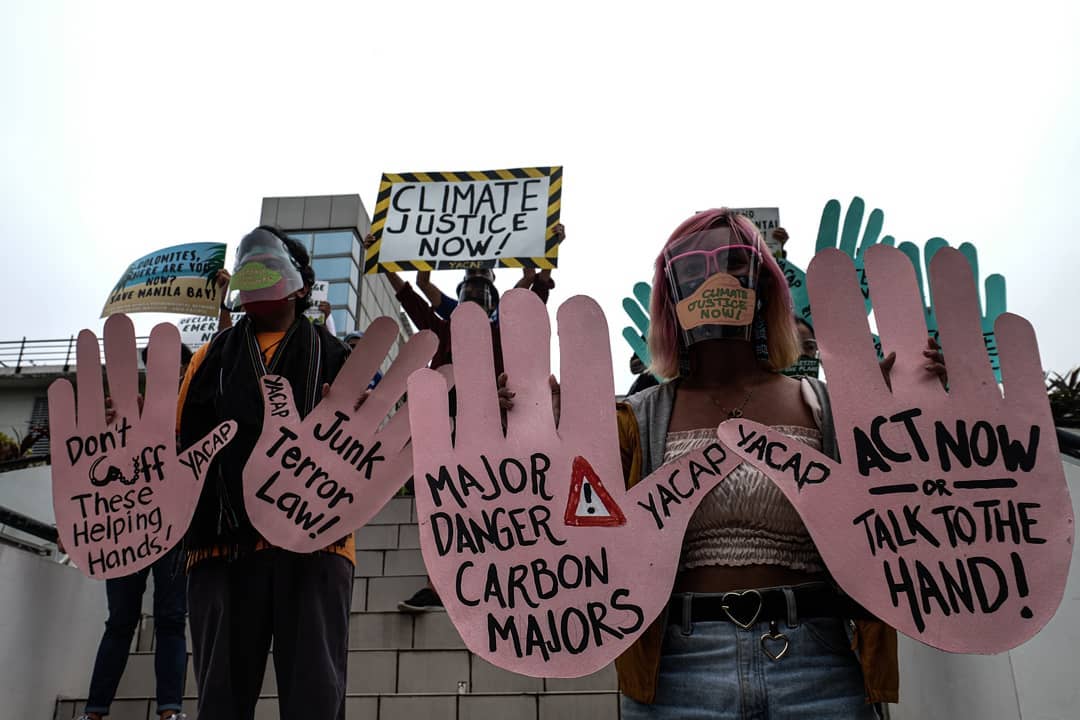 When the global temperatures exceed the limit by the year 2030, warming will continue and will have irreversible consequences for the environment.
The 1.5 ℃ limit came from the 2015 Paris climate agreement, a "legally binding international treaty on climate change" signed by a total of 196 parties.
By 2030, the world is targetting to "reduce emissions and build climate resilience," as stated in the sustainable development goals of the United Nations. The 2015 Paris climate agreement should pave the way for greater climate action.
But is the world doing enough? Tan admitted that from the side of non-government organizations, civil society groups, there should be more pressure to do more.
Aside from the Paris accord, Tan said governments around the world were not acting with urgency. "The government, not just of the Philippines, but of the world, especially of the Global North countries that are really responsible for the climate crisis are really not doing enough."
In a commentary released by international weekly science journal Nature, Joeri Rogelj called these net-zero emissions target "vague," as timing, methods, and target gases vary with each country.
Is having loose targets better than having none at all? Rogelj does not want to compromise, "the stakes are too high to take comfort in mere announcements."
The bigger picture
An issue as encompassing and deadly as climate change requires a certain level of ambition and imagination to combat it.
But recently, amid a world battling climate disinformation, and leaders and corporations diluting targets, President Rodrigo Duterte's administration has so far failed to assert a strong stance, even proposing to lower carbon emission reduction target from 70% to 30% by 2040.
Meanwhile, many climate activists and organizations are campaigning to defund "dirty coal" or coal power plants. Activists cite environmental and public health impacts of such energy source, as seen in communities in Batangas, Pangasinan, Bataan, and many more. They propose aa shift to renewable energy as a viable and economic alternative.
But despite protest, permits for coal units are still granted by the government. According to broad coalition Philippine Movement for Climate Justice, 8 additional coal units were approved under Duterte's term.
But what do all these have to do with Earth Hour? One of the things the campaign promises is an individual's chance to lessen carbon footprints and save energy.
While these individual actions are well-meaning, Tan said there was a more pressing need to "change the system of energy that we have." As people switch off their lights for an hour, Tan said fossil fuel companies would just continue to emit carbon emissions that are rapidly warming the planet.
Pressure points
That individual actions run short of making the change we need is felt in the Philippines through the onslaught of stronger typhoons every year.
In 2020, the country was devastated by the strongest typhoon recorded in history. As the Philippines bears the brunt of the climate crisis, more so should the country commit to its climate pledges.
As it is, the climate movement continue to thrive despite pandemic restrictions and killings of environmental defenders. The past year saw advocates make meaningful actions through creative channels.
Advocates and concerned citizens started donation drives to bring relief aid to typhoon-hit areas. Social media was used to amplify distress calls. Climate activists speaking out against the government's less-than-stellar environmental action, join socially-distanced rallies.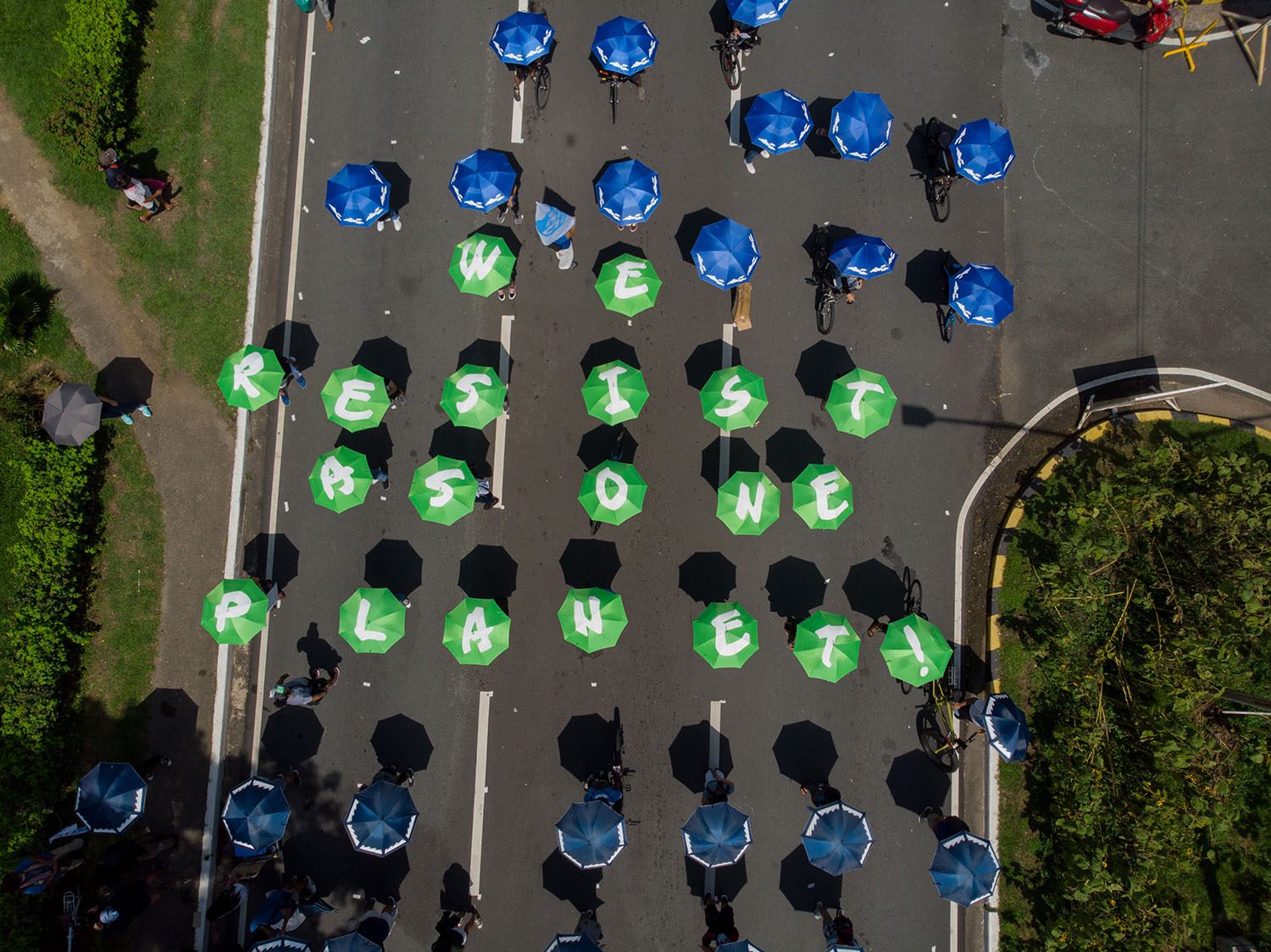 Stuck at home and forced to stay indoors, there is of course a certain limit to what people can accomplish and contribute to various campaigns.
There is still hope, even amid pandemic and the crisis. As people join the Earth Hour this year in a symbol of solidarity, Tan reminded them of who they were doing this for: "those who have to sit in the dark because there is no electricity because of the typhoons that are ravaging our country."
In less than 10 years, the world will find itself in an irreversible predicament. "We have to do more," Tan urged.
On March 27, the world darkens for an hour. But if there are no further, bolder actions beyond this, the planet could face darker times ahead in less than a decade. – Rappler.com