This is AI generated summarization, which may have errors. For context, always refer to the full article.
As the May elections draw near, it's important for voters to understand how vulnerable they are, and how critical leaders, who are knowledgeable about disaster management, are.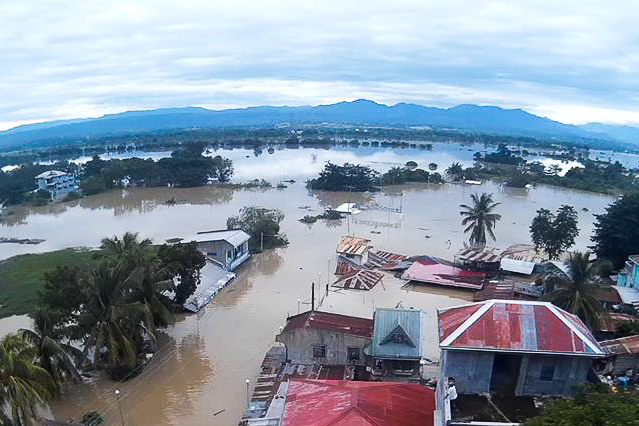 MANILA, Philippines – The next presidential debate on Sunday, March 20, will include one of the most pressing issues in this country: disasters. (READ: Cebu City prepares for March 20 presidential debate)
Considered one of the most disaster-prone countries in the world, the Philippines is vulnerable to almost all types of hazards – earthquakes, volcanic eruptions, and tsunamis.
But of all hazards, typhoons are what give Filipinos grief almost every year.  
To what extent do typhoons affect the Philippines? Have levels of preparedness improved since the Disaster Risk Reduction and Management Act was enacted in 2010?
Here's what you, and more importantly, our future leaders, need to know about how typhoons affect the Philippines.
Tropical cyclones that enter PAR
According to state weather bureau PAGASA, the Philippines is visited by at least 20 tropical cyclones every year. The weather bureau typically categorizes tropical cyclones according to the following:
Tropical depression (less than 63km/h maximum winds)
Tropical storm (62km/h-88km/h maximum winds)
Severe tropical storm (89km/h-117km/h maximum winds)
Typhoons (118km/h-220km/h maximum winds)
Super typhoons (more than 220km/h maximum winds) 
Among these tropical cyclones, 10 will be typhoons, with 5 having the potential to be destructive ones.
The graph below shows how many destructive tropical cyclones have visited the country from 2010-2015. Note that the National Disaster Risk Reduction and Management Council (NDRRMC) did not include tropical cyclones that had no effect on the country.
You can check how each tropical cyclone affected the country in the table below:
New normal?
In the recent years, PAGASA noticed that the number of destructive tropical cyclones had increased, according to Senior Weather Specialist Anthony Lucero.
It's difficult to say that this is now "the trend", Lucero said.
In 2011, Tropical Storm Sendong (Washi), one of the strongest tropical cyclones in the country for that year, caused massive damage in Cagayan de Oro City. About 1,470 people were killed, with cost of damage to infrastructure, agriculture and school buildings reaching up to almost P1 billion ($20.9 million).
In 2013, a total of 14 destructive tropical cyclones entered the country (see graph below). Of these, 5 were typhoons. The most devastating of these was Super Typhoon Yolanda (Haiyan), considered the strongest typhoon to ever make landfall in the country, and in the world. 
Due to the increasing intensity of tropical cyclones that enter the country, PAGASA officially announced just in 2015 that "Super Typhoon" would  be part of its classification of tropical cyclones.
Human cost
In 2013, Yolanda caused a huge spike in the number of casualties. Casualties include the dead, missing, and the injured.  
After causing massive damage in the Visayas region, Super Typhoon Yolanda left about 6,300 people dead, 28,689 injured, and 1,061 missing. (READ: IN NUMBERS: 2 years after Typhoon Yolanda)
But Yolanda served as a wake call to many.
Following the devastation left by Yolanda, preparedness in the face of weather disturbances appears to have increased. 
In December 2014, the government applied lessons learned from the Yolanda experience to prepare for Typhoon Ruby. Residents in vulnerable areas were pre-evacuated. The result: significantly fewer casualties.

Economic impact
But more needs to be done. Apart from loss of life, disasters brought about by the yearly typhoons also cause a lot of damage to homes, infrastructure, and the economy.
Some 169,000 homes were totally damaged, while another 790,000 were partially damaged by the storms that hit the country in 2014.
The 3 typhoons contributed the most to the number of damaged houses for that year: Typhoon Glenda (Rammasun) in June, Typhoon Mario (Fung-Wong) in September, and Typhoon Ruby (Hagupit) in December.
The storms also caused significant damage to infrastructure and agriculture. Damage to agriculture left by Typhoon Ruby and other devastating storms in 2014 was only less than P2 billon of the amount of damage caused by Super Typhoon Yolanda and other storms that hit the country in 2013.
Typhoon Pablo (Bopha), which hit Mindanao in 2012 and is the strongest typhoon to ever hit the region, caused massive flooding and landslides in Compostela Valley and Davao Oriental, and left 1,248 people dead and P34 billion ($734 million) worth of damage to agriculture and infrastructure.
READ: TIMELINE: Looking back at 2012's Typhoon Pablo (Bopha)
Search for solutions
Every year, the government sets aside 5% of its estimated revenue from regular sources, known as the Calamity Fund, which can only be used by a local government unit after declaring a state of calamity. Part of this is the Quick Response Fund (QRF), which is given to agencies for immediate response in areas affected by calamities.
The law also mandates all local government units (LGUs) in the country to allocate at least 5% of their yearly budgets for disaster risk reduction and management.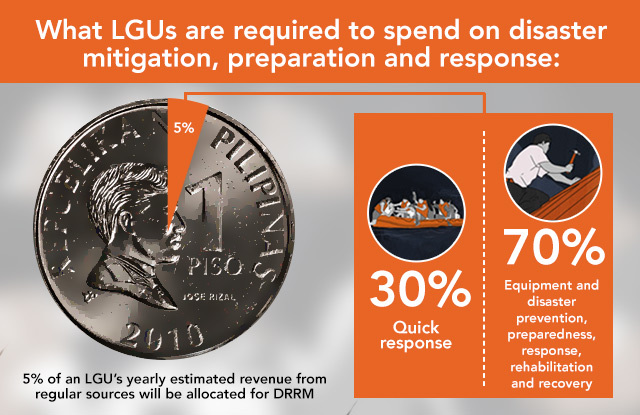 But given the effects of these storms, funds available to LGUs, as well as those set aside by the national government for the Calamity Fund, are hardly ever enough. 
The graph below compares estimates of the Local Disaster Risk Reduction and Management Fund (LDRRMF) (based on amounts alloted to LGUs annually in the national budget) against the total costs of damage in agriculture and infrastructure from 2010-2015. 
While these are just estimates, it is very evident that the annual cost of damage from 2010-2015 exceeded estimated disaster funds.
For 2011, 2013, and 2014, total costs of damage were higher than the disaster fund for that particular year.
DRRM and the next set of leaders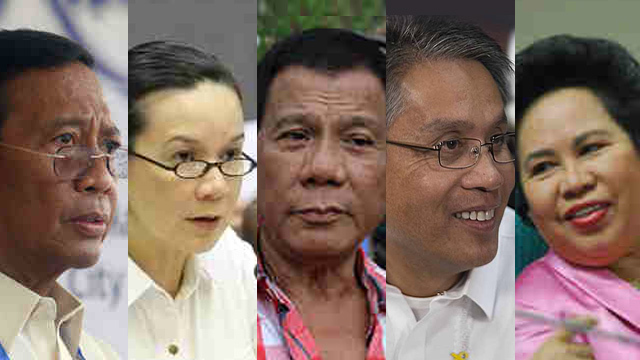 While disaster preparedness efforts of the Aquino administration have improved since Super Typhoon Yolanda and the Visayas earthquake, efforts to rehabilitate disaster-hit areas remain wanting. (READ: SONA 2015: How Aquino fared in disaster management since Yolanda)
As the May 2016 Philippine elections draw near, it is important for voters to understand how vulnerable they are, and why they need leaders who are good disaster managers. (READ: Should disaster trainings be mandatory for mayors?)
Will the next set of leaders be able to help the country prepare well for disasters? – Rappler.com 
US$1 = P46.42
Sources: Office of Civil Defense, National Disaster Risk Reduction and Management Council