(UPDATED) Conservative estimate based on reports separately confirmed by national and local authorities is at 360, but the President acknowledges there will be 'substantially more'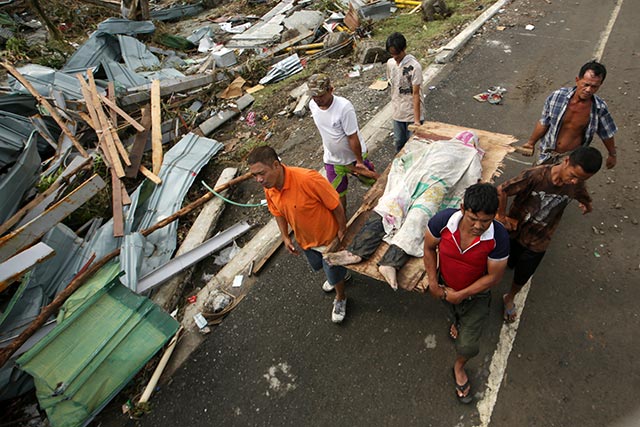 MANILA, Philippines (UPDATED) – About 1,200 people are believed to have died in just two provinces when one of the strongest global storms ever recorded hit the Philippines, the head of the local Red Cross said on Saturday, November 9.
The Red Cross figure was far higher than the 138 that the national disaster risk management office reported as of 6 pm Saturday, based on confirmed cases from its local offices in those areas – Leyte and Eastern Samar, the worst hit in the Eastern Visayas region.
If casualties so far confirmed separately by local authorities will be included, the official count could reach at least 360.
While super typhoon Yolanda (international code: Haiyan) battered the regions on Visayas island the hardest, it affected some 40 provinces in at least 9 regions across the country. It prompted mainly preventive evacuation of some 800,000 residents.
In an interview with Reuters, Philippine Red Cross secretary general Gwendolyn Pang said: "An estimated more than 1,000 bodies were seen floating in Tacloban as reported by our Red Cross teams. In Samar, about 200 deaths. Validation is ongoing."
Sought later by Agence France-Presse on this figure, Pang clarified it was "an estimate," with authorities yet to get an accurate assessment from many devastated communities.
"It's an estimate. Somebody else has to do the counting," Pang told Agence France-Presse.
Kenneth Dimalibot, a communications and special projects consultant of Red Cross, sought to downplay the number of casualties attributed to the organization.
"It's not accurate. No count yet. But there are a lot [of casualties] based on reports from our local chapters," Dimalibot told Rappler.
Rappler initially reported that at least 100 are dead in devastated Tacloban. (READ ALSO: Tacloban Diary: I saw death, I fear anarchy)
We also quoted information from Eastern Samar congressman Ben Evardone that, as of 8 pm Saturday, at  least 200 are feared dead in his province, most of them in the town of Hernani.
The National Disaster Risk Reduction and Management Council (NDRRMC) gave a conservative estimate based on reports from its regional offices in its 6 pm bulletin on Saturday.
The council said at least 138 were killed due to Yolanda (international codename Haiyan), but spokesman Major Reynaldo Balido said they are expecting more reports to come in. 
President Benigno Aquino III himself said they don't have the exact figures yet. "[The] casualties, we think it will be substantially more. We are not prepared to say how much more at this point in time because that is also being collated," he told reporters Saturday.
Except for 4, all the casualties confirmed by the NDRRMC came from Region VIII or Eastern Visayas.
The NDRRMC count, combined with separate reports by local authorities, as collated by Rappler, bring the total of confirmed deaths to at least 360.
They are in the following areas:
A total of 944,597 families or 4,282,636 individuals in 36 provinces were affected by Yolanda, according to the NDRRMC's latest report – with reports from Carmela Fonbuena, Jee Geronimo, David Lozada, Agence France-Presse/Rappler.com
Help the victims of Typhoon Yolanda (international codename: Haiyan). Visit Rappler's list of ongoing relief operations in your area. Tell us about your relief and recovery initiatives, email move.ph@rappler.com or tweet us @moveph. 
Visit rappler.com/typhoon-yolanda for the latest updates on Typhoon Yolanda.