Government and volunteer doctors have started getting reports of diarrhea cases too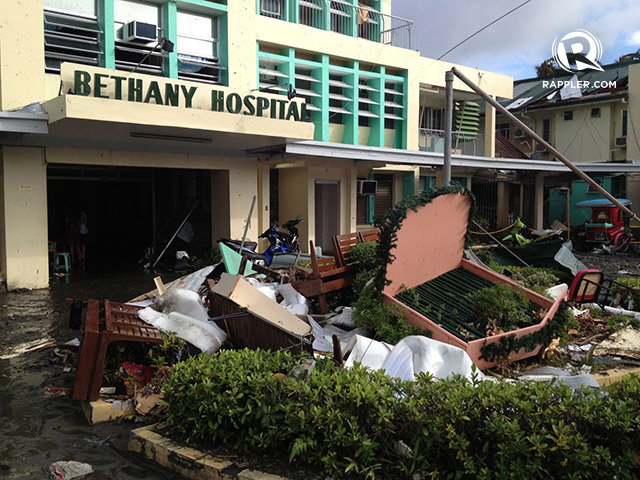 MANILA, Philippines – Mental health problems and infections are the most immediate health concerns in Tacloban City, an international group said.
In a November 11 interview posted on the Médecins Sans Frontières (MSF) website, Philippine emergency coordinator Dr Natashya Reyes said one of the major hazards in disasters like typhoon Yolanda (international codename: Haiyan) is tetanus infection.
"From our experience with the Aceh tsunami and other disasters, people are driven to search in the wreckage of their homes, and they get cuts which rapidly become infected. So vaccination against tetanus is vital," she said.
She was referring to the 2004 Indian Ocean tsunami, which left some 275,000 dead and wreaked havoc across Indonesia, India, Sri Lanka, and Thailand 9 years ago. (READ: Disaster experts warn on avoiding 2004 mistakes in PH)
Health Undersecretary Ted Herbosa told Rappler on Wednesday, November 13, that his department is sending anti-tetanus vials in small amounts to be administered immediately, or these may be deactivated for lack of refrigeration.
Reports of diarrhea cases already appearing were also confirmed by Herbosa, adding that only diarrhea and wounds have been reported so far.
The World Health Organization said there were significant injuries that needed to be dealt with, even as medics worked to prevent outbreaks of diseases caused by cramped living conditions and dirty drinking water.
It cautioned regular health needs also had to be met, including the 12,000 babies expected to be born this month to the more than 11.3 million people affected.
Psychosocial aid
Meanwhile, according to MSF's Reyes, "mental health needs are going to be huge" with reports of people "walking around aimlessly, completely desperate."
Nedy Tayag, a clinical psychologist for the health department, told Agence France-Presse that behavior being exhibited by the typhoon survivors was typical among those confronted by massive disasters or destructive conflict.
"Their reaction is normal in light of the abnormal situation," she said, adding that "the worst disaster" could lead to mental breakdown, emotional imbalance, confusion, and depression.
Herbosa said DOH already requested the assistance of the National Center for Mental Health and the Philippine Psychiatric Association for debriefing survivors. (READ: Therapists help dazed survivors)
Supplies, personnel coming in
Reyes described the medical situation in the city:
Injuries are relatively minor – cuts, broken bones, head wounds

–

 but after strong winds destroyed most houses and buildings in the city, significant injuries are expected
Injured people have converged on the airport, where the military is providing medical care. They are brought to the airport by motorbike or on foot (a six-hour walk from the town)
Medical facilities have been destroyed or damaged; the regional hospital, hit by a storm surge, had much of its medical equipment washed away
A lot of health staff are unaccounted for
Eastern Visayas Medical Center is the only functioning hospital in the city, Herbosa said, with barely no supplies left and the hospital staff already burned out.
Since the typhoon struck, the staff has been working non-stop until they were relieved Tuesday, November 12, by a 56-man team from the Department of Health (DOH). A 31-man team from Albay also arrived earlier to provide assistance.
DOH reported at least 200 personnel in Tacloban, the base of health operations for the whole region. Secretary Enrique Ona said in a statement Wednesday that several cargoes of medicines, supplies, and equipment have already reached Tacloban via Cebu and Catbalogan, Samar. –  with reports from Agence France-Presse/Rappler.com