Despite the lack of a roof, running water, or electricity, the Divine Word Hospital strives to care for the sick in Tacloban
TACLOBAN, Philippines (UPDATED) – Jennifer Purga tearfully pumped air into her critically ill husband's lungs, willing his sepsis-ravaged body to respond as he lay on Friday, November 15, in a roofless hospital with no water or power.
The Divine Word Hospital in the typhoon-wrecked Philippine city of Tacloban was the vision of a world without redemption, as exhausted hospital staff struggled to provide basic care to patients – some with horrific injuries.
Part of the ceiling had caved in, exposing now-useless electrical wires that dangled harmlessly towards the ground.
Despite the lack of electricity, Divine Word is a functioning hospital left in Tacloban, a once-bustling city of 220,000 people that was utterly devastated by one of the most powerful typhoons ever to make landfall.
Dire situation
"We lost 9 patients during the typhoon, when a power cut affected those who were on life support," Valentina Gamba, the director of nursing, told Agence France-Presse.
The storm surge inundated the ground floor of the 200-bed facility, destroying the MRI, ultrasound and X-ray equipment, as well as the emergency room and laboratory facilities.
Gamba said the dire situation had forced the medical staff into making life and death decisions as to who could be effectively treated.
"There was one patient that was brought to us, that we could revive if we had the facilities, but we just left him there because we couldn't do anything," she said. "
It was all chaos, chaos. Really, it was chaos."
By her husband's side
Purga's husband's right leg had been crushed by the falling trunk of a coconut tree at the height of last week's storm.
Pinned in agony for hours, he was finally freed and taken the next day to a government hospital, where he stayed for 5 days without receiving any proper treatment, his wife said.
She managed to secure his transfer Thursday, November 14, to Divine Word where his leg was amputated, but by that time severe sepsis had set in.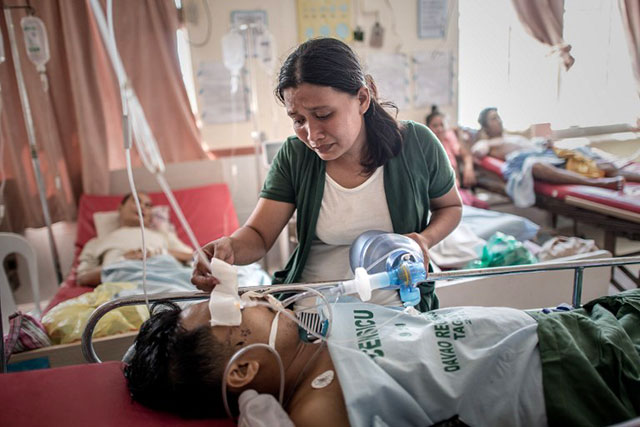 "The doctors say his entire body has been infected," Purga said, her eyes filling with tears that she was unable to wipe away as she used both hands to squeeze and release the wheezing, plastic air pump keeping her husband alive.
With no nursing staff available, Purga had no option but to stay permanently by her husband's bedside working the pump, unable to eat or go to the bathroom.
Volunteer medics' help
"These 3 are also scheduled for amputations," Gamba said, pointing to two men lying on benches and a third on a gurney. All 3 were hooked up to intravenous drips.
One had an open fracture on his right leg, and the two others had large, open leg wounds.
In the bed across from Purga's husband, nurses tried to calm an anxious, hyper-ventilating teenager in the advanced stages of labour and about to undergo a caesarean section.
Reinforcements have arrived in the 7 days since the typhoon, with relief doctors from the southern Philippines being joined by volunteer medics from Israel, Japan and South Korea.
The additional staffing meant they could open a surgery ward on the second floor.
Hospital etiquette?
In the hospital's darkened lobby, pharmacists sorted donated medicines into small boxes for distribution, watched by security guard Rogelio Sabugo, 39.
"My house was ruined and I left my wife and two kids under a table that now serves as our temporary home," he said. He reported for work as normal on Saturday, the day after the apocalyptic storm barrelled through.
Outside, an elderly Catholic nun of the Benedictine Sisters of Tutzing, which runs the hospital, directed 6 boys in a clean-up of the driveway, shovelling away the mud and debris that the sea had brought inland.
Sam Bajeo, a government doctor from Davao Regional Hospital in the country's south, wore basketball shorts, a singlet and slippers as he examined one patient.
With the situation so dire, the normal rules of hospital etiquette and division of labor have gone out of the window. "I helped clean up the operating room upstairs, so I got wet," Bajeo said of his attire. – Rappler.com