This is AI generated summarization, which may have errors. For context, always refer to the full article.
It takes 3 weeks for the NDRRMC to count a thousand bodies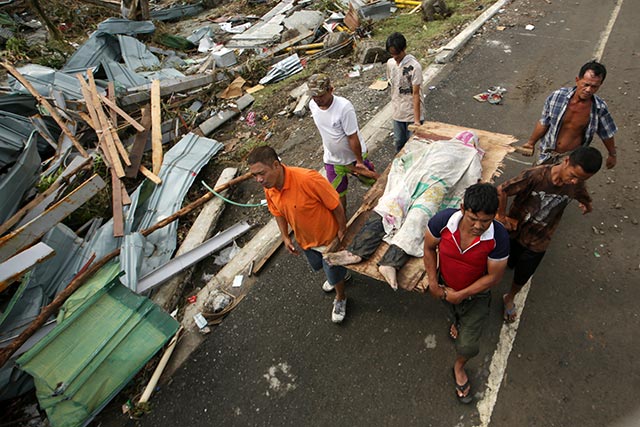 MANILA, Philippines – In a sluggish count criticized for alleged underreporting, disaster officials confirmed on Friday, December 13, that over 6,000 people died after killer typhoon Yolanda (Haiyan) devastated the Philippines.
The National Disaster Risk Reduction and Management Council (NDRRMC) on Friday said Yolanda killed 6,009 people in the country.
It took 3 weeks for the NDRRMC to count a thousand bodies. The last time the NDRRMC breached a thousand-person mark was on November 22, when it confirmed that Yolanda killed over 5,000 people.
The NDRRMC faces accusations it is underreporting the death toll. This, after President Benigno Aquino III told CNN that Yolanda likely killed up to 2,500 people only, and a death count beyond this is a baseless result of "emotional trauma."
Del Rosario said he is willing to resign if anyone can prove underreporting. (READ: Death toll underreported? Prove it, I'll resign – NDRRMC chief.)
Earlier, Del Rosario explained that the NDRRMC requires a formal casualty report – signed by the mayor and municipal health officer – before it adds the numbers to the official count.
Last November 10, Tacloban City police chief Elmer Soria revealed a government estimate that at least 10,000 died due to Yolanda. Four days later, Soria was relieved from his post. (READ: Cop who estimated 10,000 Haiyan death toll relieved.)
8 out of 10 from Leyte
Based on Friday's death toll, at least 94% of all casualties, or 5,655, come from the Eastern Visayas region.
Within the region, 5,160 deaths come from Leyte, which includes Tacloban. This is 85.87% of all casualties in the Philippines.
The second highest number of casualties among provinces comes from Eastern Samar, with 265. It is followed by Samar with 224, and Biliran with 6.
In the meantime, NDRRMC said at least 1,779 remained missing.
The number of missing persons moves much more slowly than the number of casualties. On November 22, when the NDRRMC first reported over 5,000 deaths due to Yolanda, for instance, 1,611 persons remained missing. By Friday, the number of missing persons rose by 165.
It means the death toll is not the result of finding more missing persons. It means the government had confirmed hundreds more died, but took a long time to include them in the official list.
What has been rising by the millions is the number of affected persons.
The NDRRMC said Yolanda has affected up to 16.08 million persons as of Friday. Last Sunday, December 8, or exactly a month after Yolanda made landfall, this number stood at 12.27 million. The number of affected persons rose by nearly 4 million in less than a week.
Former Senator Panfilo Lacson, the newly appointed presidential assistant for rehabilitation and recovery, vowed to help rebuild their lives. (READ: EO out: Lacson powerful rehab czar.)
Meanwhile, in Tacloban, the blame game continues. (READ: Politics, lack of command hound Tacloban.) – Rappler.com