This is AI generated summarization, which may have errors. For context, always refer to the full article.
Disaster officials say detailed maps showing danger zones will help Metro Manila and surrounding provinces prepare for a 7.2-magnitude earthquake expected within our lifetime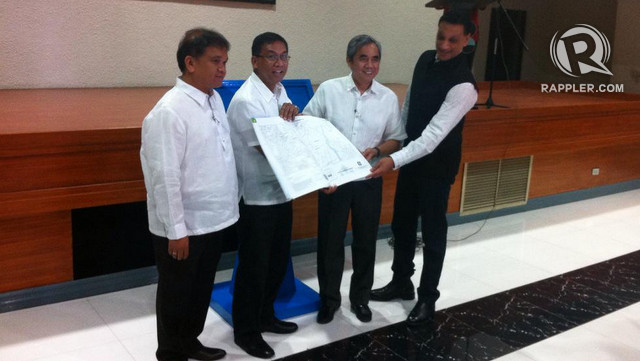 MANILA, Philippines – Government agencies launched the most detailed and updated map of two major faults within Greater Metro Manila in preparation for a possible 7.2-magnitude earthquake that may happen within our lifetime. 
Launched on Monday, May 18, The Valley Fault System Atlas is a handbook with 33 map sheets of cities traversed by the East Valley Fault and West Valley Fault. (Scroll down the article to view the atlas below)
Cities and towns traversed by the 100-kilometer West Valley Fault, may experience earthquakes of up to magnitude 7.2. On the other hand, areas traversed by the shorter 10-kilometer East Valley Fault are due for, at most, a 6.2-magnitude earthquake. (WATCH: #TalkThursday: Metro Manila earthquake scenarios)
The affected cities and towns are as follows:
West Valley Fault
Quezon City

Marikina

Makati

Pasig

Taguig

Muntinlupa 

Bulacan (Doña Remedios Trinidad, Norzgaray, San Jose Del Monte City)

Rizal (Rodriguez)

Laguna (San Pedro City, Biñan, Sta Rosa, Cabuyao, Calamba)

Cavite (Carmona, General Mariano Alvarez, Silang)
East Valley Fault
Rodriguez, Rizal

San Mateo, Rizal

 
The atlas is a project led by the Philippine Institute of Volcanology and Seismology (Phivolcs) with funding from Australian Aid and the United Nations Development Program (UNDP).
It presents the most detailed map of the two faults so far, having been done in a scale of 1:5,000. Such detail allows users to see locations of roads and buildings. This is an improvement of a previous map by Phivolcs done in a 1:10,000 scale.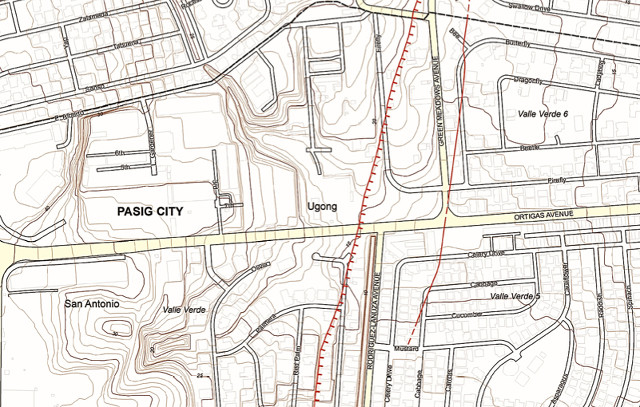 Hardcopies of the handbook were distributed to local government officials of affected cities and towns who attended the launch. (READ: After Nepal quake, PH promises to be better prepared)
A digital copy can be accessed in the Phivolcs website. (Rappler has also uploaded the complete atlas at the end of this article. Please see below.)
Expected big quake
The fault lines and location of fissures indicated in the map were based on old aerial photos of Phivolcs and field validation of Phivolcs researchers who visited the fault sites.
Their findings were then translated into maps using 1:5,000 topographic maps from NAMRIA (National Mapping and Resource Information Authority).
The handbook is prefaced with a guide on how to interpret it. Different types of lines indicate the location of active faults, fissures, and where faults coincide with fissures. Also indicated is the certainty of Phivolcs of the location of the fault and whether or not the fault is hidden by natural or man-made obstructions.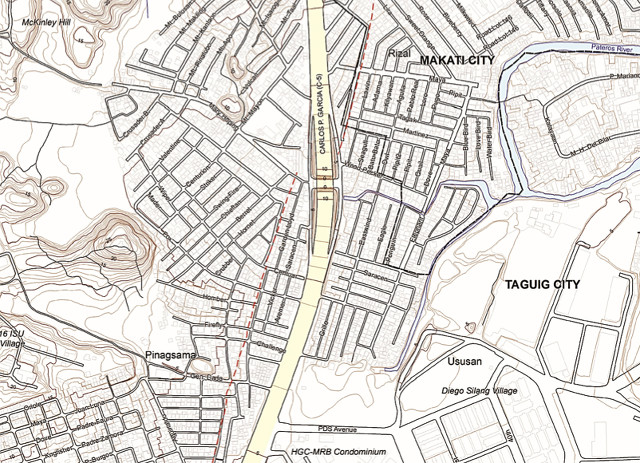 The atlas took 2 years to complete, said Phivolcs Director Renato Solidum Jr.
Such a map is critical given that the Valley Fault System (VSF) is due for a big earthquake within the next 50 years.
The West Valley Fault is known to generate big quakes every 400 to 600 years, he explained. The last major quake happened 357 years ago in 1658, meaning another one can happen as soon as 43 years from now.
"Active faults do not follow averages. If it moves earlier, we need to prepare for possible movement within our lifetime," said Solidum. 
The map should enable national and local governments, homeowners, building owners, and disaster officials to prepare for this eventuality.
Phivolcs warned that buildings should not be built on top of active faults or within a 5-meter bufferzone on either side of the fault.
Buildings that violate this rule are likely not to survive the rupturing of the ground when the faults move.
Solidum, however, warned that even buildings and persons outside the buffer zone will still feel intense shaking during a big earthquake.
Thus, ensuring buildings are earthquake-resilient is the best preparation for an earthquake, he said.
Tool for disaster-readiness
Disaster and local government officials vowed to use the atlas to protect citizens. 
"The Valley Fault System Atlas will play a critical role in our programs for preparedness," said National Disaster Risk Reduction and Management Council (NDRRMC) Executive Director Alexander Pama.
He gave assurances that the atlas will be used by the NDRRMC and its regional offices as a tool for minimizing risk and casualties during an earthquake.
The handbook will serve as a "solid reference" for the placement of evacuation centers, roads, and houses, he added. (READ: 12-point checklist for an earthquake-ready house)
The Metro Manila Development Authority (MMDA), which heads the Metro Manila Disaster Risk Reduction Council, said the atlas will help in the formulation of plans. (WATCH: Rappler Talk: Helping Nepal)
Last year, the agency conducted an "earthquake census" in which they informed residents of certain villages that their homes are near active faults. The census, however, was hampered by a lack of manpower.
"We fielded a team of engineers last year. Since we couldn't go through all the areas affected, what we did was to make a sampling and that is one barangay per city and this barangay should be able to echo to the other barangays what we have done," said MMDA's Emerson Carlos.
The atlas is also expected to help city planners draft more disaster-resilient land use plans. 
The Housing and Land Use Regulatory Board (HLURB) gave assurances that it would use the map as a reference when assessing land use plans of Greater Metro Manila cities and towns.
"We are reviewing all the plans of most Metro Manila cities and last year, new guidelines were approved which mainstreams already disaster risk reduction measures. With the introduction of the VSF Atlas, we will definitely include this in our land use preparation," said HLURB Commissioner Antonio Bernardo.
Already, the HLURB requires developers to submit a certification from Phivolcs that proves their project site is far from any active fault, he added.
The stakes are high given the devastation a 7.2-magnitude earthquake is expected to cause.
In Metro Manila, the death toll could be around 33,500 with at least 100,000 injured, according to a study. Some 40% of residential buildings are likely to be heavily or partially damaged. Total cost of damage could reach P2.3 trillion. – Rappler.com
Here is the complete Valley Fault System Atlas, uploaded in smaller parts:
  "  style="text-decoration: underline;" >The Valley Fault System Atlas Part 1
  "  style="text-decoration: underline;" >The Valley Fault System Atlas Part 2
  "  style="text-decoration: underline;" >The Valley Fault System Atlas Part 3
  "  style="text-decoration: underline;" >The Valley Fault System Atlas Part 4
  "  style="text-decoration: underline;" >The Valley Fault System Atlas Part 5
  "  style="text-decoration: underline;" >The Valley Fault System Atlas Part 6
  "  style="text-decoration: underline;" >The Valley Fault System Atlas Part 7